If you're a creator of arts and crafts, you know how important it is to have a reliable supply source to keep your passion moving forward. The last year has hit arts and crafts suppliers hard, forcing many to close permanently.
While giant suppliers like Michaels were able to survive, they may not have exactly what you need for your arts and crafts ventures. That's why we've created a list of the Best Ten Stores Like Michaels, so you know you have plenty of options for your crafting needs.
1. Hobby Lobby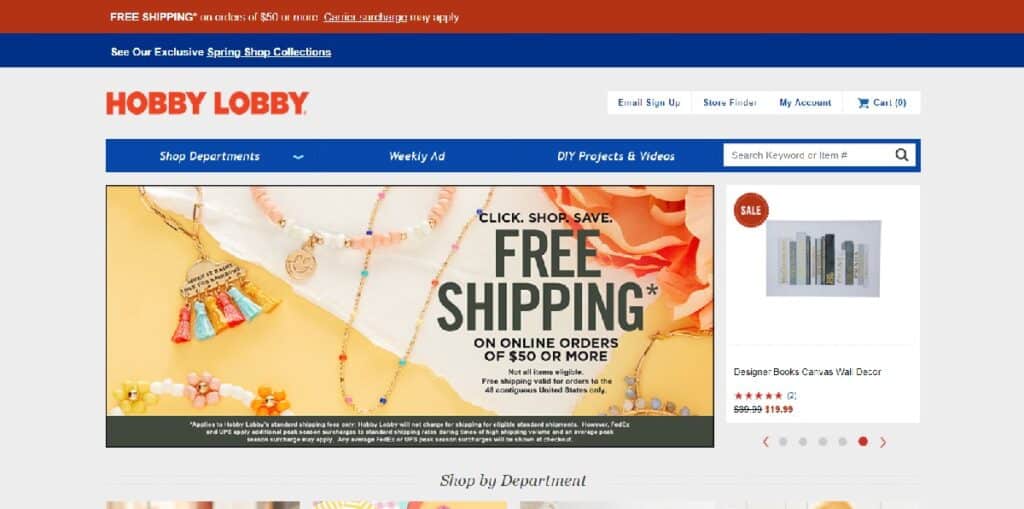 Hobby Lobby is one of the biggest arts and crafts supply chains in the United States, with over 900 locations.
Here you'll find everything you need for:
painting
drawing
science projects
home decor projects
sewing
knitting
party supplies
and more!
Hobby Lobby is great for any arts and crafts enthusiast or anyone who just wants to take a look around and get inspired! If Michaels doesn't have what you're looking for, there's a good chance Hobby Lobby will!
---
2. Jo-Ann Fabric & Crafts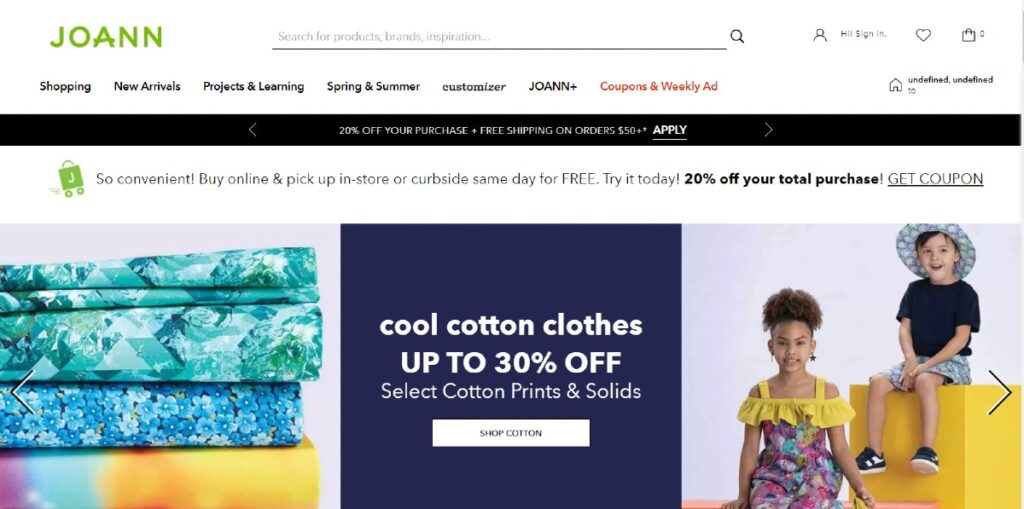 Jo-Ann Fabric & Crafts is an Ohio-based company with locations all over the country. This is a great place to find fabrics for upholstery projects, sewing, or almost any type of fabric project you can think of.
What's great about Jo-Ann is that the supplies don't stop there! They also have paints, wood-crafting supplies, model-building kits, glass artwork, and more. They have something for just about everyone, so stop by to see for yourself!
---
3. Artist and Craftsman Supply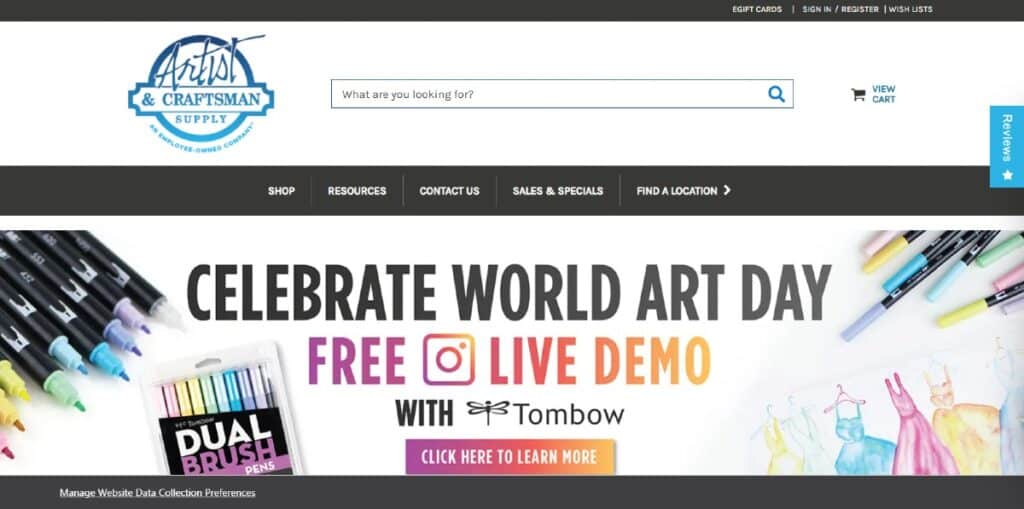 You won't find much for fabric, sewing, or knitting here, but Artist and Craftsman Supply has a massive selection of goods for various visual artists.
You'll find supplies for painting, drawing, sculpting, crafting, printmaking, and even bookbinding!
The big-named arts and crafts suppliers often won't have some specialty items for the professional artist. You'll likely find those niche items here!
---
4. McCall's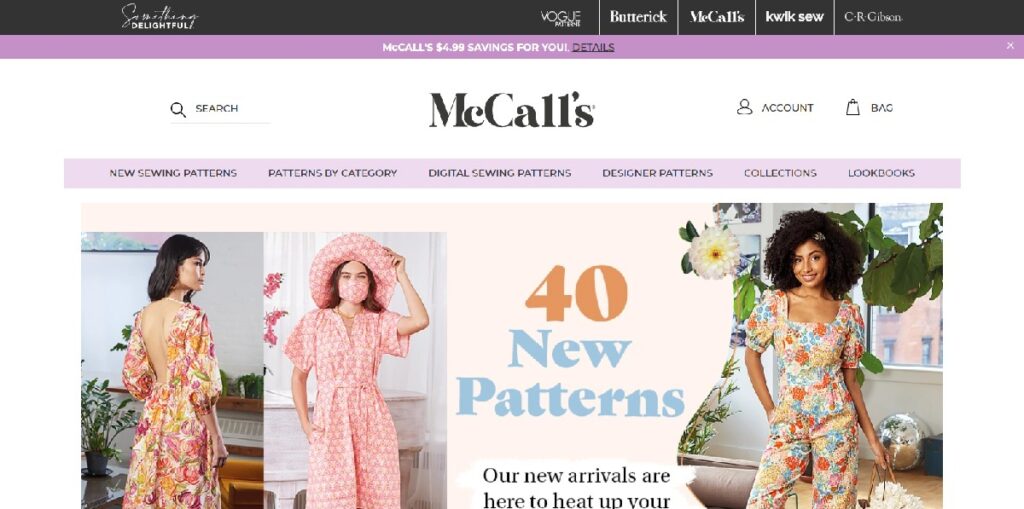 No list of stores like Michaels will be complete without McCall's. If sewing is your specialty, you need to check out McCall's! This store offers a wide array of sewing patterns for both men and women.
Why get your clothes or gifts from a store when you can create something unique from McCall's?
You'll find sewing patterns in all styles, from aprons to activewear, to costumes and cosplays!
5. Factory Direct Craft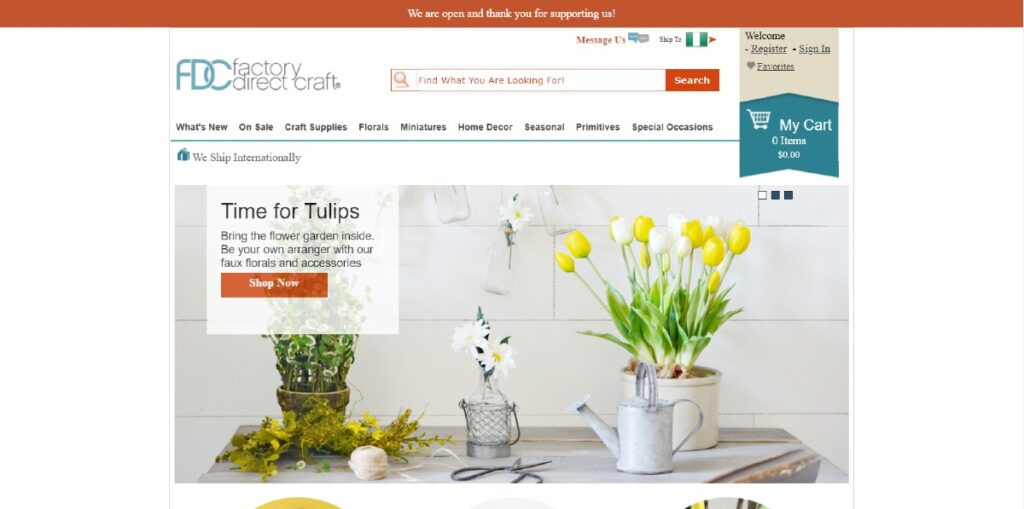 "What started out as selling items at local flea markets and festivals has grown into a distribution company who support artists, crafters, brides, event planners, parents, and educators across the globe."
This family-owned online shop is where you'll find your everyday arts and crafts supplies. Not to mention, plenty of unique home decor pieces and craft projects.
If you prefer to support family-owned businesses, this is one you should definitely look into!
6. Interweave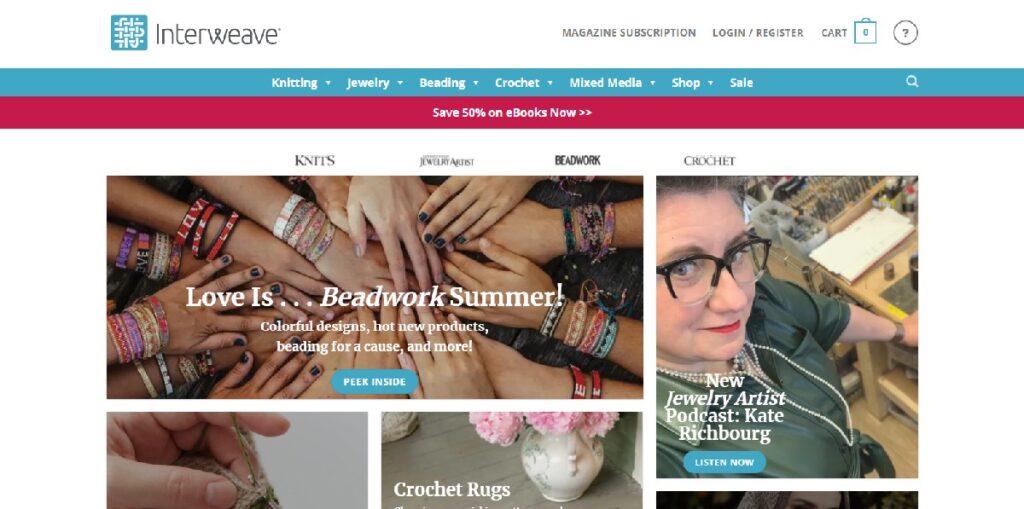 If you find yourself gravitating to the sewing, knitting, or crochet sections of stores, save yourself a trip — check out Interweave.
Here you'll find everything you need to get started on your knitting, jewelry-making, beading, and crocheting endeavors. There's even a "How-To" section for each, so no experience is necessary!
Learn to crochet a colorful rug, set a beautiful stone, or knit yourself a scarf, and find all the supplies you'll need all in one place.
---
7. Woodcraft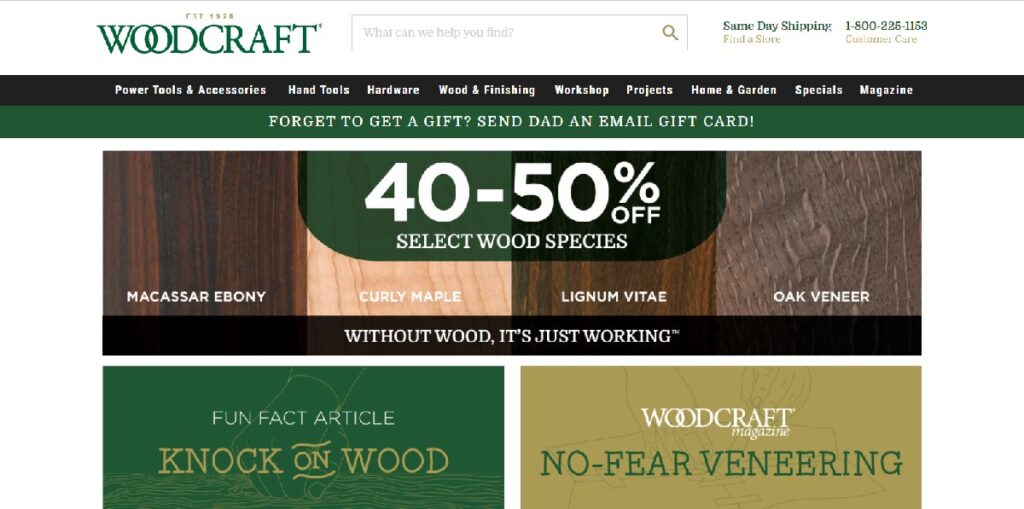 Woodcraft Supply is a retail company specializing in (you guessed it) woodcrafting! Many arts and crafts stores tend to offer a pretty sparse selection of supplies for true woodcrafting.
Here, you'll find power tools, raw materials, storage supplies, project kits, and more!
Woodcraft Supply has 72 locations across the United States. So if you prefer shopping in person, or would like to ask some questions, look to see if there's a store near you!
8. Annie's Catalog
Annie's Catalog began in 1975 and has long since become a household name for its magazines, designs, kits, and supplies. It should prove difficult to find something that doesn't inspire you here!
Annie's Catalog is now online-based. They provide everything you'll need for crocheting, knitting, sewing, painting, binding, and more. They also offer a wide selection of online courses to get you started crafting in your favorite style.
A little more shopping around will help you find a variety of tools, organizers, books, and other gift-worthy items too! 
9. LoveCrafts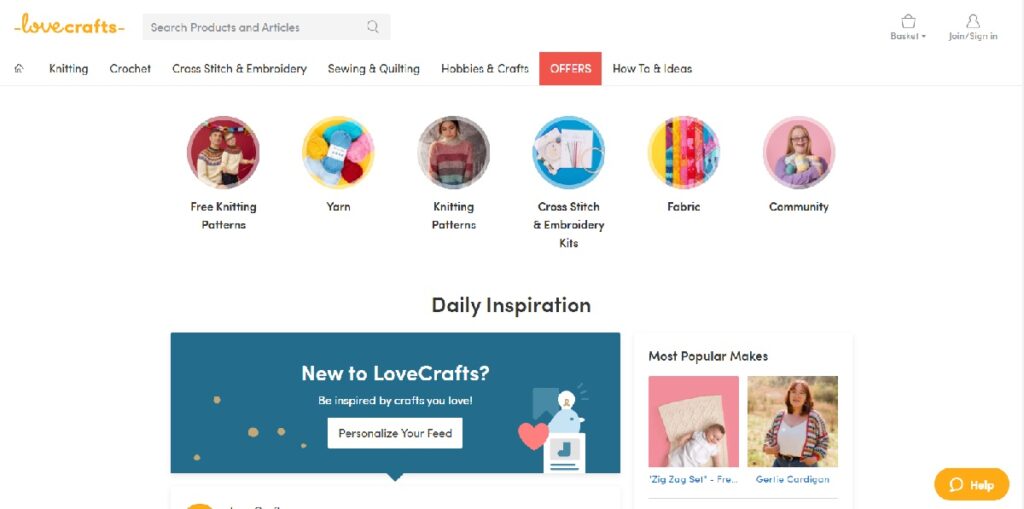 Another great mention on the list of stores like Michaels is LoveCrafts. If scarves, quilts, blankets, and sweaters are your favorite gifts to make, look no further than LoveCrafts. Whether you're making a sweater for your grandson's teddy bear, or a cross stitch for your bedroom, you'll find everything you need right here.
For those just getting started, check out the blog section of LoveCrafts. There you'll find tutorials, interviews, guides, and more for your knitting and crocheting adventures! 
10. Yarnspirations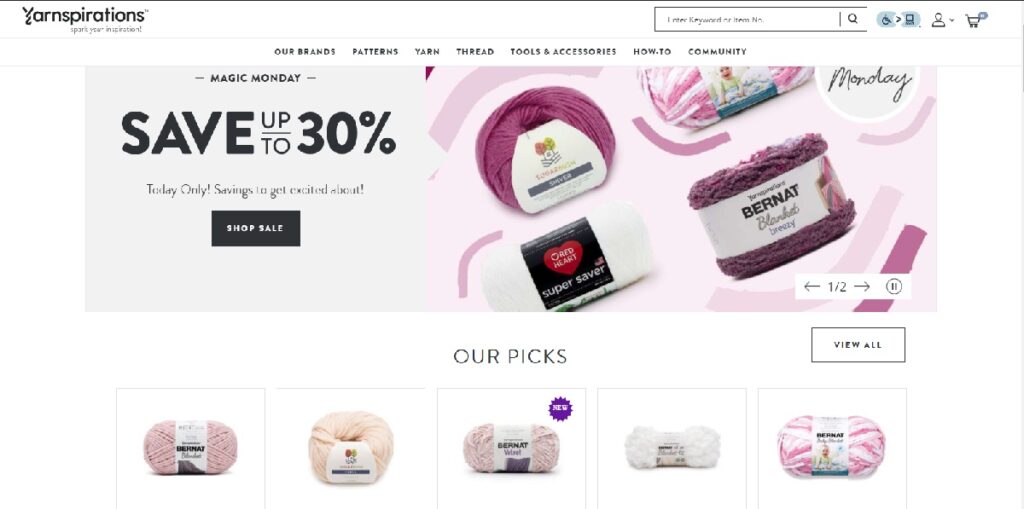 If you live for the gentle touch of yarn, bright colors, and new crossing patterns, make sure you take some time to check out Yarnspirations.
This online store provides all knitting and sewing enthusiasts with a wide variety of supplies, kits, and tutorials.
Does your local fabric store not have just the right colored thread or yarn for your latest project?
Take a look at Yarnspirations' collection, including a wide variety of weights, colors, and types. 
---
Conclusion
We know how vital your arts and crafts projects are to you, and these arts and crafts suppliers have everything you need to get the job done!
Sometimes it doesn't make sense to take a trip to a retail store because you never know if they'll have exactly what you need. So before you jump in the car, check out these Best Ten Stores Like Michaels to try to find what you need from the comfort of your own home.
Better yet, spend the afternoon browsing the aisles of an arts and crafts store you've never been to. New places mean new inspiration, and that's the best part after all!
Written by Vincent Woods, a freelance writer who specializes in all things apartment organization, real estate, and college advice. He currently works with Arch Troy to help them with their online marketing.