For over 50 years, Ann Taylor has been a go-to store for modern, elegant, and thoughtful women's clothing.
But they're not the only place to get your fashion needs.
For some, Ann Taylor might feel outdated or obsolete (especially considering the financial hit this company's reputation took during 2020).
All of that aside, though, there are plenty of Ann Taylor alternatives, so your chic wardrobe won't have to suffer the same fate.
1. Loft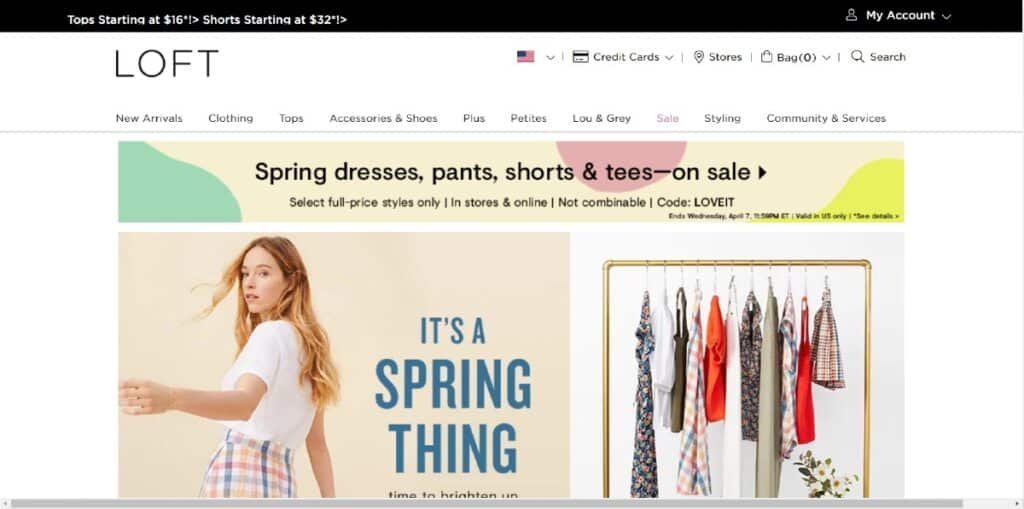 Loft is owned by the same parent company as Ann Taylor, so you could say these two stores are sisters.
Whether you're looking for a summer dress, a winter sweater, a t-shirt, or some pajamas, you'll find a desirable feminine touch in everything.
Loft outlet stores can be found almost anywhere across the United States, as it's one of the leading providers of women's clothing. Loft has 435 stores in North America alone, and over 500 stores worldwide. 
---
2. J. Crew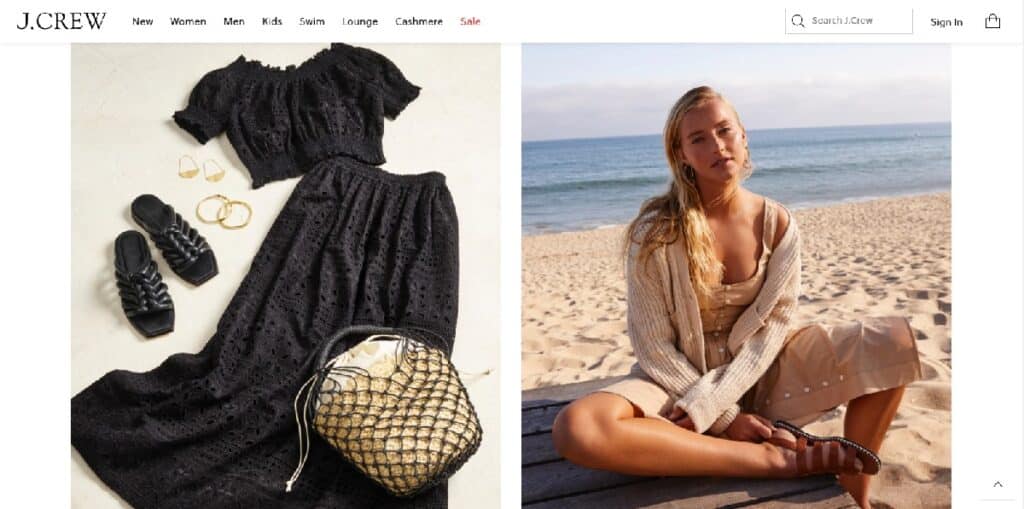 J. Crew is another retail clothing company, offering an assortment of styles for women, children, and even men.
If you're on the hunt for coats, blazers, or pants, J. Crew should be your next stop. This store pairs timeless styles with modern and seasonal changes, making your wardrobe ready for any business or personal meeting.
J. Crew has over 500 stores, so finding one near you won't be difficult. Their online store is also readily accessible — just pay for shipping or create an account to ship your new items for free!
---
3. Express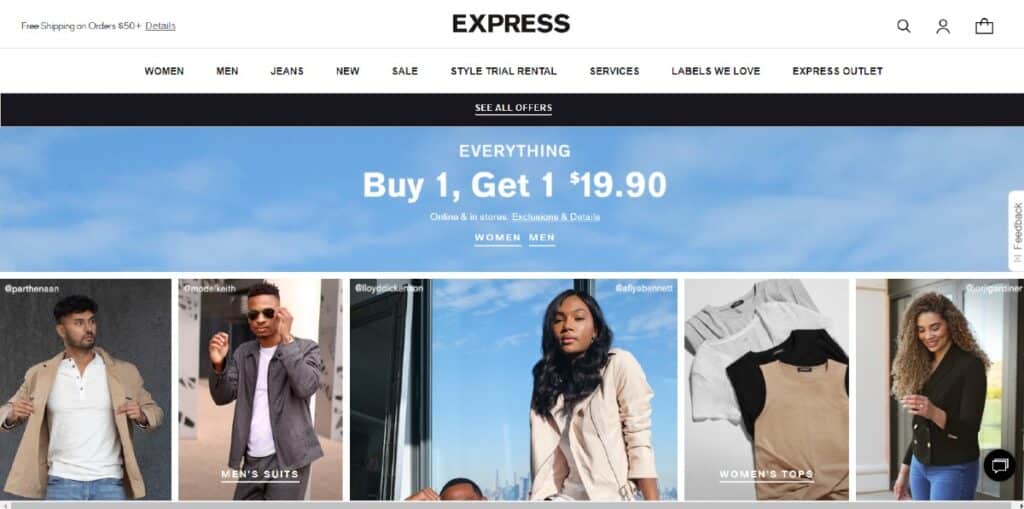 Express is an American clothing retailer that caters mainly to young men and women.
The company is headquartered in Columbus, Ohio, but you won't have much trouble finding an outlet near you, as there are over 600 stores located across the United States.
This store boasts a fashion-forward selection of everything from wardrobe essentials like socks and underwear to coats, ties, and formalwear.
If you're looking for a last-minute pantsuit or pair of dress shoes for that upcoming job interview, make sure to stop by Express to see what they have to offer!
---
4. Nordstrom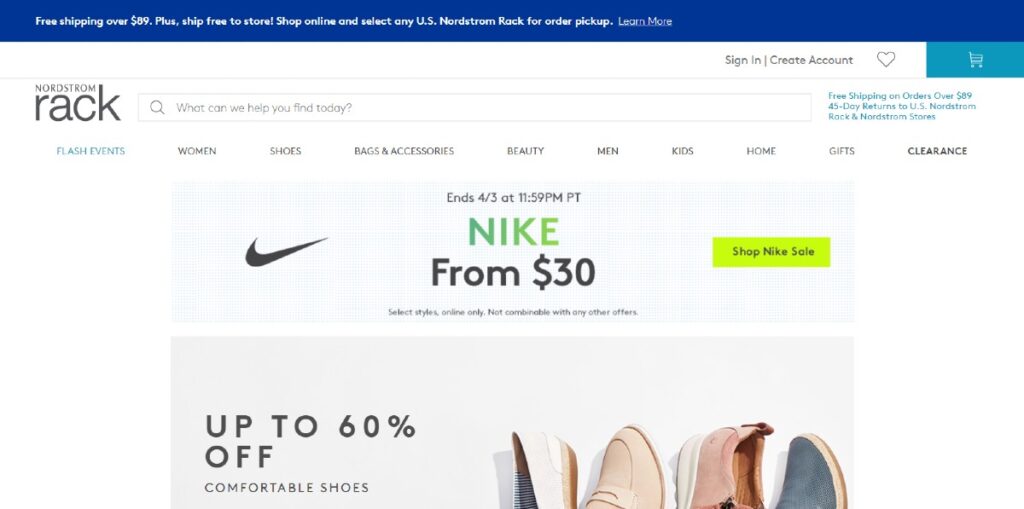 If you're in the market for luxury clothes and accessories, check out this American retailer.
Nordstrom has a long history of providing quality clothing. It was founded in 1901 as a shoe store but quickly evolved into a full-blown clothing retail store. 
At Nordstrom, you'll find clothes, shoes, jewelry, handbags, and other accessories. There's something for almost anyone here, as they have departments for both men and women.
This store is known for having fantastic sales too, so be sure to check out their website (which ships internationally) or stop by an outlet near you. 
---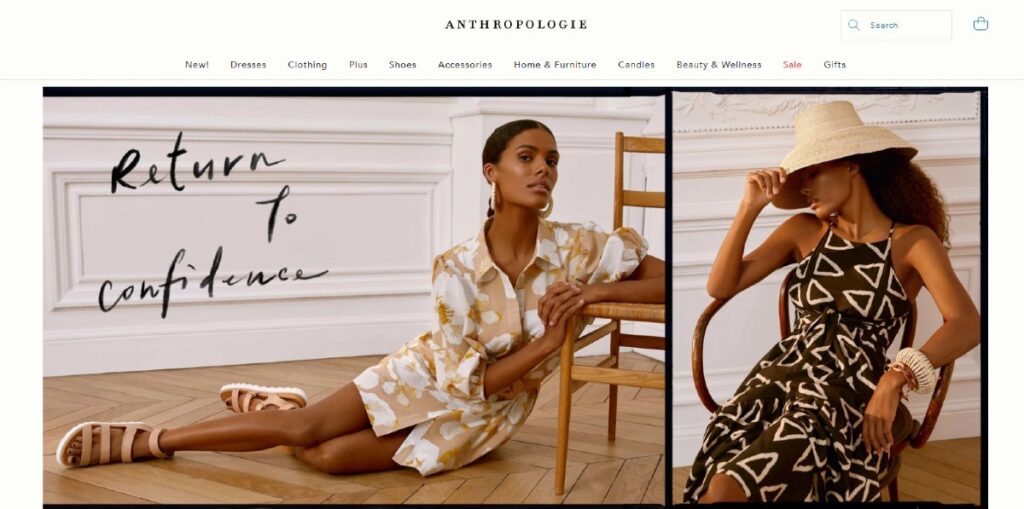 With a parent company like Urban Outfitters, you can expect to discover the unexpected when you walk into Anthropologie. This American clothing retail company offers much more than seasonal fashion trends for your wardrobe. 
Along with casual lines of dresses, shoes, jackets, and swimwear, you'll find decorative touches to dress up your home.
Check out their Home & Furniture section to find chic and trending furniture, bedding, curtains, and more.
Give your kitchen a modern spin with a new set of plates, bowls, towels, or flatware. And cozy up your bedroom with new pillows and throw blankets — after you're finished finding your new summer dress, of course! 
---
6. Bloomingdale's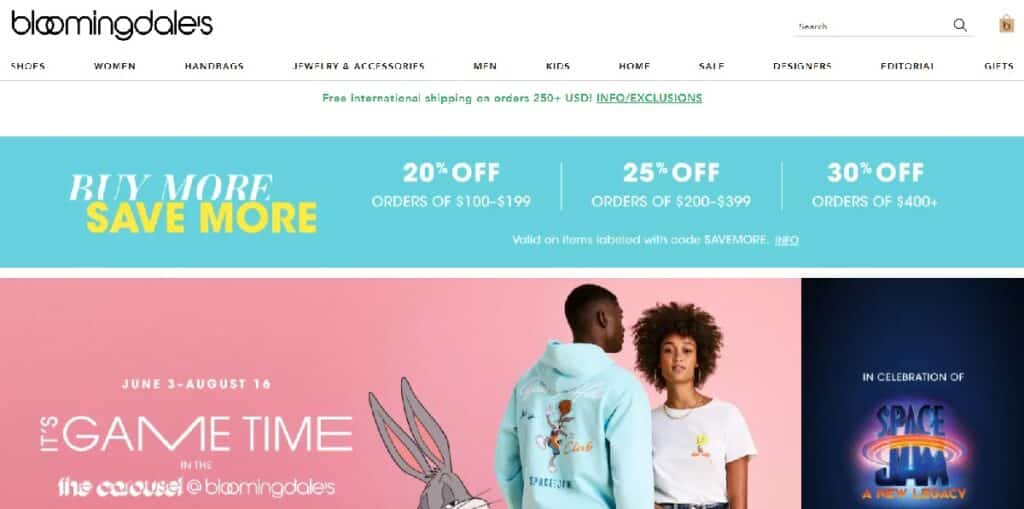 Bloomingdale's is one of the largest and oldest department store chains in the United States. It was founded in 1861 by Joseph and Lyman G. Bloomingdale.
This luxury department store can be found almost anywhere in the northeast region of the United States. But there's no need to worry if you live somewhere else, as they have a massive selection of products online.
If you're looking for luxury clothes, shoes, bags, or accessories for men or women, look no further than Bloomingdale's!
---
7. Banana Republic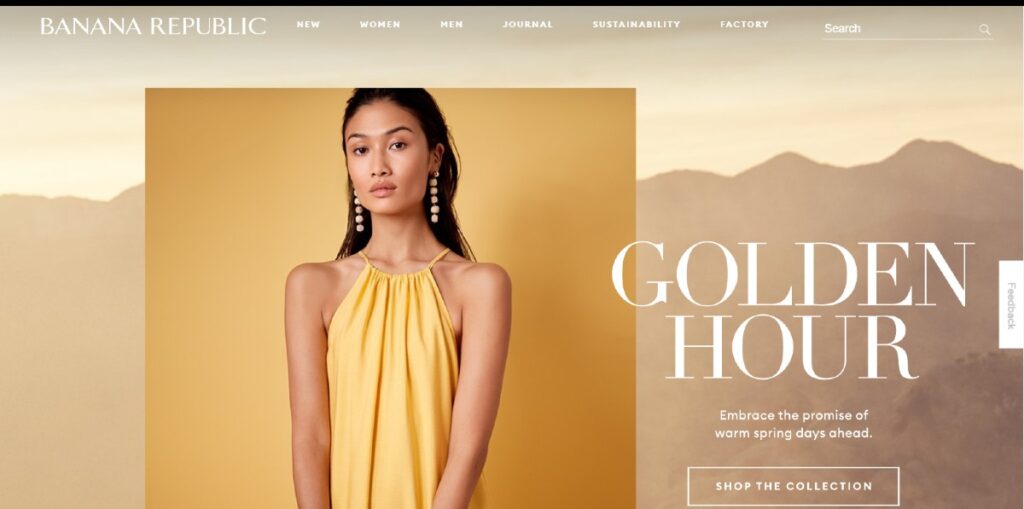 Banana Republic offers a wide selection of upscale clothing and accessories for men and women. You'll find polos, shorts, suits, blazers, and everything in between for men, and all things business casual or homey and comfortable for women. 
Banana Republic offers competitive pricing, and you're likely to find something on sale at any one of the 700 retail stores around the globe, so don't hesitate to give this outlet a chance to surprise you.
Don't have time to get to an outlet in person? You can still find loads of sweet deals on Banana Republic's website!
---
8. Gap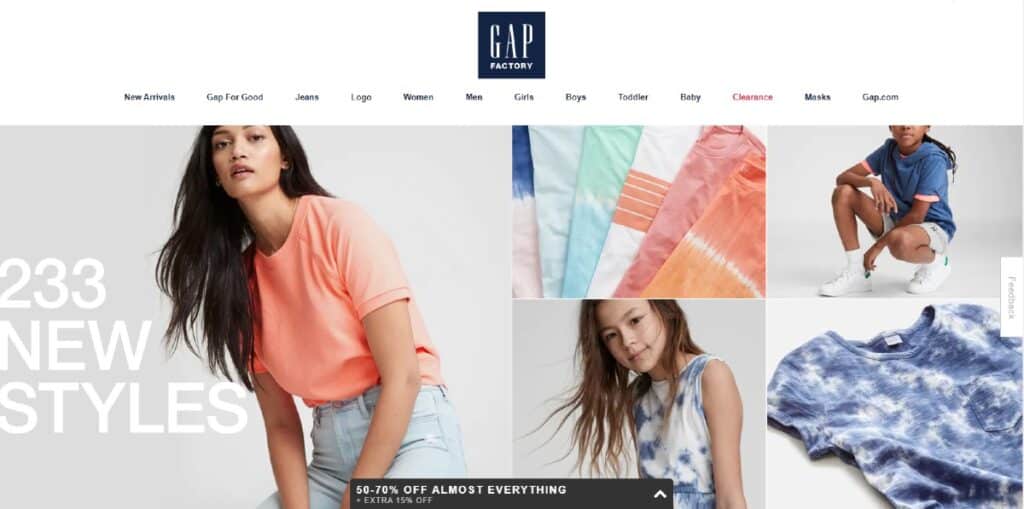 Gap is a household name in many places. This store's brand is defined by casualwear and basics for men, women, and children.
You may not find the same flashy trends you'd find at some other stores on this list, but you will definitely find stylish basics to fill your everyday needs.
If you can't find one of the 3900 Gap-owned retailers near you, make sure you check out their website for the same killer deals on men's and women's apparel. 
---
9. Chico's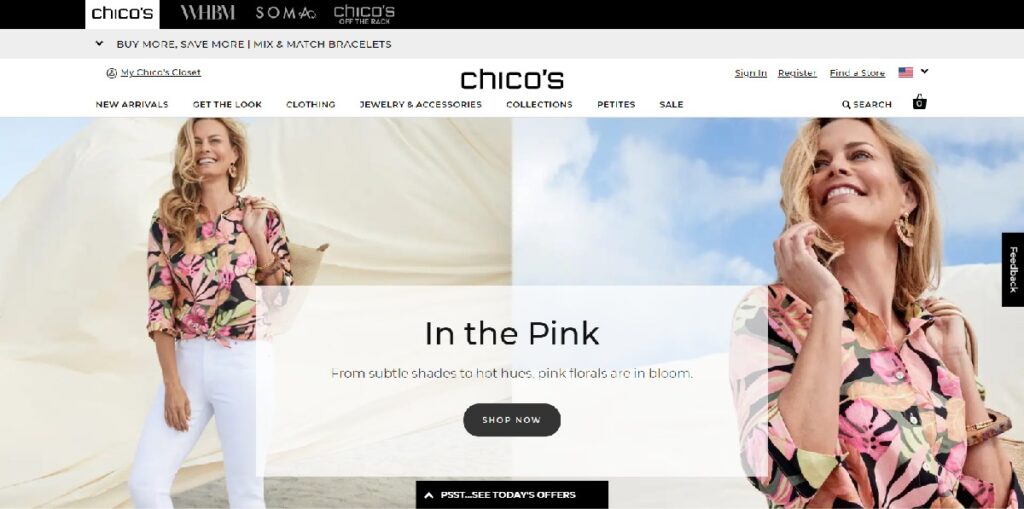 Unlike the last few retailers on this list, the Chico's brand was created and developed with women in mind. Here you'll find plenty of seasonal and trending styles for both casual and professional settings. 
Browse through tops, sweaters, denim, activewear, and other accessories, or head straight for Chico's Black Label Collection for luxury fabrics and designs.
Whether you're looking for comfy sleepwear or an outfit to make a lasting impression, you'll be in the right place at Chico's. 
---
10. Forever 21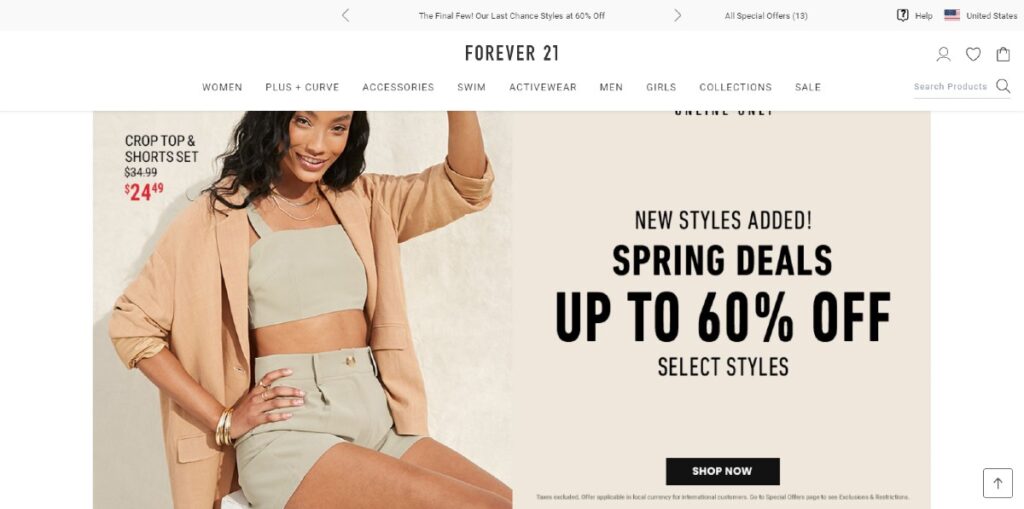 Forever 21 is the final clothing retailer on this list, and certainly not because it's the worst.
If you're a man or a woman feeling young and free, you might just love Forever 21's modern fast-fashion look.
Here, you'll find clothing for almost any occasion. You'll also find accessories, jewelry, beauty products, and home goods, all for a competitively low price.
There are 794 Forever 21 locations worldwide, so finding a store near you will be easy!
---
Conclusion
Whether you're looking for dresses, shoes, pajamas, or pantsuits, you're sure to find them at almost any of the stores we've listed above.
They may not be Ann Taylor, but they're definitely worth checking out!
Written by Caitlin Sinclair who is the property manager at Prose West Cypress. With five years of property management experience and many more in customer service, she has a passion for her community and looks forward to making Prose West Cypress the place to call home.