While fashion is a matter of personal taste, there's always a trend, a movement that you can't deny.
In this case, alternative fashion. A movement inspired by the spirit of independence. An offshoot of what's considered the norm. If you define your style as unconventional, then you're probably a fan of Hot Topic.
Back in the late 80s, Hot Topic was the "new kid on the block.". Sure it's an old store now, but it always stood for something, then and now — an alternative fashion statement.
Now, one thing about alternative fashion is that there are particular places to go for what you want.
For lots of people, that place is Hot Topic. Whether your style is funky, peppy, or even hippie, there's something for you.
However, it can be limited to going to one store to get everything you want. For this reason, we've compiled for you a list of brands similar to Hot Topic.
1. RebelsMarket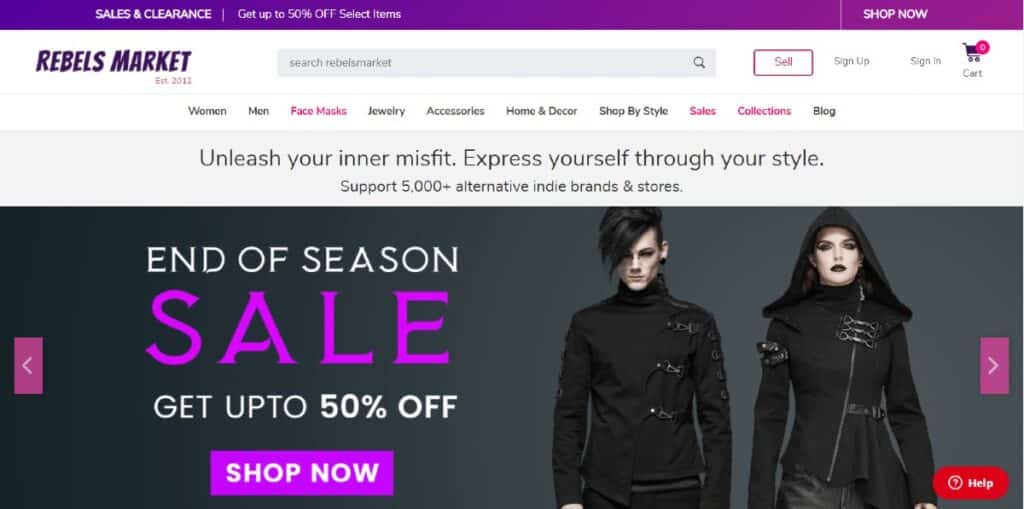 You can't talk about alternative fashion without mentioning RebelsMarket. The two might as well be synonymous.
If your taste for fashion revolves somewhere in the outskirts of mainstream ideas, you'll feel at home at this store.
Individuals who wanted to break free from conventional ideas and explore self-defining attitudes created the brand.
After all, the brand isn't called RebelsMarket for nothing. It's proud of its alternative roots and would be an excellent store to shop in if you love the carefree spirit of Hot Topic.
2. Zulily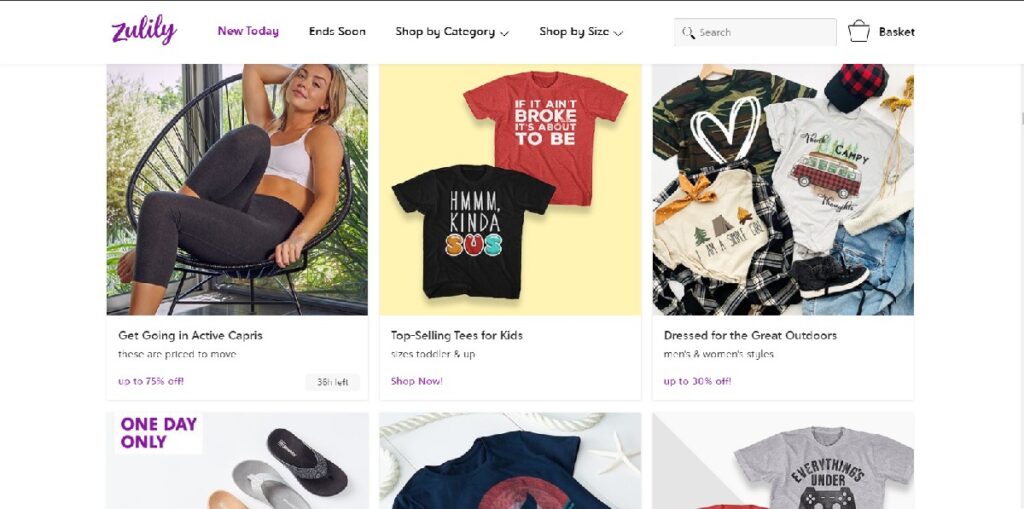 Zulily is all about uniqueness, from fashion to home decor.
The store has a rich collection when it comes to alternative ideas but that's not all. They pretty much sell everything, which positions the brand as a competitor to giants like Amazon and Walmart.
Now, the perks of shopping with a smaller merchant like Zulily is that you get to enjoy competitive prices. Zulily is one of those places with unbeatable price tags.
3. Yandy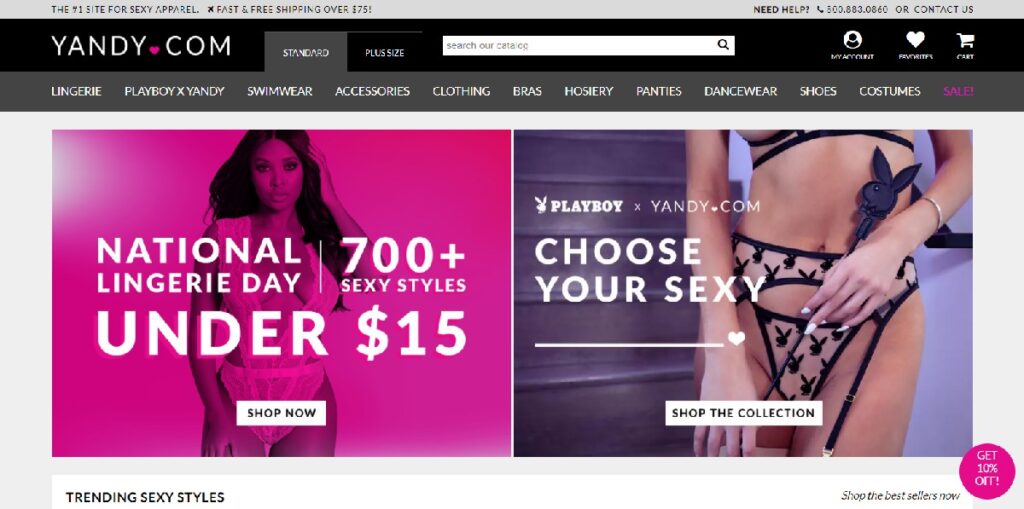 As the brand says, it's the largest online store offering runway-inspired pieces at jaw-dropping prices. Well, it's not just a marketing gimmick. Yandy is raw and authentic when it comes to their sexy apparel.
They have the mantra "Own your sexy," which couldn't be more apparent if their lingerie line is anything to go by.
If you're looking for feel-good, intentional, rebel-inspired sexy clothing, Yandy is your best bet.
4. Dresslily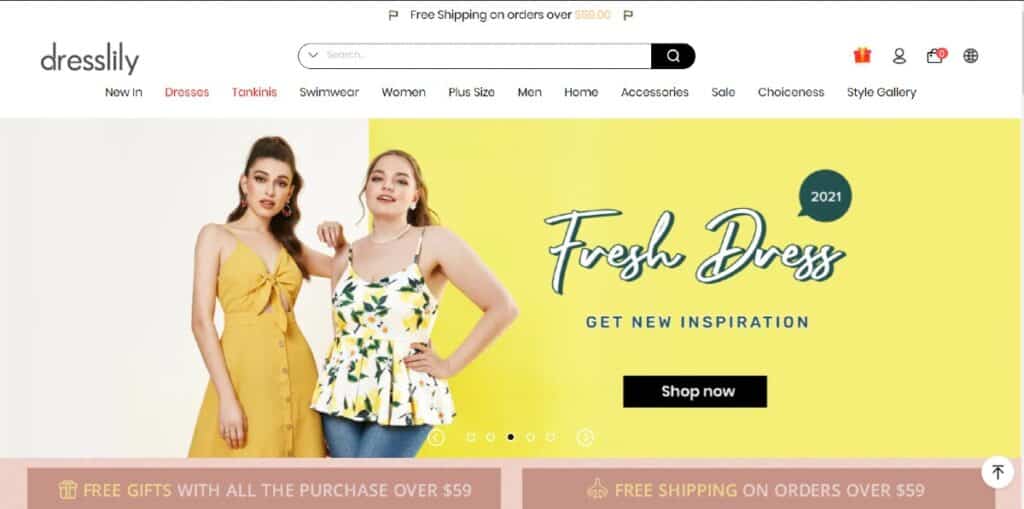 If you haven't tried Dresslily before, you're missing out. This rule-breaking retailer never lacks a decent number of alternative styles, from casual streetwear to boho.
The best part is that their women's apparel accommodates all sizes. And while it's a women's brand, it has a men's wear category focusing on casual looks.
One more thing, Dresslily is famous for its ridiculous discounts that can slash off as much as 60 percent on items. You definitely want to check out their flash sales.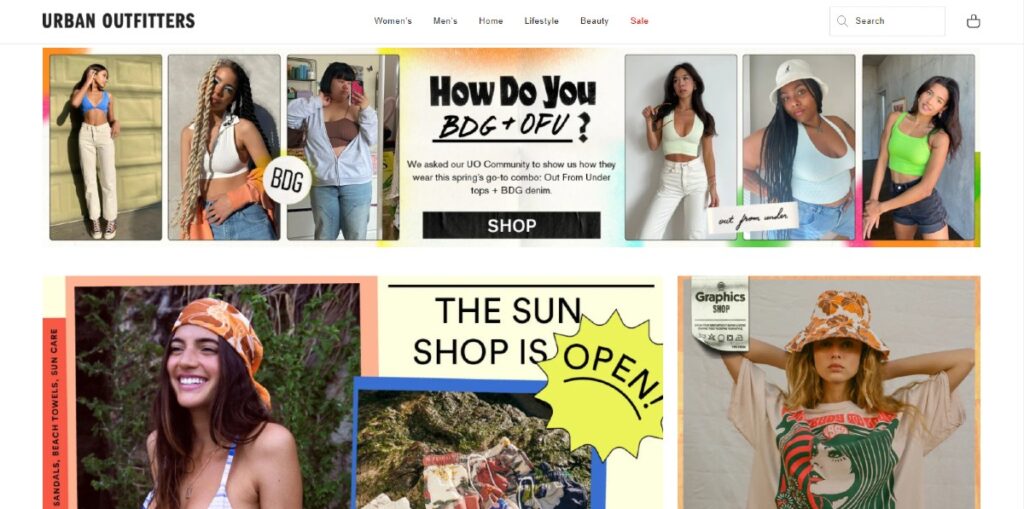 Urban Outfitters is urban in every sense of the word. Do you want creativity? They have that. You want rule-breaking experimental styles? They have that too.
The store runs with the latest trends and keeps an eye on unconventional ideas that are a part of the 21st Century urban atmosphere.
We found their casual wear and boho collections absolutely fantastic. If you're more in tune with the retro style, you might want to check out their unique collection of vintage clothing.
6. Vineyard Vines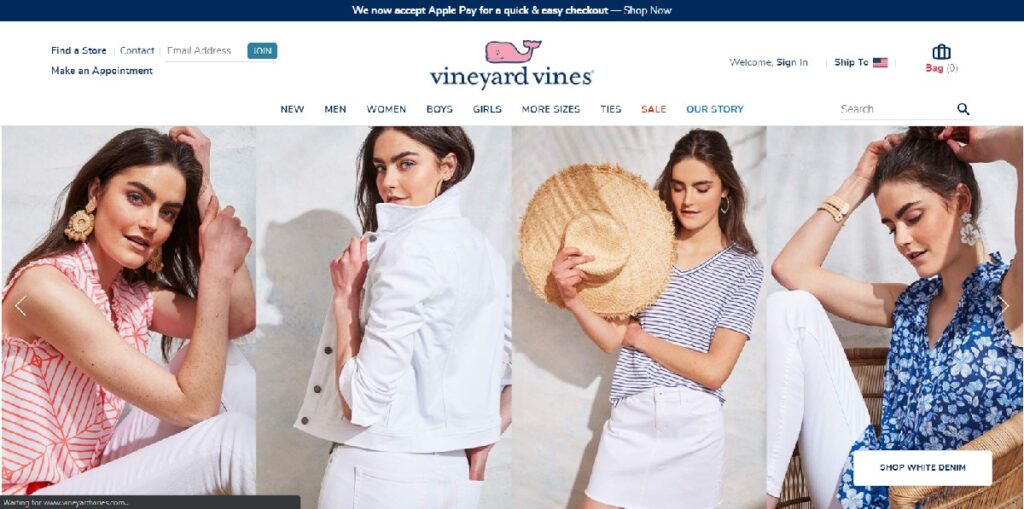 Vineyard Vines has a little bit of everything for everyone.
At a glance, the brand appears as if it's focusing on beachwear and summer apparel. After all, the company is notable for its airy taste, from linen to floral prints.
However, Vineyard Vines boasts a pretty decent out-of-the-box streetwear collection like Hot Topic.
7. Too Fast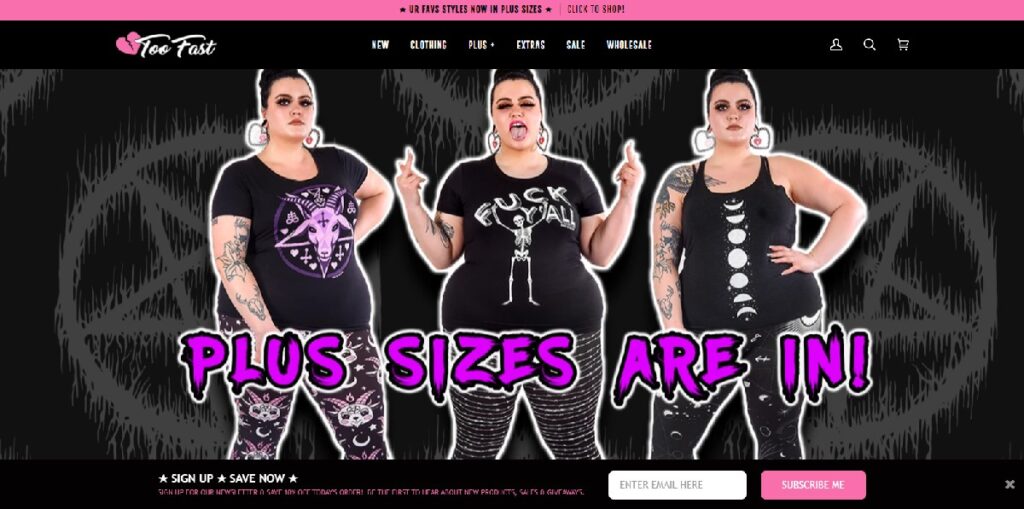 Are you up for the downright edgy fashion statement?
Too Fast has got you covered in a big, bold way. That's right; the brand is pretty straightforward about its goals. Like their mantra says, fitting in is not what they are after.
The brand lives up to its name. It's way too fast when it comes to pushing the boundaries of what many consider "the norm," and they are quite proud of it.
So, wherever you fall in the alternative spectrum, this is your one-stop-shop.
8. 80sTees
The 80s are long gone, but it still lives in some of our hearts.
Do you ever feel like you just don't fit into the fabric of the modern world?
Like you're watching from the outside?
Well, there's nothing conventional about you, alright. There are various reasons you may have this state of mind, and one of them is feeling like you identify with the past more than the present or the future.
If you tend to walk into a store and march straight towards the retro aisle, you probably belong to this category of alternative people. And 80sTees is the place you want to be.
9. Boohoo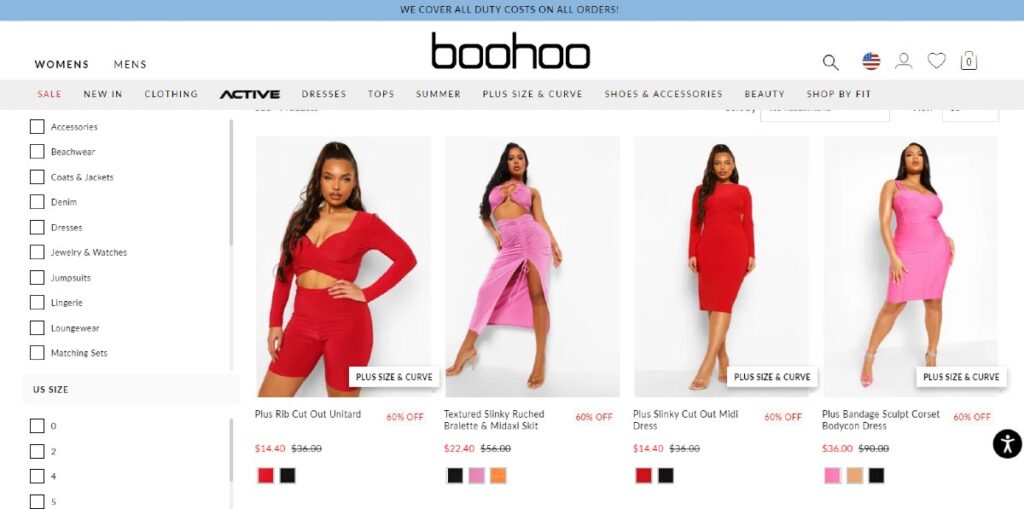 Boohoo is funky all the way. Founded in 2006, the brand has gone on to become a household name for alternative fashion.
The company's mission is simple, to make you feel good in your skin and help you "do your thing."
So, next time you're looking for a unique, pop culture-inspired outfit, you may want to stop by. And just like Hot Topic, Boohoo's prices tend to get ridiculously affordable.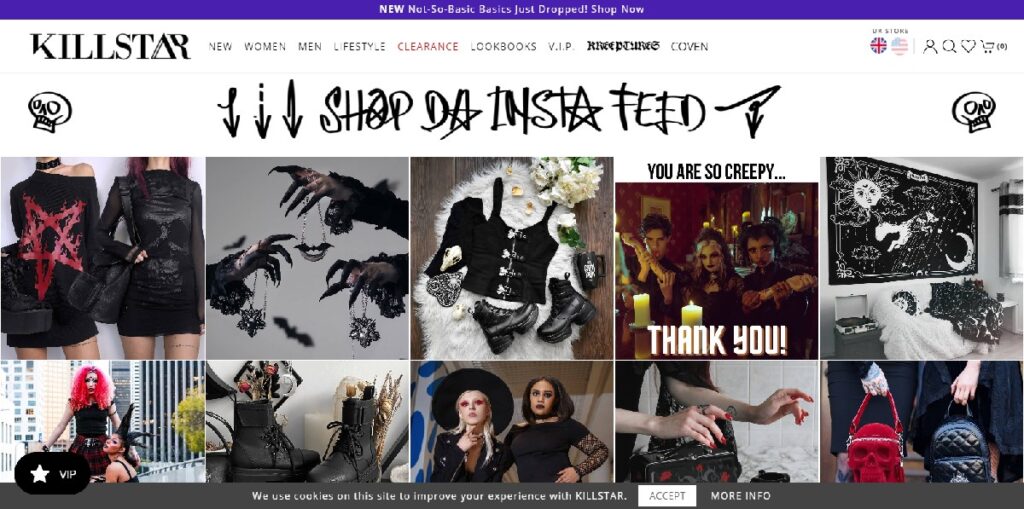 For edgy outfits and gothic vibes, you may want to check out Killstar.
The retailer doesn't have the massive selections you'll find at Hot Topic. It does still have a decent selection of alternative fashion clothing and accessories.
The brand prides itself on being a place for everyone, men and women of all sizes. If you like cute, provocative, or downright spooky, you'll probably love Killstar.
Conclusion
You don't have to dress conventionally in today's world if it's not your thing. There are stores to represent everyone, with the freedom to be yourself extending to your fashion sense.
If the alternative style makes you who you are, you'll definitely find these stores similar to Hot Topic quite useful.
Written by Adam Marshall, a freelance writer who specializes in all thing's apartment organization, real estate, and college advice. He currently works with Grove at Cheney to help them with their online marketing