If you're always hunting for fashionable clothing, shoes, and accessories, you're probably familiar with Boohoo.
This UK-based retailer aims to fill the fashion needs of teenagers and thirty-somethings through its own brand. Their inventory boasts over 36,000 products.
Those are some pretty big shoes to fill, but we feel that this list of the Top 10 Stores Like Boohoo comes pretty close to doing just that.
1. Pretty Little Thing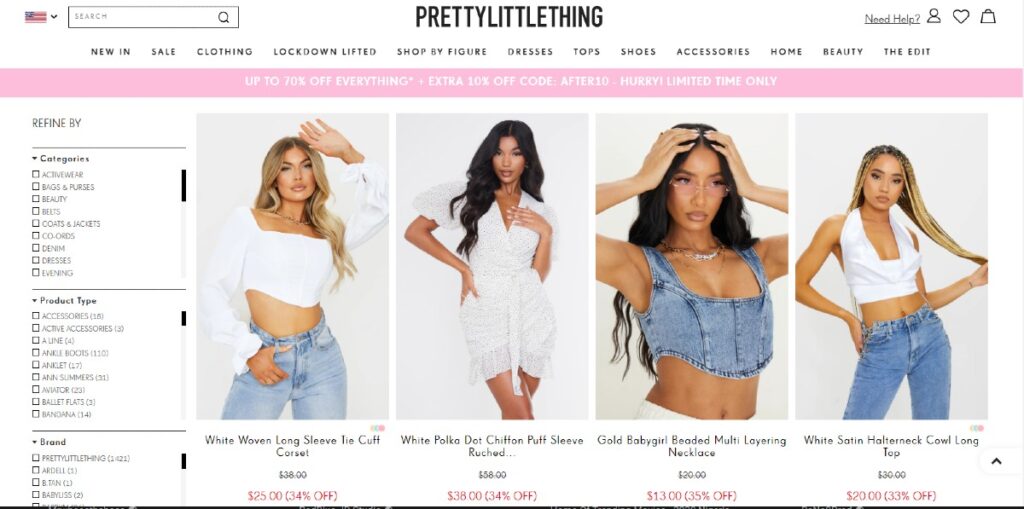 First off, this store doesn't offer clothing for men.
Yet, Pretty Little Thing is still making waves in the online fashion world with its affordable selection of dresses, tops, pants, shoes, and accessories.
Shopping online can feel like a waste of time when deciding whether or not something will fit. Some things fit differently for everyone, and Pretty Little Thing understands this.
There's something great for everyone at Pretty Little Thing. You can shop by figure or by body type for a shame-free and body-positive shopping experience.
2. Missguided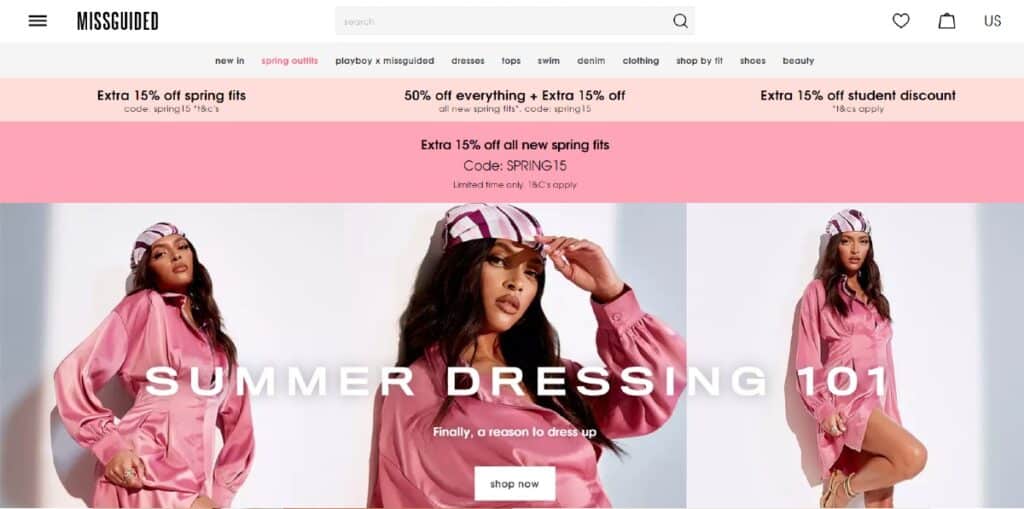 Missguided is another UK-based online clothing retailer which caters to women ages 16-35. According to the help page on their website, you can ship anything to the US, but orders over 800 USD will likely have an additional customs fee.
You might find it difficult to spend less than $800, though. And that's because Missguided has almost everything you could want to satisfy your fashion desires!
You'll find seasonal wear like swimsuits and summer outfits, as well as clothing items for your daily needs.
3. Amaroso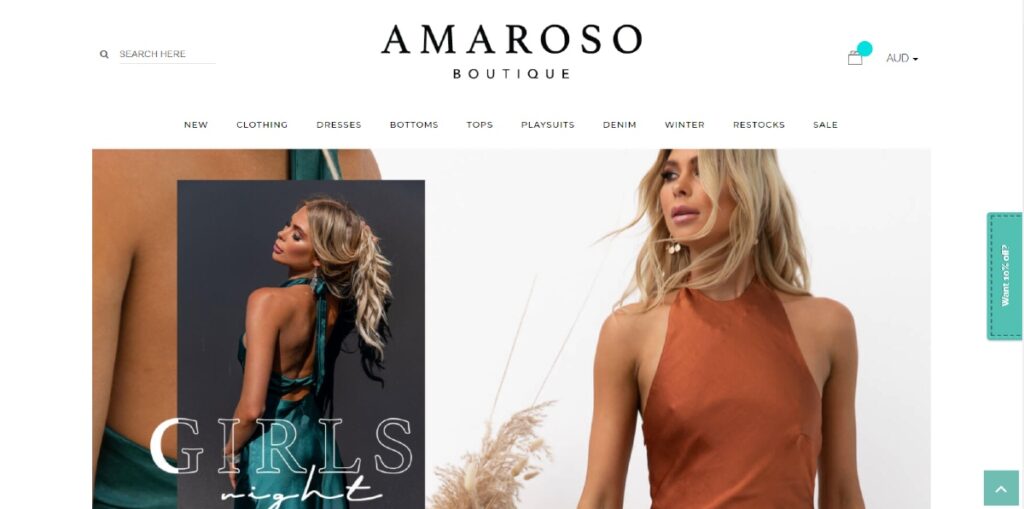 Amaroso gets its name from the Spanish word, "amoroso," which means "in a loving or tender manner." Expect to find thoughtful and elegant clothing for women at this Australia-based online clothing boutique.
Whether you're on the hunt for dresses, bottoms, playsuits, or denim, Amaroso has plenty for you to search through.
With decent pricing and plenty of sales, you'll almost definitely find something — even if you're not in Australia!
4. Nasty Gal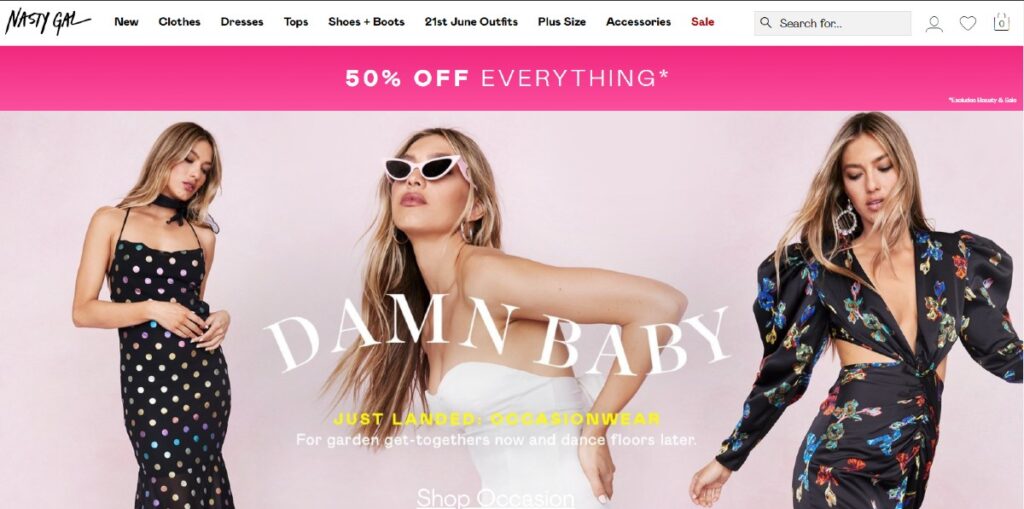 Nasty Gal is based out of Los Angeles, California. This retail store offers limited edition vintage and vintage-inspired clothing to customers in over 60 countries. (The best part is: you don't have to travel to the store to access their products.)
Nasty Gal is now actually owned by the Boohoo Group, so you'll find more internationally appealing clothing selections.
Store-wide sales on everything from tops, shoes, boots, and accessories aren't uncommon at Nasty Gal. Make sure you shop around to take advantage of those deals!
5. Lavish Alice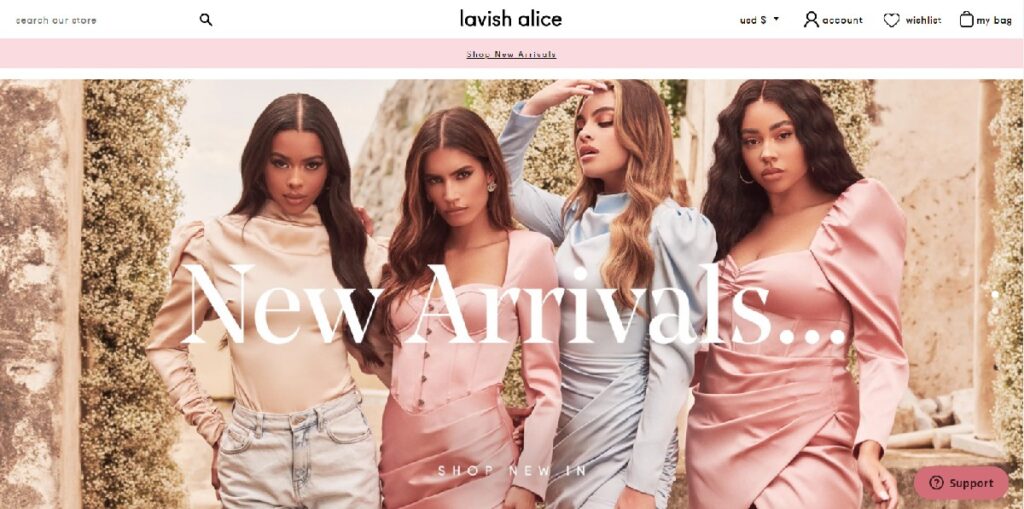 Lavish Alice is a UK-based women's clothing company specializing in combining ready-to-wear items with luxurious and contemporary appeal.
Need a new outfit for a job interview?
You'll find everything you need (and more) to show off the powerful woman in you without sacrificing any style.
At Lavish Alice, you'll find bodysuits, capes, dresses, jackets, tops, trousers, and jumpsuits. But you'll also find more casual items like swimwear and activewear.
6. Tiger Mist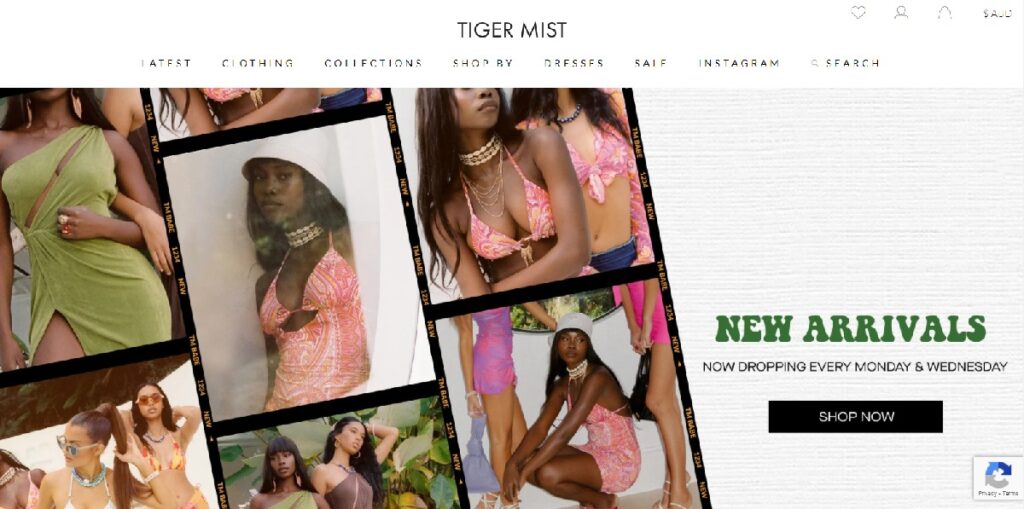 Tiger Mist is Australia's leading online fashion boutique. While there are locations you can visit in person — they're in Australia. Unless you plan to make the flight, we suggest checking out their online inventory first.
If you follow fashion trends closely, you'll find Tiger Mist's selection right at the cutting edge.
Love to stand out in a crowd?
If so, you'll find Tiger Mist's choice of fashion items to your liking, with bright colors and exciting designs to catch the eye!
Not only do they ship internationally, but they accept returns — you just have to pay for return shipping!
7. MissPap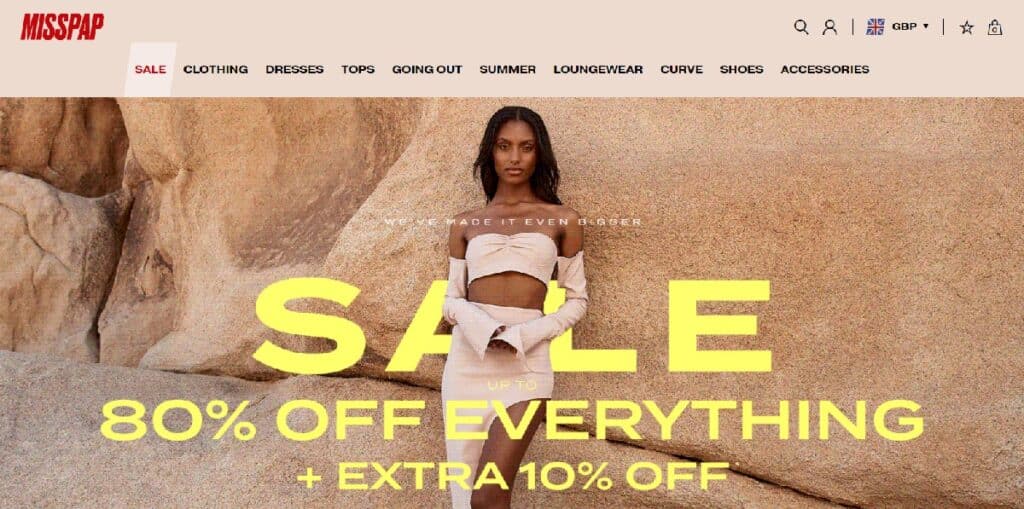 MissPap is yet another UK-based retailer providing fashionable clothing items for confident women who love to do things their own way. It's understandable, as the new store is now taking on international stores like Boohoo and Pretty Little Thing.
At MissPap, you'll find dresses, tops, summer clothes, shoes, loungewear, and accessories following all the latest fashion trends.
MissPap has recently expanded to the United States, but there's no need to travel to the store when you can check out their massive online inventory!
8. Be Jealous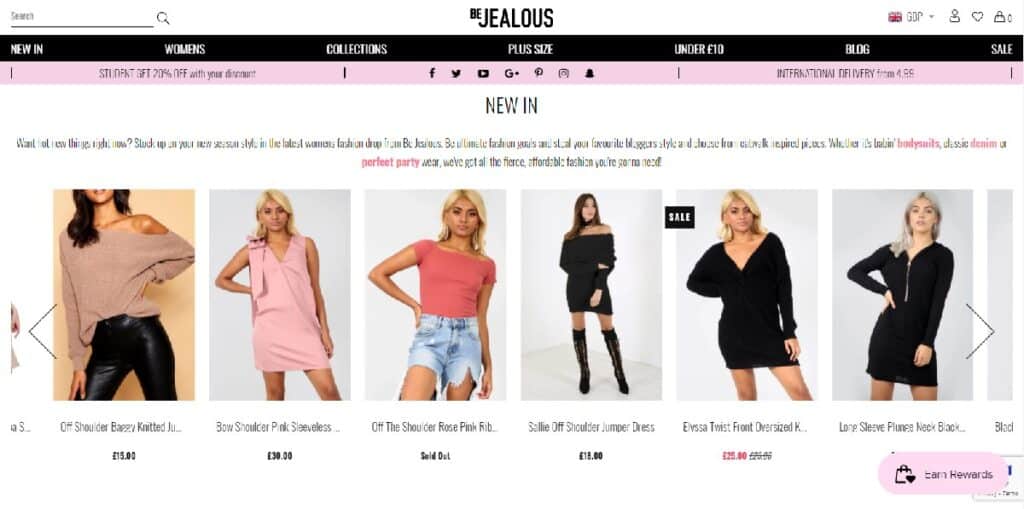 Be Jealous is an online clothing retailer for fashion-forward girls who like to keep their wardrobes updated daily. You'll find clothes for almost any occasion here, from hanging with friends at home to going out with a special someone.
You won't have trouble keeping your wardrobe updated daily either because of their affordable pricing. Check out the "under 10 Euros" page for an endless supply of new fashion items!
9. NA-KD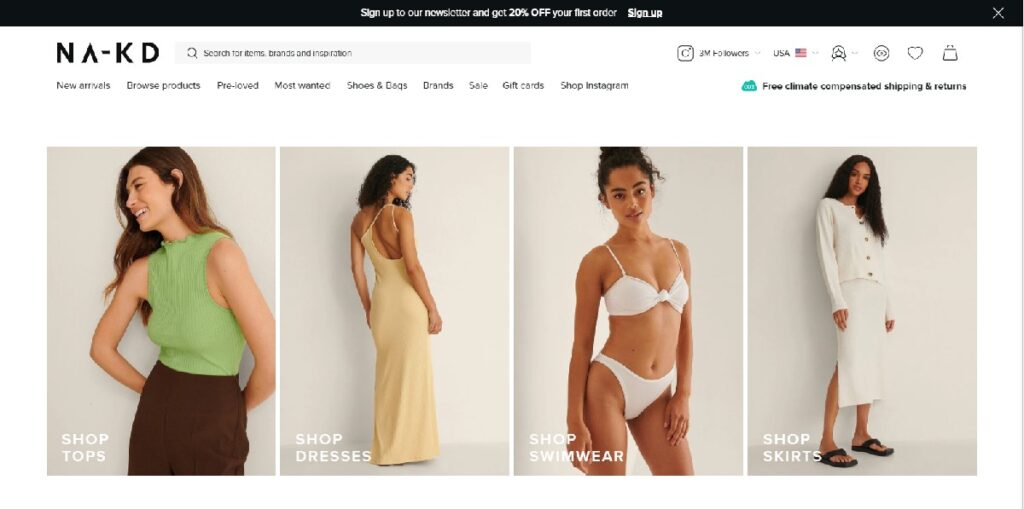 NA-KD was started in 2015, making it a relatively new clothing retailer. The Sweden-based company aims to prove that clothing stores can be on-trend and affordable.
Along with a massive inventory of new clothing selections, you'll find a "pre-loved" version of just about everything. This is NA-KD's way of reducing the amount of fashion waste.
Instead of throwing out your old clothes, you can return them to NA-KD for recycling!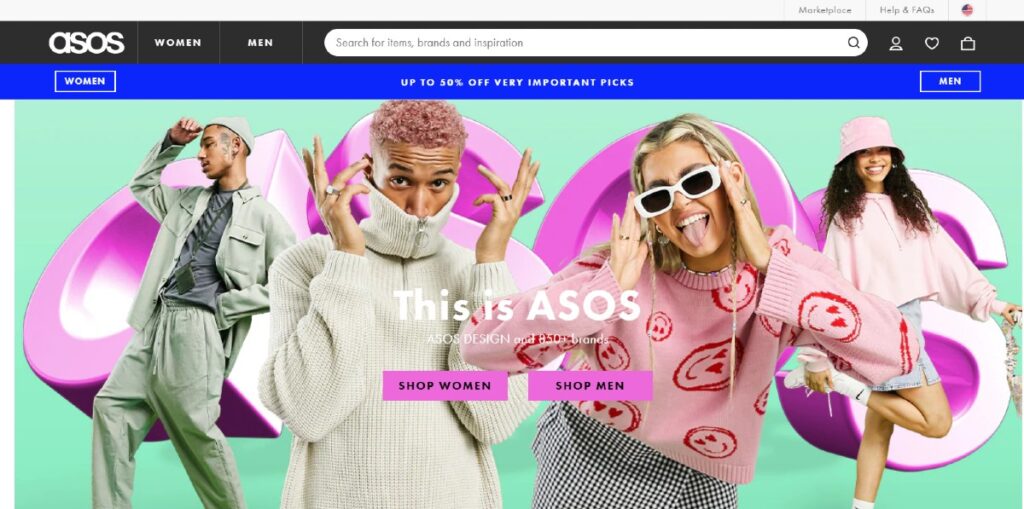 ASOS is one of the only stores on this list that offers clothing selections for both women and men. You won't find ASOS in any mall, as they're entirely based online, but they're still known for their excellent customer care.
The company is in the UK but has found success with American twenty-somethings as well.
When it comes to deals, you're likely to find something at ASOS. Whether you're looking for tops, pants, activewear, or shoes, you'll have no trouble finding what you need here.
Conclusion
Finding the right clothes for the right occasion at the right price can be a challenge. Unfortunately, not all clothing stores are equal, sometimes, you have to bounce from one to another until you find what you like.
Save yourself some time and check out these ten stores like Boohoo to help narrow down your search!
Written by Caitlin Sinclair, the Property Manager at 7th West at Midtown with five years of property management experience and many more in Customer Service. She shares her passion for her community and looks forward to making 7th West at Midtown the place to call home.