In the U.S., Crate and Barrel is ranked right near the top for its high-quality home decor and furniture. It's one of those stores you can visit and get lost in for days!
Known for having stylish, trendy, and classic designs at incredible prices, Crate and Barrel is a must-visit if you get the chance. Of course, you can always shop their website and catalogs, but it's not quite the same experience as an in-store adventure.
With decades behind them to perfect their brand, it's no wonder Crate and Barrel have solidified their reputation. They're now one of the top names in the home interior business.
It All Started With a Vision
Although the company's real name is Euromarket Designs, Inc., it operates under the catchier "Crate and Barrel." Founded in 1962 in Chicago and headquartered in Northbrook, Illinois, the company quickly became successful.
Currently, there are 89 stores, 8 outlets, and expansions into Canada.
All this success came about from the idea and vision of the founders, Gordon and Carol Segal, when they were only 23 years old. They bought an old, falling apart elevator factory in the Old Town side of Chicago and fixed it up.
By the time the Segals were done, the 1,700-square-foot factory had grown into a posh yet rustic European import store.
Crate and Barrel set the tone for dozens of other stores to copy their business model over the years. If you like the idea and style of Crate and Barrel, you might want to check out these five similar shops.
1. Homesense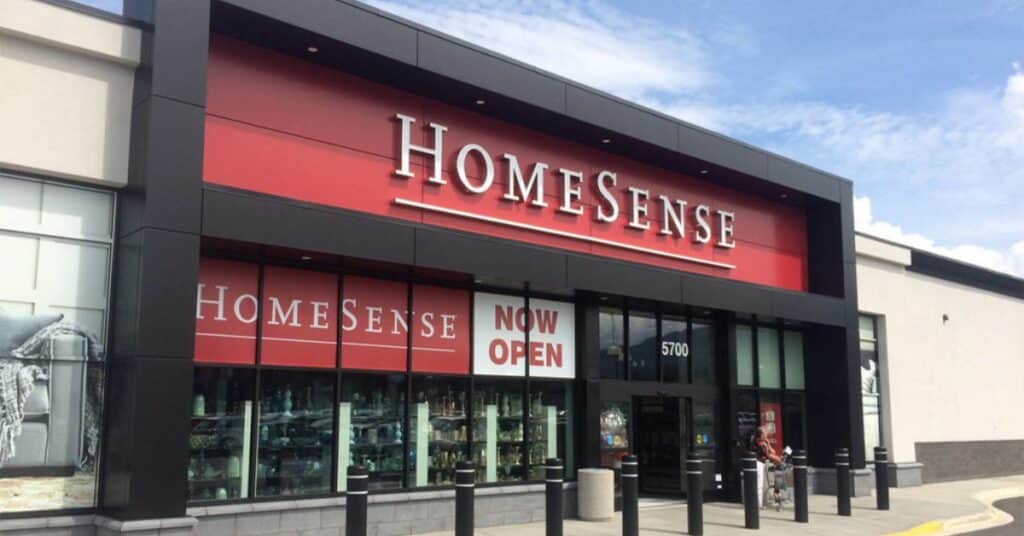 Homesense is a store with a mission to offer its customers quality goods from around the world with genuine value. The company is affiliated with TK Maxx (or TJ Maxx, depending on where you live).
The first Homesense opened in Preston in the United Kingdom in 2001. Since then, they've expanded to more than 76 stores in the UK. They expanded into the United States in 2017.
Known for its trademark "green glow" around its signs, Homesense provides unusual yet stylish homeware from all over the globe. These often one-of-a-kind products are then sold at 60% less than the suggested retail price.
What You'll Find in Homesense
Homesense sells products similar to the things you'd find in Crate and Barrel. It gets its unique touch, though, in the way it updates its inventory. You can find something new in your local store every week.
Because they're an off-price retailer, there are various brands, fashions, and designer products. The buyers who choose what to sell in each store look for everything from kitchen supplies and seasonal decor to furniture.
The vendors used by Homesense are an eclectic group that includes name brands, designers, and independent artisans.
The trick is to find products that have been overproduced by a designer or overbought by another store. Those items are then purchased inexpensively by Homesense and sold at a discount to customers.
The drawback to this is that you might fall in love with something and want to buy it again. But with the way Homesense stocks its inventory, you may never see the same thing twice.
---
2. IKEA
From the time Ingvar Kamprad was five, he knew he was going to be different. He began selling matches in his Swedish hometown in 1931, and the spark for business grew from there.
Ingvar grew up during a time when poverty was a widespread thing. But his parents had innovative solutions to make money beyond the typical farming. Watching them, Ingvar knew he had to find another way to make a living. By the time he was 17, he had used his business acumen to found IKEA.
The store started out as a direct import and mail-order business, selling things like watches and pens. Slowly, as Ingvar had more time to devote to his business, he noticed people needed furniture. In 1948, the first pieces showed up in his brochure, and IKEA took off exponentially.
What You'll Find in IKEA
As of 2021, that little mail-order store has grown into a 450-store chain. The brand is recognized best for its stylish and well-made but affordable home goods and furniture.
Designers such as Henrik Preutz, Sarah Fager, Hanna Delrot, and Iina Vuorivirta create popular merchandise for the Swedish corporation.
The modern furnishings and decor attract people from all over the world, but the warehouse-style setup makes the shopping experience a unique adventure.
From tools and kitchen accessories to bedroom furniture, if it belongs in the home, you'll find it in IKEA.
---
3. Overstock.com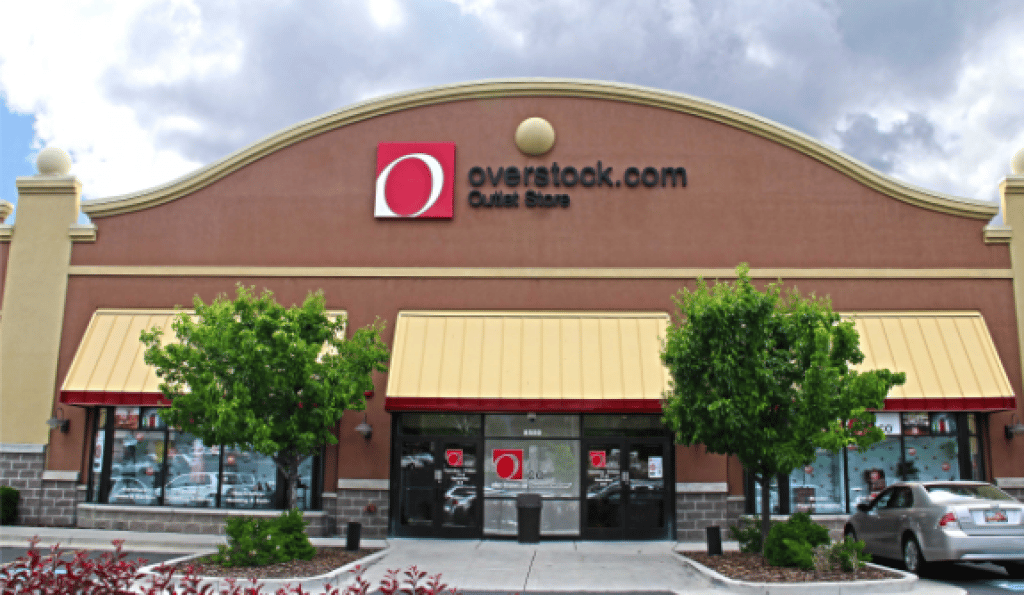 The history of Overstock began in 1999 when Patrick Byrne bought Deals.com. This company had focused on taking excess inventory from other businesses and liquidating it. Byrne kept the strategy but renamed the company Overstock.com.
Overstock quickly grew in popularity, especially as dot-com businesses went bankrupt when the bubble burst. Looking to sell their inventory fast, they turned to Overstock to save the day.
What You'll Find at Overstock.com
You won't get the warehouse experience at Overstock, because the company operates exclusively online. But you will find decor, furniture, and plenty of other things to fill your home.
Overstock purchases liquidated assets from other companies and resells them to you at a discounted price. The company is best known for its home improvement and accessorizing goods, but it also offers children's toys and clothes, adult apparel, and jewelry.
Because of the way Overstock gets its inventory, you'll find all kinds of designer and off-market brands. It's all quality merchandise, and shipping is usually free!
---
4. Room & Board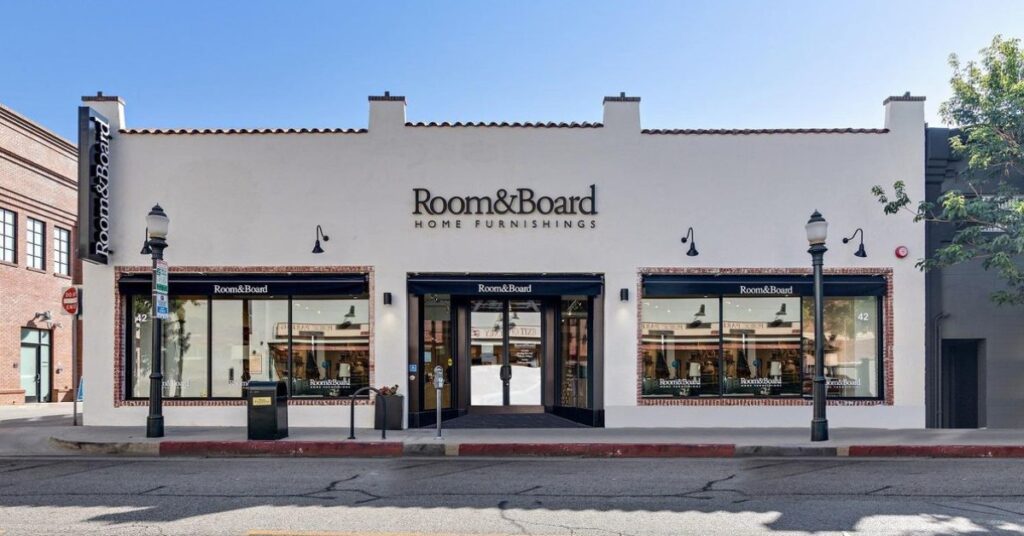 While the name might not be as well-known as Crate and Barrel, Room & Board holds its own in the home decor and furniture industry. With 17 stores around the country and a massive website marketing campaign, Room & Board is a popular alternative to its competitors.
The store's founder, John Gabbert, has a long history with furniture. His parents had a furniture showroom when he was young. His visit to IKEA in the 1970s impressed him enough to change the course of his life.
Gabbert used the IKEA model to open stores in Denver and Edina under his family's name. He went solo in 1980 and launched Room & Board, designing all of the products himself.
His hard work paid off, and he's now the owner of a $400 million/year mega-corporation.
What You'll Find at Room & Board
Room & Board is known for its quality merchandise. Instead of buying liquidated inventory cheaply, the company hires artisans and small businesses to design and build their furnishings.
In addition to home furniture, you can find everything from lighting to bed-and-bath basics in this store. Commercial businesses buy from Room & Board at a bulk discount. For the average homeowner, DIY renovating is made easier because all the accessories you need are in one place.
With free returns, lots of online resources, and friendly customer service, shopping online is a breeze. But for the full experience, visit one of the 17 stores in the U.S.
---
5. Chiasso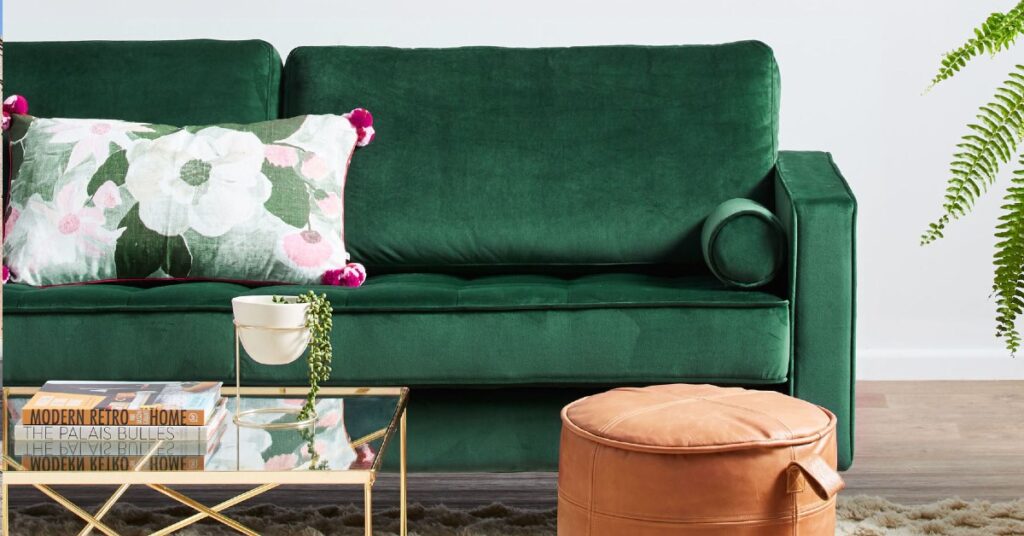 Another up-and-coming Crate and Barrel alternative is Chiasso. Never heard of it? You'll hear a lot more about it soon!
The first store opened in 1985. From there, it had its ups and downs, filing for bankruptcy in 2003. The company was purchased by the son of the Segals, the founders of Crate and Barrel.
Chris Segal and his partner Greg Kadens turned Chiasso (pronounced key-AH-so) into a modern mix of furniture and home decor. With the family business acumen, Segal and Kadens returned the company to profitability. Now, the majority of its business is done through its website.
What You Will Find at Chiasso
Over the past decade, the inventory at Chiasso has slowly changed. Now, it's a successful combination of modern and traditional styles.
If you're looking for mid-century furnishings and accessories, you can find them here at affordable prices. Chiasso carries modern bedroom sets as well as comfortable and attractive living room and dining furniture.
Everything you need to make your outdoor patio welcoming is sold here, and Chiasso keeps up with the latest trends, too.
The company may not be as well-known as Crate and Barrel, but they have become a success in their own right. Seen on HGTV, ABC, Extreme Makeover, and more, Chiasso has become known for its stylish luxury at affordable prices.
---
Conclusion
Crate and Barrel may not have been the catalyst for every home furnishing store we have today, but it was definitely innovative. Gordon and Carol Segal's vision turned into a dynamic industry-shifting business.
But if Crate and Barrel isn't in your area or you're looking for something comparable, you still have options! These five stores are quality alternatives to the mega home furnishings corporation.
Written by: Proxi Lawrence who offers luxury housing for Kansas State University students in Lawrence, Kansas. Learn more about their housing options today!