Are the pastel jogger, cozy plaid jacket, and bucket hat fashion trends too painfully "mainstream" for your old yet restless soul?
Then we're willing to bet going against the grain likely zig-zagged you through Dolls Kill's digital aisles.
But what if the sunflower patterns, knee-high combat boots, and astrology-themed face masks don't fill your "misfit" needs?
You'll need elsewhere to discover some fashionable rebellion.
Dolls Kill Alternatives
Check out these seven Dolls Kill alternatives to revive your inner gothic, edgy, and trendy fashionista!
1. Hot Topic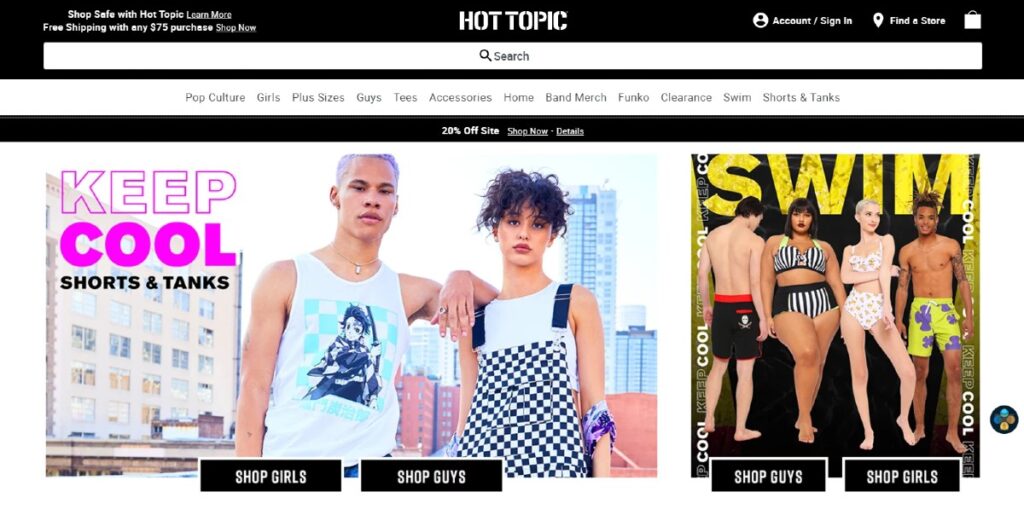 Hot Topic was once the after-school hangout spot for grunge, 90s kids looking for new ear gauges, band tees, and knee-high platform boots.
While the store's taken a trendier turn in recent years, its gothic remnants still exist. Today, it's a subtle mixture of pop culture and alternative fashion.
The band tees selection is more expansive than ever, featuring fresher faces like Billie Eilish and Juice Wrld. While still paying homage to the Hot Topic OGs (a la Slipknot, MCR, and Dashboard Confessional).
Get your punk rock fix by tossing checkered skirts, platform booties, and rose quartz plugs into your basket. Or, become an honorable Gen Z'er by hopping on the Funko bandwagon or buying authentic BTS merch (join the ARMY).
2. ASOS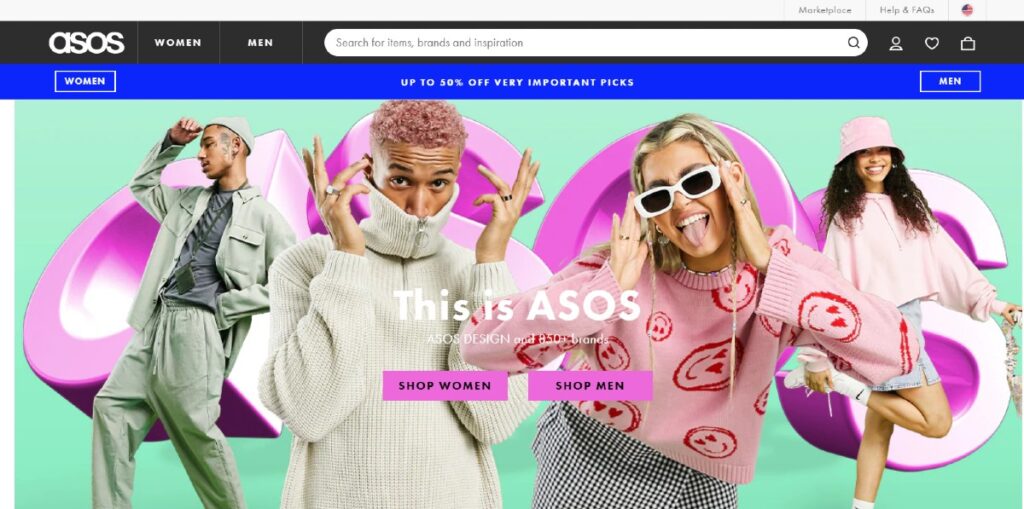 ASOS is head-to-head with Dolls Kill from the spirited, sassy, and attitude perspective.
This wildly trendy clothing store can fill an entire closet and dresser. Whether you're a homebody, a frequent flyer at the club, or a classy business woman you'll find something to turn heads.
Stock up on Nike tees and athletic leggings for a calorie-torching workout. Or jump on the "mom jeans" and oversized jackets trends before they fade into the history books (where all fashion trends retire).
ASOS isn't quite as edgy as Dolls Kill. But its Doc Martens, distressed jeans, and classic Ramones tees whisper "alternative enthusiast" to anyone in the fashion world "know."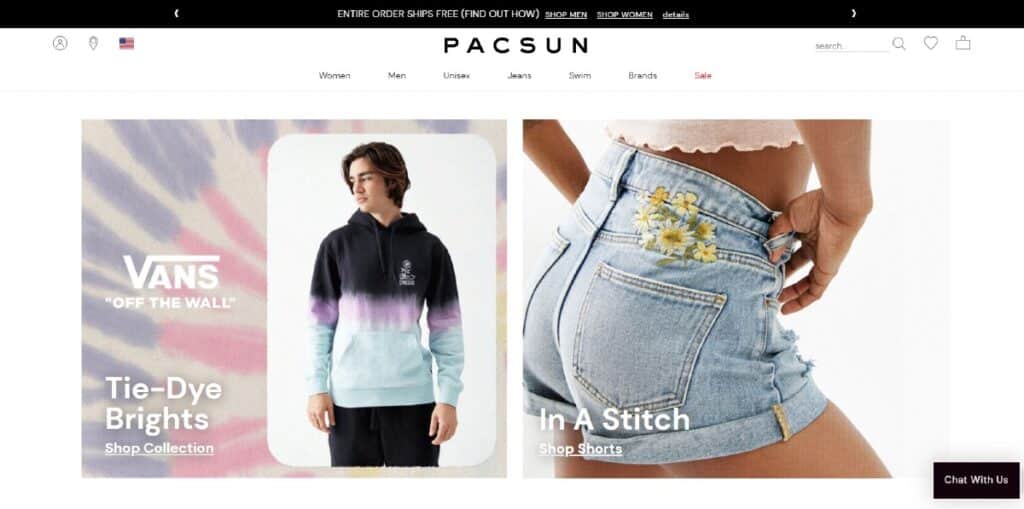 Like Hot Topic, Pacsun (formally known as Pacific Sunwear) is on a more modern kick as of late. Skater brands like Volcom, DC, Etnies, and Fox may no longer be the face of the store, but its bohemian festival vibe still runs deep.
If you buy anything Kardashian-related, you'll adore that PacSun carries clothes by Kendall & Kylie. Their line features babydoll and cinched cutout dresses. You'll easily find the perfect outfit for a casual girl's night out or afternoon Starbucks visits.
But feel free to mix and match 2021's hottest trends. Pair light blue high-waisted jeans with an oversized Magic School Bus tee (hey, what's old is new again) and 90s-style Fila sneaks.
If you can find it along the West Coast, you'll also discover it at PacSun.
4. Nasty Gal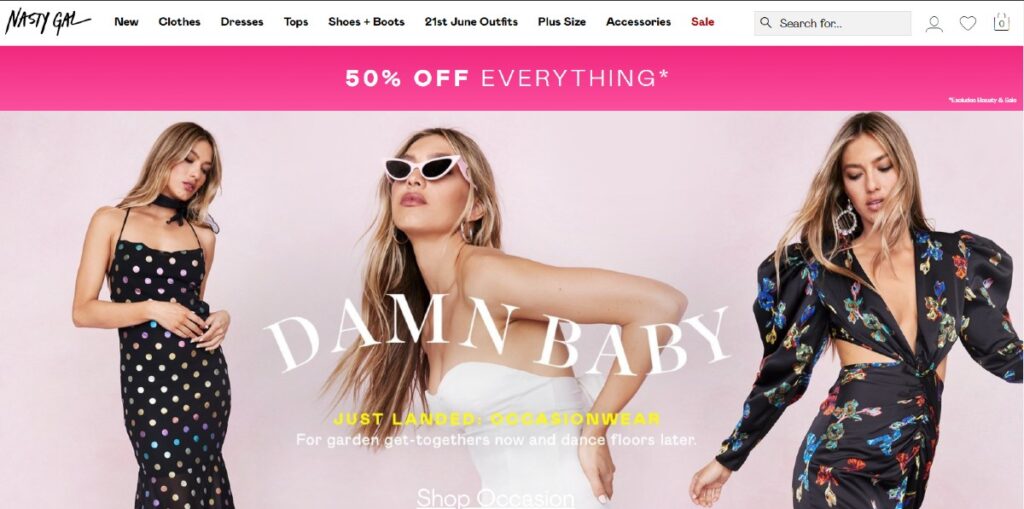 Nasty Gal puts an edgier, trendier, and "sexier" spin on the gothic-inspired Dolls Kill line-up. Fill your hangers with authentic-looking Rolling Stones, Def Leppard, or Janis Joplin band tees. Just don't forget the finishing touches, like slip-on stilettos and high-waisted jeans (a modern fashion phenomenon).
Is preppy and professional more your personality?
Nasty Gal has your back! Denim overload, wide-legged pants, and faux leather blazers bring your attitude out loud and proud. You may never want to visit Dolls Kill again!
It's also angling its line-up toward more ethical fashionistas. The store now offers vegan, animal-free nail polishes, leather jackets, and belts.
Zumiez is one of the few remaining clothing stores catering to the skater and snowboarder scene (so long, PacSun, and Hot Topic) with a trendier twist. The store stocks 2021's hottest brands, like adidas, Empyre, Champion, and Obey.
In two words, Zumiez is modern and cozy. The 70s-era store boasts an entire loungewear section. You'll find Thrasher flame tees, pastel dyed hoodies, and comfortably baggy joggers.
But Zumiez isn't only for dress-down Sundays. Splurge on classy bathing suits before beachy weather rolls around. Or diversify your shoe rack with slip-on Vans, Champion sneakers, and even roller rink-style rollerblades.
If you're looking to take the halfpipe or hit the slopes, not to worry; the store still dedicates an entire section to the boarders!
6. RebelsMarket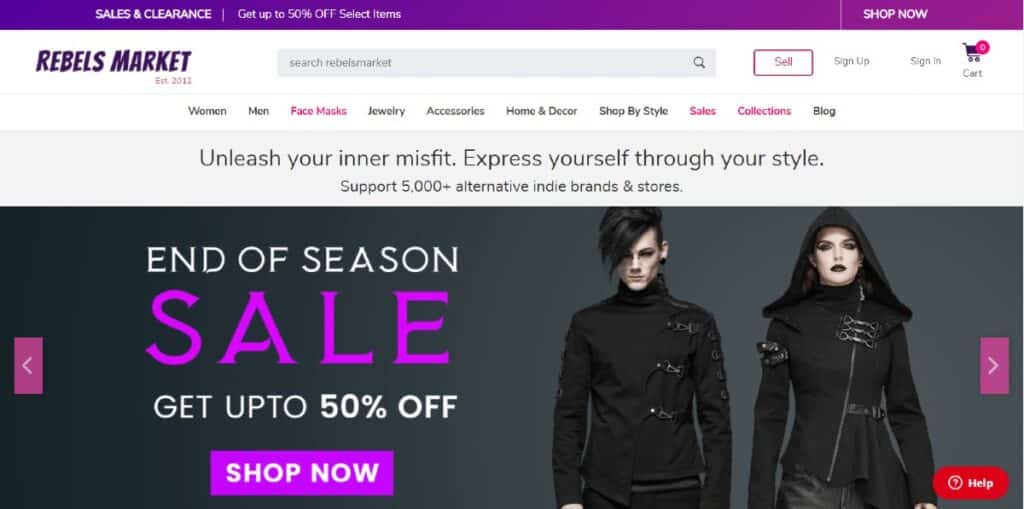 If you're craving a near-replica of Dolls Kill (with a little more variety, of course), look no further than RebelsMarket. This anti-trendy store is almost a spitting image of Dolls Kill's grunge, gothic, and emo clothing options.
RebelsMarket is all about:
The color black
Old-school metal and horror references
Lace
Alt culture (Ouija boards and pentagrams galore)
Shop your favorite graphic tees if you're an old soul at heart, featuring underground trends like Anonymous, Satan, and Kurt Cobain. Or venture into the authentic gothic crowd with skull jewelry and Halloween-Ish turtle necks.
Warning: Unless you're seeking revenge on your parents, an outfit from RebelsMarket might not go over well at church or on formal occasions.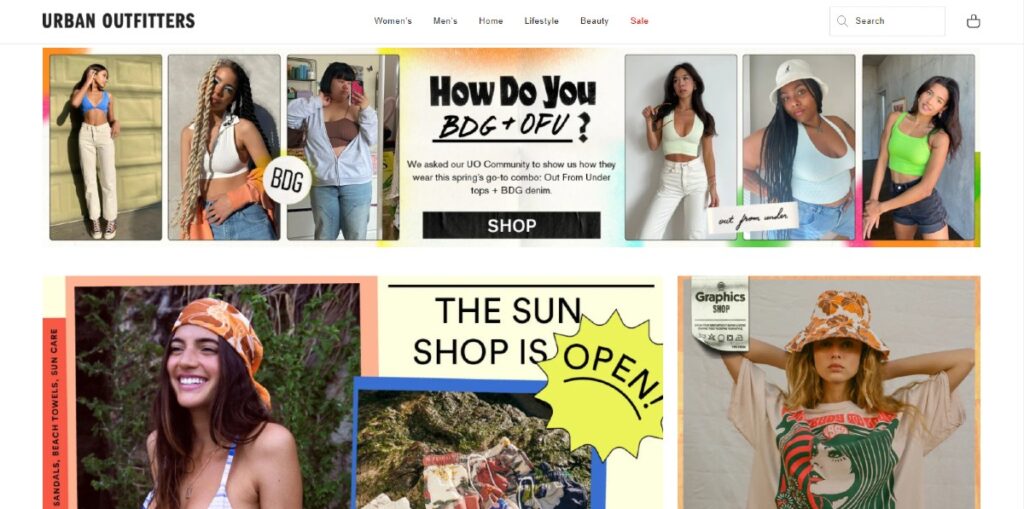 Urban Outfitters was once an alternative wear haven, but it's quickly broaching Dolls Kill's hipster-chic territory in the last few years. UO is a tasteful jumble of 90s references, loose-fitting clothing, and subtle fashion by today's standards.
No matter the occasion, Urban Outfitters has the solution. Its digital line-up features everything from high-top Converses and mesh mini dresses to washed Nike baseball hats and tie-dye bike shorts.
Do you want to turn your cramped studio apartment into a trendy retreat?
Look no further than Urban Outfitters' home and lifestyle tabs. There, you'll find duvet covers, room sprays, modern vinyl records, and tea lights.
There's not a glimmer of goth, but UO covers the sassy or rebellious looks without trouble.
Conclusion
If paying $30 for a graphic tee or $12 for a Capricorn enamel pin sounds ridiculously overpriced, don't settle for another style!
Amazon is notorious for its discount sellers.
But if authentic punk or glam speaks to you, you're better off buying second-hand through retailers like:
The local thrift store (there are some rare finds if you have a good eye)
As a last resort, Dolls Kill always has a well-stocked clearance section, too, if you're looking to restock your closet on a tight budget.
Written by Adam Marshall, a freelance writer who specializes in apartment organization, real estate, and college advice. He currently works with Varsity House Gainesville to help them with their online marketing.