With your favorite and popular brands in stock and at amazingly cheap, discounted prices, who wouldn't love to shop at Marshalls or any store with a similar reputation?
With over 1000 American chains of off-price departmental stores, Marshalls, through the years, have continued to gain popularity as one of the most reputable stores with high-quality products from top brands and at ridiculously low prices.
Marshalls lets you shop for your favorite brands at discounted prices ranging from 20% – 50% and more on toys, home décor, furniture, pet accessories, etc. These juicy discounts can also be enjoyed on other big brand products like clothing accessories for men, women, and children. 
Top 10 Marshalls Alternatives
As amazing as shopping for your favorite brands at discounted prices from Marshalls can be, what if you knew other stores that sell at even more ridiculously discounted prices? We think this might interest you as it will give you more options and possibilities to always get whatever product you are looking for.
Don't always find your favorite brands at Marshalls whenever you check? These curated lists of the best 10 stores like Marshalls are what you should be reading right now.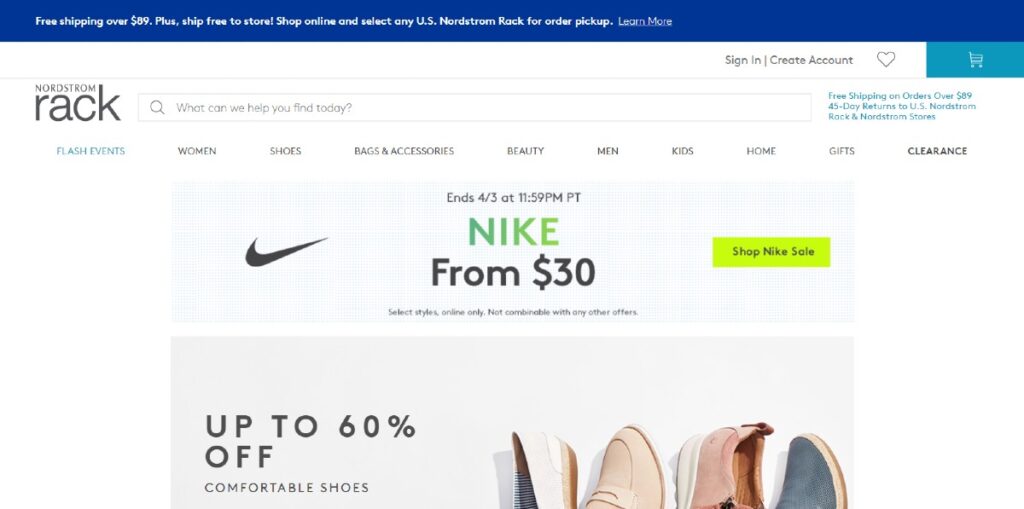 Sounds familiar already? There is no way we are listing other highly discounted stores like Marshalls without talking about Nordstrom Rack. This store has an overwhelming collection of top brand and top-shelf name products without the back-breaking prices.
We all love to put on our favorite big brand clothes and accessories. It's just that the prices of these big brands can make us shy away from our shopping fantasies. But Nordstrom is your go-to store for amazing discounts that are almost at giveaway prices. 
Their products are genuine with the best qualities. Nordstrom can sell at ridiculously low prices because they buy on a very large scale directly from these big brands' warehouses.
Nordstrom Rack has juicy offers which let you enjoy the lowest possible prices on your purchases.
Their end of season sales lets you enjoy up to 70% off on your popular brands
They offer limited-time flash events that let you enjoy up to 70% off their bestselling dresses and designer handbags like Alexander McQueen and more.
55% off on activewear such as sports shirts, yoga pants, sports shoes, and other amazing sports accessories.
2. Ross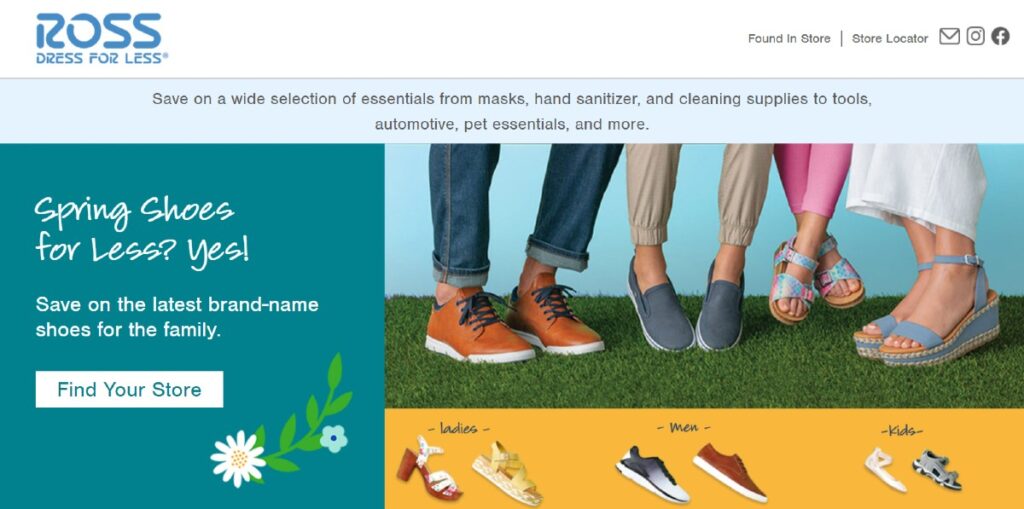 Ross dress for less is one of the largest off-price stores with genuine brand names for every category of people; young, old, men, women, and children. A quick tip about shopping at Ross that you need to know is that they offer an extra 10% off for your Tuesday shopping.
This offer is exclusive to older shoppers 55 and above and who sign up for their every Tuesday Club. Don't feel disappointed if you just turned 25; Ross has juicy discounts for everyone, and their prices are relatively lower than those of Marshalls and Nordstrom. 
From clothing to home décor, backpack, new bedding, trendy shower curtain, pet accessories, and more, Ross just happens to have whatever you are looking for, and all at jaw-dropping discounts.
Another interesting fact about Ross is that they are a mark-down retailer, which means they will continue to lower prices on products in their store until they sell. Isn't that a cool feature? We promised you a list of other stores like Marshalls; we really meant every word!
3. Overstock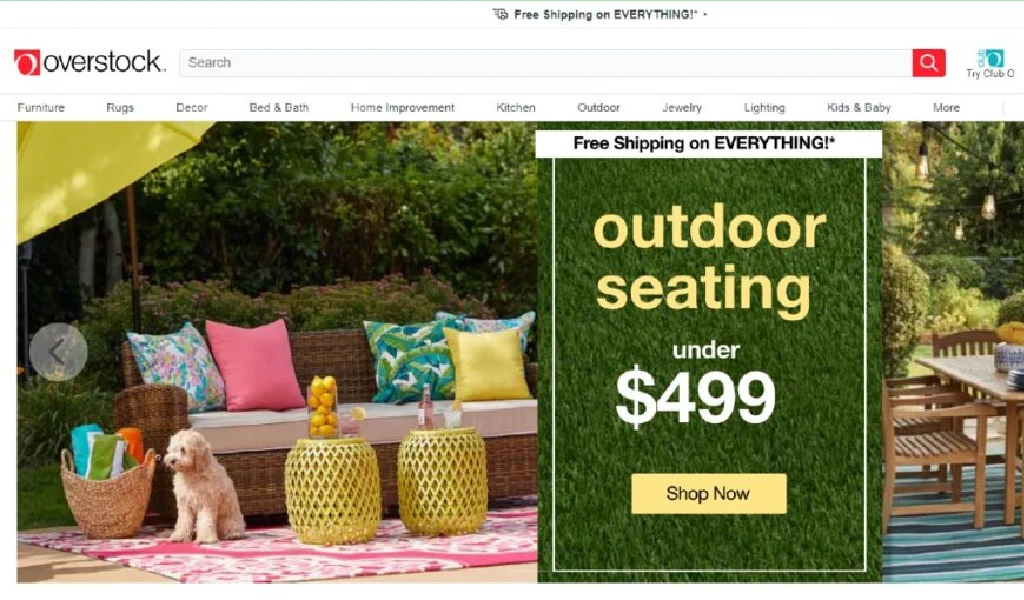 You will almost immediately want to close the official website of Overstock if you are not patient enough to check the prices on their listed products. It's that serious!
They have high-quality products with luxurious-looking appearances that may trick you into thinking that they won't be affordable. But, interestingly, some of these products sell for as low as under $10.
Reviews and customer feedback about Overstock have shown that their products are of genuine quality and are not inferior in any way. They are just a highly discounted store steadily taking the limelight when it comes to unbelievably cheap and discounted products from popular brands.
Overstock pride itself as the leading store in cheap and exquisite looking fashion and home decoration items. They have everything new and inexpensive for your living room, bedrooms, kitchen, wardrobe, and more – All from reputable brands. 
4. Hautelook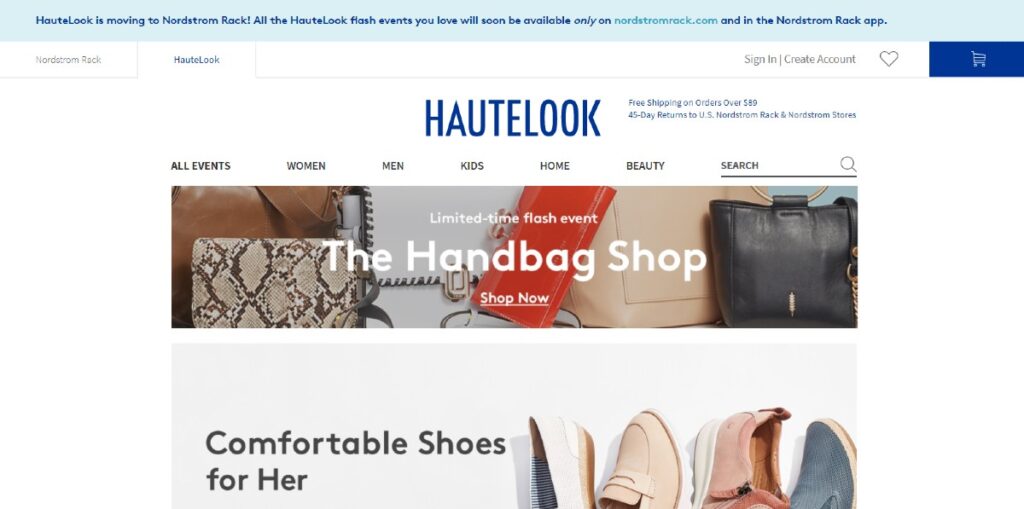 Hautelook is a subsidiary of Nordstrom Rack, and it is designed to give you more ways to shop easily, conveniently, and economically.
If Nordstrom is "where style meets savings," then, Hautelook is where style meets more savings. The price at HauteLook just can't be beaten.
Hautelook, unlike Nordstrom, is members exclusive. Therefore, you may need to sign up by creating an account to enjoy their juicy discounts.
Hautelook often offers time-bound flash sales events on top-quality products like men's and women's fashion, jewelry, and accessories, and you wouldn't need to break a bank to shop for these products online. Hautelook lets you enjoy up to 75% on any of your favorite designer clothing and accessories. 
You may find similar products in Nordstrom and Hautelook since they are sister brands, but Hautelook still has a way of listing some specials that will blow your mind.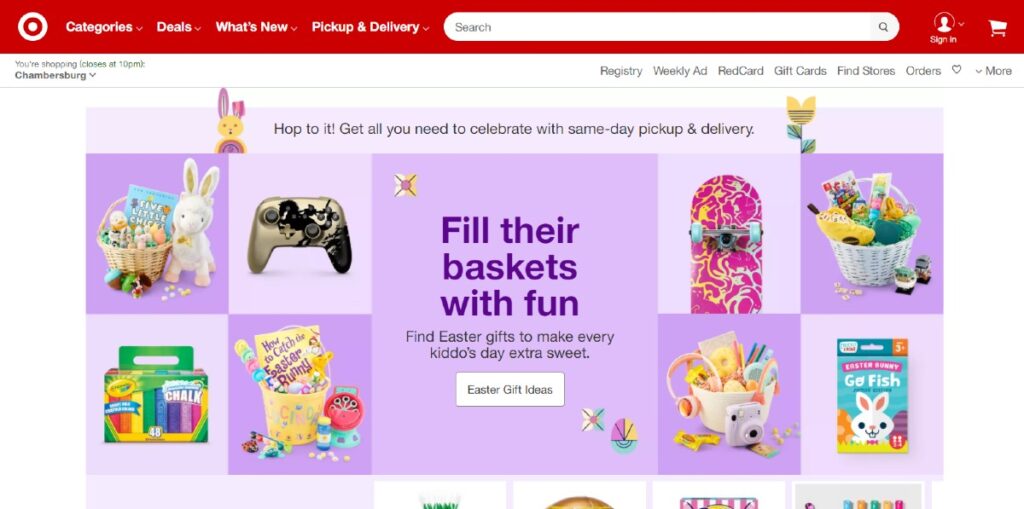 Target is that off-price store where you will always get more than what you have listed to buy, and at a much cheaper rate than expected. They keep up to their slogan, "get more, pay less."
How they can keep up with demands and still grow their store to become one of the biggest is all shades of amazing. What products can you not find at Target?
They have just about everything, from cute and trendy clothes to household essentials, shoes, furniture, toys, electronics, sports and outdoor equipment, beauty and health products, school and office supplies, and many more.
Target has a wide range of collections that is endless and timeless. For the flash sale deals, you can get up to 70% discount on your favorite brands.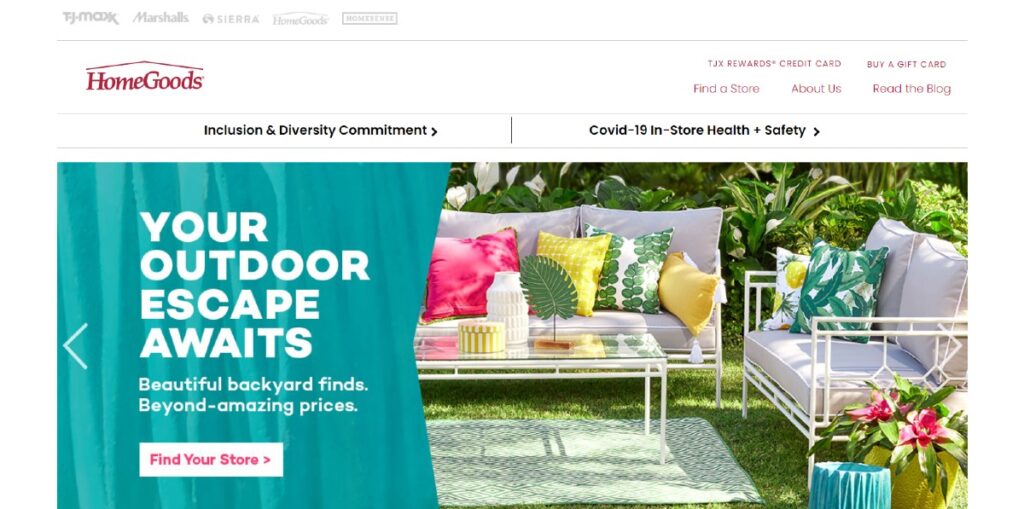 If you are looking for the perfect way to turn your home into a haven of comfort and calm that indeed saves money and at an affordable price, then Homegoods is your best bet.
Homegoods is your one-stop shop for everything furniture and household designs. Homegoods has a wide range of collections that are affordably discounted and of high-quality. 
Do you need genuine and affordable furniture, rugs, tabletop, decorative accessories, cookware, lighting, and much more? Homegoods hit the right spot than any other off-price store in the market. 
Home goods let you enjoy 10% off your first in-store purchase when you open a TJX Rewards credit card Plus 5% back in Rewards every time you shop their family of stores.
Homegoods may not have an online store, but they have stores in many locations, and probably one is just a stone throw from you anyway. Finding their closest store to you is definitely worth it.
7. Sierra Trading Post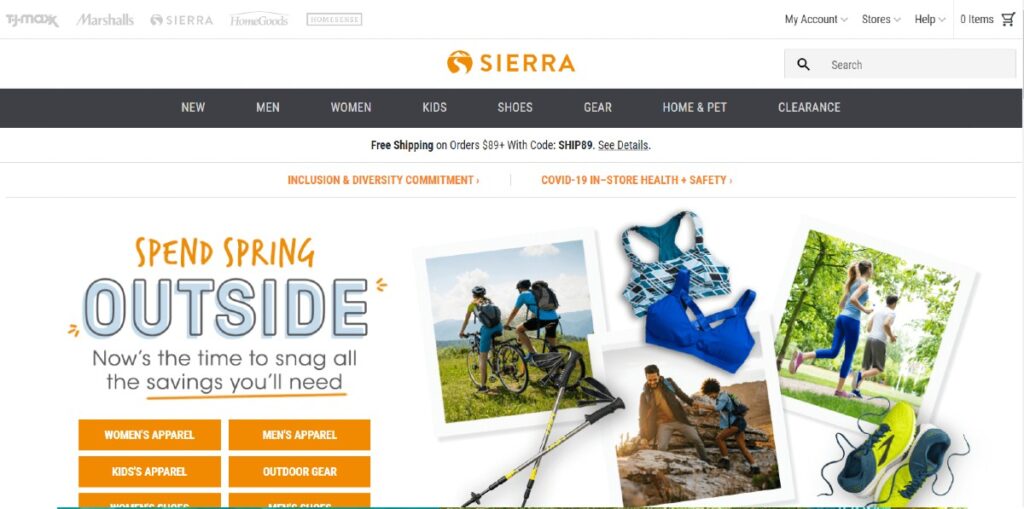 With Sierra Trading Post, your outdoor and activewear needs just got met. With unending clearance items from top brands like Carhartt, Pearl Izumi, Kyodan, and more, you will never run out of genuine items to fill your closet for every outdoor experience.
Sierra Trading Post has a category for clearance items, men, women, kids, pets, and many more. You'll never get bored shopping for your favorite clothing and accessories.
From activewear, sweaters, hoodies, shorts, jackets, coats, pants, swimwear, and many more, you can never go wrong when you decide to shop at Sierra Trading post. All items are ridiculously cheap and have discount prices that range from 10% – 50%.
You can always find a location close to you or shop online. Sierra offers flexibility in shopping and affordability.
8. Gap Factory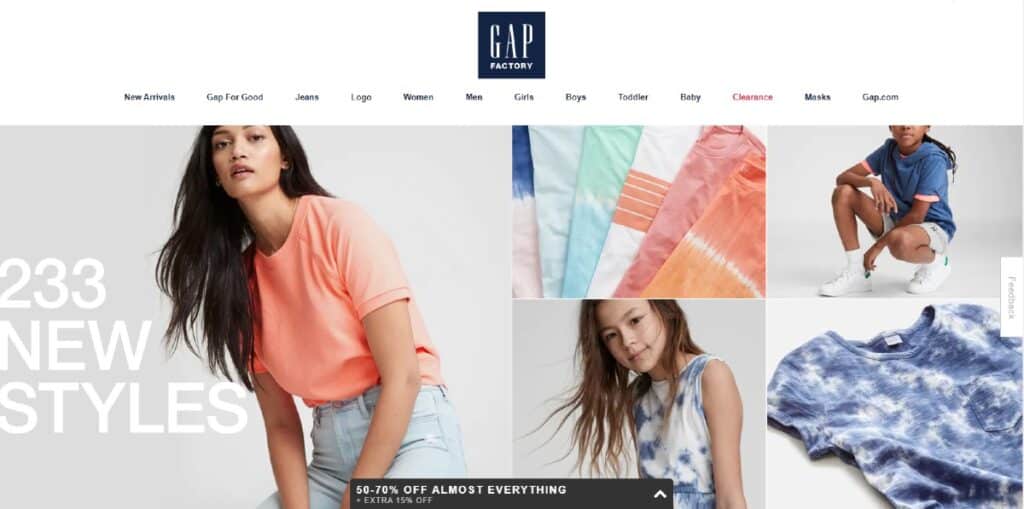 With Gap Factory, you don't have to worry about how large your family size is and how to shop for what everyone wants without leaving anyone unsatisfied.
The Gap factory lets you dress the whole family for less! Are you looking for the perfect way to shop for affordable clothes that don't look cheap on you and the kids? Gap Factory has been killing it for a long time.
They just happen to be an off-price store that has the answer to every of your clothing and accessory needs. Their clothes are the latest, aesthetically pleasing and very discounted. 
Gap Factory lets you enjoy up to 60% off on adult dresses; jeans, T-shirts, easy shorts, hoodies, jackets, joggers, and many more. 
Also, you can enjoy 50% – 70% off almost everything you buy and an extra 30% off clearance items. 
9. Walmart
No doubt, you must have been waiting to see one of everyone's favorite stores for cheap, affordable, and quality items, "Walmart." Here you have it.
One sure way that Walmart beats most off-price is that they are not only affordable, but they also have almost everything. There is absolutely nothing you want that Walmart doesn't have.
So, if you want to search less, get a variety of collections to choose from while also saving some cash at the same time, then Walmart has all you want in an off-price store. From game consoles to mobile phones, groceries, furniture, electronics, and more, Walmart is unbeatable.
10. T.J Maxx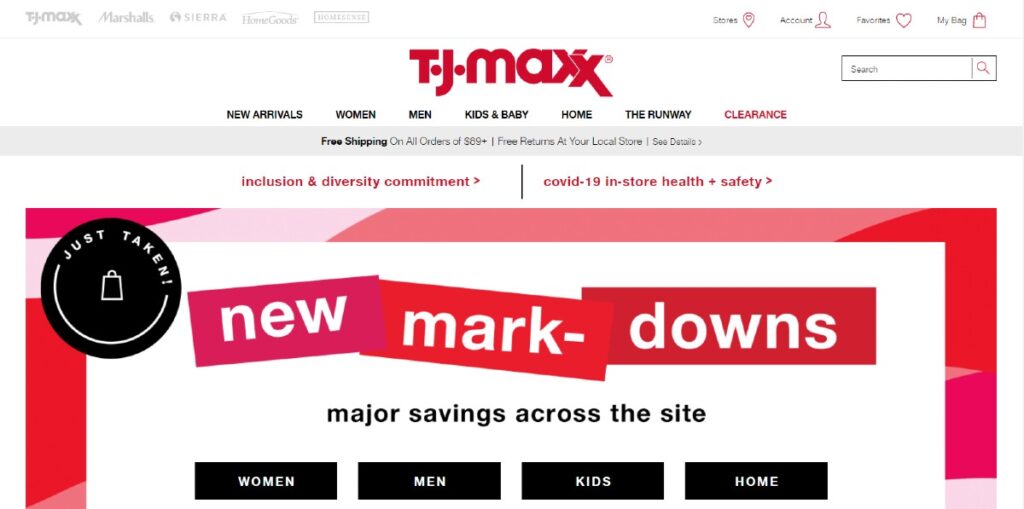 We have curated the list of stores like the Marshalls from the least popular to the most popular, so it doesn't get boring from the start. It's not still boring at this point, but at least we made sure you learned about some new and amazing stores out there offering some juicy discounts on top branded products. 
To bring this list to an end is T.J. Maxx, an off-price store that lets you enjoy free shipping on purchases up to $85 and above. 
T.J Maxx offers their customers a discount that ranges up to 50% on their favorite designer and name brand clothing, pet products, housewares, toys, and gifts.
We've listed 10 other stores like the Marshalls, but there are still other amazing stores out there that didn't make it to the list. Kohl's, Stein Mart, Talbots Outlet are some stores that may be worth your time.