The Zumiez is a lifestyle brand, clothing, footwear, and also very popular for action sports like skateboarding, snowboarding, BMX and motocross for men, women, old and youth. They focus on providing accessories for all the generations but they are most popular among the teenagers.
Zumiez first started its journey in the Seattle area on the west coast of the United States in 1978, with a single store location at Northgate Mall. At present time they have grown their business and have hundreds of stores across the United States and Canada. They have also started online stores to expand their service to the whole world.
In this competitive world everyone gets competitors eventually in their field of work. Zumiez is not different. There are many alternatives for Zumiez and we are going to talk about the best 10 of them.
1. Vans.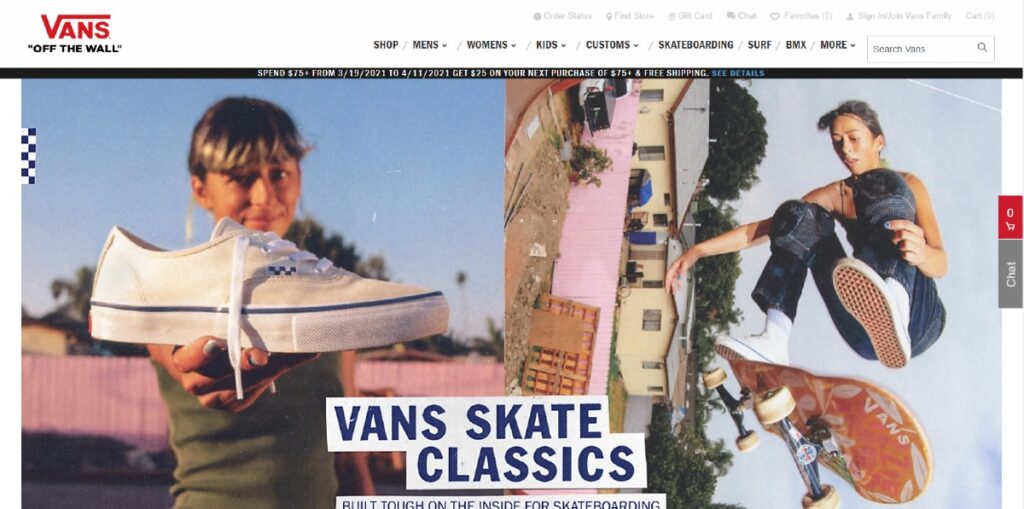 This famous fashion store Vans should be at the top of the list. Vans is mostly famous for their sport footwear and skateboard accessories. First, they started their journey in 1966 only by shoes manufacturing and selling them. After that they include manufacturing and selling skateboard shoes, boots and other accessories. In 2000 they were recognized by Forbes as one of t "American best small companies for 2000".
Now they have a tremendous collection of fashion and style including clothing, footwear, skate, classic for men, women and kids. The best part of this fashion store which make them different from other fashion stores is they have a whole section for kids. Their products are fair-priced and the head managers of Vans are really good at marketing.
---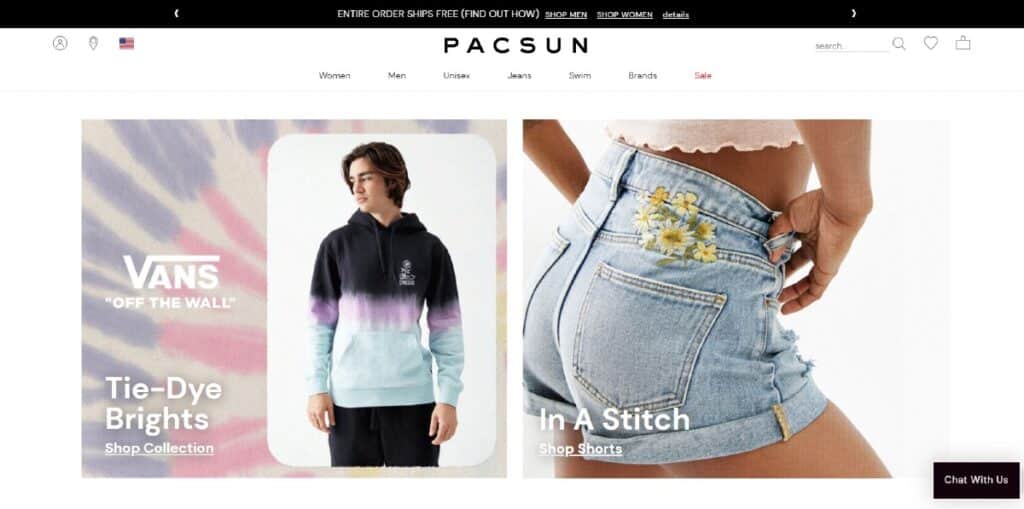 PacSun is known for Pacific Sunwear of California. It has relevant lifestyle clothing including jeans, hoodies, tees, swimwear and other accessories for both men and women. It is one of the most famous and largest clothing brands for young, trendy and fashion-focused individuals. They manage close to 800 clothing stores and more than 9000 employees across the country.
PacSun includes a vast collection of different top brands products. They have a lifestyle fashion collection for both men and women. You can also save money by taking the offers they have on their site. Their smart choice of colors specially swimwear and ingenious clothing styles have helped them to base their business and now they own 600 stores around the US and in Puerto Rico.
---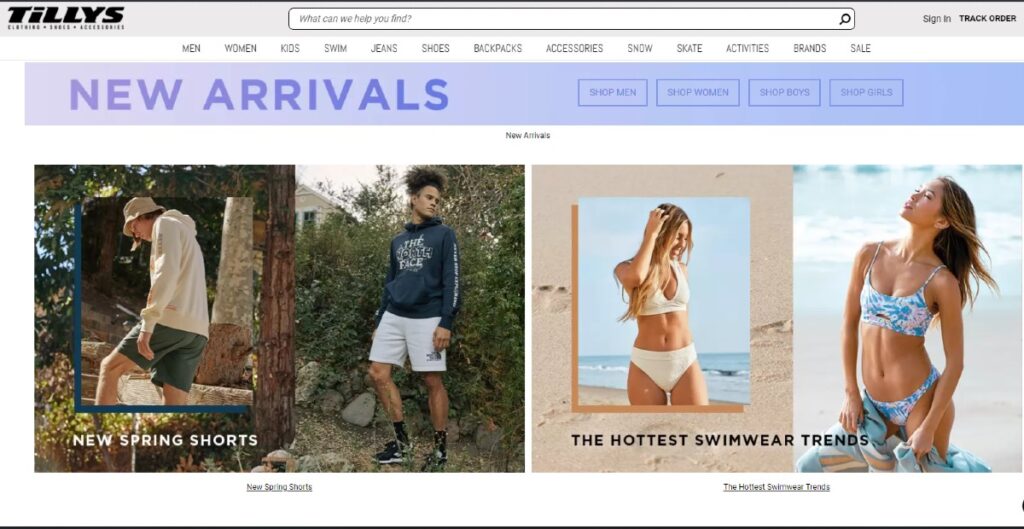 Tillys is one of the most popular Brand collected clothing, footwear in California. Their Headquarter is situated in Irvine, California and currently operates 239 total stores across 33 different states.
Tillys is more focused on casual apparel, footwear and accessories for young men, young women, boys and girls. They provide backpacks, shoes, clothing, accessories for men, women and kids from all of your favorite brands. They have a huge collection of top most brands' products on their site. Their products are really cool and people who are extra conscious with their fashion will definitely love Tillys. They have many seasonal offers and money off during occasions.
---
4. TacTics.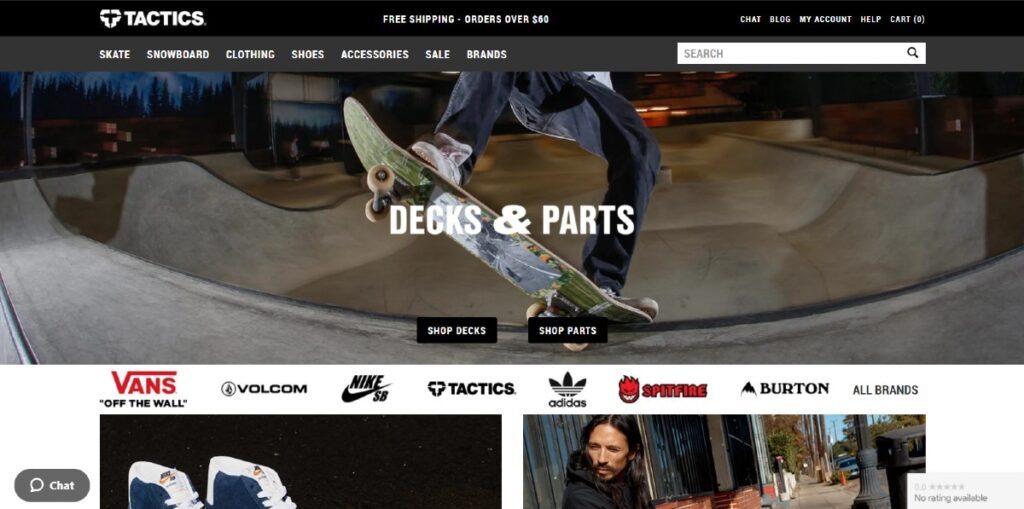 No list of stores like zumiez will be complete without TacTics. TacTics was founded in 1999. It is a team-driven skate and snow shop on a mission to support positive social and environment change.
TacTics is a giant platform where you can find a huge collection of skate, snowboard, clothing, shoes, accessories. They have a vast collection of products. So the customers have a large field of choiceful clothing and fashion.
They also offer almost all the top brand's products all over the world. They can easily attract a lot of customers as they have a lot of categories with a vast collection of products from each of the categories. TacTics does offer a free ship policy on each order. They also offer 10% off your first try and many seasonal discounts.
---
5. Urban Planet.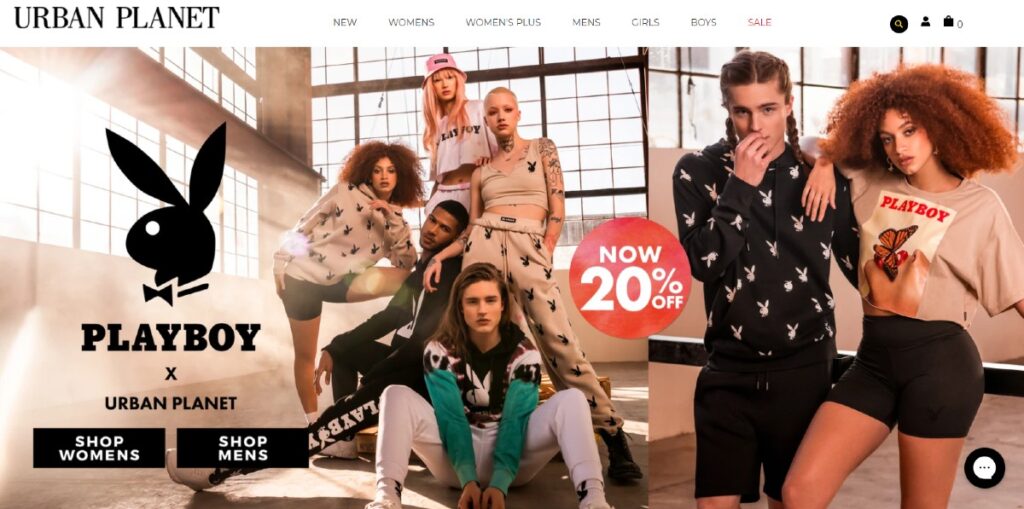 With a unique concept Urban Planet is one of the fastest growing fashion brands in Canada. They have their stores in more than 100 locations across the country. Their customers are mainly young men and women aged 16 to 24, they focus on the young generation as they always look for the next best thing.
Urban Planet provides the latest fashion, footwear and accessories at an affordable price. That's why the brand is growing so fast and achieving people's trust. Also, they offer a 30-day return policy and free shipping over $100 shopping.
---
6. Rosegal.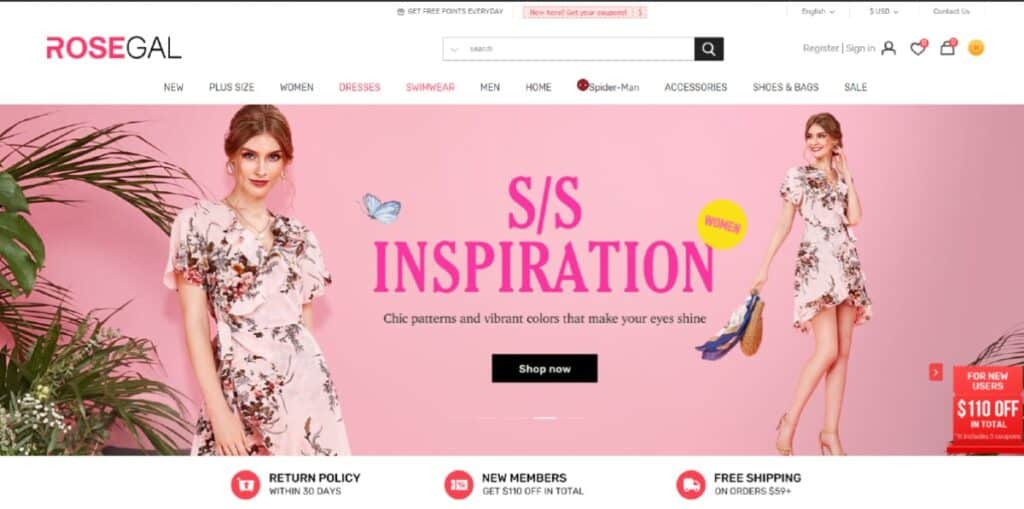 Taking the fifth place in our stores list, Rosegal is a fashion focused retailer store providing a wide range of high-quality clothing styles at factory direct prices along with a dedicated professional service to customers all over the world. Regardless of fashion styles, vintage or modern fashion, Rosegal has equivalently top collection for women and men. You can get a variety of swimwear, shoes & bags, colorful dresses and accessories.
The best part of Rosegal is, they have a complete dedicated sector of plus size products. They offer plus size dresses for different occasions such as parties, swimming and night wearing purpose. Their range of plus size dresses is also one of the most affordable ones so that you do not have to spend heavily looking beautiful and elegant. They have a great understanding of fashion and their collections are always up to date when it comes to clothing fashion. If you are a bit fat and you want to give yourself a sexy and stylish look then you should definitely give Rosegal a try.
---
7. Chic Me.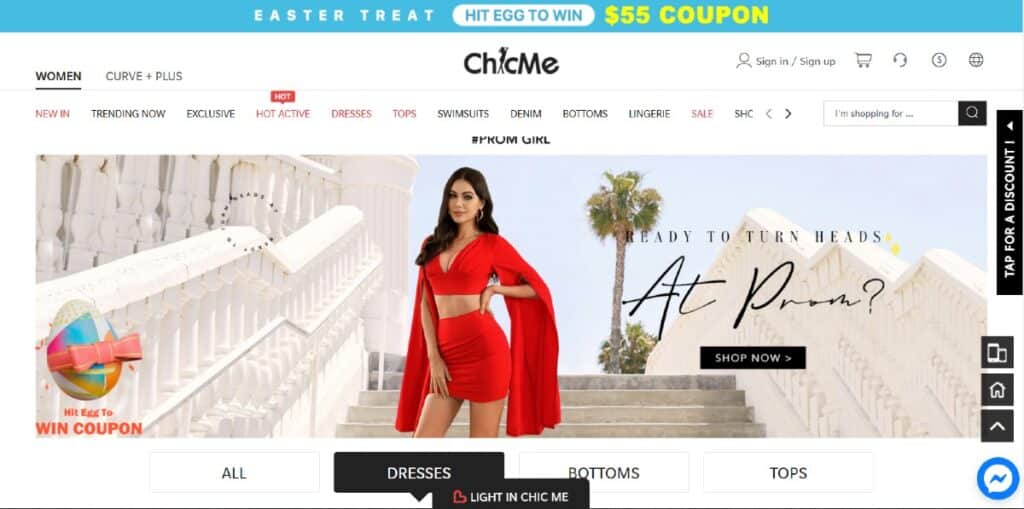 Chic Me is a unique shopping website with a distinctive tone focusing on women's fashion. Their products include women's clothing, accessories, shoes, bags and more.
Chic Me is a new brand founded in 2015 and now its business covers more than 220 countries and regions around the world.
They offer customers an inspiring place to discover the latest and most wanted products with affordable prices. Chic Me has ranked 1st among discount shopping sites. Like the last brand Chik Me also offers plus size products and curve dresses.
---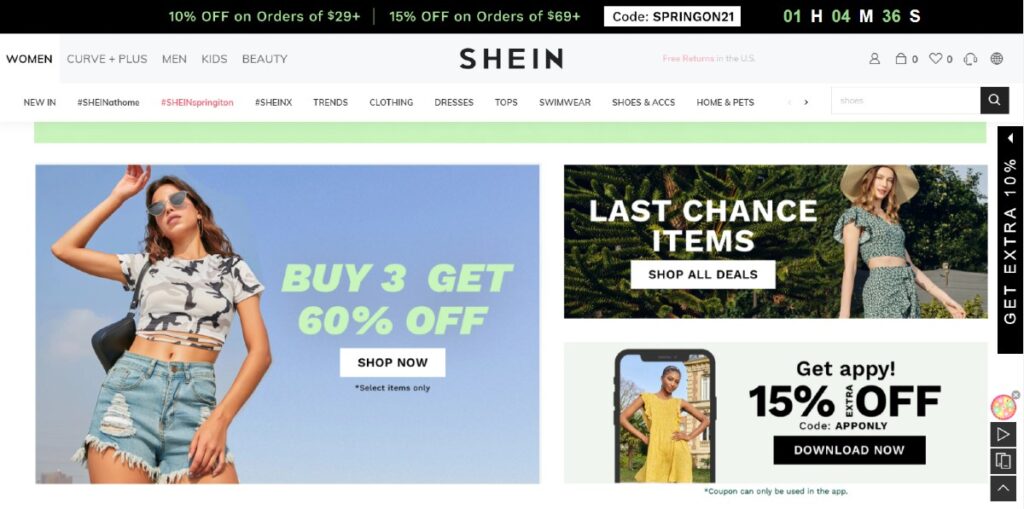 This brand is one of the most popular fashion stores where you will always find something trendy and stylish. SHEIN is an international B2C fast fashion e-commerce platform. The company mainly focuses on women's wear, but it also offers men's apparel, children's clothes, accessories, shoes, bags and other fashion and beauty items. SHEIN mainly targets Europe, America, Australia, and the Middle East along with other consumer markets.
The brand was founded in October 2008 and now Its business covers more than 220 countries and regions around the world. SHEIN prides itself on offering on-trend styles catering to both young women and teens, that won't break the bank. SHEIN is able to stay on top of the latest fashion trends from around the globe while rapidly bringing these styles to market.
So whether you're searching for boho dresses and graphic tees or patterned blouses and chic swimwear, SHEIN is the ultimate one-stop-shop for the modern yet economical fashionista. It aims to promptly offer stylish quality products at appealing prices to every user in the world. The brand is also known for providing best offers and discounts.
---
9. Dresslily.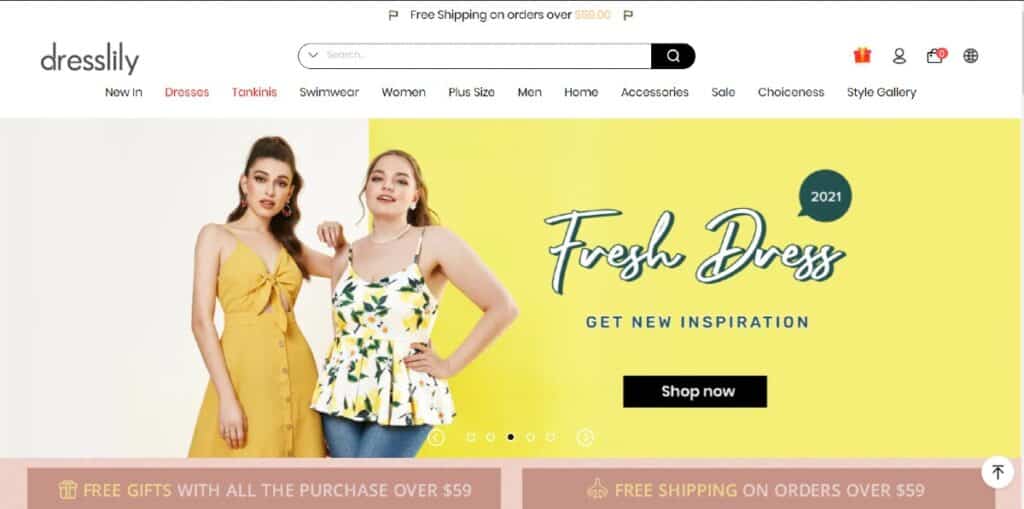 Dresslily had a solid seven years in business providing fashion for women of every size. At present time their business ships to over 100 countries worldwide and has accumulated 14.7 million registered users.
Dresslily provides stylish and trendy dresses, tankinis, swimwear for men and women and also home decoration products and accessories like jewelry, handbags, intimates. Overall a wide array of items and collection to choose from. They also have a sector for plus size products. They offer free shipping and free gifts with all purchases over $59. It is to be mentioned that Dresslily does not manufacture the items sold on its website.
---
10. Romwe.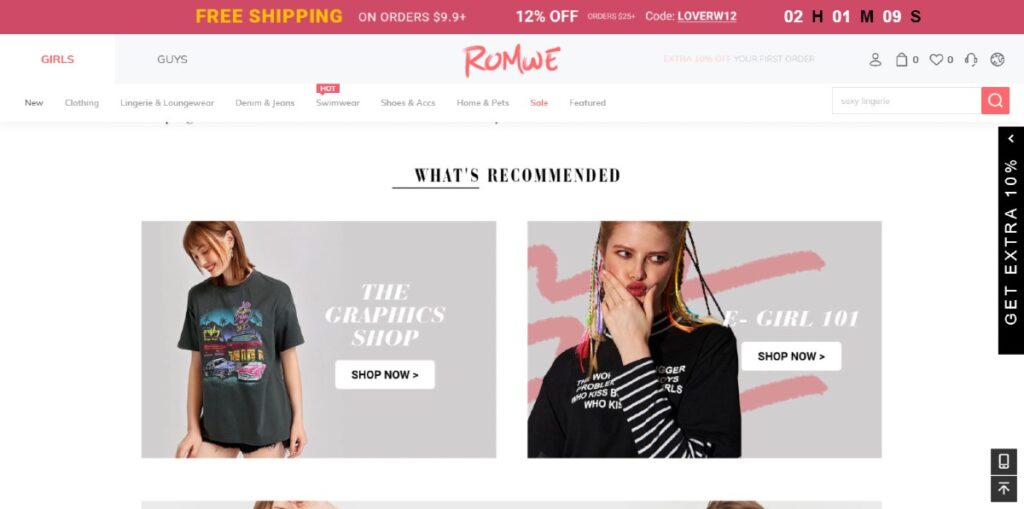 Romwe is an international real fashion retail women's clothing site out of china that sell cute clothes for dirt cheap. They provide customers with items that are ethically produced, fashionable, fun and well priced. Romwe was born in 2010 with a small business but right now they have a grown business with an endless range of girls and guys clothes, trendy accessories, buzzworthy gadgets and the latest in-home decor.
They have an offer policy of free flat rate shipping on orders $9.90+ and 12% off on orders $25+. In order to give your fashion a cute look visit Romwe and enhance yourself with the latest fashion.
Beauty is relative according to the aspect of the viewer. All the stores have their own understanding of fashion and style, what you choose it's up to you.