If you keep up with fashion, you've heard of ASOS. Even though it's a British-based retailer, the store carries more than 850 brands, plus its own name brand.
ASOS, short for "As Seen on Screen," hit the scene in 1999. British entrepreneurs Nick Robertson and Quentin Griffiths decided to start a fashion shop. They intended to take celeb trends and turn them into affordable alternatives. As the designs were "seen on the screen," those styles showed up on the ASOS site.
Over time, ASOS began to offer cosmetics and products that weren't necessarily seen on the screen. They also began shipping internationally. Their transformation complete, ASOS was a hit, and the store's core idea was copied by other retailers.
The company is known for offering various styles to meet everyone's taste. But if you're looking for something similar, try these five stores like ASOS.
1. Topshop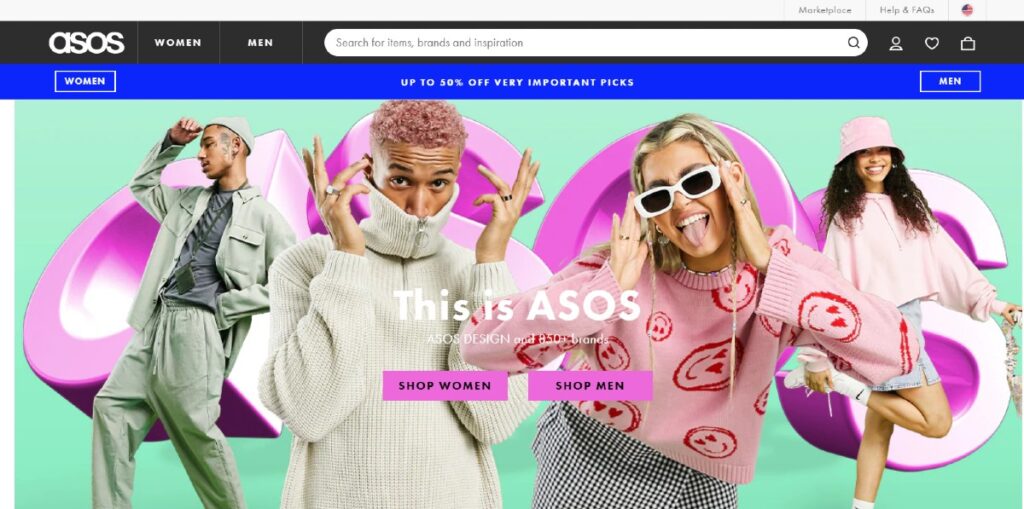 Topshop was recently acquired by ASOS, so you know you're getting the style you love with its own set of inventory. The store is known for its iconic denim fits, like the Jamie, Joni, and Editor. They are fashionable yet comfy, and their sizing guide is on target.
The first Topshop opened in the U.K. in 1964 in the basement of a bigger store called Peter Robinson. By 1974, the little basement startup had become a standalone shop that was a hit with shoppers aged 13 to 25.
Now, you can find Topshop's three-floor, 90,000 square foot flagship store in Oxford Circus. It's not just clothing, either — the shop has a DJ booth, food and drink stands, and a nail bar to attract shoppers. But, most of the sales come from their website.
After the COVID-19 pandemic, Topshop agreed to merge with ASOS. The store keeps its own inventory of the top trends in the fashion industry.
---
2. Forever 21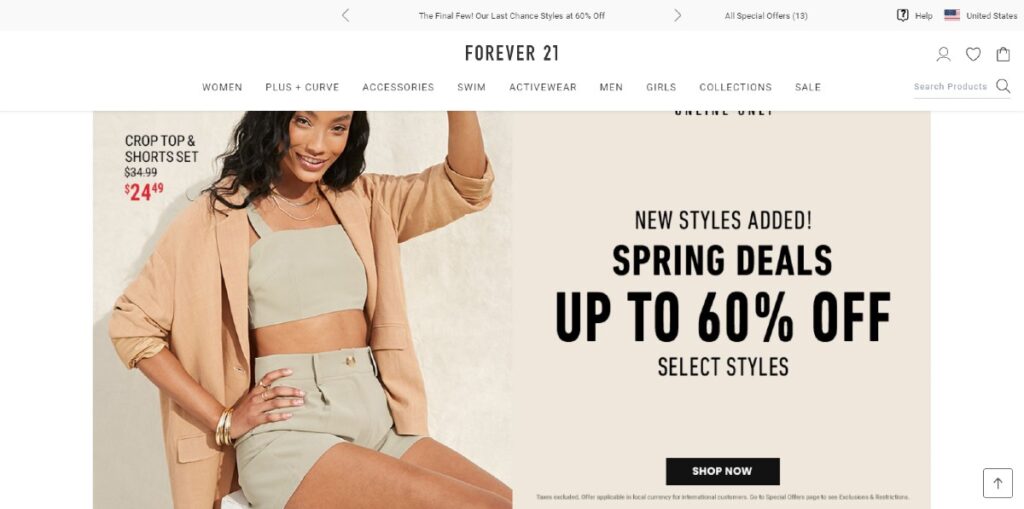 Another popular store that offers styles similar to ASOS is Forever 21. You can find this classic shop all over the world. 
As the self-proclaimed "go-to" retailer for the latest fashion trends with the best deals, Forever 21's founders created a solid business model. Because of its success, that model was then copied by hundreds of other fashion stores.
Now, customers can shop like they are "forever 21," no matter how old they are. And the latest plus-size line means you can now find hot styles to fit larger body types.
The store's inventory includes the newest season's clothing lineup as well as accessories and home decor.
Forever 21 is one of the few fashion companies that still has hundreds of brick-and-mortar sites. You can shop in-person in the Americas, Asia, and Europe, or you can order online.
---
3. ModCloth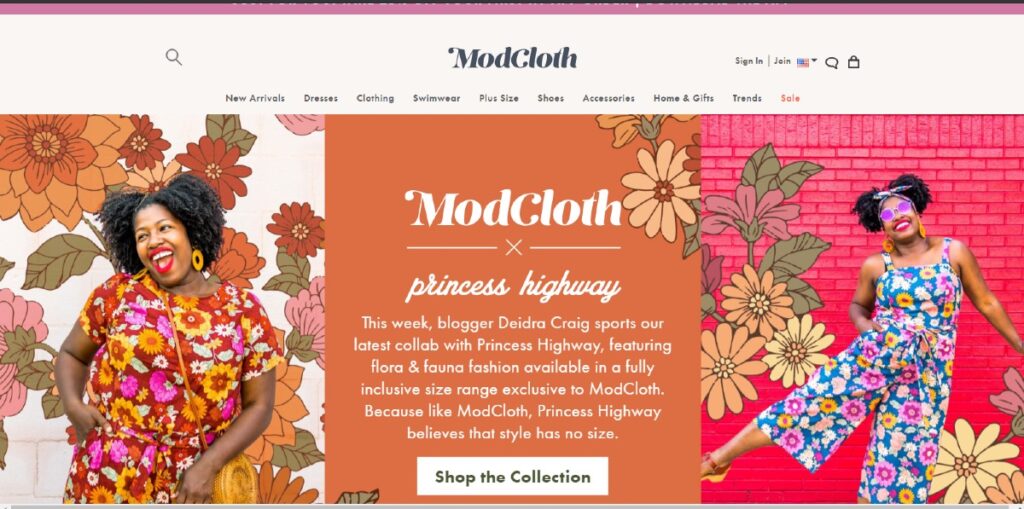 ModCloth is a women's store that sells clothing, shoes, accessories, and home decor. Recently, they've gained the media spotlight by starting a collection of fashionable trends "committed to embracing and empowering all bodies …"
This new line uses models of different shapes, sizes, and ethnicities to represent their company. With this approach, they've managed to get the attention of consumers of all ages and sizes.
The store was founded in 2002 by university students Susan Gregg Koger and Eric Koger. The high school sweethearts started their idea as an online website that only sold vintage dresses. By 2005 they were making a decent profit, and by 2008, the store really took off.
As an indie brand, ModCloth sells whatever fashions it wants to. Now owned by Go Global Retail!, you can shop the most recent trends or chat with stylists online 24/7 at the ModCloth website.
---
4. H&M
H&M got its start in 1947 as a womenswear store in Sweden. Erling Persson was only 30 years old at the time, but a road trip through the United States changed his life forever.
When he came back, he opened Hennes, a store where women could buy trendy clothes at reasonable prices. By 1952, the chain store dedicated to "her" had caught on like wildfire. In the 1960s, Mauritz Widforss came on board as the men's fashion lead and the name of the company became H&M.
Now, more than 5,000 brick-and-mortar locations exist all over the world. H&M has been ranked among the top-five most valuable apparel companies worldwide.
The store expanded its inventory to include home decor and children's clothing. Everything you need to fill your wardrobe or accessorize your house can be found on their website (available in dozens of languages).
---
5. PrettyLittleThing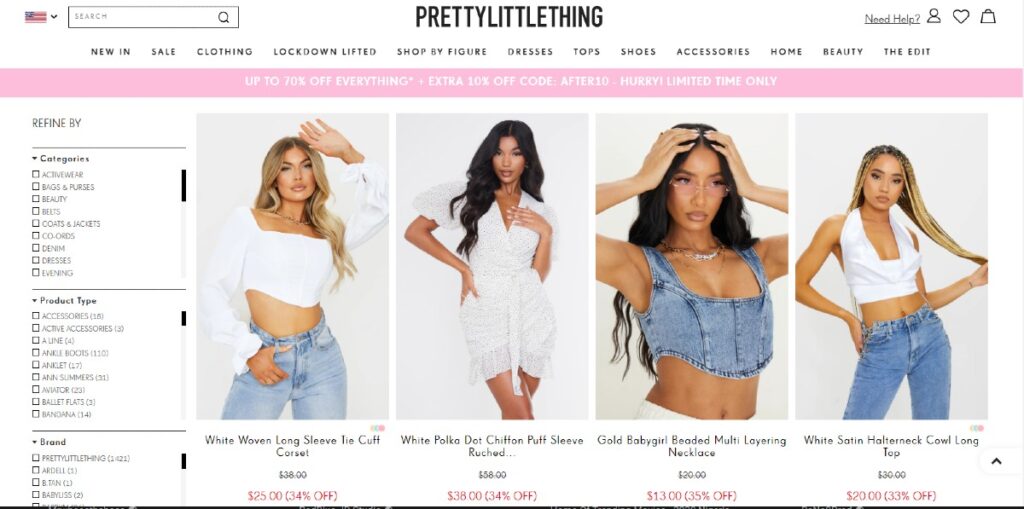 PrettyLittleThing, better known as PLT, got its start in the U.K. and quickly spread to the rest of the globe. The fashion lines target primarily women aged 16 to 35, but more inventory is offered as it expands .
Shoppers can buy everything from clothing for girls ages 5 to 12 (through the PLT Girl line) to home decor and accessories (through the PLT Home line).
The store got its start in the U.K. very recently, in 2012. Since its inception, it has expanded to Australia, Europe, Africa, the Middle East, Canada, and America.
Because the store is known for its celebrity collaborations, it is followed fanatically by those wanting clothes designed by their favorite stars. The company's goal is to market to customers who are body-confident and want clothing that shows their sassy and glamorous side.
PLT has rapidly become one of the top online fashion companies to watch for in 2021. In less than ten years, the store has managed to land partnerships with celebs like Kim Kardashian and Miley Cyrus.
It's safe to say PLT isn't going away any time soon!
---
Conclusion
For the hottest styles at affordable prices, you don't have to limit your options to ASOS. These other stores offer trendy designs, top brands, and comparable prices.
The best part is you can get international fashion delivered right to your door!