I know you must have head about this fashion store Everlane. It is a fast-fashion clothing store that many fashionable women love for their low prices, quality and transparency. 
Everlane has been known for its radical transparency mission, which has seen them partnering with only the best stores producing ethical and eco friendly clothing.
Everlane just has a lot of ways they appeal to the taste and sense of every fashionable woman. Their clothes are less sophisticated, sleek, luxurious, and affordable.
Their collection is huge and has served every woman for years, and so it's just everyone's favorite. But, have you ever for once thought if there are other stores out there similar to Everlane or better in terms of quality, affordability, and diversity? You are about to uncover some mind-blowing stores that you've probably not heard of but will make your wardrobe thank you for years to come.
Here are 10 alternative ethical stores that carry the same vibe as Everlane.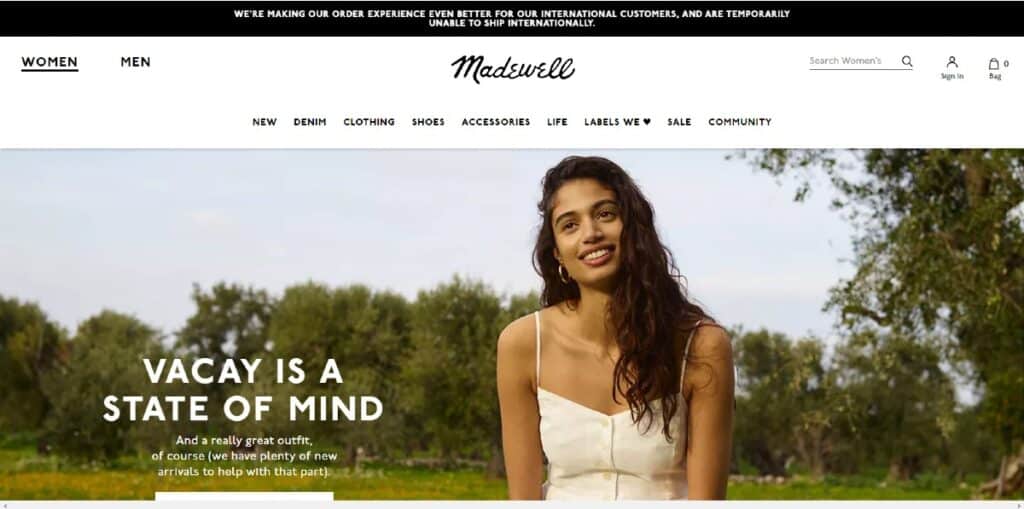 The first thing that'll blow your mind about Madewell is that their exceptional quality and modern fashion blend also comes in plus sizing. This means that they care about every woman, and your size doesn't really matter as you will never be left out of the latest in fashion trends.
Madewell is a guaranteed alternative to Everlane. And if what you are looking for are casual dresses and cute shirred tops, then Madewell makes that category well and better than any store out there.
Their infamous sustainable denim is also one to behold for every woman with a pure and classy aesthetic fashion sense.
Madewell also trades in mouth-watering discounts on shoes, bags, pieces of jewelry, and other women's accessories notable enough to make a never-seen-before fashion statement when you step out for your next outing. 
---
2. Cuyana: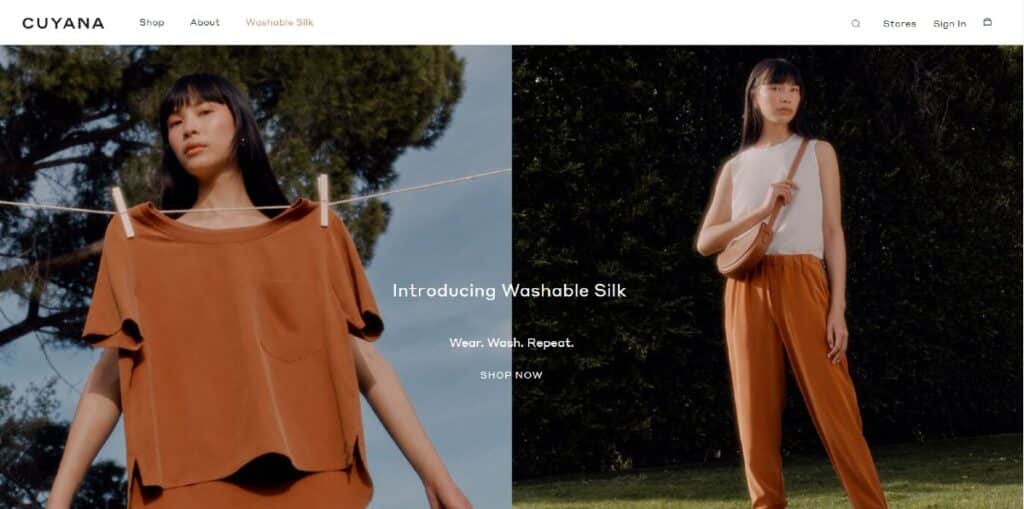 Cuyana is another excellent alternative to Everlane with an ideology that speaks class. This brand Cuyana believes in making fewer items that are better, fashionable, and functional. 
Cuyana prioritizing quality over quantity has given them the edge to make fashionable women's clothing with carefully selected fabrics and in-depth attention to detail.
Do you perceive yourself as a modern woman who values timeless and exquisite clothing and accessories? Then, Cuyana is your best one-stop online fast-fashion store.
If you love to compliment your outfit with cute handbags that are not only fashionable but functional, Cuyana strives in that regard. 
---
3. Uniqlo: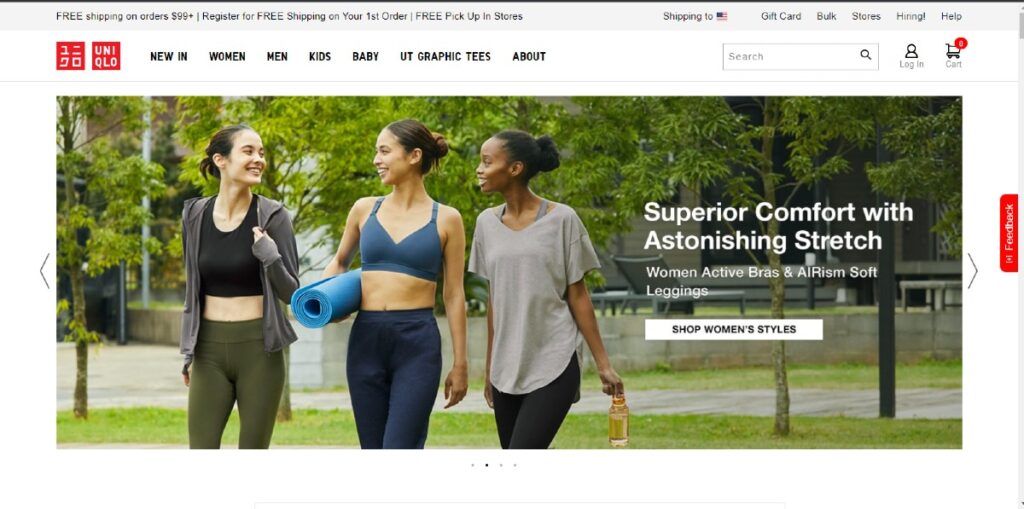 When it comes to activewear, Uniqlo is popular enough to need no introduction. But, they offer more than just quality activewear. Uniqlo also offers loungewear, workwear, and pretty much everything you may need.
With Uniqlo, you will never have to worry about the change in trends as they offer novelty and variety with every changing season.
Stocking up your wardrobes with essentials without breaking the bank is another thing you'll love this Japanese brand for.
Uniqlo has made sure to blend all their clothing and accessories to their brand values, "simplicity, longevity and quality. 
---
4. DSTLD: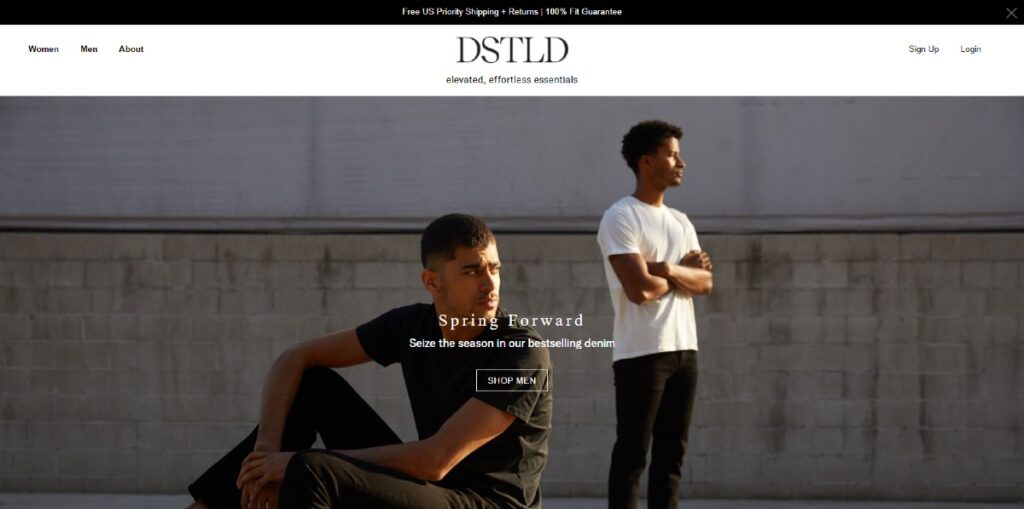 DSTLD is an American fast-fashion company that designs and retails a line of primarily premium denim-based essentials without the pocket-draining price tag. This is a reputable store for its notorious jeans collection with modern and classy styles in the basic color palette of black, grey, white, and denim.
Before you get overwhelmed by the qualities of DSTLD, it's imperative to know that their prices are relatively low and can go head to head with Everlane and may even do better. 
---
5. Reformation: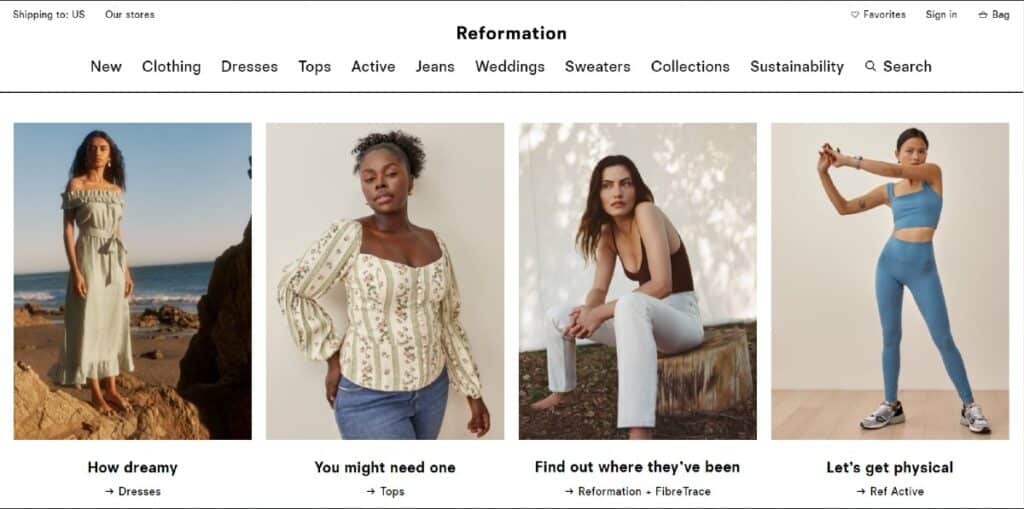 Reformation is regarded as one of the largest fast-fashion stores with unique patterns and one-of-a-kind contemporary designs. It has an immense appeal that never ceases to draw the attention of celebs, fashionistas, and thrifters alike. 
This fashion brand Reformation is one of the few affordable stores that has taken sustainable fashion to the next level. This store has all it takes to be one of your best alternatives to Everlane. 
Reformation adds up to 70 new products to its repository of sustainable and affordable clothing each day. You will never run out of the latest trends to pick from.
From high shine mini silk dresses to Bondi floral mini dress for casual and street style, you can never go wrong shopping at Reformation as an alternative to Everlane. 
---
6. Modern Citizen:
Modern Citizen is your best shot at being the most dressed person at work. This fashion brand is a San Francisco online store with a less casual feel and workplace appeal. Modern City will compete with Everlane in terms of quality, versatility, and affordability. But their collection is majorly geared towards a selection of sophisticated office wear.
If you love the quality and uniqueness of clothing from Everlane but need something less casual and for your everyday office needs, Modern City is your best stop fashion house. 
---
7. Lou and Grey: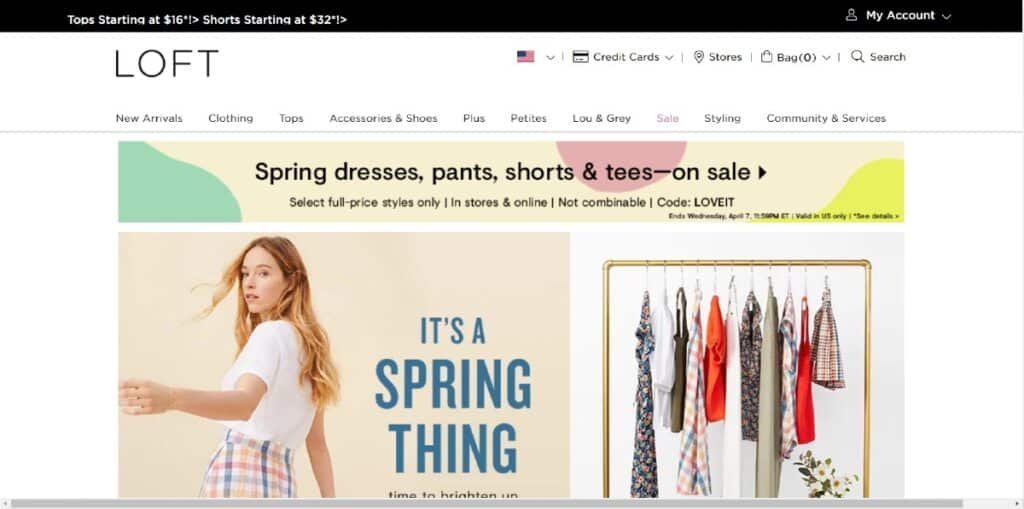 Do you need street clothing that is breathable and comfortable to wear around for every causal need? Lou and Grey might be worth your time. Lou and Grey have a diverse collection of matching outfits that are cheap and easy to match up for your next outing. Ever been in sweatpants for hours? Lou and Grey have muted colors and matching sets of fast-fashion clothing that are just so crazy soft for any woman who loves style and comfort.
Lou and Grey have over 25000 brands of hugely discounted handbags, clothes, jewelry, and shoes. All these and more can come at a discount of up to 90%. 
---
8. COS: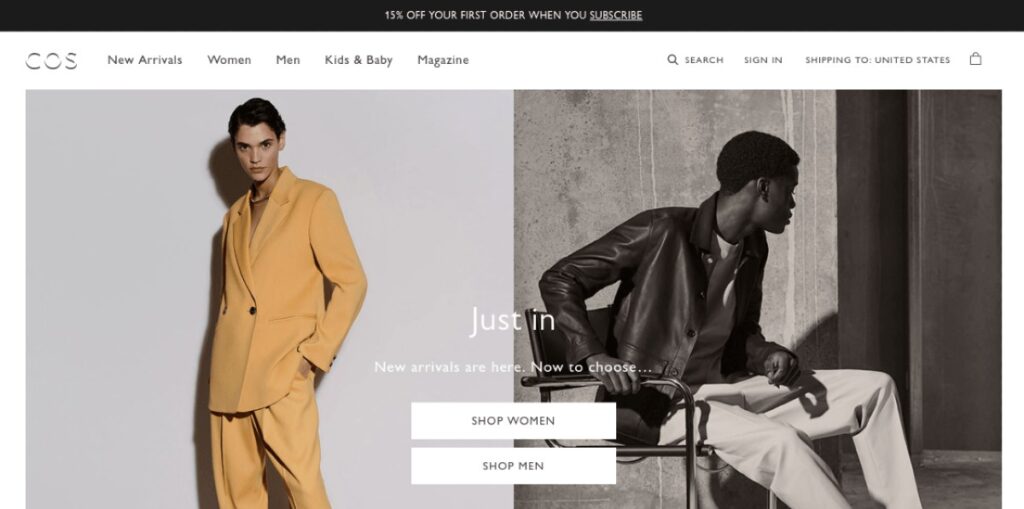 If there is any clothing store like Everlane that caters for every age and style, COS just does it better than everyone. If your style is minimalist and timeless, COS has got you covered.
Their collection of dresses features jumpsuits, rompers, and other accessories that deliver nothing but luxurious looks.
Aside from affordability in terms of juicy discounts capable of making your wardrobe filled with clothes for less pay, they also pride themselves in delivering a sleek and high-end look that makes just about any woman as fashionable as possible. 
---
9. AYR: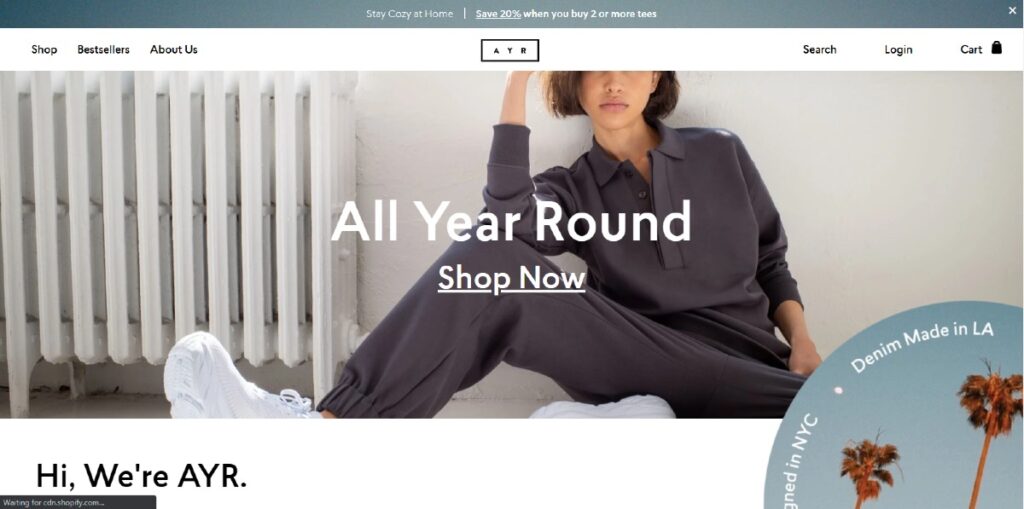 Do you prefer a brand that has stocks for every season? Then, it would help if you went the AYR way. AYR has a reputation for selling the best clothing that caters for comfort and also has a way of boosting your confidence in public. If you've never made the crowd pause for a moment and watch you walk to your seat at a public event or outing, then you have been doing it wrong all this time. AYR just happens to be the number one store for your discounted, high-quality essentials for every season, and for your everyday life. 
---
10. Made Trade: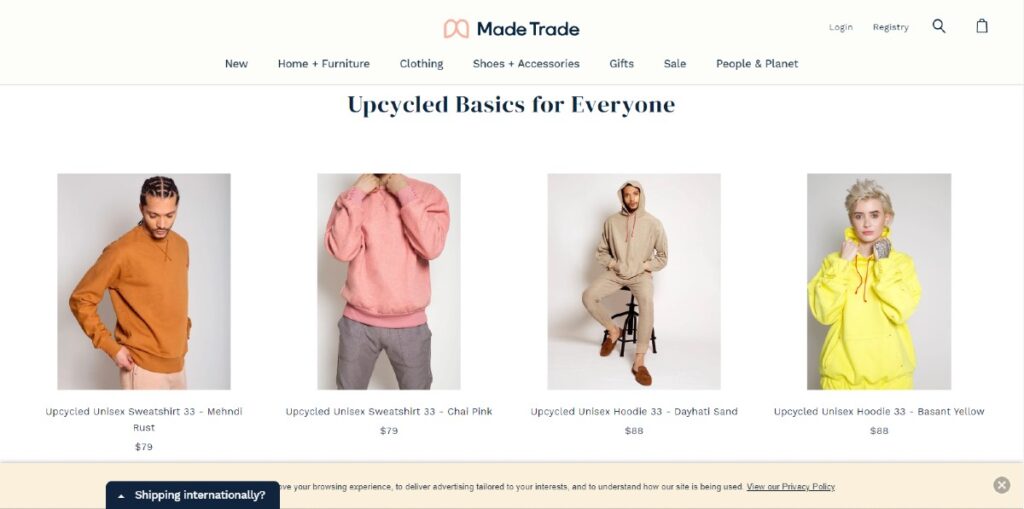 The Made Trade is another alternative store like Everlane, whose keen interest in ethical and sustainable clothing may seem unmatched. Made Trade is the newest of all the stores listed in this post, but their unique products and process of hand-picking every single item they offer has made them gain a massive following without much stress. 
Made Trade has everything and at up to 70% discounted prices for you and your home.
Their repository of quality products is not limited to women's clothing, shoes, pajamas, loungewear, beddings, and home decor.
Do you want to shop bright and better? Made Trade has that comprehensive collection that makes getting everything you need hassle-free. Start shopping today!