Do you have thousands of followers that check your Insta daily to see your outfit of the day (OOTD)? Are you the fashionista of your friend group? Are you the girl or guy who gets stopped on the street and asked, "where did you get that?"
Whether you follow trends or set them, many stores make it affordable to wear new looks every day without busting your budget. If that's the kind of fashion you love, you're probably already well aware of Fashion Nova.
But if you're looking for a new place to pick up some equally stylish pieces, there are plenty of other places to shop.
Ready to go down an online shopping rabbit hole?
Here are 11 stores like Fashion Nova (you're welcome).
1. Forever 21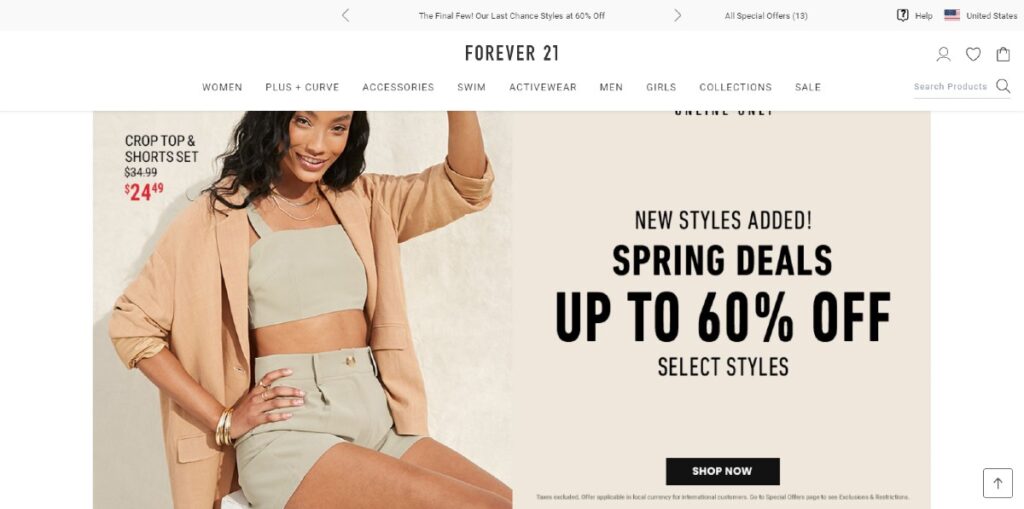 Unless you've been living under a rock for the past 20 years, you've shopped at Forever 21. But we simply couldn't compile this list of trendy, affordable stores without at least giving them a mention.
They've got inexpensive dresses, tank tops, jumpsuits, and swimwear. Not to mention every other category of clothing and accessories you could possibly imagine. If there's a particular silhouette, color, or trending print you're searching for — they have it.
Plus, they have things that Fashion Nova is missing:
Clothing for men and apparel for kids.
---
2. Misguided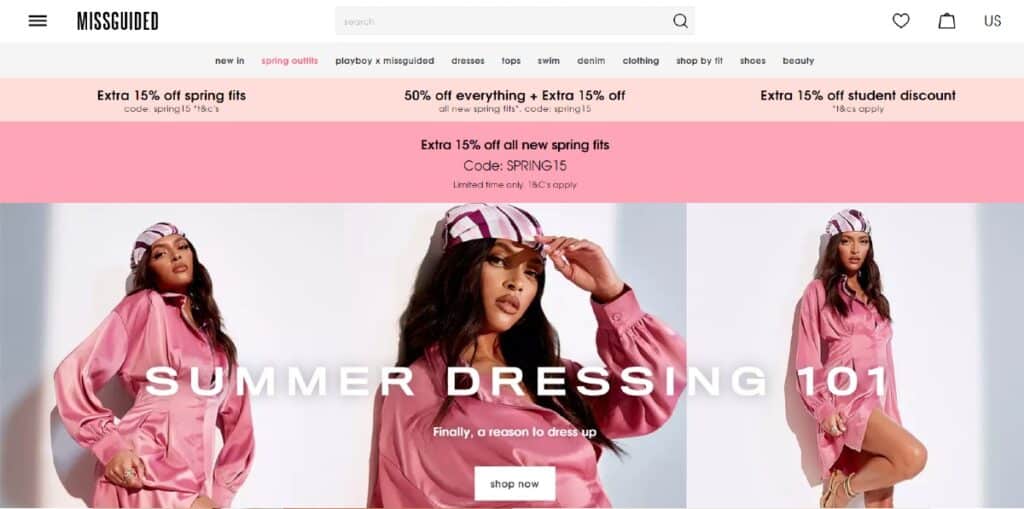 If you haven't already shopped Misguided, you should know they also have it all.
Misguided has the sexy club looks and the skimpy swimsuits. They have the coziest hoodies and sweatpants. They have pretty tops and trendy jumpsuits. But they also have a collection of modest clothing complete with matching hijabs, and we think they deserve some applause for that.
---
3. Boohoo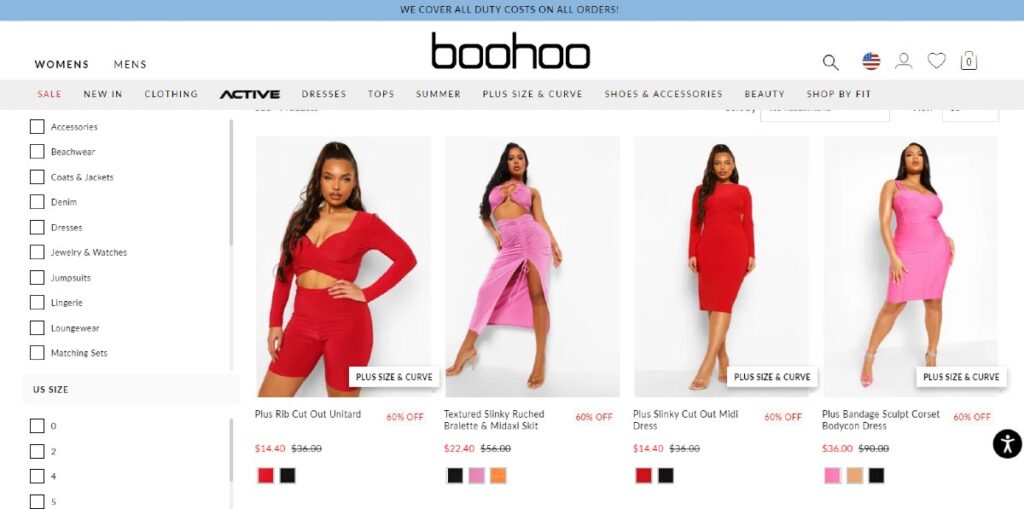 From colorful two-piece suit sets to sexy cutout dresses, Boohoo is on top of every trend.
They sell plus sizes as well as men's clothing, making it a one-stop-shop for you and all your friends. Head there whenever you need a new look for a daytime party or a fun night out.
---
4. Pretty Little Thing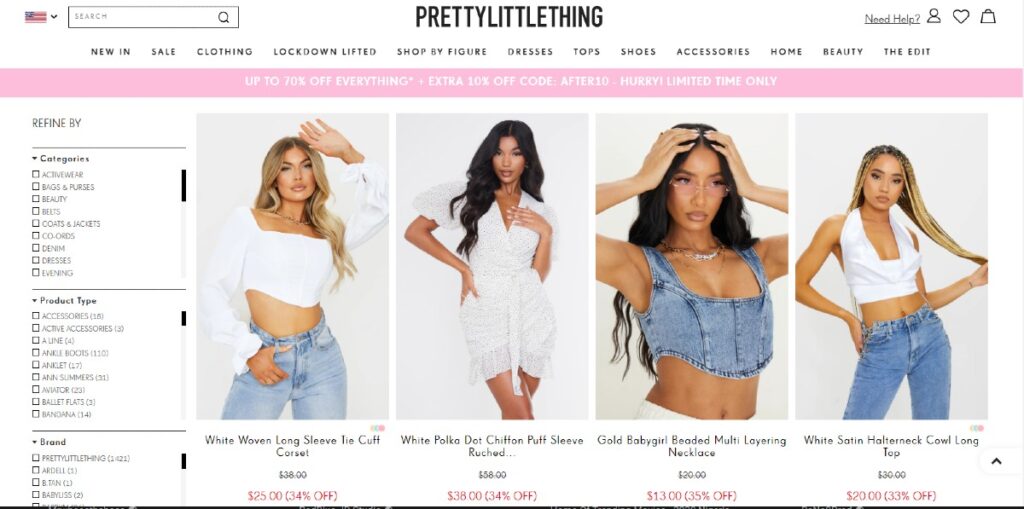 You can find great sales, great looks, and a full assortment of beauty products at Pretty Little Thing.
This online store sells trendy clothing in various sizes for everyone, from petite to plus to maternity. Whether you're heading to a wedding, a boozy brunch, or a festival, you're sure to find something you love (and can afford) here.
---
5. ASOS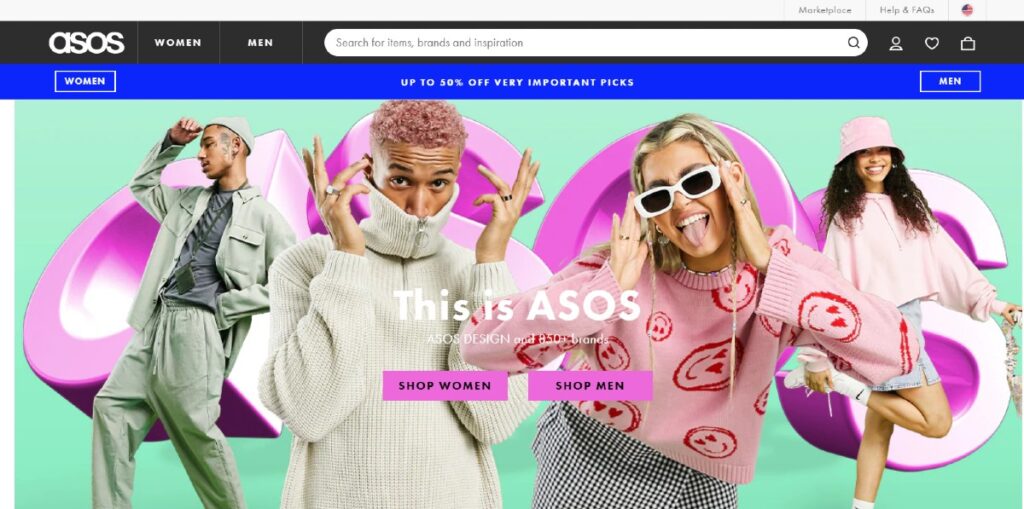 With headquarters in London, ASOS has been a longtime favorite of fashionistas in the U.K., U.S., and Europe. They sell men's and women's products from over 850 brands. Made in factories worldwide, all with a forward-thinking sense of style for people that set trends rather than follow them.
Whether you're looking for a cozy sweater or a sexy pair of leather leggings, you'll find them at ASOS.
---
6. Tobi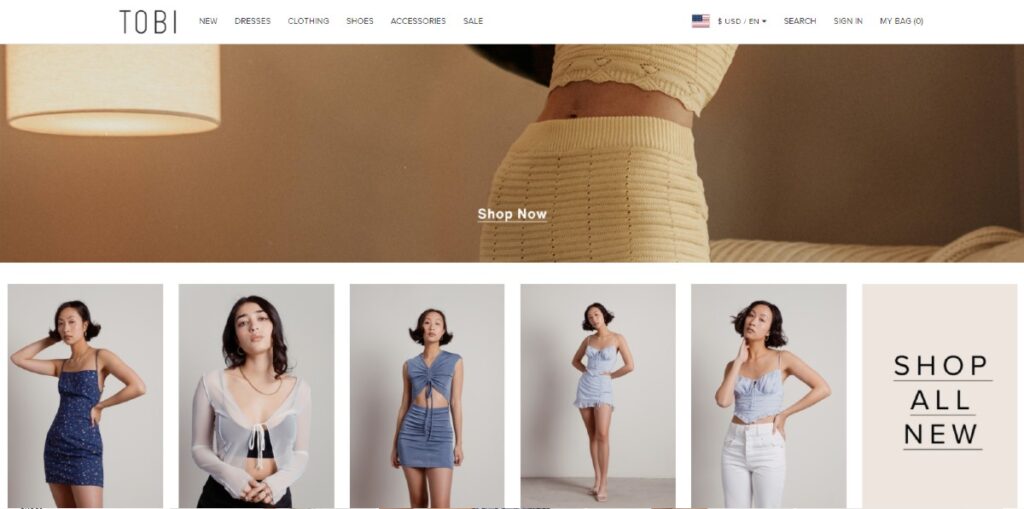 Tobi is unique in that it appeals to a wide range of aesthetics and fashion styles. This store is as trendy and affordable as any other shop on this list, but they often skew a bit more girly and more ladylike. It's a great place to shop if you're into the ultra-femme vintage vibe.
If it's a dress you're looking for, Tobi is the place to go. Here you'll find everything from skimpy, sexy club looks to organza maxi dresses that you can wear to a wedding. They're a great destination, no matter your style or mood.
---
7. Necessary Clothing
If you love a woven blouse, check out Necessary Clothing.
In the late 1990s and 2000s, Necessary Clothing was a destination brick and mortar boutique for NYC fashionistas in the know. Today, they have an entire online store that's even better than their physical stores ever were.
From tops that you can wear to work to playful dresses for day or night, Necessary Clothing is an affordable place to shop. It's where you can buy looks that you can't find on every other site.
---
8. Nasty Gal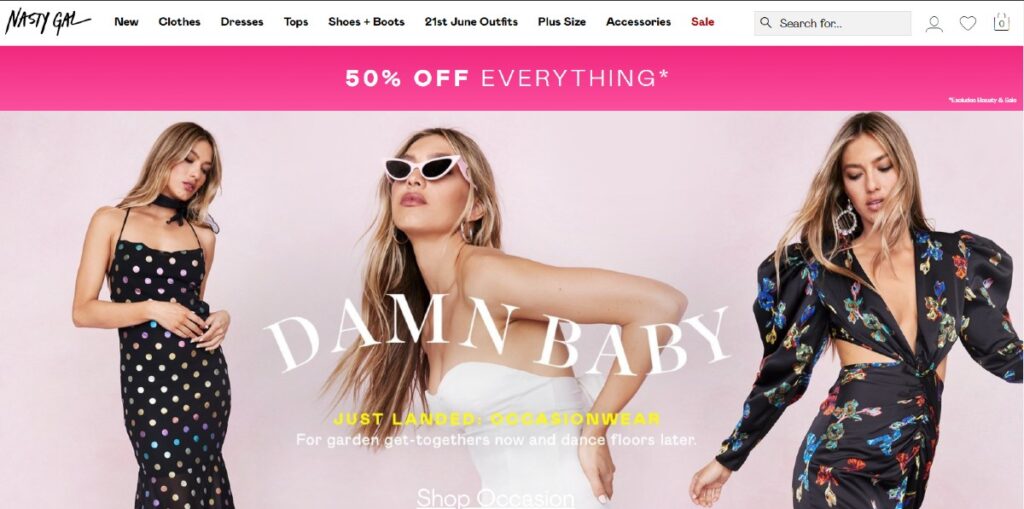 If you're a fan of Fashion Nova, you probably already know about Nasty Gal.
At Nasty Gal, you'll find fun and flirty party dresses, chic two-piece sets, cool and comfy tees, and lots of denim options. They also have a relatively massive collection of swimwear and swim cover-ups perfect for any trip to the beach or pool.
---
9. Akira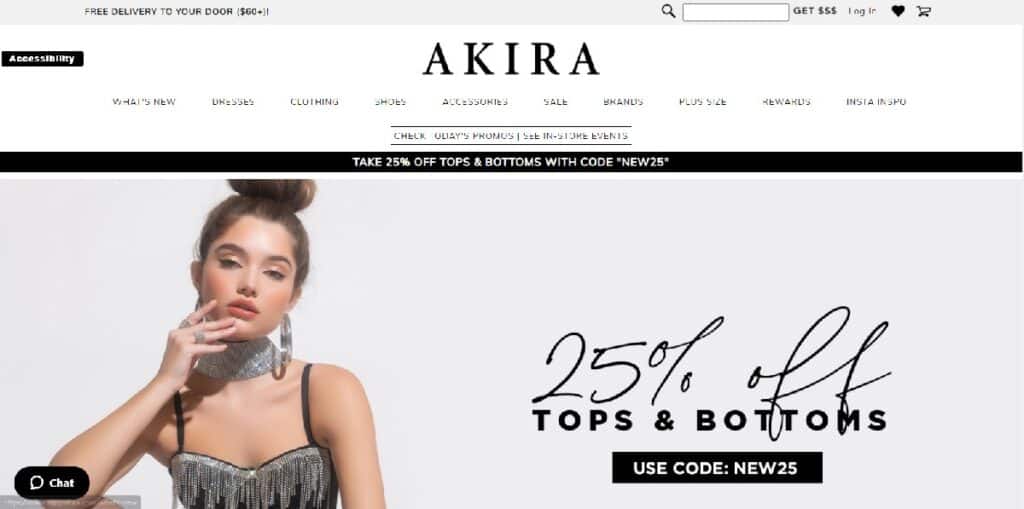 Akira is one of the best places to shop for edgy dresses and chic looks with a sexy twist.
They offer a full collection under their own label as well as styles from notable streetwear brands such as:
Kappa
Timberland
Adidas
Nike
Vans
Their prices are slightly higher than Fashion Nova, but many of their designs feature unique details that make them stand out.
Unlike some of the other stores on this list, Akira also has physical retail stores. Check them out in person when you need some instant retail gratification!
---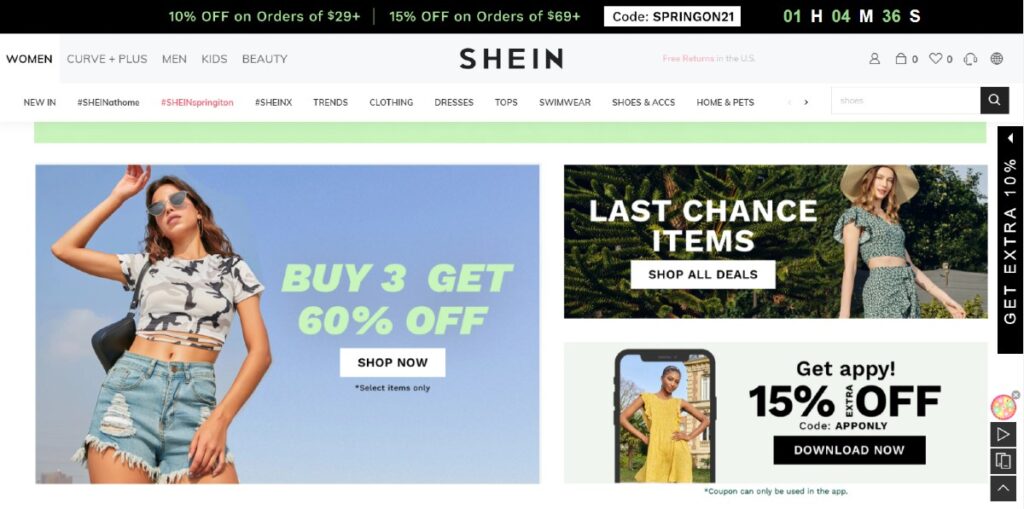 Shein is the place to go for on-trend looks at wholesale prices. From dresses to tees to blouses to swimwear, the Shein website has so many items that you can easily spend an hour browsing one category.
Shein is incredibly affordable, but shipping can take longer than you might expect. Many of their items ship straight from warehouses in China, so it's not uncommon for standard shipping to the U.S. to take two weeks or more.
---
11. Miss Lola
Miss Lola sells a vast assortment of dresses, tops, and bottoms … but where they really shine is in their shoe assortment.
Miss Lola used to be Lola Shoetique, a go-to online shop for fun and affordable footwear.
They've since expanded into a full-fledged online shop selling:
Inexpensive dresses
Bodysuits
Casual sets
Sexy looks for day and night
---
Conclusion
If you're a fan of the fast fashion that you can find at Fashion Nova, there are dozens of other stores that you can shop at.
So the next time you're searching online for the perfect crop top, the perfect jogger pants, or the perfect club dress, do a little comparison shopping. You just might find your favorite new look at a store you've never shopped before!
Written by Ryan Sundling is a Group Marketing Manager at Cardinal Group Management. He has over ten years of experience in the conventional housing industry and works with Alexan on 20th Street Station on a daily basis to help them with their marketing efforts.