If grunge-style chokers, fishnet stockings, Ouija Board tapestries, and authentic combat boots are all on your wish list, then you're probably no stranger to Killstar.
But the online retailer creatively captioned "In Goth We Trust" won't always be a one-stop-shopping spree. If your My Chemical Romance concert outfit is still missing that Taylor Momsen-esque edge, don't panic!
Stores Like Killstar to Shop Gothic Apparel
Here are eleven stores like Killstar to fill your edgy, gothic closet.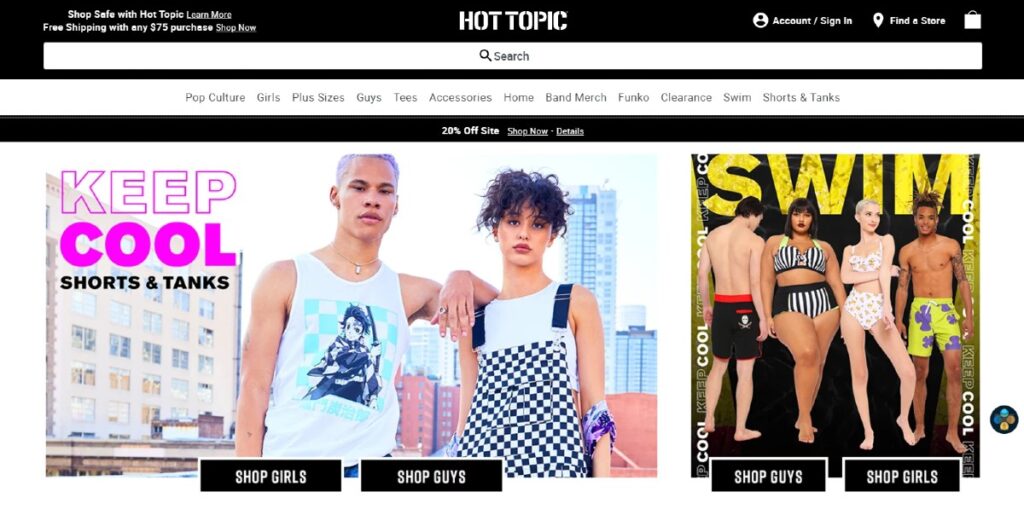 Its latest lineup angles more toward 'trendy' than gothic, but Hot Topic is the only alternative on this list that (i) doesn't need an introduction and (ii) you're guaranteed to find brick-and-mortar at your nearest shopping mall.
If you look hard enough, you'll find the old-school Hot Topic relics hidden on its shelves. A quick splurge can complete your Misfits-style ensemble with some inches-high platform boots, vintage cutoff shorts, or a tank simply reading "Dead Inside."
2. Tragic Beautiful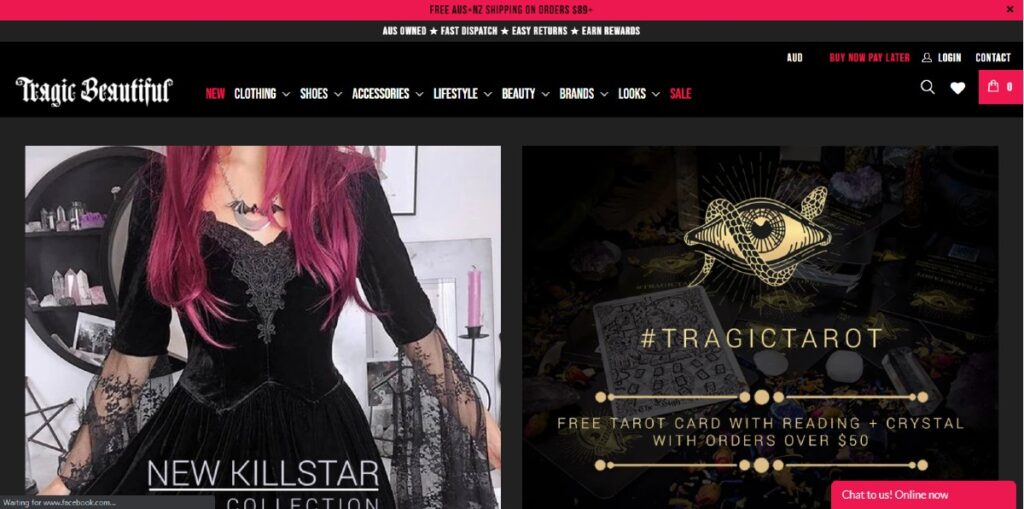 Tragic Beautiful puts a more modern twist on traditional gothic and occult fashion. Inspired by witchcraft and sheer rebellion, it's hard to escape the online store without tossing a skater dress, vinyl pants, or "Hail Satan" underwear into your digital cart.
But if you're a true goth at heart, you know it's a lifestyle (not a fashion trend). Don't forget to splurge on the festival accessories, too — everything from thigh-high boots and pentagram backpacks to incense and slate hair dye.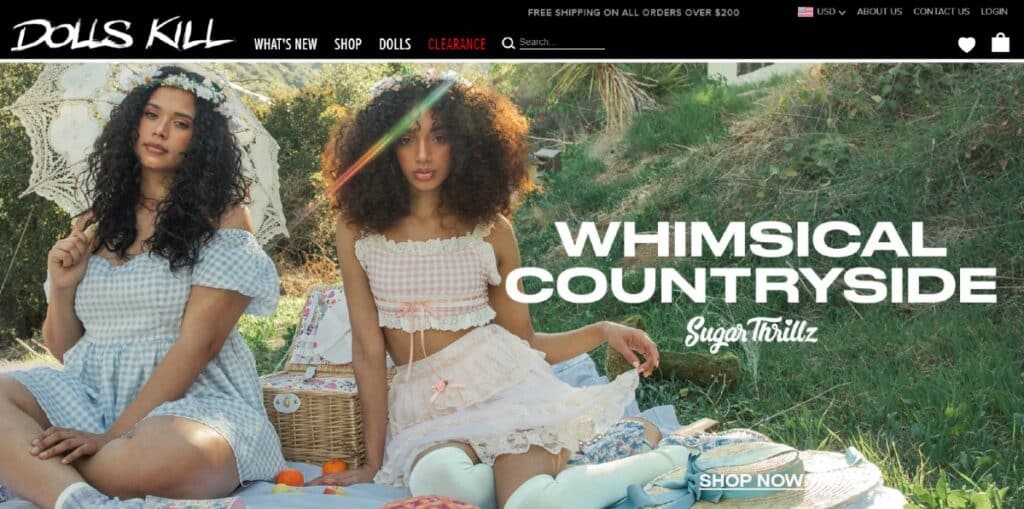 Dolls Kill looks far too mainstream at first glance. But the online boutique does have a 'scene' edge if you appreciate a tamer gothic style. If it's even modestly outlandish, Dolls Kills has it in stock — Grateful Dead band merch, 90s-era quad skates, and even old-school pink and black plaid skirts.
So, if you're committed to the darker style, the 'gothic and punk' section is your true calling. The flowy fingerless gloves, web collar dresses, and wicked headbands will help you discover the 'Elvira' pumping through your veins.
4. RebelsMarket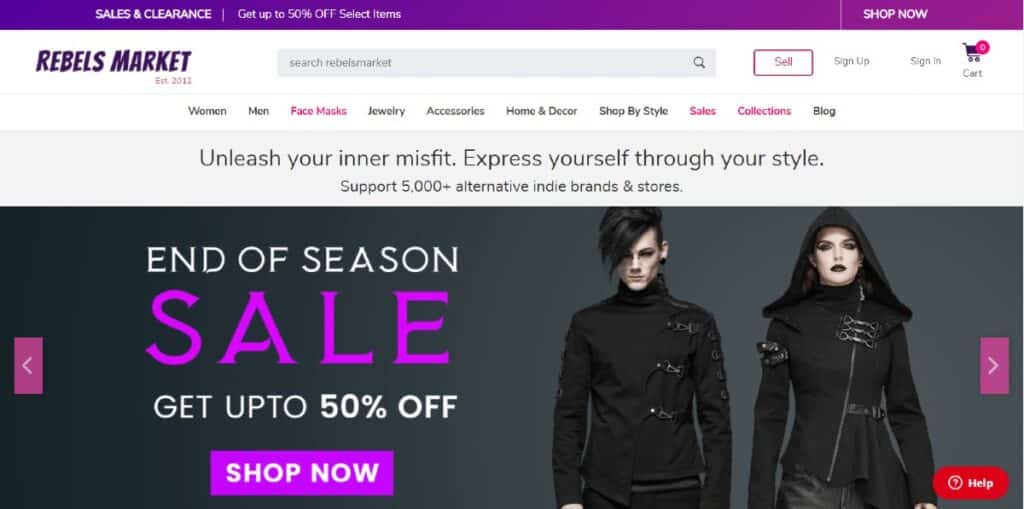 With a name like RebelsMarket and a catchphrase reading "Better Than Normal," it's no surprise who's lending this digital store traffic. RebelsMarket is a haven for goths celebrating any dark-themed aesthetic.
So, complete your wardrobe in seconds with a leather corset, chunky boots, or a black gold skull ring. Or bring the occult home with witchcraft-inspired home decor, featuring everything from a Ouija Board rug to tiny owl trinkets.
5. Violet Vixen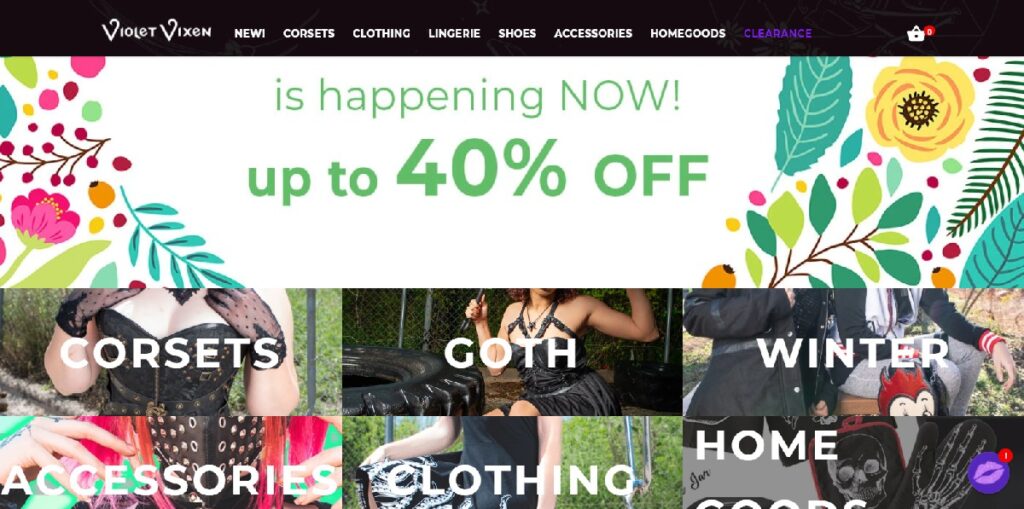 Violet Vixen celebrates free-spirited and rebellious fashion for women craving unconventional beauty. The store's 2020 fly-off-the-shelves items included fishnet stockings, moon-shaped earrings, royal blue corsets, and metallic snake necklaces.
But this alternative clothing store also offers more subtle misfit stylings. Finish your weekend look with a moon phases racerback tank, cozy skull sweater leggings, and low-profile yet casual flats.
6. Mystic Crypt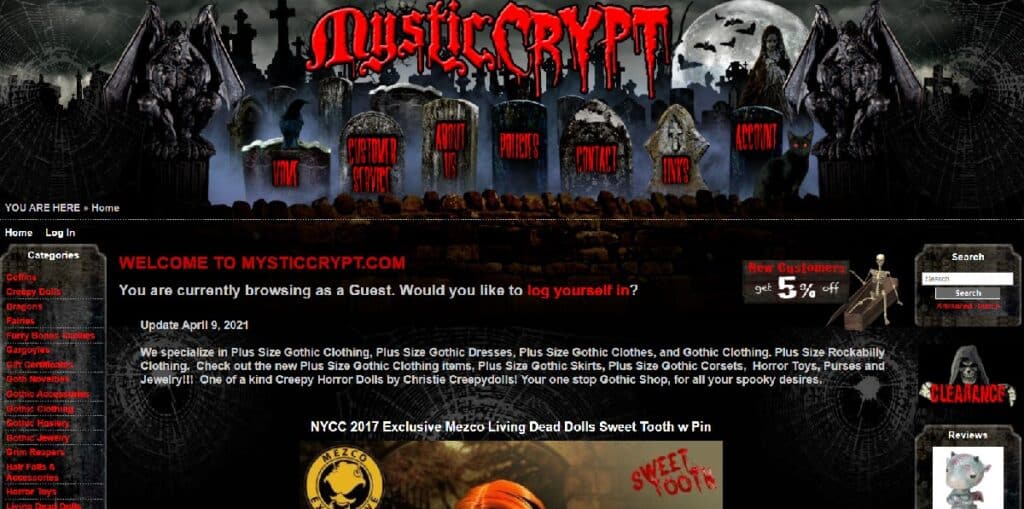 Mystic Crypt is a unique mixture of gothic, spooky, non-traditional, and even borderline creepy. But if foggy graveyards and possessed dolls don't give you the heebie-jeebies, Mystic Crypt is whispering your name.
Trinket-wise, the store leans toward mystical and eerie — coffins, baby dragons, grim reaper candle holders, and horned demon skulls.
It also has a sprawling plus-size section where gothic meets beauty, boasting a wide collection of mini and corset dresses that are sure to impress on a full moon.
7. Gothic Plus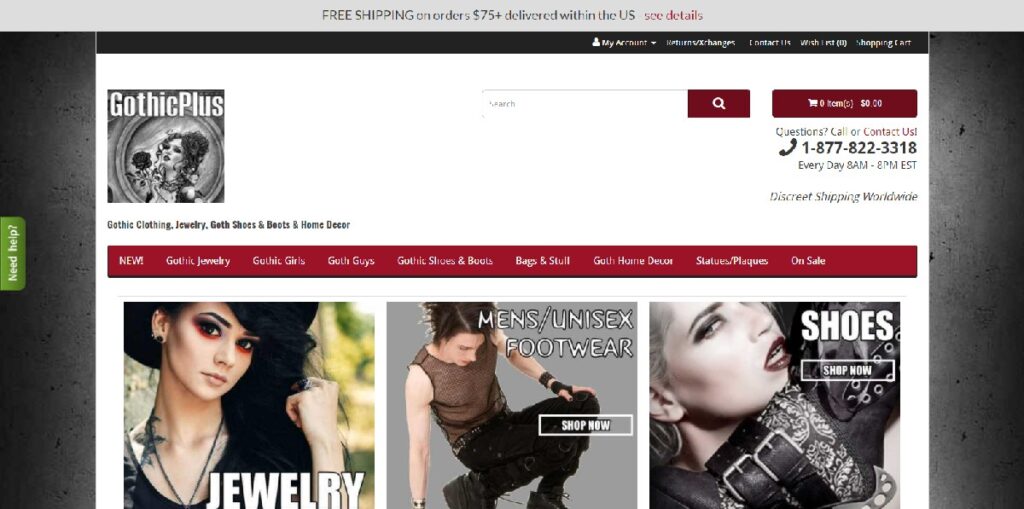 Gothic Plus is what happens when stores like Hot Topic become too 'normal' for the gothic crowd. It's strictly alternative product line satisfies every dark desire in your soul, whether that's clothing, jewelry, boots, or even home decor.
In a sentence, Gothic Plus is the pinnacle of true goth. Splurge on 10" cross strap pumps, thigh-high boots, haunted dolls, and a 'Witch's Brew' mug. Or combine sexy and alternative for your next underground party by trying out Gothic Plus's waist-cinching corsets and pure black unitards.
8. The Dark Store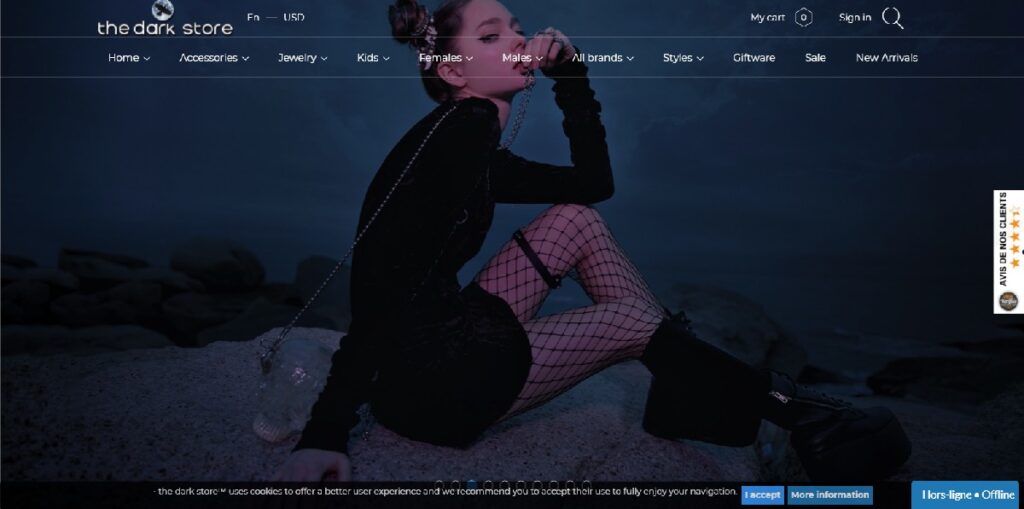 The Dark Store is relatively new to the gothic scene, but this French underground boutique is the textbook definition for 'alternative' by today's standards. So, if it's black, lacy, tight-fitting, or even mythical-inspired, you'll find it somewhere on The Dark Store site.
This online outlet carries some of the hottest rebellion-driven brands, like Spiral Direct, Alchemy Empire, and Dark in Love. But if your closet is already full, the Viking beer mugs and devil chopping board might be more your style.
9. Vampire Freaks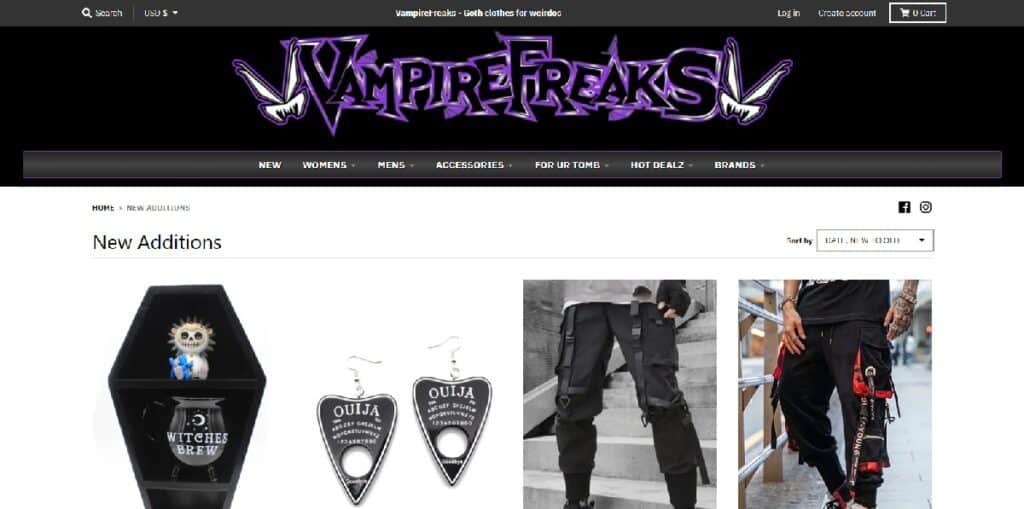 Now in business for over two decades, Vampire Freaks is the unofficial fashion hub for 'weirdos,' misfits, goths, and emo folks alike.
But there's another bonus:
Vampire Freaks also carries bits and pieces of the classic Killstar brand!
If you're an authentic dark soul, you're in good company here. Vampire Freaks ticks all the boxes, whether you're craving a distressed striped sweater, a three-T mystery bag, or plaid pants. There's also a 'For Ur Tomb' tab to goth-ify your home with a switchblade bottle opener and coffin-shaped pillows.
10. Blackcraft Cult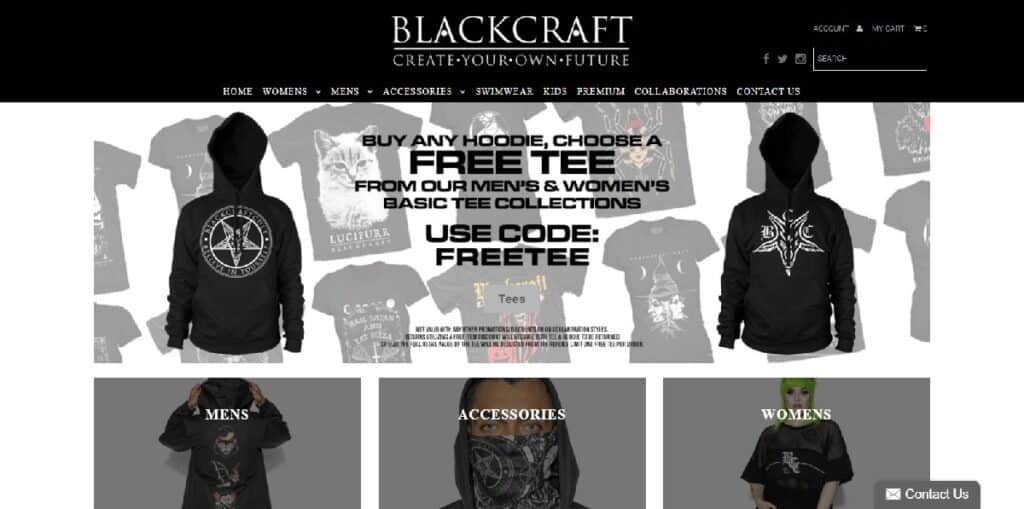 Blackcraft Cult revolves around alternative self-expression. But, it's a bit more welcoming than other platforms on this list, featuring everything from men's and women's gothic-styled apparel to swimwear and even a kid's lineup.
Most of Blackcraft Cult's products carry a common theme. If anti-religious symbols, pentagrams, 666, or simply the phrase "Blackcraft Cult" on your clothes are the perfect head-turners in your book, look no further. This store will fill your more casual gothic needs with its comfy shirts and zip-ups.
11. Cradle of Goth
Lastly, Cradle of Goth is your next rebellious fashion headquarters if you're looking to revamp your style without sacrificing Killstar's allure. Turn a bland apartment mysteriously dark with a bat clock, moon shower curtain, or spider web tablecloth.
Or, fill every loose hanger and empty drawer in your bedroom. Go on an all-out Cradle of Goth shopping spree to bring home flare lace pants, a skeleton hoodie, or chain boots. But don't forget to add those finishing touches with a spiked choker and black skull ring.
Conclusion
Now that you've stocked your closet with fresh graphic tees and hooded scarves, it's time to discover some fashion inspiration. 
As usual, all roads lead to Pinterest!
Search for gothic fashion or gothic outfits and spruce together a concert-ready outfit. Or, follow Instagram influencers in the more rebellious and witchy scenes, like Gypsy Warrior or Vargadottir.