PrettyLittleThing is a trendy fashion store that can solve your clothing needs no matter how tight your budget is. Do you want pretty clothes and accessories that are affordable and of genuine quality? Then, Pretty Little Thing is one of the industry's leading favorites.
From hundreds of new weekly arrivals to fashion brands that holla night-life, street life, fun, and aesthetic fashion statements, Pretty Little Thing does it right at all times.
PLL has been the getaway location for fashion and pretty ladies who love to wear the latest trends from popular brands while saving at the same time.
Since 2012, Pretty Little Thing has been a fashion retailer aiming to provide apparel to 16-to 34-year-old females and has never disappointed.
PLL is hot on mouth-watering deals, no doubt! But, did you know that there are other amazing stores out there with incredibly high discounts on women's fashion and clothing?
Here are 10 stores like Pretty Little Thing every fashionable girl needs to know and start shopping from right away.
1. Missguided: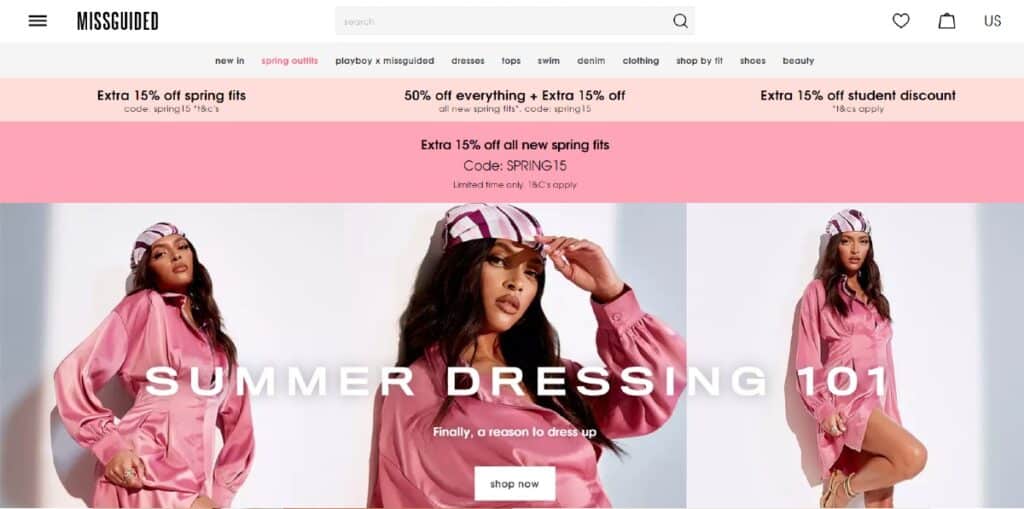 At Missguided, you are sure to find amazing deals at a perfect price. Do you want to dress to impress but on a tight budget? Missguided will make you look luxurious with their latest clothing stock that doesn't look anywhere near cheap. At Missguided, you will be surprised at how affordability can meet quality effortlessly.
It doesn't matter what your style is, or how prickly you can be with what you chose to wear, how you look, or what occasion you are willing to shop for. Missguided is a powerhouse of women's clothing for top brands that add fun, style, and a classy fashion statement to your appearance.
Aside from the mouth-watering deals at Missguided, you can also enjoy express shipping with a 28-day return policy. So, you can shop smart, less, and comfortably while always getting value for your money.
2. Boohoo: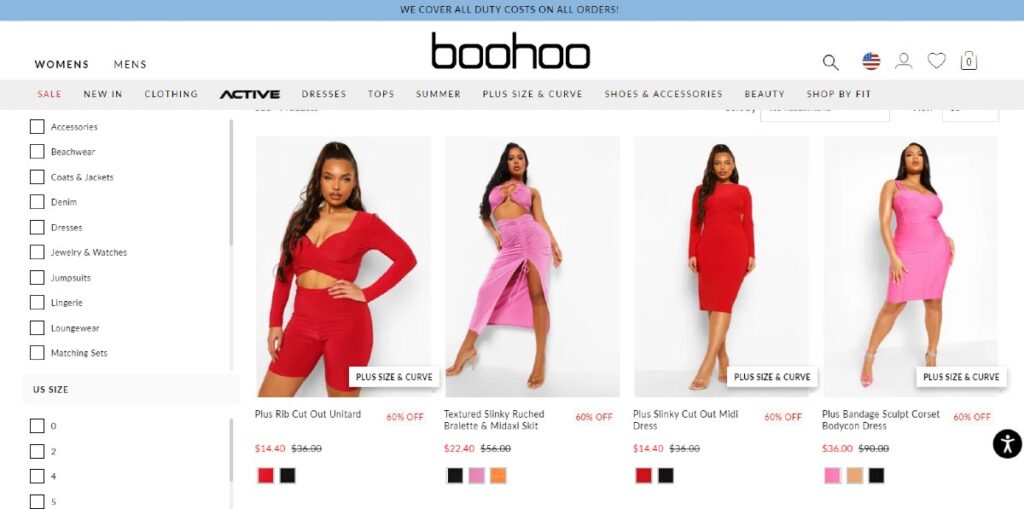 There is a lot of misconception about Boohoo being a PLL subsidiary because of how close they are to solving every girl's clothing needs. But, these two stores are different and are just a close competitor.
Boohoo is the hidden secret weapon that every fashionista wishes to keep from everyone. We are sorry! But we just can't help letting the cat out of the bag and exposing this secret store with crazy cheap discounts to every girl in need of a cheap and quality clothing plug.
Boohoo takes the competition to an extra level by offering consistent deep discounts that make their items less expensive than Pretty Little Thing on an average.
With 150 new products being added to their shelf daily, there is no way you will be getting bored while shopping for your favorites.
At, Boohoo, you can enjoy free shipping on orders above $30 while being covered by a 28-day return policy. You can start enjoying unbelievable Boohoo discounts by checking out their shopping coupon codes. 
3. Nasty Gal: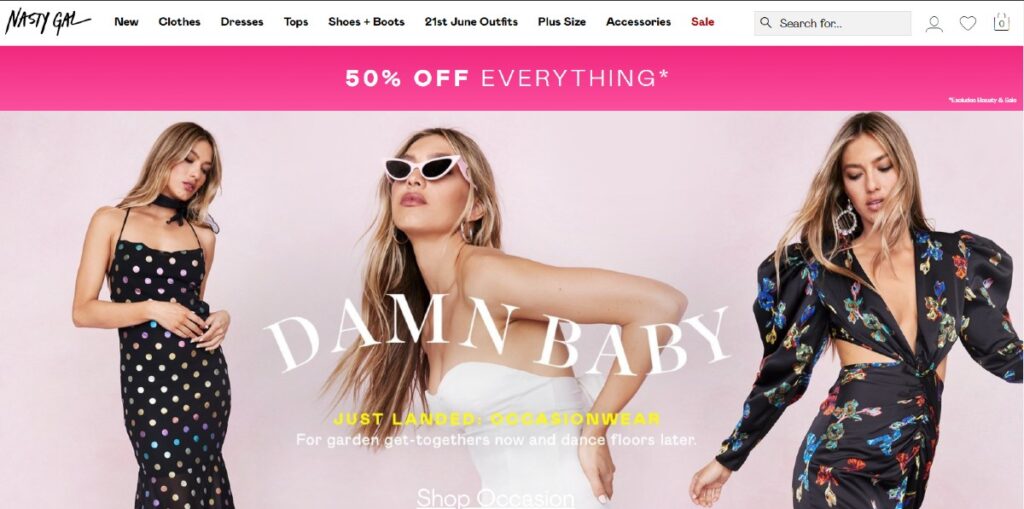 Do you want fast-fashion quick fixes that can turn you into an instant fashionista and make you always stand out in the crowd? Then, you need to add a new collection of cool, pretty, and unique clothing to your wardrobe. The best way to get the perfect result is to shop for your next set of clothing and accessories from Nasty Gal.
Nasty Gal is a fast-fashion store with an edge for rare and elegant dresses that instantly turn your style into charming, exquisite, and gorgeous.
Nasty Gal was acquired by Boohoo in 2017 and had the price of every item slashed into two leaving the store a lot cheaper than Boohoo.
You will never get bored shopping for your women's pleated and leather skirts, sexy, rocker-chic, and bohemian pieces. Nasty Gal lives up to expectations with cheap, high-quality items that are perfect for any girl who loves to look good.
Nasty Gal offers free delivery on orders over $120 and a return policy of 28 days.
4. Superdry: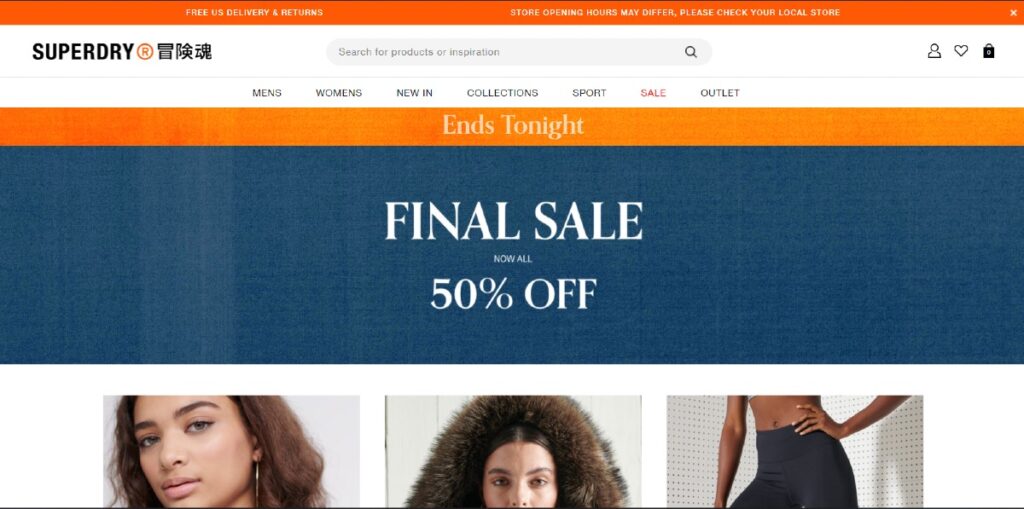 Do you take your street wear seriously and wouldn't trade getting stand-out street styles at pocket-friendly prices for anything? Then, Superdry has got your back. With a repository of amazingly cheap collections that give you the flexibility to choose and make combinations that can help you achieve your signature street style, Superdry is a Super-fast-fashion store to be taken seriously.
Superdry offers free express delivery on all their items, with no minimum spend required, while also updating its shelf every day for the latest items such as jackets, coats, hoodies, sweatshirts, jumpers, tops, and many more.
5. Forever 21: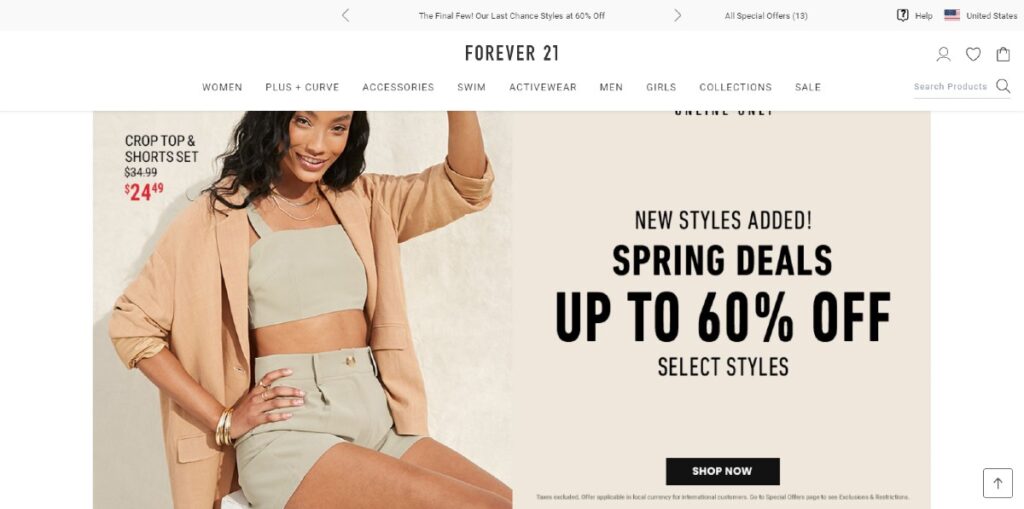 If you think Pretty Little Thing is awesome for their sexy and affordable clothes, then, Forever 21 should be one of your favorites. Forever 21 is a fast-fashion store that deals in cheap and genuine clothes to help you get that youthful and graceful statement on your appearance whenever you step out.
Whatever your style is, if it speaks young, tender, and beautiful, then that's the language that Forever 21 speaks better.
Forever 21 has a large collection of the latest and trendy clothing and accessories, and you are always going to enjoy every of your shopping sessions. If you want to keep your style contemporary and radiating with an undiluted touch of youthfulness, Forever 21 is the way to go.
There is free delivery on orders above $50, with a 30-day return policy on every of their clothing items, and the availability of cost-effective gift cards is endless.
6. Showpo: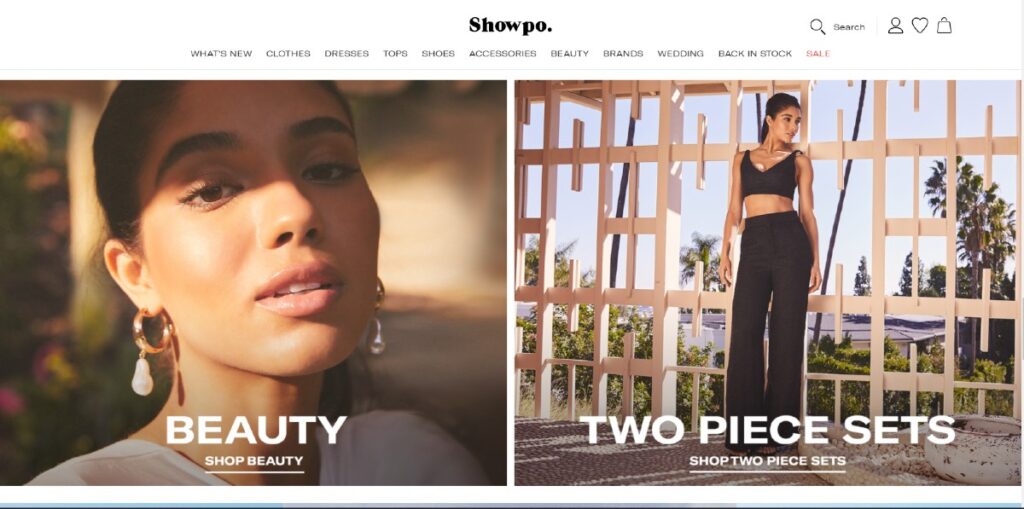 With an unending collection of daily updated color-coordinated flush with pastel pieces, frills, matching sets, and lace, Showpo is the go-to store for girls with fashion sense and styles that are pretty aesthetic.
Showpo has a dedicated collection of Instagram-worthy dresses that will leave you in awe. Don't be surprised when you see dresses from your favorite celebrities on Showpo. They just happen to have industry-standard clothing at affordable price tags.
If you are looking for the best way to step up your fashion game and command respect and accolades when next you step out, Showpo has your every needs to be looked after.
From crop tops to denim, curve clothes, jackets, coats, intimate wears, activewear, jumpsuit, jeans, maternity, and more, Showpo will amaze you, no doubt.
7. ASOS: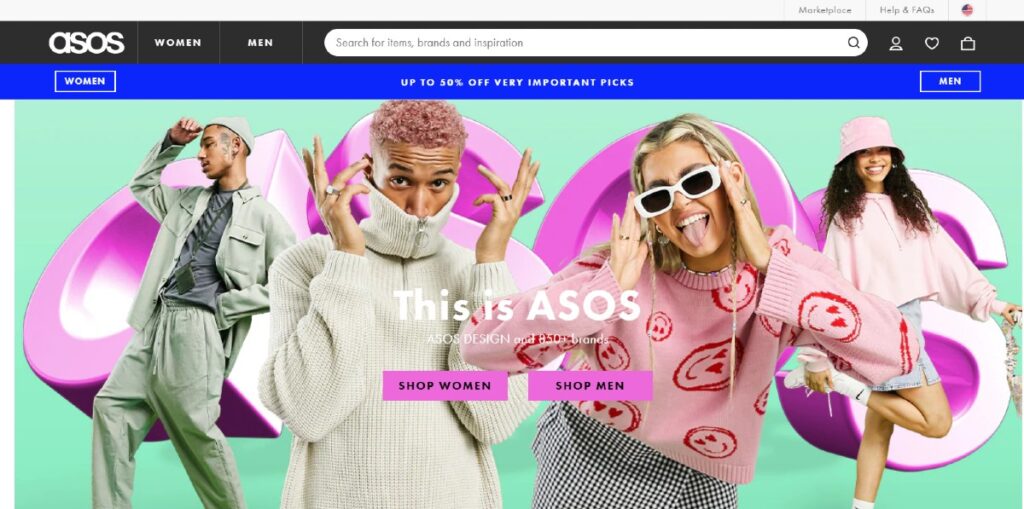 With ASOS, the hottest dresses for girls who have a taste for fashion are just a click away. ASOS is a British online fast-fashion store with the industry's leading high-street and high-end designers. There is always a dress for everyone at ASOS, and it's always worth it. ASOS has one of the latest and ever-evolving arrays of offers to quench your thirst for luxury and affordable clothing and accessories.
You can enjoy flash sale deals discounts of up to 50% on every important pick marked down on site.
ASOS also has a face and body care category that packs the best of body care, hair care, skin care, sun care, and tanning products for your everyday needs. All at cheap and ridiculously discounted prices.
Do you fancy a ripped appearance in distressed denim or a tight figure in hourglass jeans? Then, it would be best if you started looking in ASOS right away. What style you can create with the large selection of available collections is limitless.
8. Express: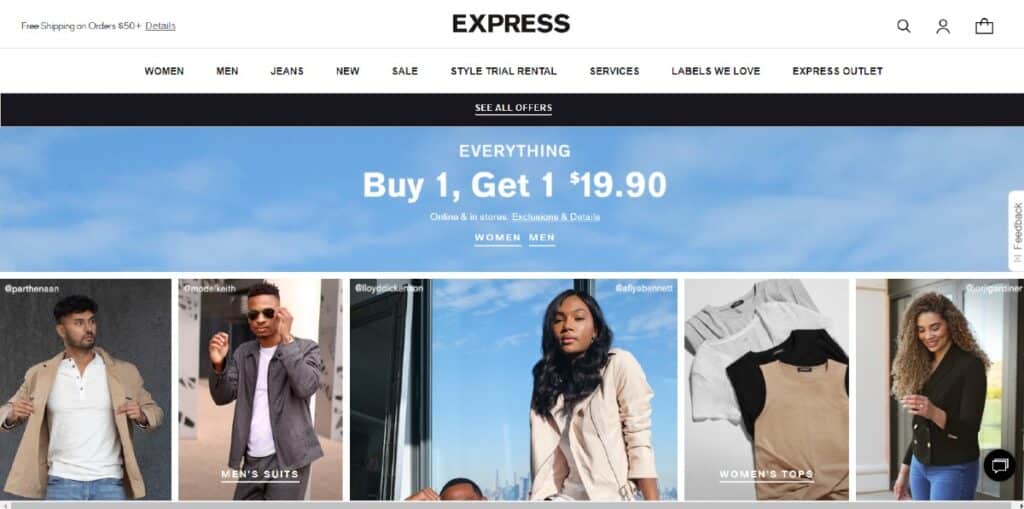 Express is a low-to-mid-range fast-fashion online store that sells genuine and quality women's and men's clothing that can stand head to head with popular and luxurious brands like Armani, Versace, D & G, and the likes.
The asymmetrical strappy shoulder midi bodycon dress and the high-waisted vegan leather pencil skirt are two of the best-selling items with high discounts on Express right now. If you are petite, tall, and curvy and need styles that are perfect for casual, street, work, dinners, and parties, then you should go the Expressway.
Express has a catalog of pretty collections that will appeal to your fashion sense no matter your shape, height, or taste. If you love to shop blazer, rompers, jumpsuits, and cocktail dresses at Pretty Little Thing, then it may interest you to know that Express has one of the best shelves for your fantasies.
9. AllSaints: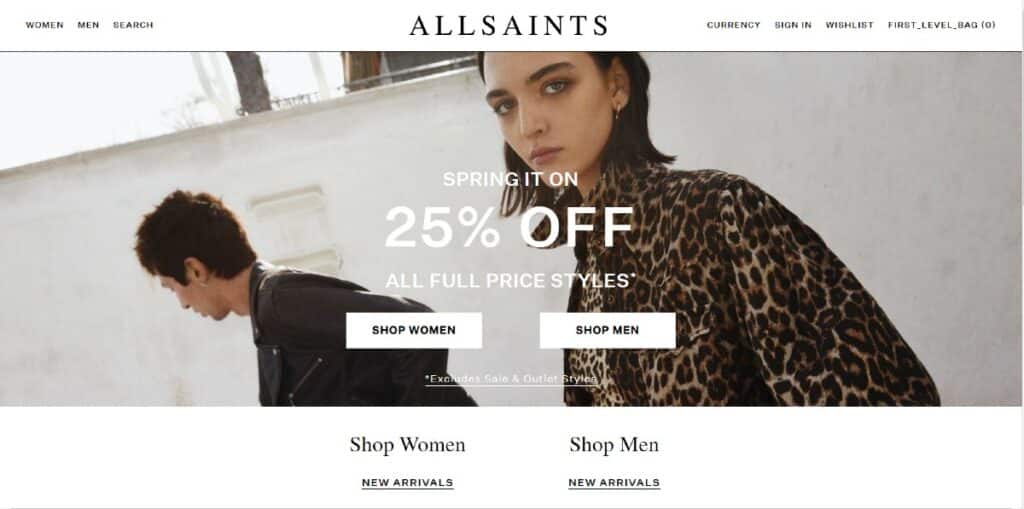 AllSaints is one of those reputable fast-fashion stores that has taken the fashion game farther than anyone could imagine. If you are looking for daring outfits with a touch of a never-seen-before statement, character, and drama, you don't want to shop anywhere else if not AllSaints.
A quick tour of their luxurious collection earns you 25% off on all your spring favorites. That's simple! To shop even smarter on All Saints, subscribe to their newsletter, turn on notifications to receive hot and amazing deals and discounted offers that will blow your mind.
Dresses on All saints are green, sustainable, and eco-friendly. Most clothing and accessories on All Saints are made using recycled yarns, responsible wools, vegetable-tanned leathers, and innovative water-saving techniques.
AllSaints offer you special coupon codes to shop even at ridiculously low prices and standard deliveries on orders above $250. For your spring uniforms, bags, t-shirts, jeans, knitwear, and a lot more, AllSaints will beat your imagination.
10. Urban Outfitters: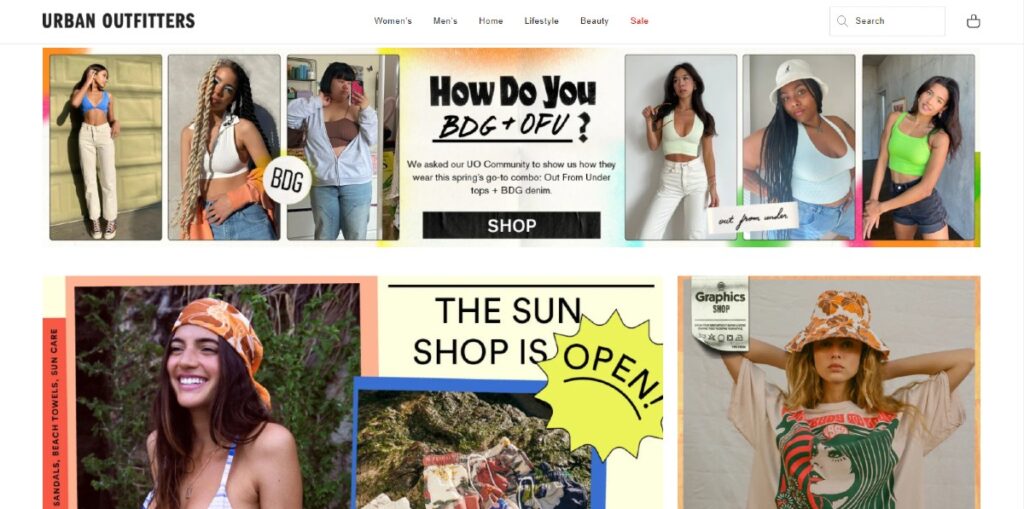 Urban Outfitters is another amazing store that gives Pretty Little Thing a chase for their position as one of the most reputable brands to shop fast-fashion wears. Their sunshine collection creates an ambiance of boldness, brightness, and elegance and is perfect for your everyday outdoor scenery.
Do you have these unexplained vibes for bohemian apparel? Then, Urban Outfitters knows how to treat you right.
From the comfort of your home, you can shop their graphic music edition that lets you have your sweatshirts feature your favorite artists from classic rock elites to today's trending acts.
Soft, earthy, and breathable beddings are also available and ready to turn your home into an oasis of comfort and unmatched beauty. Other affordable items on Urban Outfitters include sandals, swimwear, beach towels, sun care products, hoodies, denim shorts, and a lot more.