Online shopping and stores have come to stay, and they will constantly be a part of our future, the evolution to online shopping has been one that took the world by storm.
Cider is among the stores that took the world by storm. And the pandemic of 2020 has done nothing but aggravate the need and demand for the digital marketplace.
Of all the brands that have dominated the marketplace, there are few that are as popular as cider and today we would be looking at online stores like cider.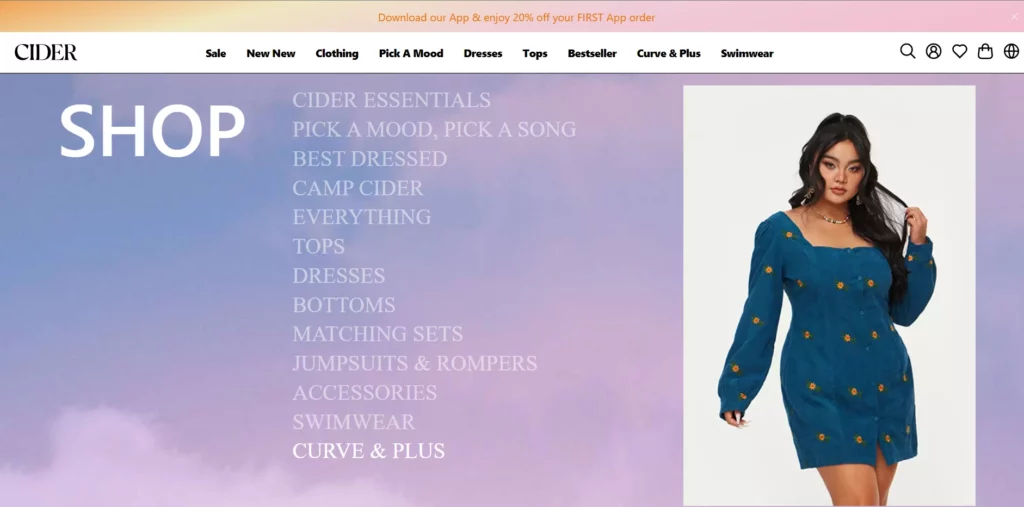 What is ShopCider?
Cider is a relatively new fashion brand that is extremely popular for its social-first designs with a focus on its designs fitting in and still maintaining class anywhere in the world that you take the clothes to. Most of their stock consists of highly fashion rated items like matching sets and trousers with a retro type of vibe from the '90s, and '70s.
This makes them one of the best online shops for a retro vintage fit, alongside their amazing inventor, Cider also allows you to browse for the clothes you want based on a set of categories and tags as well as mood. It is one of the only unique sites in the world that allows you to do the latter.
Which means whether you are sad, depressed or excited, Cider has the perfect fit for you and the occasion. Cider is amazing in a lot of ways but people tend to look for alternatives in everything so it's worth noting the best clothing sites like cider.
Is Cider Clothing Legit?
Shop Cider is legit – they have a steady online presence, have a fast and reliable shipping system and all in all its one of the best ecommerce brands in the entire United States.
Shop Cider is not a scam, its products are well loved by its customers, it has a huge presence in the world with some physical offices and its loyal customer base, reports nothing but good news about them, so we can positive they are not a scam.
Stores Like Cider
Cider is indeed a good brand, well known and affordable and has dominated the industry in its short time in the market. Its success points out that the future of ecommerce is bright.
But how about you check what other stores like Cider have in their stores or websites for you.
1. Peppermayo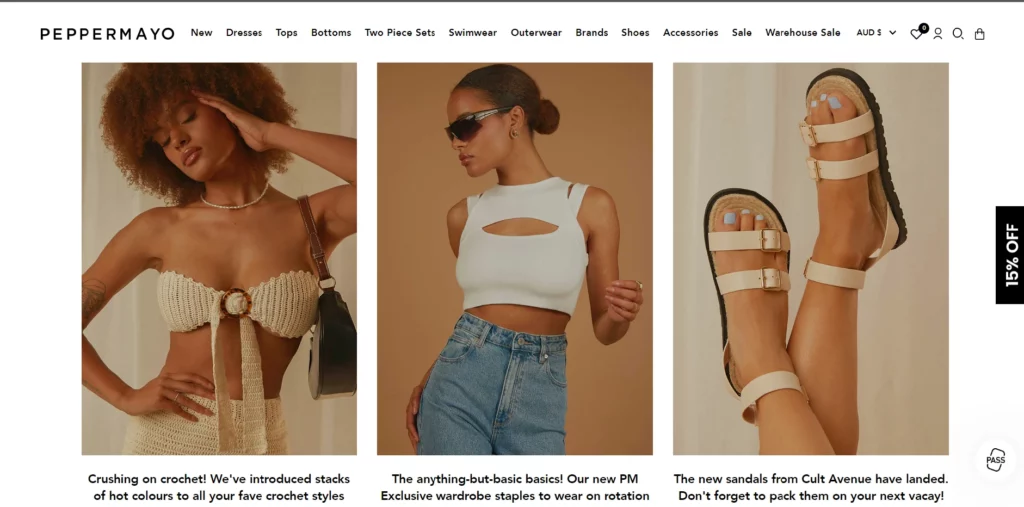 When it comes to online stores like cider, Peppermayo is a name you can't miss. Although it lacks the key feature of cider; its mood filter, Peppermayo also has a lot of features and some of the most tasteful fashion pieces you can get anywhere.
The site boasts of being able to provide your needs in any category from clothing to shoes to accessories. It is quite expensive when compared to others on this list but as the loyal customers would say; you can't compromise on the level of quality product you get from here.
2. Princess Polly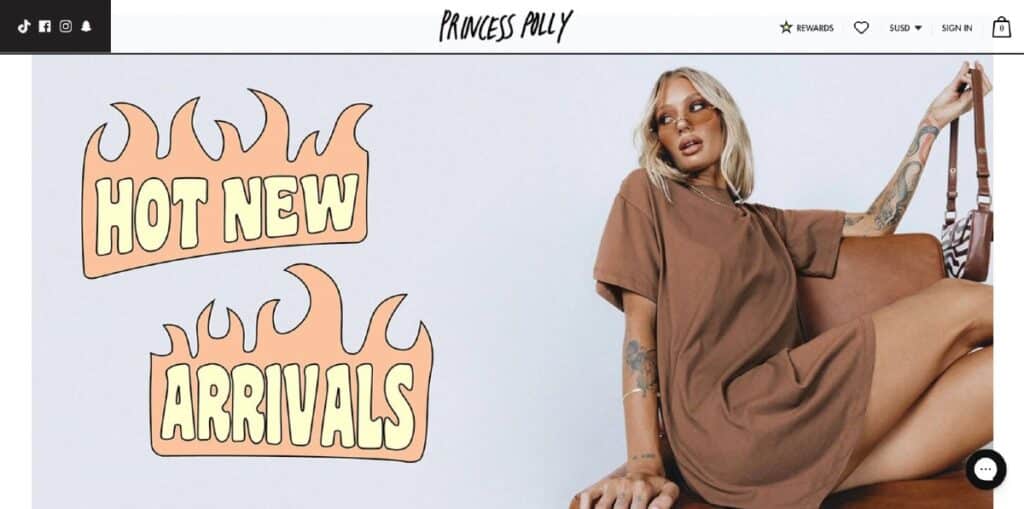 Good online stores like cider are quite hard to find but the Princess Polly brand checks all the boxes, at just 12 years of age, it has made huge waves in the world of fashion with it being born solely as an ecommerce site. However, due to its rapid growth it has expanded to owning two offices in different countries.
Its success is testament to a lot of facts; like its fast shipping, return policy and quality of products. The brand has also participated extensively in environmental protection efforts, and is an active participant of the United Nations Global Compact alongside the United Nations Sustainable Development Goals
3. Edikted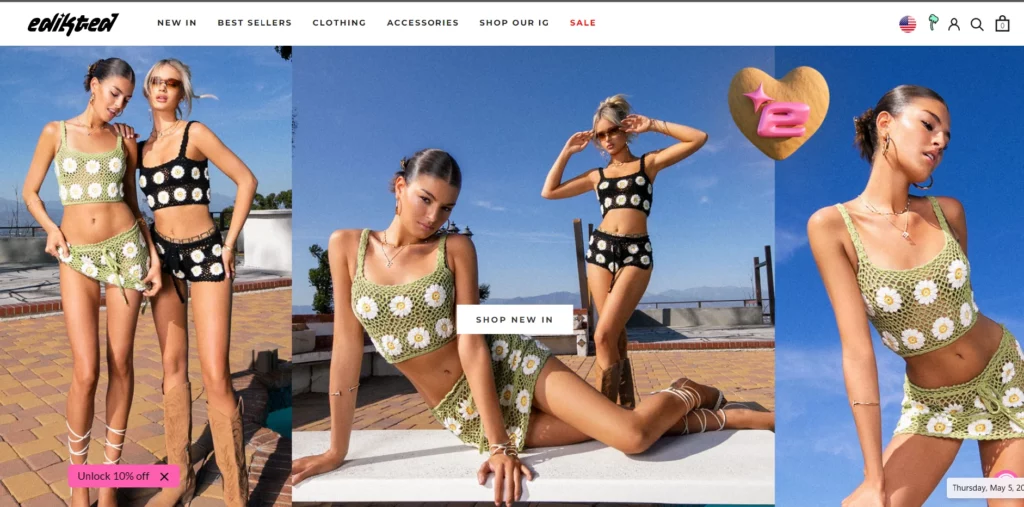 Popularly referred to as the shopping haven of Gen Z, this is one of the best clothing sites like Cider and for good reasons. Firstly, their clothing is quite affordable and yet trendy, the online store is an environmentally conscious one, dedicated to reducing its carbon footprint, hence their strict regulation of production quantities and the sale of only environmentally friendly fabric.
4. Madewell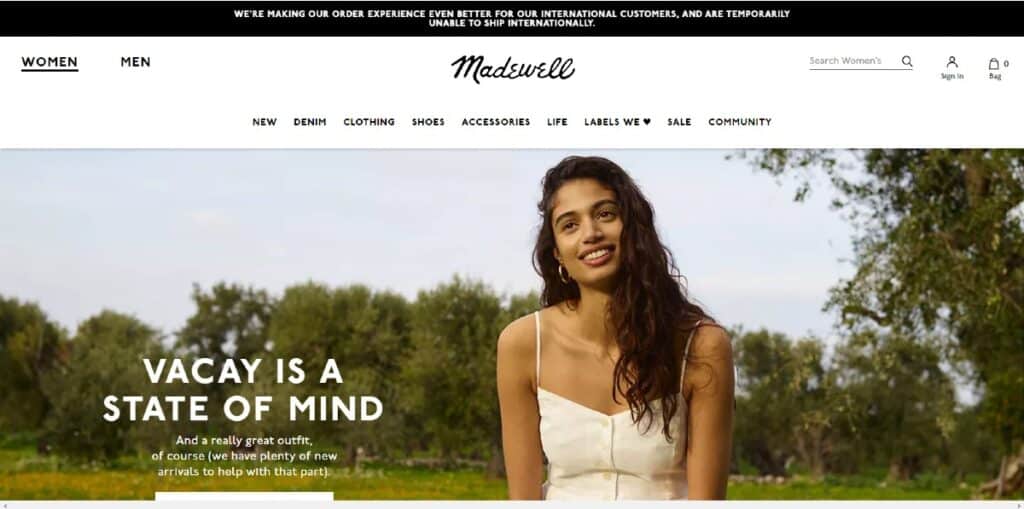 Inclusiveness is the motto and working methodology of this store, it is a brand that caters to the fashion needs of any age, style and size, which is something most brands can't provide for their customers. They also provide some of the most high-quality fabrics of any store here alongside their amazing environmental and sustainable practices.
Which include making sure that the working conditions of all their staff are good as well as reducing their carbon footprints to the barest minimum. They are popular for their laid-back fabrics perfect for casual encounters and dates and of all the clothing stores like cider listed here, Gen Z and earl millennial love this brand with gusto.
5. rue21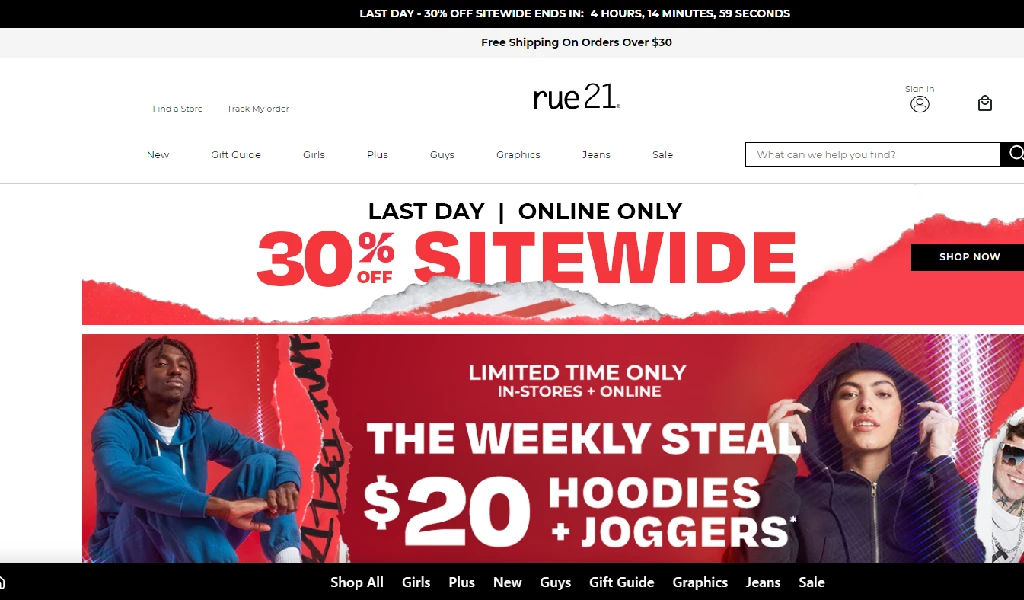 This is going to be your brand if you love the oldies and the vintages, and of all the online stores like Cider on this list, it is the best in this category. Rue21 is not to be confused with Forever 21; a competitor brand, is the number one spot for vintage attire. It's no wonder how they got their loyal band of supporters from all age brackets as their wears help explore the non-distant past.
Gen Z are especially in love with this brand mostly because it offers the broadest choices of denim anywhere with an eye for inclusiveness featuring some amazing plus sized pieces. The store is always stocked with new arrivals coming in daily for the customers to browse through.
6. Aerie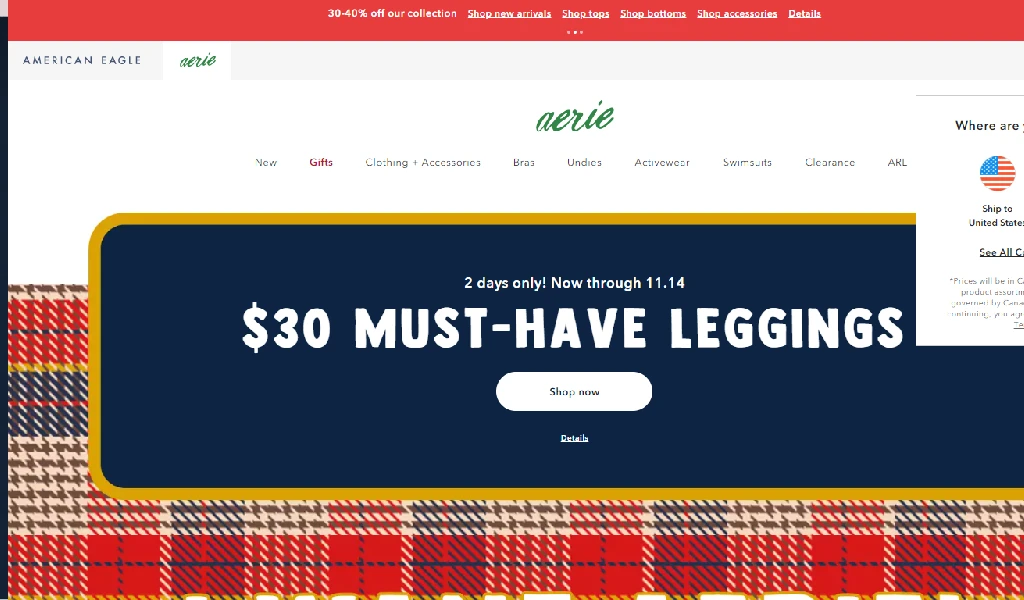 The brand is actually the sister brand of American Eagle brand, I am sure you are very familiar with. It's basically one of the best clothing sites like Cider in the world and since their inception in 2006 they have excelled and expanded at a very fast rate.
They are famed for their loungewear, apparel and athletic categories, it's also renowned for bring transparent in its product avoiding the urge to digitally alter their products or models to make them more appealing, a practice it set under its #AerieReal campaign. When it comes to comfort, this brand has you covered any day any time.
7. Showpo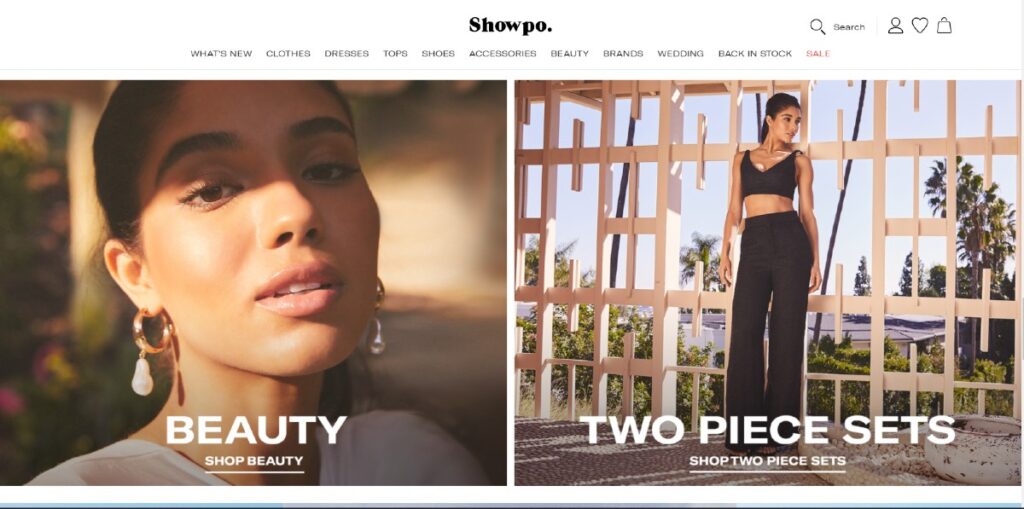 Showpo is an Australian online fashion retailer that was founded in 2010. This is a go to spot for some women because the company specializes in cheap on-trend clothing and accessories for women.
They are always striving to empower women through fashion by creating a wide variety of fashion that suit all body types. Showpo usually showcase their products through models of various sizes, skin tones and body shapes.
There is a "Fit for Me" section on their website, so what are you still waiting for? Visit their website and use this section to find the perfect size for yourself.
8. BooHoo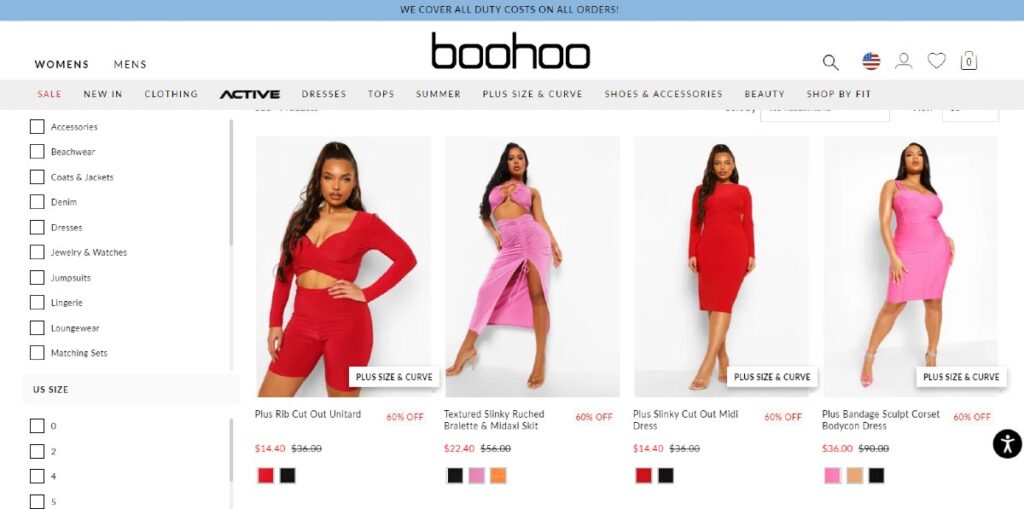 Popularly known as" your fashion bestie," has come to stay, and is one of the most updated ecommerce fashion stores ever and is one of the best clothing stores like cider out there. They are not just hip and cool, they are also an extremely charitable and environmentally friendly brand with them donating to so many charities and organizations like the Red Cross, We Love Manchester victims' fund and more, alongside practicing sustainable and ecofriendly practices and reducing textile waste.
9. Eloquii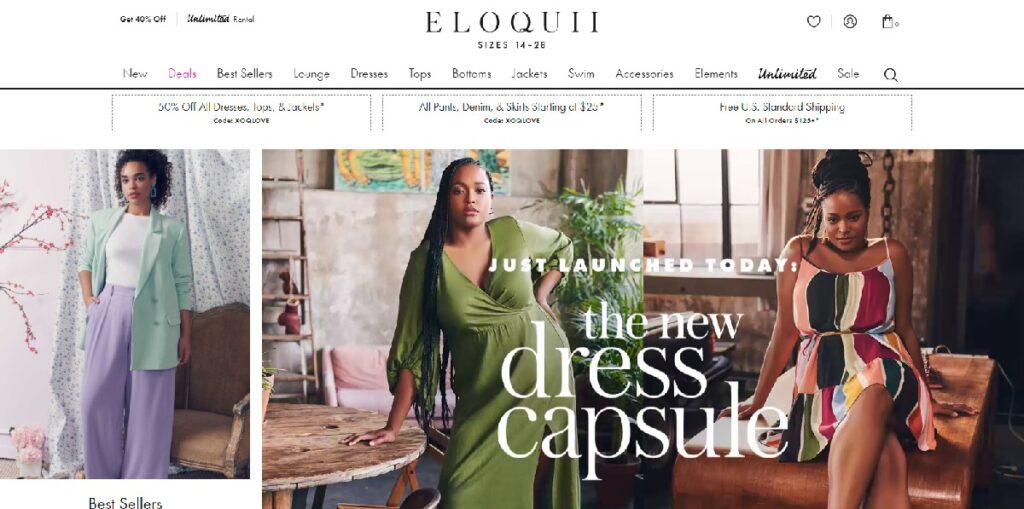 Although there are so many online stores like Cider, a lot of them lack size inclusiveness, however in this peril, Eloquii seems to be the savior, they have one of the most diverse and friendly catalogs of any brand on this list with their categories stretching from, office to thuggish to party clothes.
So, their collections are all expanded to accommodate whatever size you are; this singular act has made them one of the most shopped brands on the planet for women.
10. ASOS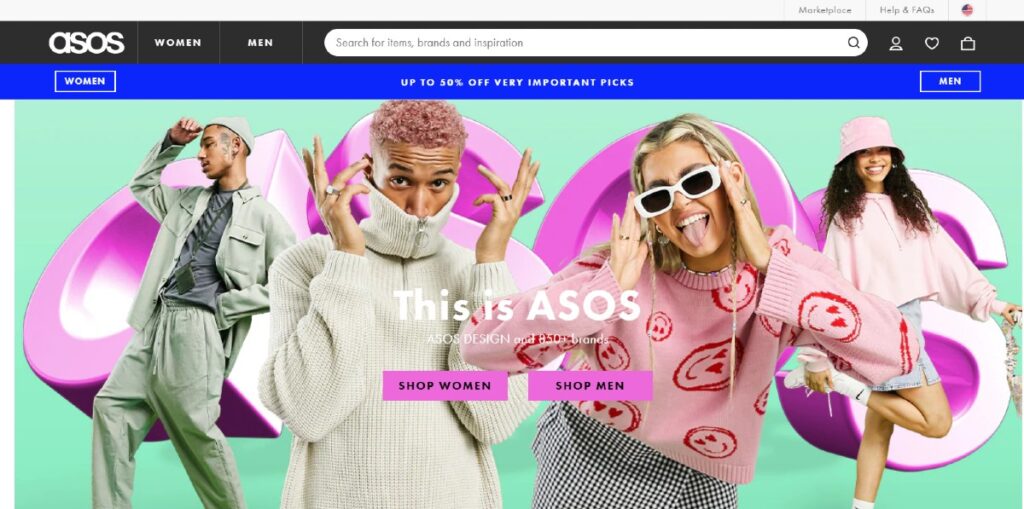 Finally, this online store just screams affordability, if you want to look good without going broke, shop at ASOS, they feature their pieces alongside fabrics from various other popular designers like Free People, Levi's, and Dr. Martens. Overall, it is loved by people and is a number one destination shop for a lot of people.