The wish that we could stay forever 21 has crossed the minds of just about everyone at one point. The innovative minds behind Forever 21 took that desire and capitalized on it. They created an affordable yet trendy clothing business.
At the age of 21, we want to look our best but can't always afford the more expensive clothing brands.
They designed the whole business with that goal in mind:
Fashionable clothes at reasonable prices.
Forever 21 markets its company as the "go-to retailer for the latest trends, styles, and the hottest deals." Shoppers will find the newest season's looks in clothing, beauty products, accessories, and home decor.
This business model has been so successful that other companies have followed suit. These five stores are a similar version of Forever 21, offering hip and affordable clothing and accessories.
Originally called Hennes, the first H&M store opened in Sweden in 1947. Started by 30-year-old Erling Persson, the shop was the direct result of his road trip through the United States in 1946.
Persson returned home with the innovative idea of opening a womenswear store. He devoted the store to being feminine fashion at an affordable price. Hennes, or "hers" in Swedish, caught on so quickly that it became a chain by 1952, with two stores in the capital Stockholm.
By the 1950s, shops were open in skyscrapers, leading to the many locations in today's major cities. By the '60s, the company moved to add fashion for men, bringing the "M" into the logo. Yet, the "M" isn't for "men," as one might think. It actually stood for "Mauritz Widforss," the owner of the hunting and fishing retailer acquired by Hennes in 1968.
Every year since then, new locations have opened around the world. Today, more than 5,000 H&M stores exist, employing over 120,000 people. As of 2019, H&M was ranked the 4th most valuable apparel company globally, beating out Forever 21.
---
If you haven't heard of PrettyLittleThing yet, you're missing out. It's a fashion retailer that started in the United Kingdom but is spreading globally — fast.
Like Forever 21, the fashion designs in this store target women ages 16-35. Considering it only opened in 2012, the speed of PrettyLittleThing's expansion is impressive. Currently, it has stores in Ireland, Australia, North Africa, Canada, the Middle East, France, America, and its home in the UK.
Part of the store's success could be due to its collaboration with celebrities. Miley Cyrus, Nicki Minaj, and Jessie J often wear PLT clothing.
Retailers on the site include ASOS and Lipsy. These celeb associations are also why PrettyLittleThing markets its brand toward customers who are "sassy, glamorous, and body confident."
An offshoot of PLT, PLT Girl, opened in 2017, selling clothing and accessories geared toward younger girls in the 5-12 age group. PLT Home for home goods and decor was part of the expansion. Now, PLT, in general, is one of the top companies to watch in the fashion industry.
---
3. Missguided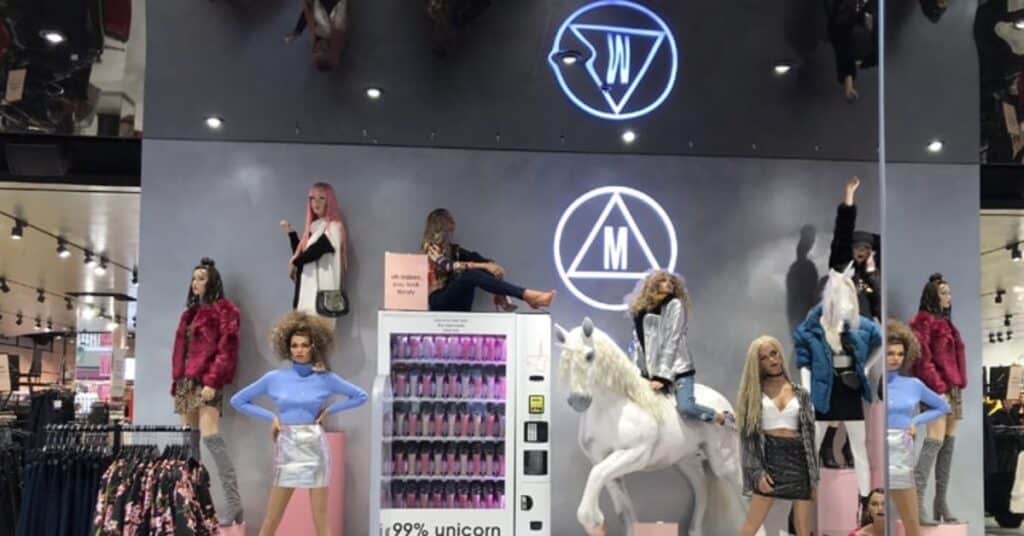 When PrettyLittleThing comes up, it almost always follows that Missguided is in the conversation, too. The two stores are separate, but they're quite similar.
Founded by Nitin Pass in 2008 during the recession, the United Kingdom-based fashion retailer focused on value. Five years later, the brand became an $80 million business and had expanded to Europe and the United States.
During that time, there weren't a lot of companies geared toward the younger market. Missguided started out online with Pass as the only staff. By 2009, the business began turning a profit and added more to its inventory.
Now, shoppers can find women's clothing, shoes, and beauty accessories. Maternity, plus size, curvy, petite, and tall are all featured. When you want to shop for your body type but get fun and flirty clothes, Missguided is the retailer for you.
---
4. rue 21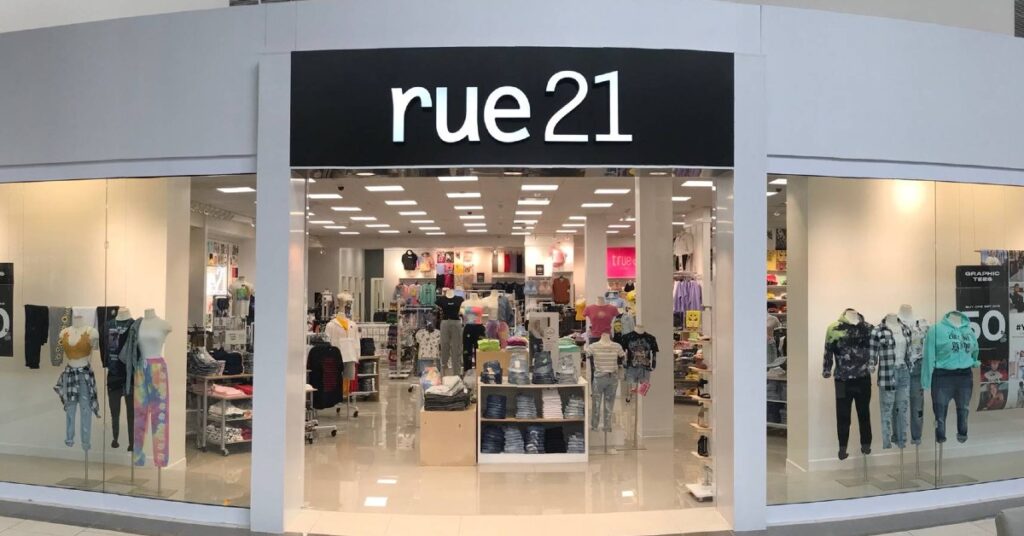 rue21 has been around since early 2000 in different forms. It started out in 2002 after Pennsylvania Fashions, Inc. filed Chapter 11. In 2003, the company morphed into rue21, Inc. and expanded its market to focus on young men's and women's fashion.
The new marketing plan was a success. By 2013, there were over 1,000 stores.
Now, the American retailer sells shoes, accessories, and fashion-forward clothing. Its newest addition is its line of plus-sized clothing. The brand's goal is to provide clothes that appeal to people who want to be "21."
Their own designers create rue21's brands, including:
RAE
true
ruebeauty
ruebleu SWIM
The store even has its home accessories line called rueDecor.
Shoppers can explore these brands online or at one of their 700 brick-and-mortar stores across the United States.
---
5. American Eagle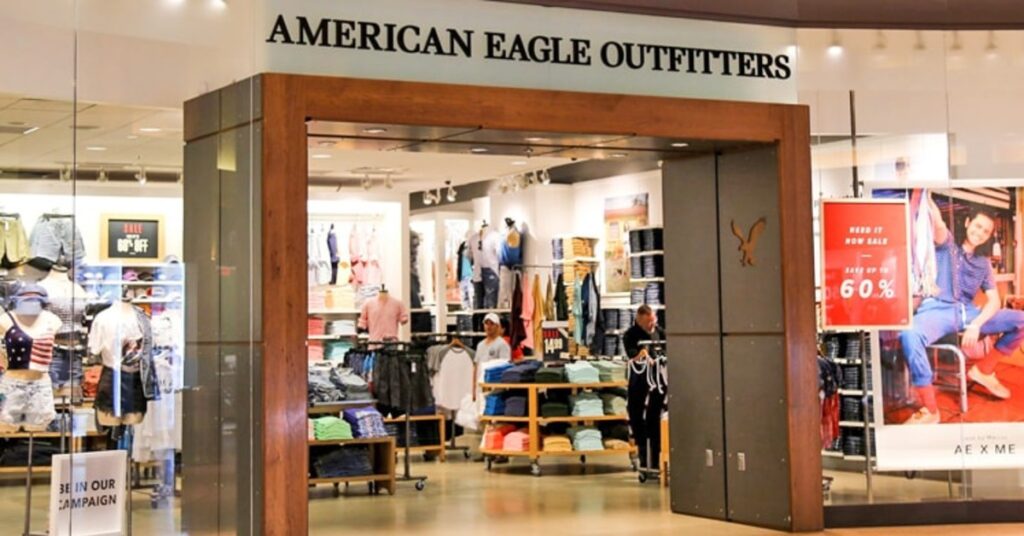 When American Eagle first started in 1977, it looked a lot different than it does today. Initially, American Eagle Outfitters sold men's casual and sportswear clothing. It was an expansion of Silverman's Menswear, owned by Jerry and Mark Silverman.
The multiple retail stores and mail-orders were enough to ensure the success of American Eagle. But Silverman's eventually went out of business. Meanwhile, AE was continually opening more stores. It had expanded its product line to include women's clothing and accessories, too.
The final rocket to success came in 2000 when the brand collaborated with the hit TV show "Dawson's Creek." Suddenly, the teenage following was higher than the adult following, and the business turned its focus to teen offerings, too.
Now, shoppers can find men's and women's apparel, shoes, and accessories, as well as a whole line of tailgating clothing. Sports items, national parks, and pop culture are in demand, and you can find stylish, affordable options at American Eagle.
---
More Stores Like Forever 21
Boohoo – us.boohoo.com
Nasty Gal – www.nastygal.com
Shein – us.shein.com
Chicloth – www.chicloth.com
ModCloth – www.modcloth.com
ASOS – www.asos.com/us
Maurices – www.maurices.com
Urban Outfitters – www.urbanoutfitters.com
Lulus – www.lulus.com
Zaful – www.zaful.com
Romwe – us.romwe.com
Rosegal – www.rosegal.com
Mango – shop.mango.com/us
Amazon – www.amazon.com
BerryLook – www.berrylook.com
Conclusion
Without a fountain of youth, it's impossible to stay "forever 21." But the goal is there for billions of people worldwide, making it a hot market for retailers.
You can't stop time, but you can stay fashion-forward by shopping at these five alternatives to the popular Forever 21 store.
Written by Aaron Hunt is the property manager for Prime Place OSU. He can be reached by email at osu@myprimeplace.com or by call or text at 405-708-7605.