With a birthday, Christmas, or "just because" celebration right around the corner, electronic gift ideas are likely racing through your mind. That's because some 29% of all wish lists include Macbooks, Playstations, Fitbits, or other modern digital devices.
Usually, all electronic shopping sprees lead to Best Buy.
Looking to explore other stores (both digitally and in-person)?
You can pluck your next electronic gift off the shelves at these Best Buy alternatives.
---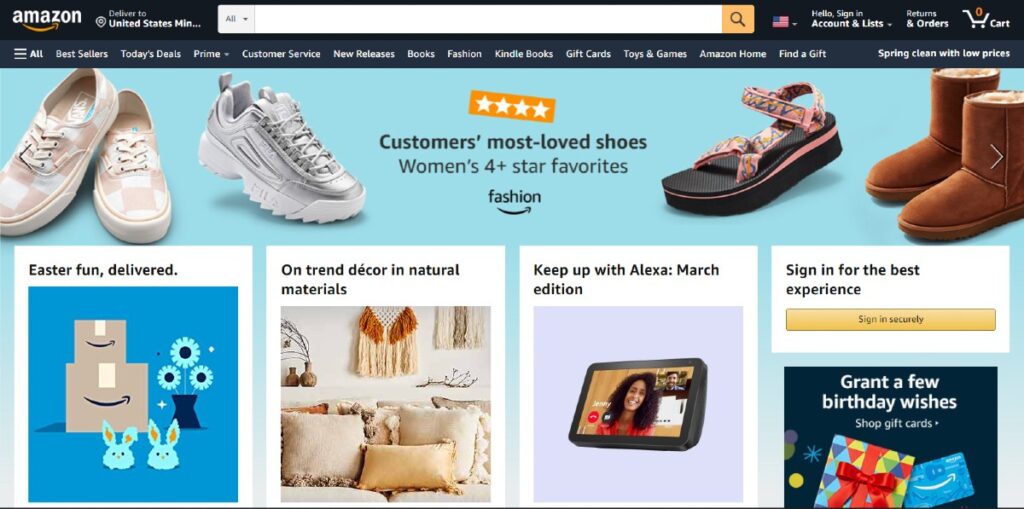 With over 12 million products listed on Amazon, no gadget evades this global tech giant's grasp. Their electronics section carries the biggest names in technology. From Ring doorbells and high-end DJI drones to Beats headphones and the latest Playstation launches.
But in true 2021 fashion, the world's largest online retailer has also gone digital. With a monthly Prime subscription ($12.99/month), you can "cut the line" and download your favorite media to your tablet in seconds.
Binge-watch Parks & Recreation on a lazy Sunday. Or crank up Prime's 2000s Alternatives Hits playlist for a more upbeat vibe as you sit in gridlock traffic.
---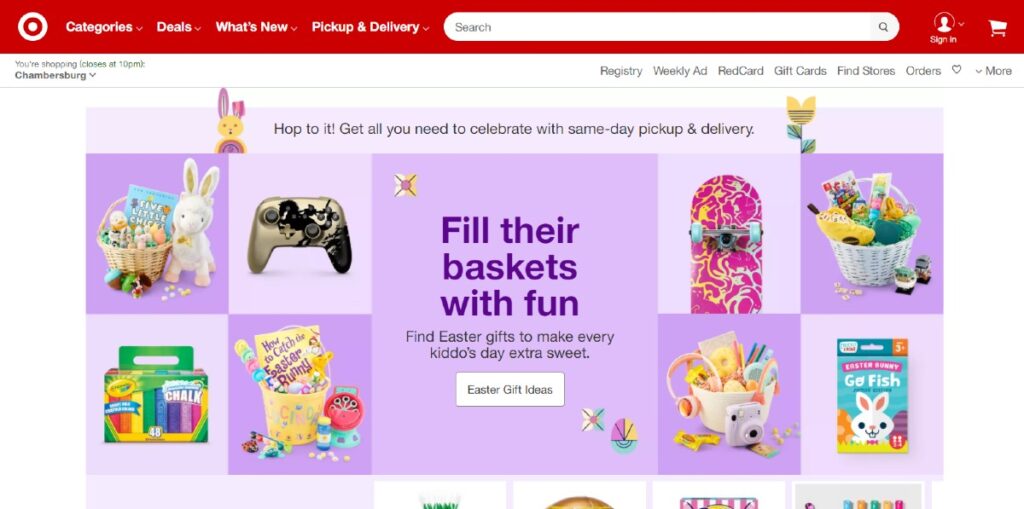 If you've ever ventured on a 10 p.m. Target run, then you're no stranger to this $79.79 billion corporation.
Known for its iconic bullseye logo, the question is more "What doesn't Target sell?"
You'll discover everything from Kitchenaid mixers to Purina Puppy Chow to high-end reclining gaming chairs.
Yet, the online and in-person retailer is also a haven to casual techies worldwide. While normally a small nook in the back of the store, Target's gadget line-up features industry-leading names, like Samsung and Nintendo.
The "Target run" is as American as Ford trucks. But if changing out of your sweatpants isn't on your to-do list, Target also offers free 2-day shipping.
---
3. Walmart
With over 4,743 Walmarts scattered across the country, this Arkansas-based chain is the pinnacle of American culture. But it also offers the rare trifecta: everyday savings, dozens of departments, and a digital store.
The bonus is:
You probably have at least one Wally World within 15 minutes of home.
Unlike Best Buy, Walmart is a one-stop shop for any of your needs. In one fell swoop, you can stock your pantry for the holidays, get your oil changed on-site, stop for a bite at McDonald's, and spruce together an outfit.
Tech-wise, the retailer offers just as much variety. Order an iPad Pro or the latest Tony Hawk Pro Skater, and it'll arrive at your doorstep within two days.
---
4. NewEgg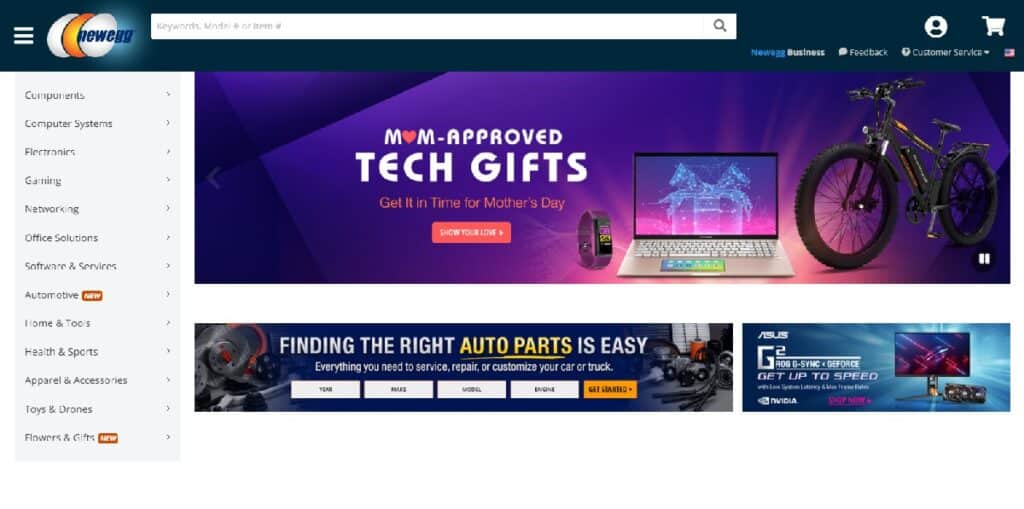 If you're craving a digital-only Best Buy replica, then welcome NewEgg to your inner circle. This electronic retailer has a knack for carrying luxury gadgets at steep discounts. Making them quite the crowd-pleaser for those building DIY gaming PCs out of their bedrooms.
The question is, "What gear is on your wishlist?"
Whatever it is, NewEgg probably has it in stock, whether that's an ASUS router, LG 4K TV, or Dyson vacuum. But you can slash costs even more by going the refurbished route.
NewEgg can put a creative spin on your next Call of Duty or Fortnite gaming session with its top-of-the-line desktop processors and curved monitors.
---
5. P.C. Richard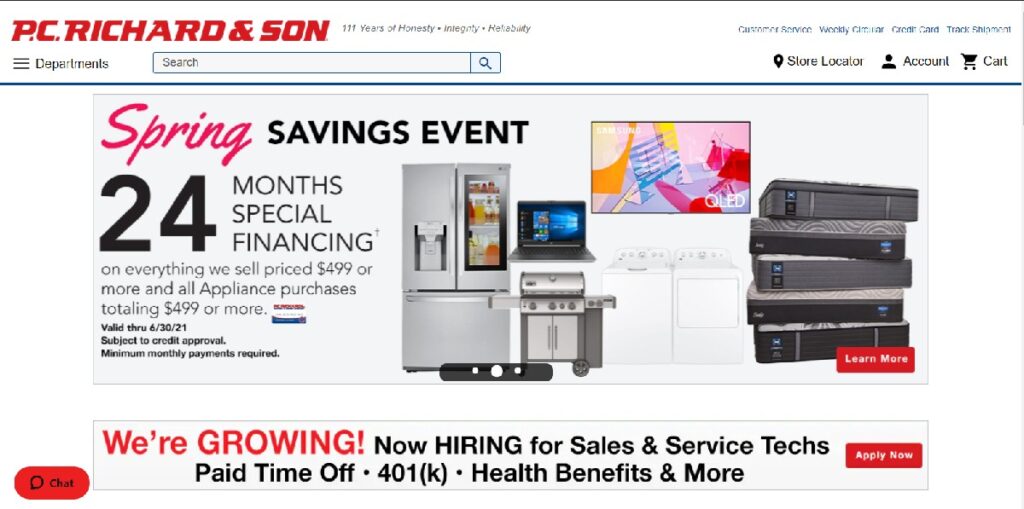 No Best Buy alternative on this list has a history as long and iconic as P.C. Richard, an American appliance store founded in 1935. But if you thought the century-old retailer only sold refrigerators, dishwashers, and outdoor grills, you're in for a pleasant surprise.
One shopping spree at P.C. Richard can transform your entire home into a luxury estate. Weave the aisles to discover the coziest Sealy mattresses, 75" flat-screen TVs, or calorie-torching Pro-Form exercise bikes.
In a word, P.C. Richard is convenient. The chain always has a flash sale running, offers 24-month special financing, and even assembles gear for free.
---
6. Staples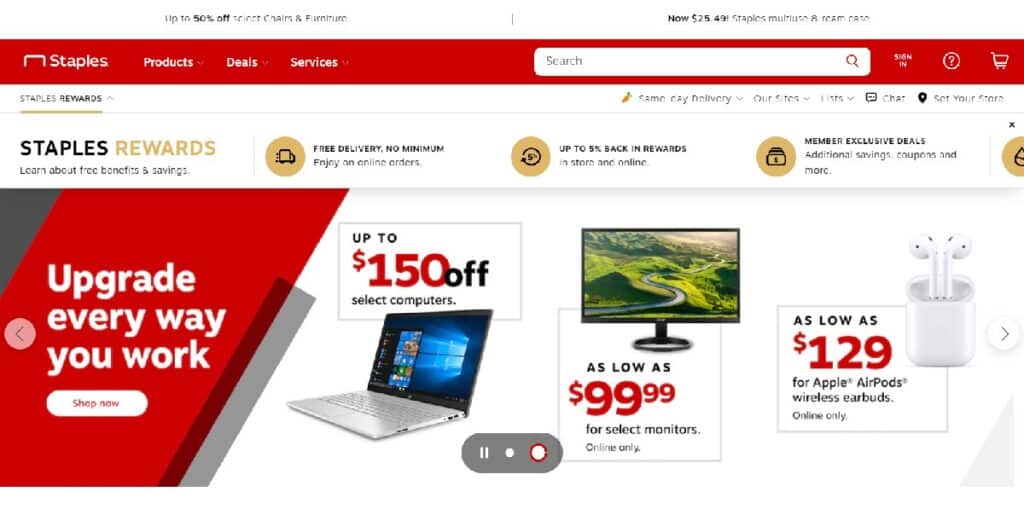 When the school supplies list arrived in mid-August, the entire family hopped into the van and paid a visit to none other than Staples.
The office supply giant is capable of filling an elementary school backpack in seconds:
pencils
protractors
composition notebooks
the coveted 64-pack of Crayola crayons
But now that you're "adulting," Staples takes an even more exciting, techie twist. There, you'll find everything from high-end gaming laptops and 8TB external hard drives to InkJet printers and the latest TurboTax Deluxe launch.
It covers all the basic electronic needs. But if you sign-up for the Staples Rewards program offering free delivery and exclusive deals, it'll save cash too.
---
7. GameStop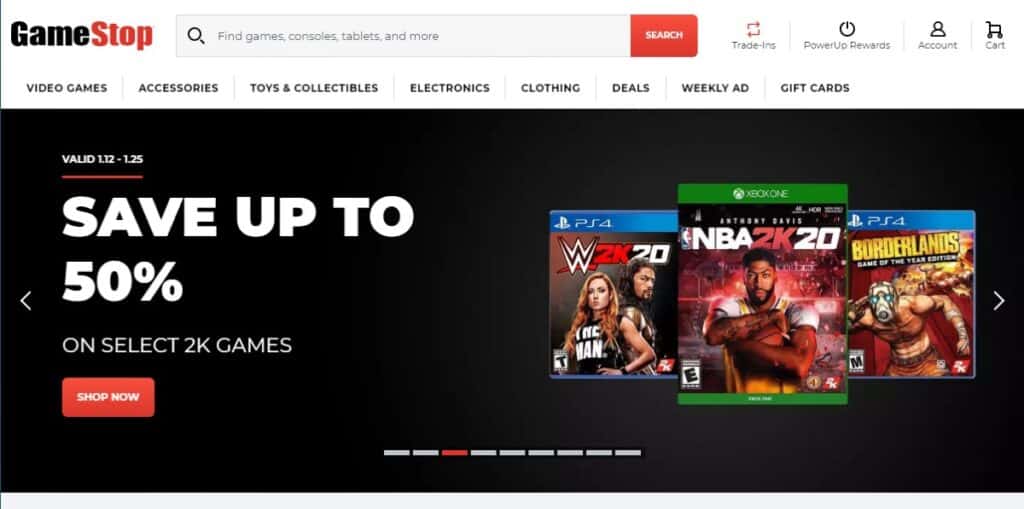 GameStop is converting from a brick-and-mortar store to a purely digital platform. But if the folks at r/wallstreetbets have any say in it, this gamer's oasis isn't going anywhere anytime soon.
Since 1984, GameStop has always stocked the hottest gaming platforms:
But once you fire up your system, you'll want to customize your setup. One quick GameStop haul can help you nab Dualshock controllers, mic'd up headphones, and custom skins (even if you're a Steelers fanatic).
If shelling out $60 on a new game sounds ridiculous, head over to the store's "pre-owned" section. Relive the nostalgia at only ¼ to ½ of the price!
---
8. Apple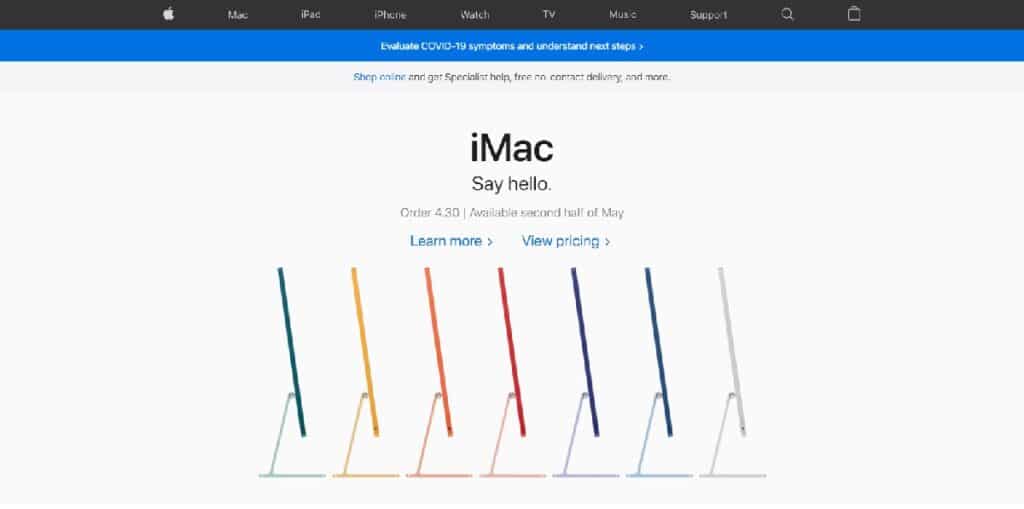 That white, minimalistic store at the mall with a never-ending bustling crowd is the Apple store, home to the original iPhone and iPod. If you're looking to skip the middleman, then you'll understand why the Apple store and website receive so much daily traffic.
If it has an Apple logo, you'll find it here! Discover your next gadget, whether that's a sleek MacBook Air, quaint iPad Mini, or the latest Apple Watch. Or find the nearest support staff and ask about non-warranty-breaking repairs.
The latest tech doesn't have to leave you bankrupt, either. Many Apple products also come with an optional yet convenient monthly payment plan.
---
9. Microsoft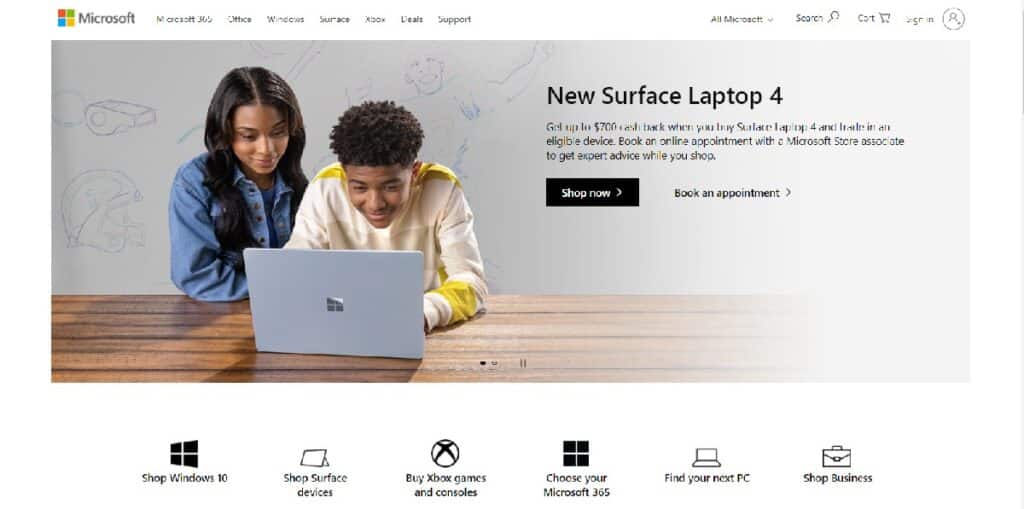 It might not draw the masses like the Apple store a few shops over, but Microsoft still has some 1.5 billion daily Windows users needing support.
Plus, don't forget:
The Microsoft "family" also includes a massive PC, tablet, smartphone, and accessory line-up (and, of course, the classic Xbox).
If it sports the Microsoft logo, you'll get your fix here.
The brick-and-mortar and digital stores sell:
Xbox Live Gold subscriptions
The Microsoft Office 365 suite
An impressive collection of Samsung and HP computing systems
Since you're buying these gadgets directly from the manufacturer, sales are the "norm." Save $150+ on cutting-edge laptops or walk away with $0 down.
---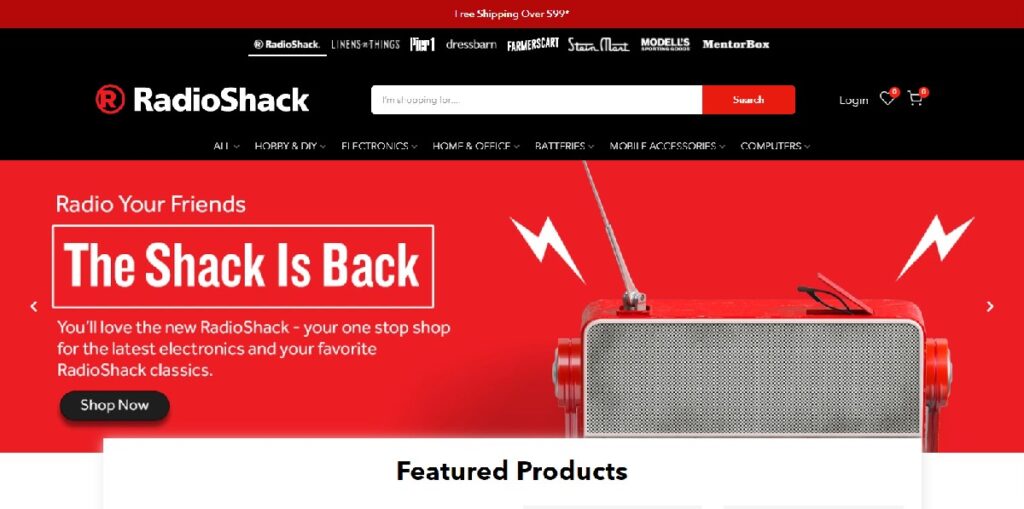 Brick-and-mortar RadioShack stores are akin to BlockBusters and Toys" R" Us. They're the equivalent of uncovering a fossil on an archeological dig. But rest assured, RadioShack still has some 400 stores remaining.
If you're a self-proclaimed geek or nerd, you'll find whatever it is you're looking for on its digital shelves.
RadioShack offers a little bit of everything. You can waltz out of the store with jumper cables, two-way radios, control knobs, TV antennae, and mini Bluetooth speakers. Or stock up on affordable phone chargers and cases.
If you're looking for electronic accessories that don't break the bank, RadioShack is a solid Best Buy alternative.
---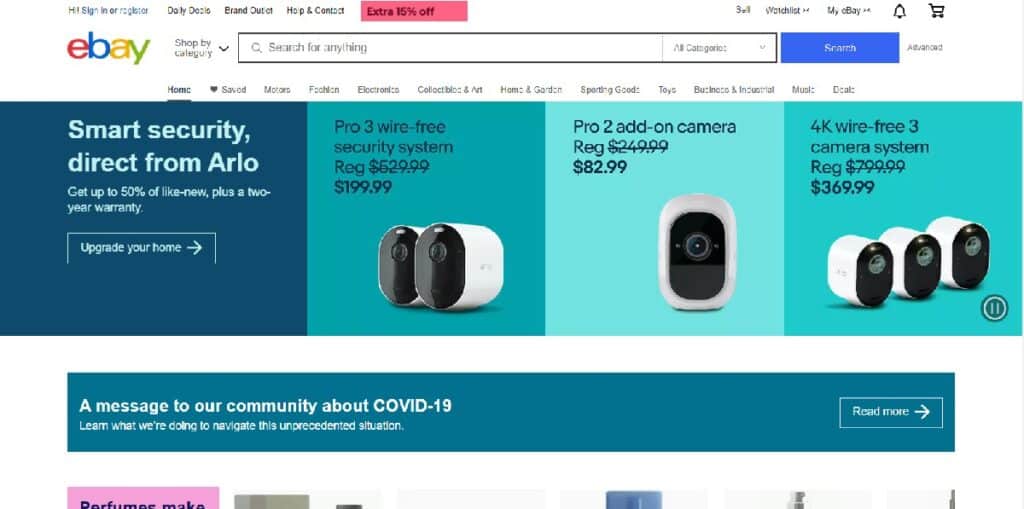 eBay isn't the place for tech and gadget newbies to huddle up and bid on gaming PC parts recklessly (unless you have the cash to splurge and arguably waste). Before you bid on any eBay listings, make sure you do some research to learn about its fair market value — what it's actually worth.
But there's also a less stressful edge to the platform where auctions feature a "Buy It Now" button. Plop that Xbox One, Wonder Woman 1984 DVD, or Sony headphone set into your cart, and key in your credit card information.
A word to the wise:
Stay away from eBay when new gaming systems launch, unless your desperation matters more than being a price-gouging victim.
---
A Few Honorable Mentions
All the above stores can replace Best Buy in a pinch if you need a charger tonight or your local store shuttered its windows.
If you want a few other alternatives, our Best Buy alternative honorable mentions include:
Overstock
Sears (many Sears stores are closing permanently, so check your nearest location to ensure it's still open for business!)
The tech and electronics community also mourns the loss of Fry's Electronics, a consistently reliable store that couldn't survive the COVID-19 pandemic.
If you're feeling daring, you can also look for used (or new) electronics on online sales portals like Facebook Marketplace or LetGo. Just make sure you're picking up your new gadgets in a public place.
---
Conclusion
Whether Best Buy, Staples, or Target is calling your name, one thing's for sure:
Electronic devices are notoriously expensive (even bank account-draining).
But that doesn't mean settling for your snail's pace laptop or a completely blown dishwasher.
Check out the latest tech-related deals here:
Sales change from one day to the next, and sometimes, from one store to the next. Don't forget to research and compare prices before opening your wallet and keying in your card information.
Written by Adam Marshall, a freelance writer who specializes in all things apartment organization, real estate, and college advice. He currently works with Copper Beech at Greenville to help them with their online marketing.