For many of us, Facebook is a cool social media platform that allows you to connect with friends all across the world. It's the one-stop platform where most of us stay in touch with each other, see what's going around, and spend most of our time using our smartphones.
To help you get the most out of all the fun stuff and helpful Facebook features, I'm compiling a comprehensive list of most wanted Facebook tips, tricks and hacks.
Level up on social media with these Facebook tricks that save you time, give you an edge on your competitors, and improve your overall performance.
Bulk Delete Facebook Posts
If you are in a mood to clean up your embarrassing acts on Facebook then thankfully, you can do that now in just a few clicks. Facebook now offers a native option to bulk delete your past Facebook posts. And the best part is that you can filter out posts by year, categories, people and more. To do that, open your profile and tap on the 3-dot menu to edit your profile.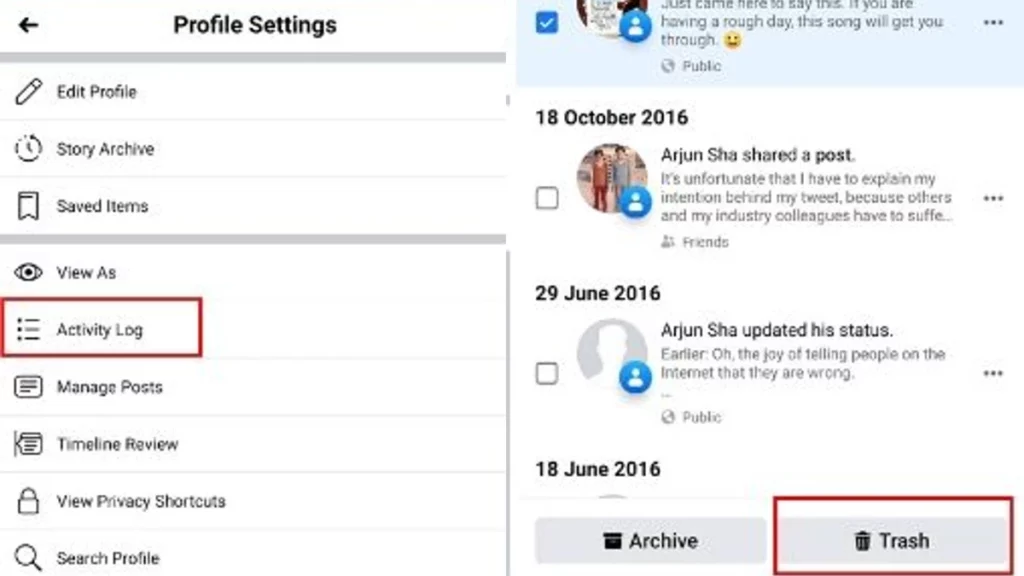 Here, move to Activity Log -> Manage Activity -> Your Posts. Now, select your posts and simply tap on "Trash". That's it. You can also choose to archive in case you don't want to permanently delete the posts.
Download a Secure Profile Picture:
A while ago, Facebook introduced a security feature called Profile Picture Guard, which helps a Facebook user to prevent their profile picture from getting saved and shared by someone. If you try to save a protected profile pic from your Facebook browser or app, then you can't do that, also you won't be able to take a screenshot.
The Facebook profile picture that is on guard will appear like the image below. Making it impossible for people to download.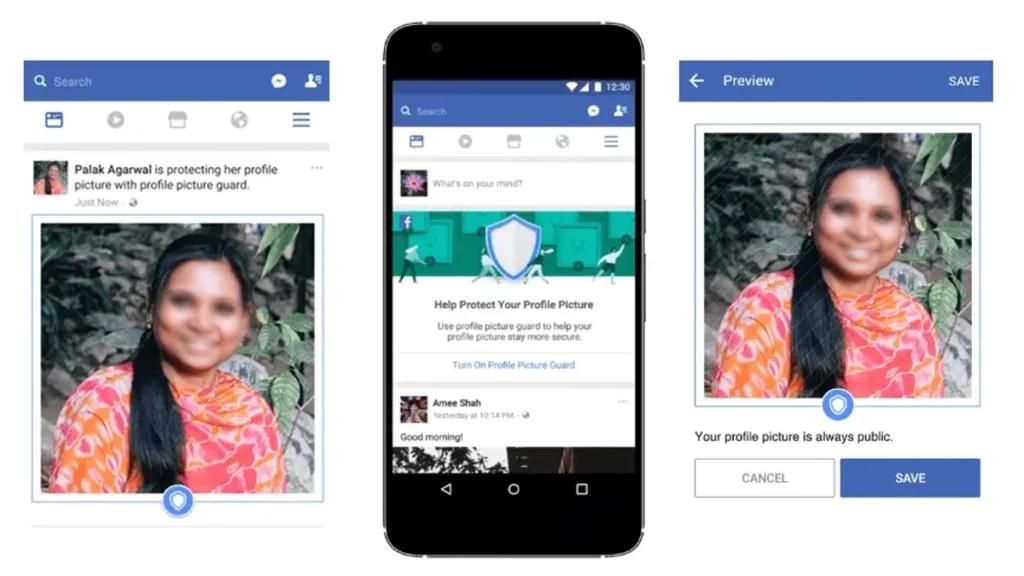 But you can easily save the image by using a third-party app like Crop & Share. You have to download the app and enable the Floating bubble. To take a screenshot, click on the floating bubble and select Partial screenshot. We advice you to do this only when necessary.
Play Games on Facebook:
The Messenger app has been out for a very long time now. Did you know you can play games with your friends on the Facebook Messenger app?
Facebook has been slowly adding a lot of Instant games to the Messenger application. Not that long ago we just had two instant games: Basketball and football, now the list has grown up to 50.
To access games on Facebook, you have to open the Facebook Messenger app and click on the Discover tab located at the bottom right corner of the screen then click on games. You can play the game solo or play with your friends.
See also: How to Download Facebook Lite for Android, iPhone and PC
Post Facebook Status with Colored Background:
Not too long ago, Facebook added a feature to post your status with a colored background. Using colored status will surely catch someone's attention as well as it will increase your post engagement.
To post a status with the colored background. All you have to do is to create a regular post and once you have finished typing, select the Background color option. You can choose from a variety of colors, images, and gradient design.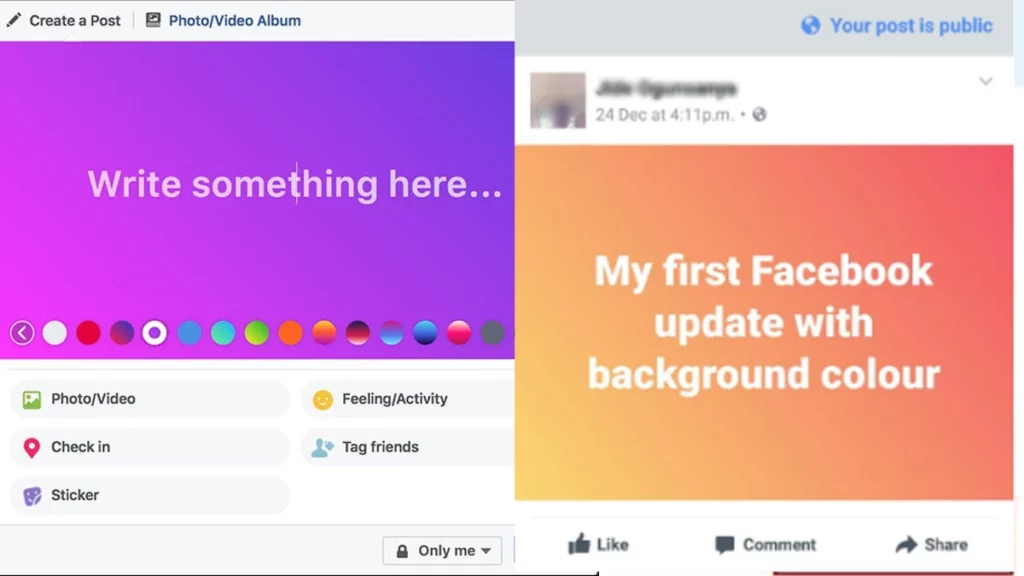 Enable Dark mode in Facebook:
Like other social networking apps, Facebook is also implementing the dark mode feature to all their Applications. You can quickly apply the dark mode on the official Facebook app, Facebook lite, Messenger and Facebook web.
If you want to enable Dark Mode on any of your Meta applications, follow the simple steps that we have metioned in this our previous post.
See all photos liked by someone:
Do you know you can find out all the photos liked by anyone with just one search?
Just go to the Facebook search bar, and type "Photos liked by" followed by the name of your friend. The result will show all the photos that your friend liked. You can also filter the result by adding things like "Photos liked by XXXXX this month" or "last week" or "in 2020."
This works with anyone when you start typing; it shows suggestions like "my girlfriend," "my boyfriend," based on your relationship status.
See aslo: How to Download WhatsApp on Android, iPhone and PC
Look for Free or Paid Wi-Fi:
Who doesn't loves free Wi-Fi? Well, whether you are traveling and have poor internet access or want a quiet space with good Wi-Fi to finish your office work, then look for Free or Paid Wi-Fi hotspots using the Facebook app.
Here's how you can do that, Click the Hamberger menu on the Facebook app then look for "Find Wi-Fi" now provide the location access and Facebook will list all the local Wi-Fi hotspots along with their page and directions on Map.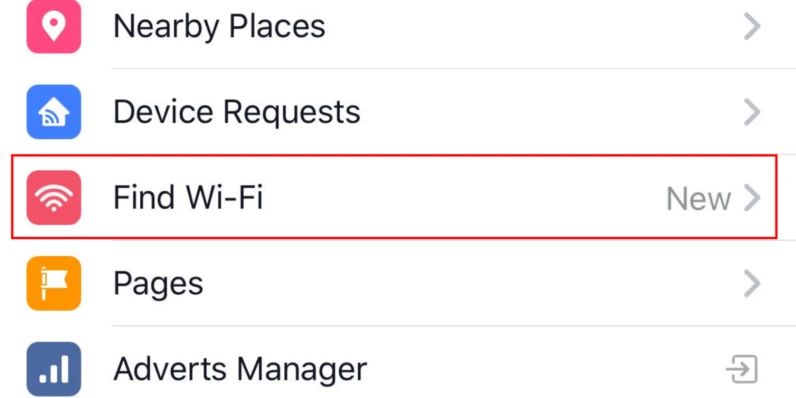 Schedule a Facebook Post:
Want to wish a friend on his birthday but can't stay awake late at night? Then schedule your post.
To schedule a post on Facebook, you will require a third-party app like Hootsuite.
At first, log in to the app with your Facebook account and allow the permissions. Now to make a post, click on the button at the bottom right corner. Now compose your post and click on Next and select date and time. That's it.
Add Social Media Tabs on your Facebook Profile:
Now let your friends know about your social media profile on different platforms by adding social media tabs on your profile.
To add Social Media tabs, open up your profile and click on Edit Profile now scroll down to the bottom of the page and click edit links.
Now add links to your other social media profile like Twitter, Instagram, and Youtube, and the result will be something like this.
Manage and Personalize your News Feed:
Facebook's way of showing your post on the news feed is a big hit or miss. This trick will help you get rid of those useless posts and will only show you the one in which you are interested.
The first thing you can do is to hide all unnecessary posts. Once you find one, click the menu icon and either snooze them for 30 days or hide it permanently.
You can also visit someone's profile and click the follow button and select "See first," so you won't miss any post from this profile.
Turn off autoplay video or their sound:
Autoplay video is a great feature, but for many people, it's annoying, especially when you want to save your data pack. Suppose you are in public, and a video starts auto-playing with an awkward sound. In this case, you can turn off the music for the autoplay or altogether disable the autoplay feature.
Go to Settings > Media and Contact > Turn off "Video in news feed starts with a sound," and for autoplay, click on AutoPlay settings and turn it off.
Save the post to access in the future:
Enough of saving the link of a post in a Notes app which you found interesting and want to take a look in the future. Now you can avoid any post with just one click and can access them anytime.
To save a post, click on the menu icon and select Save post. That's it! The post will be saved in your Facebook account, and you can easily access them by going to the Menu> Saved.
Download a copy of your Facebook data:
Facebook keeps a track record of Whatever you do from searching a name, clicking an ad, Places you visited, Your messages, call logs, and all other things. It saves all the information since the day you joined Facebook, and you can download a copy of your data for yourself.
To download your Facebook Data, go to Settings > Your Facebook Information > Download your Information.
You can choose to download all of your data at once, or you can only select the type of information you need.
Download Any Facebook Video:
Facebook is pushing its content game to the next level with things like Facebook Watch. We see a lot of videos on Facebook Watch. Facebook allows us to save photos, but in the case of videos, there's no such option as "Save Video to Camera Roll." Luckily, you can download any video on the platform, as long as it it's privacy is set to public. You can head over to https://www.getfvid.com/ and pasting the link of the video there. Choose the media quality and hit download.
Track Last Logged in Devices and Location:
Security is a significant measure of social media sites. And if you are concerned about yours, Facebook allows you to track your logged-in devices and their locations. Head over to Settings > Security and Login. Here, you can find all the devices you're currently / recently logged in.
Unfollow someone without unfriending them:
At times, you are just tired of seeing someone's post on your News Feed. But maybe you don't want to unfriend them or block them. What you can do, head over to their profile and tap on the "Following" option. Then you'll see three options. Tap on "Unfollow Name," and you will stop viewing their posts but remain friends.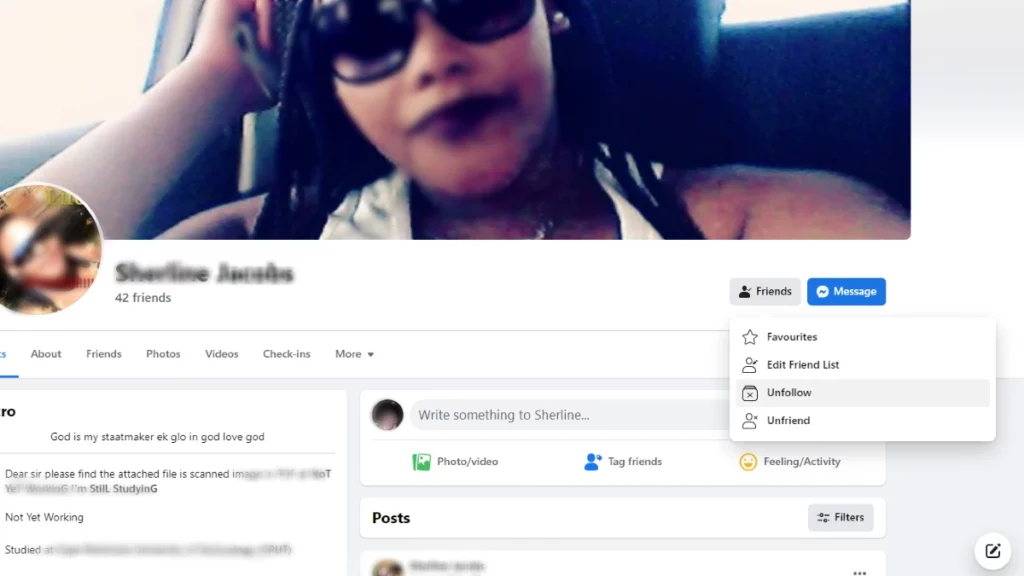 Create Long Posts using Facebook Notes:
Ever wanted to create a long post, but don't have a blog to do so? Well, good for you, Facebook has got something called "Notes," which lets you write blog posts in a very systematic manner. On your PC, go to your Facebook profile and hover your cursor on "more." Then click on 'Notes". Then click on Add Notes, and you can finally write whatever you wanted.
Turn off App or Game Invites:
We login on a lot of apps and games using our Facebook account. And many of these apps and games tell us to invite our friends. But if you are getting a lot of invites and getting irritated from them, you probably want to turn that off. You can go to settings > Apps and Websites > Preferences. Here, you have to click on the 'Edit' option under Game and App notifications and Turn on or off notifications for the app and game.
How to Format Text on Facebook? (Write Bold, Italics, etc.)
You might have come across stylish posts on Facebook like Bold Text, Italics, List, Quotes, etc. Well, they all follow an exact string of special characters for the same.
Using Special Characters
Some of these features include the use of special characters before and after the words you want to format. These include –
Inline code: 'code' console.log ("Code block!"); '''// your code here
You'll see a preview of your texts once you start typing.
Using a Simpler Technique
Well, of course, many people want a more straightforward solution for text formatting. Don't worry; we got you covered. The below method uses the Facebook Unicode generator. Follow the simple steps below, and you can have a unique formatted text on Facebook.
Go to this Facebook unicode generator
Enter the text and chose the Text Font and Bold/Italic option from the drop-down menu.
Click on Submit
You can get a full pictorial guide by clicking here.
After this, a formatted text will be generated. You can copy it and paste it on your Facebook post
Change the Font on Facebook
Other than Bolds and Italics, you can also use the Facebook Unicode generator to use different fonts. This method is similar to the above process. Just click here, and enter the text and font you want. Once the formatted text is generated, copy it, and paste it onto your Facebook post.
Conclusion:
Well, these are only a few of the many tips and tricks for Facebook. All the methods we have mentioned are self-tested and completely working. If you still have further queries, don't forget to let me know in the comments below. I will be happy to help you out.
Know some more tricks? Let us know that oo.
Thank you for reading until the end. If you love reading our articles, do share it with your friends. I will be back soon with another exciting update.