Facebook Lite is an official Facebook app that can be used as an alternative to the original, standard Facebook app. It allows you to use Facebook social network through a much lighter app that's better suited for low power Android devices or ones with limited or slow Internet connections.
The default Facebook app is the same thing as the Facebook lite app, the only big difference is that the default Facebook app size ranges from 50MB upwards and the Facebook lite app size is just 2MB.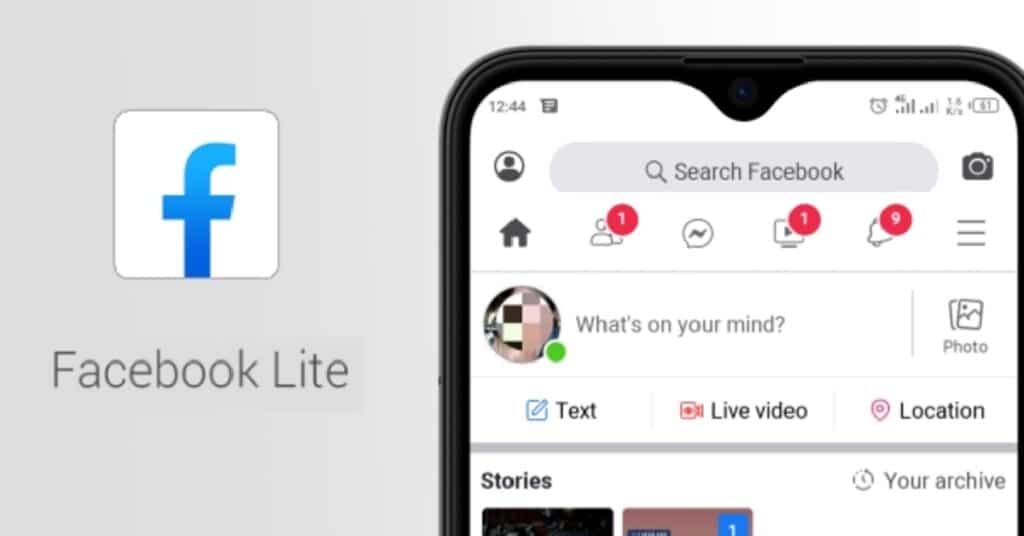 The main reason why every Facebook user may want to download facebook lite is because the official one that comes with a new smartphone does not allow all users to chat. You will be required to use the Messenger app for sending and receiving messages.
Features of Facebook Lite
Facebook lite has all the main Facebook features.
Secondly, it uses fewer mobile data and takes up less space on your mobile phone.
Lite works well on all networks, including 2G.
Facebook lite installs faster and loads your screen more quickly.
Facebook lite app works on most Android
Lastly, it works perfectly on iOS mobile phones.
However, if you are looking for how to update your Facebook lite to the latest version or you want to download Facebook Lite on your android or iPhone. This is the right article for you.
There are many ways and sources you can use to download Facebook Lite on your smartphone. We are going to list those ways in this article.
See also: Interesting Facebook Tips and Tricks you Need to Know
How to Download Facebook Lite on Android
Facebook has made it easy to download Facebook Lite for Android users who do not have a play store app or have not signed in to their Play Store. However, not all android smartphones support Play store.
So, if your android does not support Google Play Store or you are currently not signed in, You can download Facebook lite online with any Android Browser. I will be using Chrome in this tutorial because it is my best browser for android.
Open any browser on your android phone like Chrome.
In the address bar, type www.facebook.com/lite
Click Enter, and you will be taken to the Facebook Lite official website like the image below.
Click on Download Now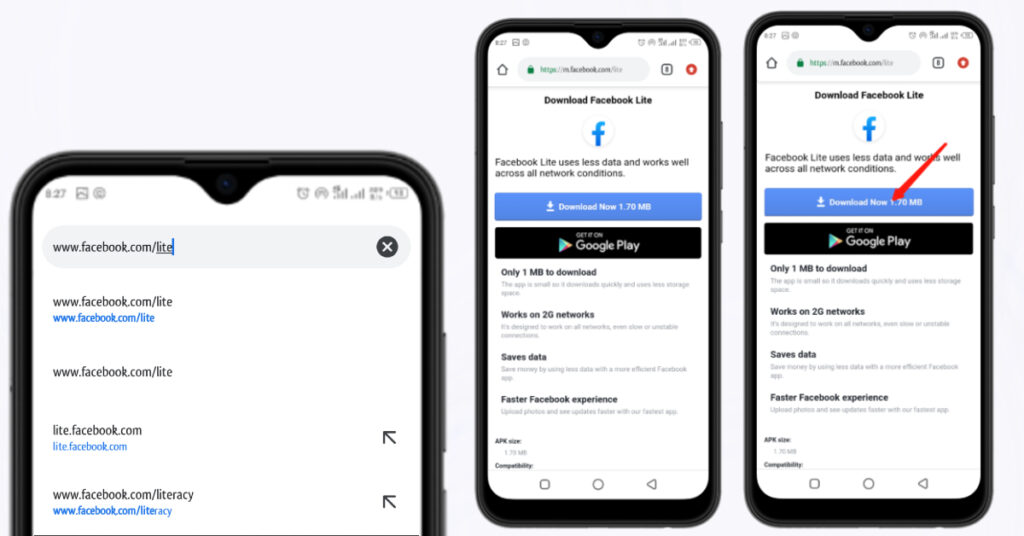 Your Download will start immediately or you will be asked to choose a preferred download location.
See: How to Cancel Sent Friend Request on Facebook
The Facebook Lite app has a data size ranging from 1.70MB – 2MB. So, it does not take a long time to download.
Then after a successful download tap on Open then the next screen that comes up will prompt you to Enable Installation of Apps from Unknown source for Chrome or any other browser you might have used to download the Facebook lite, just like in the image below.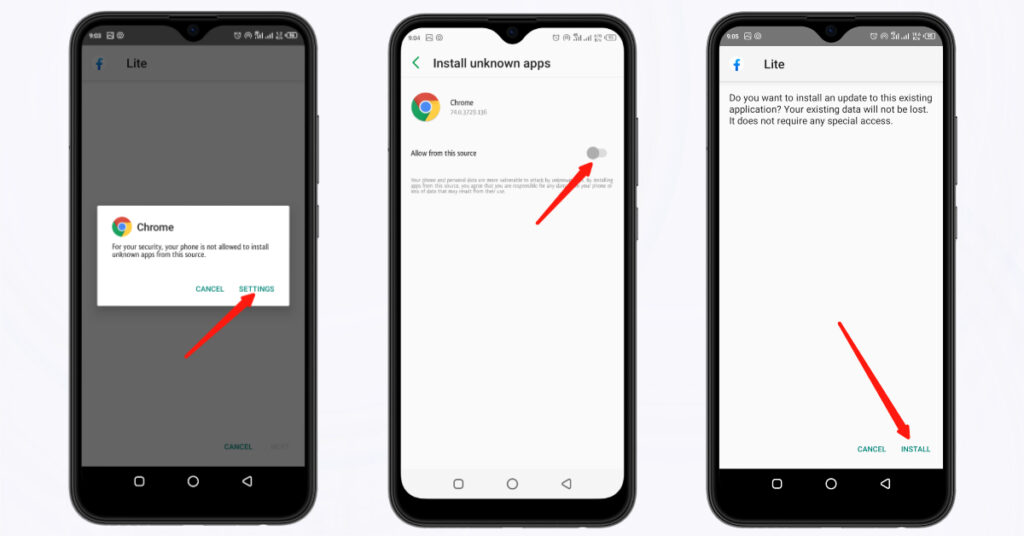 Now, after enabling the option for Chrome, navigate back and tap on Install just like in the image below and your installation will begin.
After a successful installation, Tap Open
NOTE: If you get an error message "App Not Installed". Go to your apps in your android settings menu and uninstall any previously installed or an old version of Facebook lite in your phone. Now locate the lite app file you downloaded and install it.
I Can't Find Facebook Lite After Installing
If your Facebook lite app has gone missing and you installed a new one and still can't find it in your android app drawer. All you have to do is to check your App Freezer. The Facebook app might be currently frozen in there.
Locate the and launch the App Freezer application
Tap and hold on the Facebook Lite, an option will popup
Select Unfreeze
Your Facebook lite will no longer be frozen and you will be able to locate it in your android app drawer.
How to Download Facebook Lite from Play Store
For you to be able to download the Facebook lite application from Play Store, you must sign in to play store with your Google Account. If your android supports Google Play Store and you are currently signed in.
Locate and open the Google Play Store App on your Android device.
Use the search field or your voice at the top to do a search for "Facebook Lite."
Select the Facebook Lite app from your search results.
Tap Install.
The app should finish installing fairly quickly given that it doesn't take much space.
Once the installation is complete, tap OPEN.
Enter your login details for your Facebook account into the given fields and then tap Log In.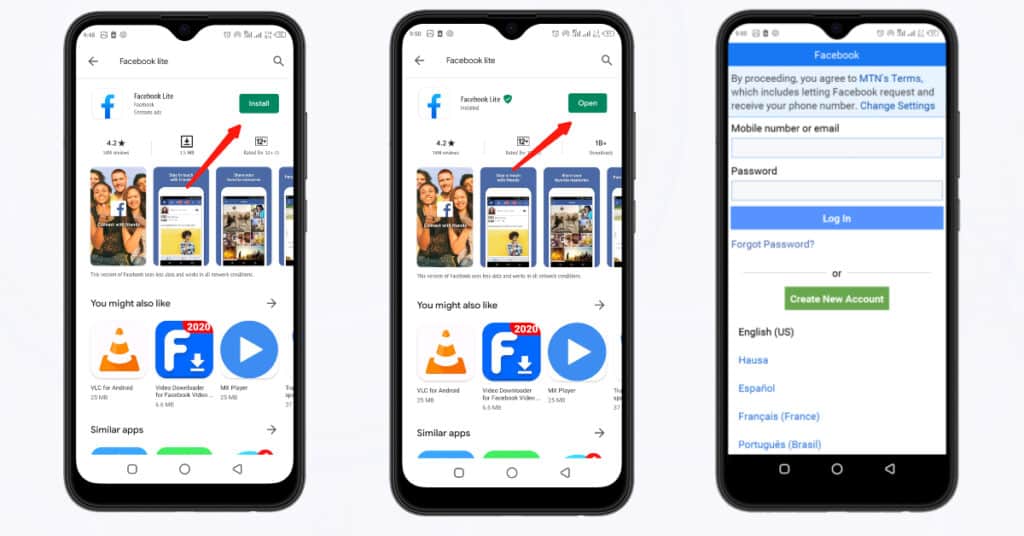 See also: How to Enable Dark Mode on Facebook
Is Facebook Lite Available For iOS?
Yes, Facebook lite is available for iOS devices. It will work on any iPhone or iPad running iOS 9.0 or higher. However, the only other installation requirement is that you will have an Apple ID based in Turkey.
So, we will be looking into how to install Facebook lite on your iPhone by changing your app store country/region.
Locate and Launch App Store in the app menu.
Touch the fingerprint ID to verify it's you.
Go to App Store Account Settings.
Change your country/region to Turkey.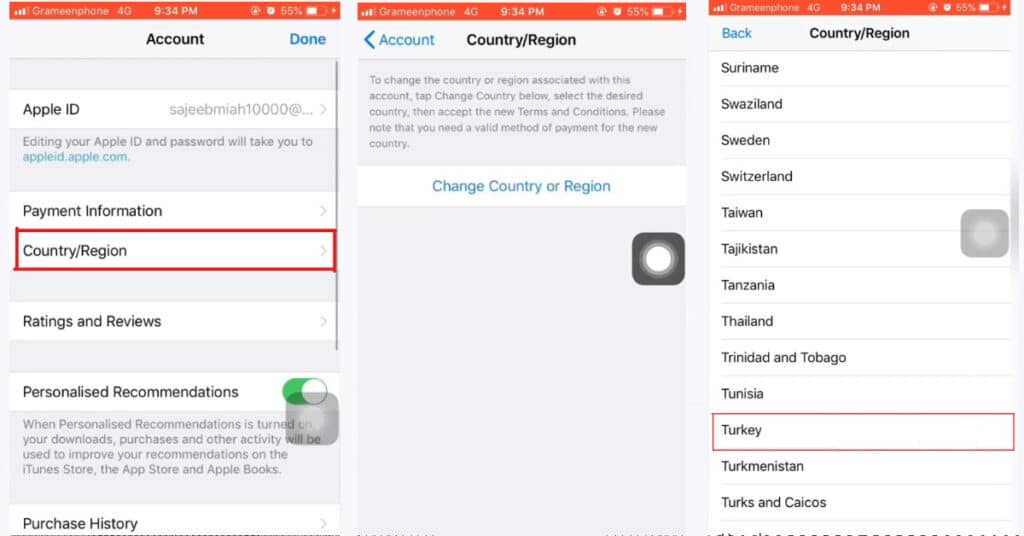 On the next screen you will be prompted to fill in your billing address, which includes your name, address and postcode.
You can use 59446 or 28393 as your postcode.
After filling in the form, the next screen will prompt you to read and agree with Apple Media Services Terms and Conditions. kindly tap Agree.
Now, use the App Store search box and search for Facebook lite. When found tap on Get.
You will be taken to the Facebook lite description, ratings and about page.
Now tap on Get and verify your fingerprint ID for the installation to begin.
After a successful verification, the Facebook lite will start downloading and will be installed immediately after downloading. It doesn't take much time to download, all you have to do is to wait for a few minutes for the download to be completed.
Check your app drawer, locate and launch Facebook lite. Sign in with your existing Facebook account or create a new one. You will have Facebook lite up and running on your iPhone.
Alternatively, if you are not from Turkey, you can try downloading Facebook lite for iPhone by visiting Apple App Store and see if Facebook lite for iPhone is available in your Country/Region.
I am sure that this tutorial has helped you to install Facebook lite on iPhone. But, if you are having any issue installing Facebook lite on your iPhone or iPad, kindly let us know.
See: How to Download WhatsApp on Android, iPhone and PC
How to Download Facebook Lite on PC
Do you know that you can run Facebook lite app on your pc, or laptop with the help of a third-party app Bluestacks. Which is one of the most powerful platforms for running Android mobile applications and mobile games on PC.
Facebook lite is not available in Microsoft Store, it is also not available to be downloaded from Facebook. You can only use Facebook lite on pc with the help of this blue stacks android emulator for windows and mac operating systems.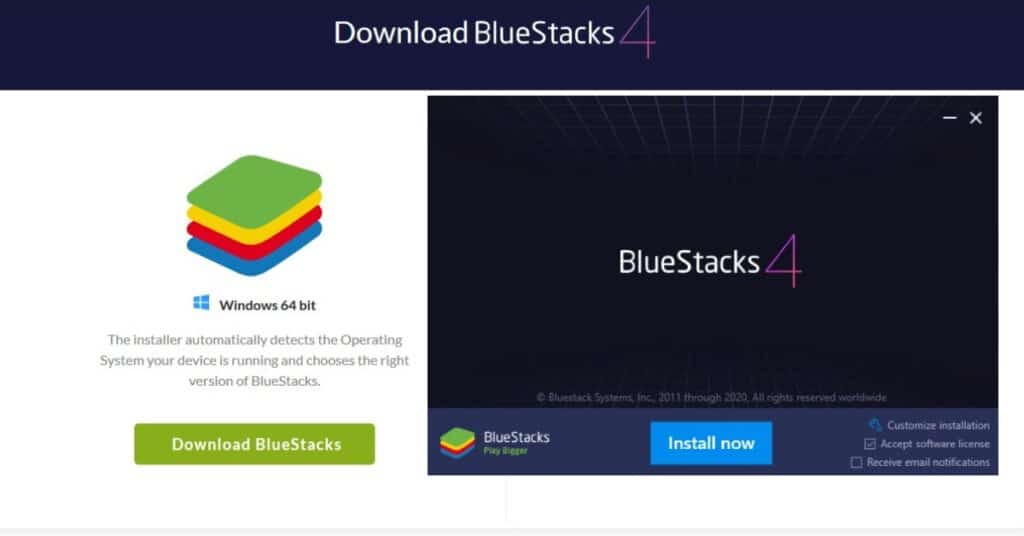 Bluestacks is compatible with a wide variety of system configurations, as well as some of the most common operating systems. It can be installed in Windows 7, 8, and 10, as well as on Mac.Before installing BlueStacks, you must first check and see if your PC fulfills the Bluestacks installation minimum requirements:
Minimum system requirements
OS: Microsoft Windows 7 and above.
Processor: Intel or AMD Processor.
RAM: PC must have at least 2GB of RAM.
HDD: 5GB Free Disk Space.
You must be an Administrator on your PC.
Here are the steps to download and install BlueStacks on PC:
Go to https://www.bluestacks.com and click on "Download BlueStacks"
Bluestacks installer.exe will be downloaded.
Launch the installer once it's done downloading.
Wait until the process finishes, after which BlueStacks will be installed and launched automatically.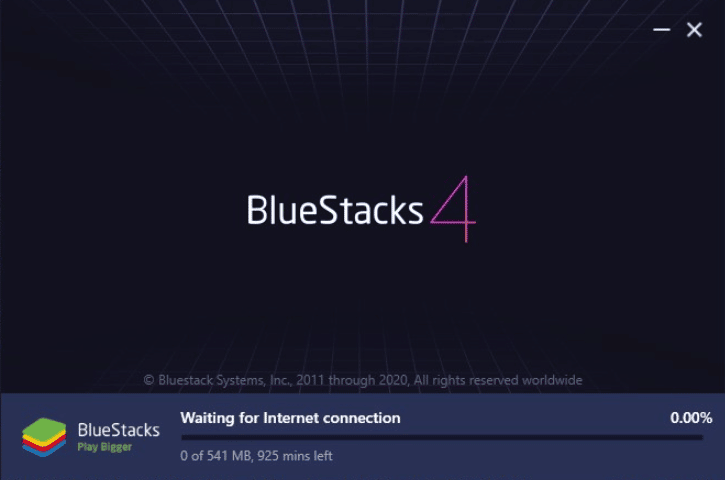 After installing bluestacks, you will be prompted to link a google account to enable you download applications and games from Google Play Store.
See also: Top 10 Sites like Facebook: Best Facebook Alternatives
How to Install Facebook Lite on Bluestacks
After successfully signing in to playstore, use the above search box to search for Facebook Lite. When found click on it, Click on Install and wait for it to install. When done installing click Open.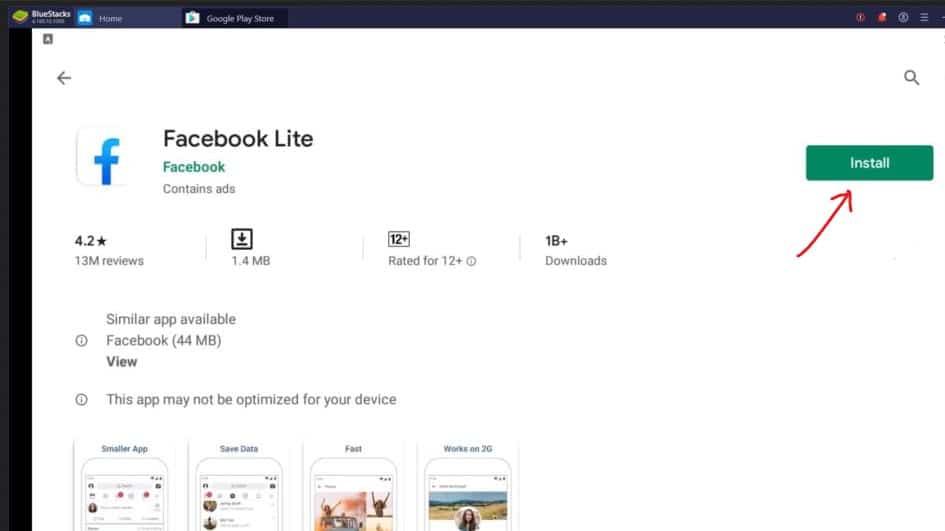 Boom!! you have successfully installed Facebook lite on your windows PC, you can now use the Facebook lite app on the PC same as you use it on the mobile just like in the image below.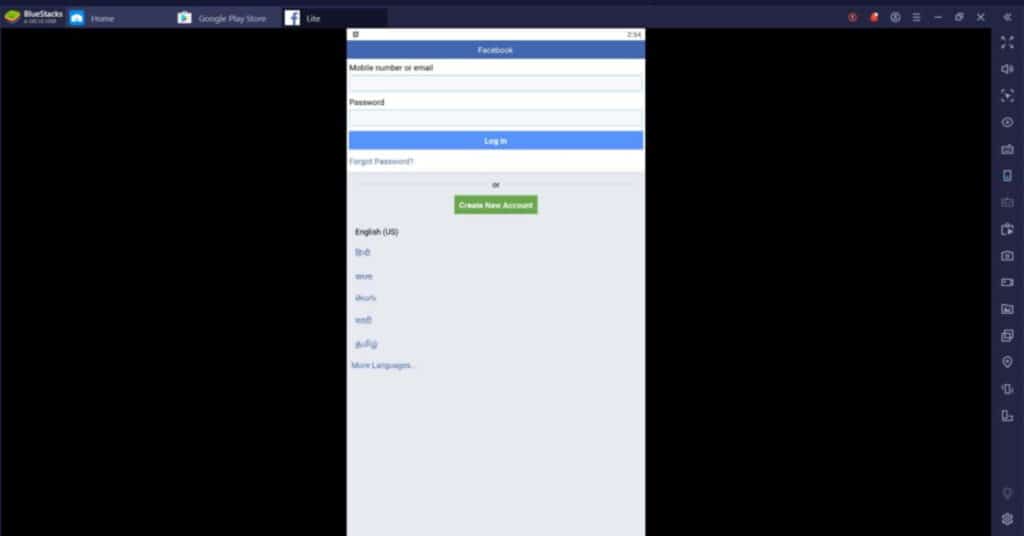 Finally, if you are a Mac OS user and want to download Facebook lite on your mac, the above process will do the trick for you.
Facebook Lite Not Working?
If your Facebook lite app is not working, all you have to do is to check your Data Plan balance. Because, if your data plan is exhausted, Facebook lite will not work. You can also check your network connection if it is available.