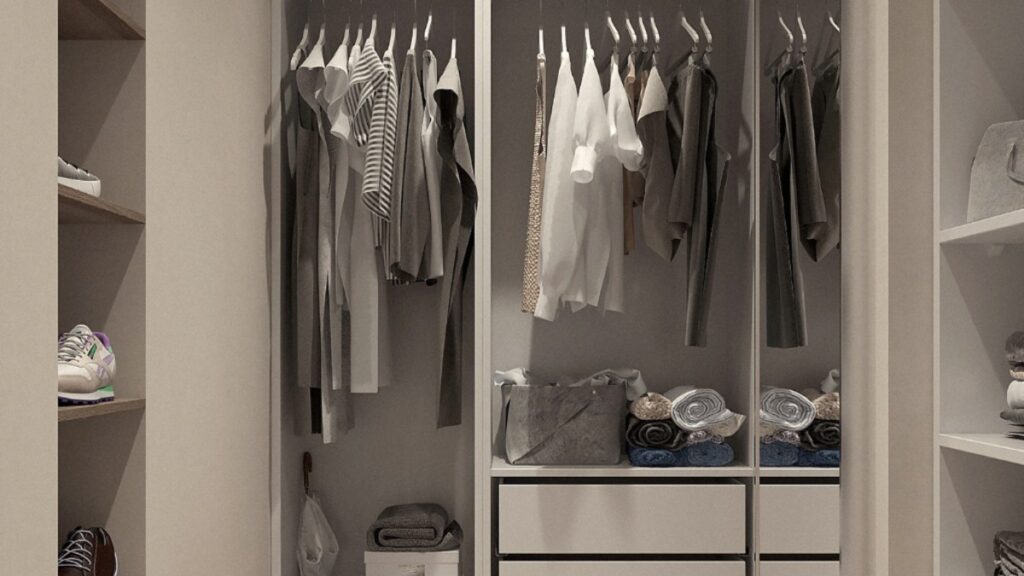 Every fashion lover knows that you can never have too many clothes but, in a time where we need to be more conscious about the clothes we wear on our backs, we must re-evaluate what we own. Having wardrobe essentials in your closet is always a great idea because not only can you do it to save closet space and save a little extra cash in the long run, but you can also do your part to save the environment.
Here are 10 essential wardrobe items that you should always have in your collection.
1. Plain white buttoned up
Every closet should have a plain white button-up because it is an essential item that you can wear for almost any occasion. Since the shirt is essentially a blank canvas, you can pair it with anything to change up the mood. Whether you are dressing it up for a night out with some friends or turning it into your outfit for a job interview, the plain white buttoned-up shirt has got you covered.
If you do not already own a white buttoned-up shirt, you should definitely get one for your closet. Almost every fashion brand has its own version of a white buttoned up so choose one that suits you the best but can still be paired with everything else in your closet. The best part of a plain white buttoned-up shirt is that it will always be in style so you will never have to worry about the shirt being out of season.
---
2. Classic little black dress
Every woman should have a little black dress, or LBD, in their closet because not only is it a classic piece that will never go out of style, but it is also something that can work for both day and night. If you are not a fan of mini dresses, then just go for a simple black dress of any length. Regardless of the length, size, or design, a black dress should be in your closet at any time.
When choosing a little black dress as an essential item for your closet, get one that does not have any embellishments. That way, you can wear the dress as is if you want a more toned-down look, but you can also add more accessories like a belt or a statement necklace if you are wearing it to a party or event. A spaghetti-strap black dress with a looser fit would also make a good slip dress, giving you another outfit idea for a night out.
---
3. Blazer
Another good thing to have in your closet at all times is a nice blazer. It can be an oversized blazer, a structured blazer, or even a statement blazer. Whatever the cut or design may be, it is always nice to have a blazer in your closet because it can be worn for work, for school, or even just for lunch with some friends.
Unlike the white buttoned-up and the black dress, certain blazers can go out of style so be careful when choosing a blazer for your closet. When in doubt, just go for a plain neutral blazer like a black or a beige one because those will always be fashionable. A good quality blazer can last for a long time so splurge a little and invest in a good blazer but even if something happens to it, almost any tailor will know how to fix a blazer so do not worry about it.
---
4. Everyday accessories
Accessories are a great way to jazz up your outfit and they can be on budget if you know where to get them. By keeping everything else in your closet basic and plain, it allows for more space for colourful and bold accessories so feel free to get as many accessories as you wish. However, if you are trying to minimize your wardrobe or just want to keep the true essentials, stick to the simple, everyday accessories.
Everyday accessories are the ones that will go with any outfit or look, whether it is something casual or something fancy. A pair of plain stud earrings are great and so is a simple chain necklace without a charm. Watches will make good everyday accessories too if you get one in a neutral colour with a simple design.
---
5. Basic jeans
Jeans are another closet essential that will never go out of style, and it is proven by the fact that we have been wearing them since they were first introduced to the public. A good pair of jeans will go well with almost any top and they are stylish in every season so there is no reason why you should not have a pair of jeans in your closet. All you need is one pair but if you are planning on wearing jeans more often, then you should have a couple so you can wear them in rotation.
A lot of fashion brands have their own line of jeans or denim pants but there is a difference between getting a high-quality pair of jeans. Much like the blazer, good quality jeans can last for a long time so if you can afford them, get your jeans from a company that produces good quality jeans. They might require a little more care and attention when it comes to washing and storing but all your effort will be worth it if it means that your jeans can last for years.
---
6. Simple sneakers
When it comes to footwear, many of us cannot help but get more than we need. Shoes are like accessories so when your outfit needs something extra, you can count on your shoes to bring the look to life. Unfortunately, shoes are a lot bulkier than accessories so they can take up a lot of space so if you are looking to make some room in your closet, just go for the basics like a pair of simple sneakers.
Sneakers are always a good thing to have in your closet and nowadays, they can be worn with almost anything. Even if you pair your Converse All Star or Vans Old Skool with your dress, no one will bat an eye because it is an acceptable look, even in high fashion. However, the key to choosing the sneaker for your capsule wardrobe is to go for basic and plain so that it will go with everything else.
---
7. Comfortable heels
Sneakers may be great, but there are times where sneakers might not be appropriate so it is best if you can keep a pair of heels in your collection. Whether the heel you choose is a stiletto, a pair of pumps, or a wedge heel, it is a good addition to your wardrobe. However, choose one that is comfortable so that you do not regret buying it.
Heels can also be worn with almost anything and they work for both casual, everyday occasions as well as special events. A pair of comfortable heels will allow you to wear them more often and for a longer duration, so try your heels before making the purchase. As for the style of the heels, go for something simple so that you can wear them with anything, for any occasion.
---
8. Fitted joggers or sweatpants
Who said athleisure cannot be fashionable? Many fashion brands have released their own renditions of fashionable fitness clothes and there are tons of fitness brands that are coming out with nicely designed sweatpants that can be worn outside of the gym. While you might not be able to wear them to a dinner party or your corporate job, a pair of joggers or sweatpants should also be an essential item in your closet.
There are so many fashionable options for joggers and sweatpants these days so choosing the right pair for your closet is not going to be hard. However, a good tip is to choose a pair where you do not see any indication of the brand so that you can wear the sweatpants with anything and not seem out of place. Although, this tip can be overruled if your sweatpants are from a luxury brand like Gucci.
---
9. Versatile leggings
Another athleticwear that has gotten the fashion treatment is leggings so if joggers or sweatpants are not your thing, maybe you can get these instead. Like the sweatpants, many fashion and fitness brands are coming out with some pretty leggings that do not look like they belong to the gym so you can wear them when you are walking around town. Not only are they comfortable, but they will also go great with any basic top.
Most leggings are pretty basic and have neutral colours and designs so there should be no issues when choosing a pair for your closet. However, if you still have a tough time making a choice, just go with the always versatile, plain black leggings. They just look like your typical pair of black pants so you know that you can always pair them with any top and it will still look good.
---
10. Monochrome handbag
The last addition to your outfits should be your bag but which one should be an essential item? There are tons of designs to choose from and they all look amazing so picking just one to have as a staple can be difficult. If you cannot seem to choose the right handbag for your capsule wardrobe, just pick something monochrome because black and white always go well with everything.
However, you do not have to stop at handbags because you can choose another style of bag, if that is what you prefer. Tote bags and small backpacks are very popular amongst the younger crowd and a mini sling bag would be a great accessory for a night out. Whatever it is that you choose, get a bag that you know will work with the rest of your closet.