Montauk is a hamlet on the easternmost tip of Long Island, New York, known for its beautiful beaches and many family-friendly activities for you to do with your children and loved ones during the weekend.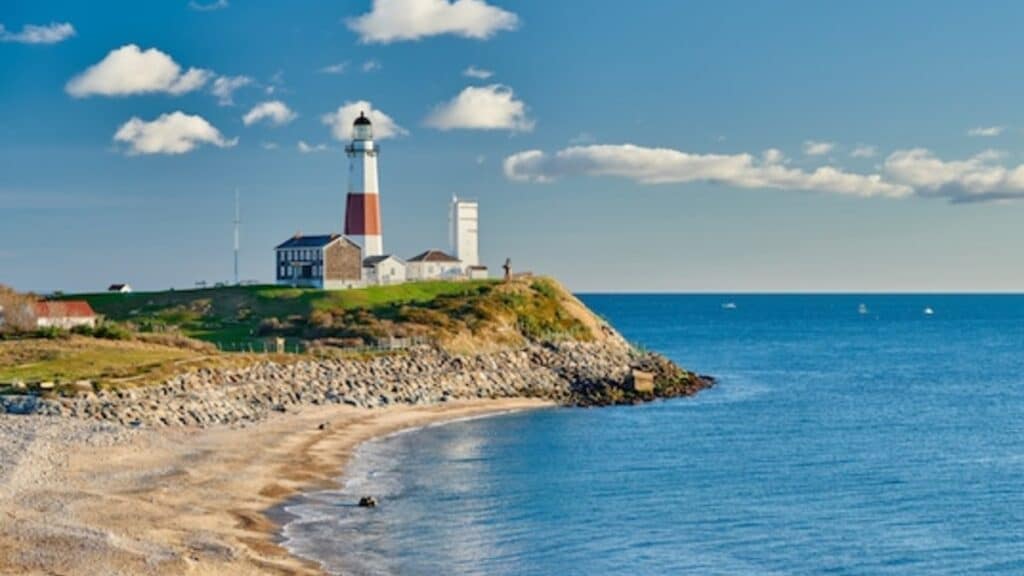 Located by the Atlantic Ocean in East Hampton, Suffolk County, this village is a popular getaway destination from New York City. It is home to around 3,685 people as of the year 2019.
Montauk is not just a great place to relax in your summers. This beautiful beachfront offers a unique flavour every season.
How far is Montauk from New York City?
Montauk is around 118 miles from New York City and takes about three hours to get there by car or bus. If you wish to travel by train, The Long Island Rail Road takes around three hours to get there.
If you're traveling to Montauk from outside of the United States and your country belongs to the Visa Waiver Program (VWP), you will need an ESTA. You can apply for it online and make sure to provide all the necessary details correctly, including your ESTA US Point of Contact.
Montauk Beaches
Montauk is host to several wonderful activities for your family to enjoy.
Alongside a bunch of surf schools, fishing, and camping opportunities, Montauk has almost 5,000 acres of parks stretching from the western end of the village to the lighthouse at Montauk Point.
But the beaches at Montauk are unmissable, the most popular among them being the Ditch Plains.
Montauk is noted for its breathtaking 70-foot-high rocks that reach all the way to the tip of the peninsula. The sheltered waters of Block Island Sound on the north side of Montauk are significantly softer than the ocean. The beaches here might be rocky or sandy, and they offer the finest fishing opportunities.
1. Ditch Pains Beach 
At Shadmoor Park on the beach's western end, this beach has magnificent cliffs and provisions for bathrooms, outdoor showers, lifeguards during the summer season, and concession trucks that provide more than just snacks. This one is ideal for surfers.
2. Amsterdam Beach
Although this beach has no provisions for lifeguards or parking, its meandering pathways and exotic viewpoints make up for all of that. Drop by this one if you're want to get closer to nature.
3. Gin Beach 
This beach has a very gentle and calming vibe, perfect for spending some meaningful time with your family. Just sit and relax by this beach as the boats leave and arrive at the nearby Montauk Harbour. Lifeguards and other provisions are available.
Montauk Hiking 
If you and your family enjoy outdoor activities, Montauk is the perfect place to be. Apart from fishing, camping, and surfing, this place has several natural hiking trails for you to feel closer to nature.
1. Camp Hero State Park 
If you're visiting Montauk, you will obviously visit the Montauk Lighthouse loop just to the right of this beautiful hiking trail. This Park offers a majestic view of the waves along with some interesting historical features for you to stop by.
2. Shamdoor State Park
The stroll is roughly a mile long (two miles there and back), but you may extend it by hopping onto the beach and walking east into Ditch Plains. More than a hike, this is more of a leisurely walk.
3. The Walking Dunes
The Walking Dunes, which are part of Hither Hills State Park, are one of the most unusual hikes as they are constantly migrating to the southeast, swallowing the flora as they do so. To get to the Walking Dunes from Montauk town, take Route 27 west and turn right shortly beyond Morty's Oyster Stand onto Napeague Harbor Rd.
Dog-friendly hotels in Montauk, New York 
Going on vacation with your family is incomplete if you have to leave your pet behind. But don't worry, you won't be needing to do that for a trip to Montauk. This place has many pet-friendly hotels that can be the perfect spot for your family to relax.
Making the Best of Your Montauk Family Vacation
Gurney's Montauk Resort and Seawater Spa, Haven Montauk, and Kenny's Tipperary Inn are some of the options closer to the beach. With proper ESTA authorization, you can explore Montauk and have a family vacation that is full of fun.
Remember to apply early and take expert help to avoid rejections. Even small errors like missing out on your phone number can lead to rejections. Additionally, if you miss out on important details, you may be denied entry by the border agents while entering the U.S. You wouldn't want that.
Above all, remember to apply for your ESTA early. After you fill up the ESTA form, you can check its status by esta tracking on the ESTS website.