Are you running an eCommerce business? Are you facing problems in managing in-house inventory? If yes, then hire fulfillment service providers and outsource order fulfillment services. It is one of the perfect solutions to handle the growing volume of orders.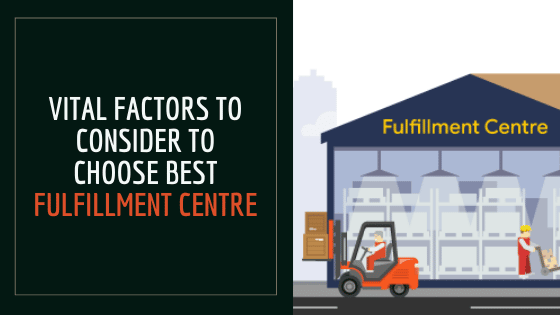 The fulfillment centers can handle the burden of a growing volume of orders. When eCommerce companies outsource the order fulfillment process, then there they can focus on the core business, and they do not need to worry about the order fulfillment process.
Here, in this article, we are going to list down various important factors that you need to consider while hiring a fulfillment service provider:
Factors to Consider to Choose Best Fulfillment Center
1. Consider Cost
First of all, you should find out charges of different services at different fulfillment centers. After that, compare prices and choose the cost-efficient and best service providers. You should consider the cost of using warehouse space, tools and equipment, warehouse management system, packaging solutions, shipping charges, etc.
You should consider the cost of every stage. Make sure that there should be no hidden costs or charges.
2. Good-Quality Services
You should do research and find out the best fulfillment service provider. You should also ensure that they offer good quality services. Make a list of renowned fulfillment service providers and visit their fulfillment centers.
You should personally check their services by checking their warehouse storage system, packaging services, shipping solution, etc.
You should ask them to give the contact details of their happy customers. You can personally contact these customers and ask about the quality of their services. MDS fulfillment service providers offer good quality services and help you to achieve your business objectives. 
3. Location Should Be Compatible
You should also keep in mind that the location of the center should be compatible as per your e-commerce platform. Make sure that the fulfillment center is near to your marketplace to avoid delays in the delivery of orders.
In addition to this, you should make sure that the software you use for tracking your inventory is compatible with software of fulfillment service providers.
4. Return Handling
Once you find good fulfillment service providers who offer good-quality services at budget-friendly prices, then the next thing you should ensure is to return handling services. Do not forget to ask them whether they handle order returns. Handling order returns is also one of the big tasks in order fulfillment services.
The e-commerce companies that handle their return order properly grow at a faster pace. If you want to give a satisfactory experience to your customers, they choose the order fulfillment services provider who has similar values and beliefs as yours.
5. Consider Technology Gadgets
While choosing an order fulfillment center, you should also consider the technological gadgets they use. They must have access to the latest technology tools and software. The order fulfillment center who has installed the latest technology gadgets ensures good quality services.
You can precisely track tour inventory and reduce the gap between demand and production. You can keep your customers satisfied always.
6. Offer Flexibility
You should choose the order fulfillment service provider who offers flexibility in their services. During the busy season of the year, you need more access to the services. On the other, during the down season of the year, you should want to access only a few services. Thus, you should hire a fulfillment center that can accommodate your varying demands.
7. Good Network
You should pick the order fulfillment service provider who has a wide network of locations. It will ensure that your products can easily deliver to your consumers in different regions.
You should first determine your market and accordingly select the fulfillment center with a wide network.
8. Experience in The Relevant field
It is imperative to check the experience of the contractors in the relevant field. Always hire experienced service providers to ensure good quality services and no pitfalls. If you want to ensure that your customers remain satisfied, then experienced contractors can help you. Though newbies in this field may offer their services at low prices, their quality of services is not ensured.
9. Ready to Negotiate
You should hire only those order fulfillment service providers who are ready to negotiate. There are two different packages offered by the order fulfillment contractors. The first one is based on the size of your business, and the second is based on the number of services you want. You should choose the right method as per your budget and needs.
Final Words:
Once you have selected an order fulfillment service provider, you can focus on your core business without any worry. While choosing the order fulfillment center, you should consider the above-mentioned factors. These factors will help you to select the right contractor.