Windows 11 is the latest version of Microsoft Windows. And it's the greatest update of the OS in the last 7 years. The reasons to switch to the new version are a new interface, improved security, new widgets, and other advanced perks of a new OS. But there is also a downside to it – not all programs run smoothly.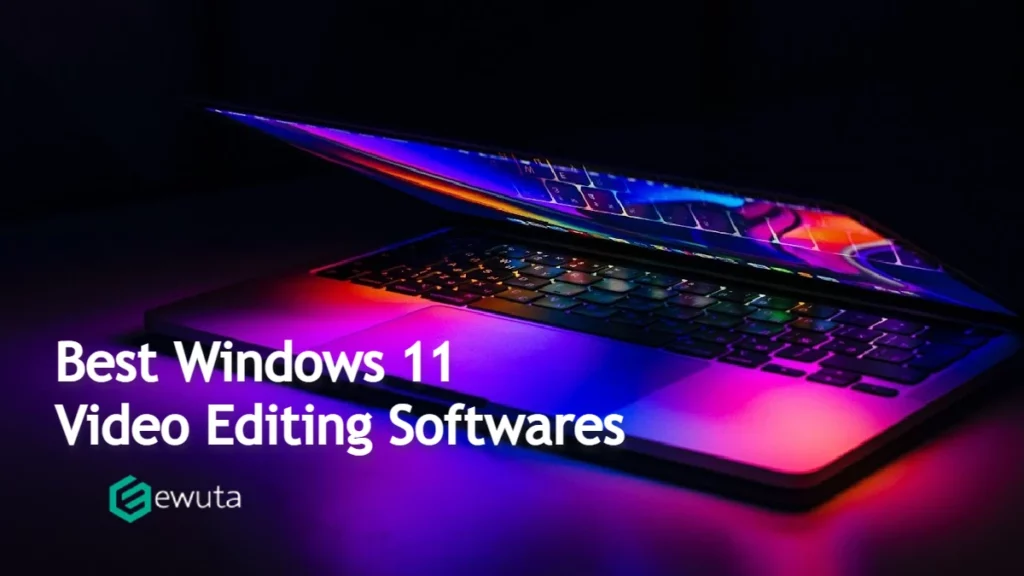 And sometimes you just don't have the resources or time to do the research. In this article, we are looking into video editing software for Windows 11. We've tried 4 different video editors in action and created movies using all the basic and advanced features. So dive into our review and find all the necessary information to pick the best video editor for Windows 11.
1. OpenShot
Let's begin with a cross-platform video editor – OpenShot. With it you can make simple adjustments to your clips, like trimming, rotating and resizing, slowing down, or speeding up. If you are into some profound editing, then you can add as many tracks as you need. The software offers tools to make animation. There are simple and 3D animations, you can make fade-ins, fade-outs, add snow or other natural effects, use presets or create unique animations.
There are also video effects to spice up your clips. You can invert colors, adjust the brightness of your video or even remove the background. If you need to add titles, you can use templates from the built-in collection or create your own. Openshot also supports SVG, so you can upload vector files as your titles. The software has a simple interface, which is translated into 70+ languages. There are various formats to export your video or save your project for further editing. You can also import projects made in other programs to Openshot.
There are many pros to this powerful, yet easy-to-use software. Although there are still some cons, like unstable performance and outdated interface.
2. Clipify
The second video editor for Windows 11 is Clipify. This easy-to-use video editor has all the essential tools you need for making a perfect movie. You can create a video in a few clicks using the automatic Wizard mode or make a personalized video from scratch. This software offers basic tools like cropping, splitting, and changing the video speed. But there is also a vast variety of more complex tools. You can enhance the video quality automatically with a click of the Auto Enhancement function,  by adjusting sliders or using the curves for more precise correction.
There is a collection of over 160 special effects – vintage, romantic, artistic, or others – to change the look of your video. You can spice up your movies with cliparts and texts, add titles and end screens. Clipify offers various transitions to insert between the clips for a smooth change of scene. There are also means to capture and edit videos recorded with a webcam and use built-in templates to create a video greeting card. The software offers various exporting options – for different mobile devices, social networks, TV, etc.
This editor will be a great choice if you need basic and advanced tools combined with a user-friendly interface. However, there is a downside to this software – Chroma Key is only available in the PRO version and there is no access to royalty-free music.
3. Lightworks
The third program is Lightworks. It's a cross-platform video editor aimed at filmmakers and advanced users that was first used in Hollywood. Nevertheless, it is compatible with Windows 11. Once you've run the program, a StartUp Wizard will pop up, where you can set some preferences. The software has four workspaces – for working with metadata, editing video and audio files, and for working with visual effects and texts.
A lot of actions are performed using hotkeys – for example, to split the clip you need to place the playhead and hit the C key. All your added videos are color corrected by default, but you can make manual adjustments. There is a library of effects divided into categories, and you can adjust the strength of the applied effect by dragging a slider. You can add titles and text and fine-tune the caption settings. There is direct access to the stock music and the software also offers advanced features like an audio mixer, equalizer, and audio effects.
Lightworks looks like a bit more complicated program. It has a neat interface and various tools alongside a steep learning curve and export options only in 720p in the free version.
4. Windows Video Editor
And the last software in our review is Windows Video Editor. You don't need to look for it and download, since it comes for free with the Windows OS. This software allows you to carry out all the basic editing – rotate, trim and split your videos, remove black bars and change the video speed. You can also add a simple title card and captions to your clips.
There is a built-in collection of background music or you can add a custom audio track of your choice. The music automatically adjusts to the length of the video, and you can set the volume to your liking. The software also allows you to add various motion and 3D effects. And some filters can be applied to clips if you want to create a special effect. The program has scarce export options and tends to be slow or lag while rendering your video.
To sum it up, Windows Video Editor is a great choice for newbies and for those who don't have time to search the Internet for alternatives and download them. However, it doesn't have any advanced tools, and the export options are limited.
So this was our review of 4 video editing programs for Windows 11. We hope that you will find it useful and it will help you to make a choice that suits your goals. In case you need profound information on video editors – hit the link and find more options on the best video editing software for Windows 11.