Are you tired of Twitter? Do you want to try something new that feels familiar? Are you looking for new marketing opportunities? If you answered "yes" to any of these questions, then you will definitely benefit from trying a social media platform similar to Twitter. Hence, here are the twelve best Twitter alternatives in 2022.
#1 Tumblr
Tumblr has a long history of being one of the biggest and most popular social media platforms in the world. But even though its usage has declined in the past few years, it is still home to a vibrant community of users with all kinds of interests.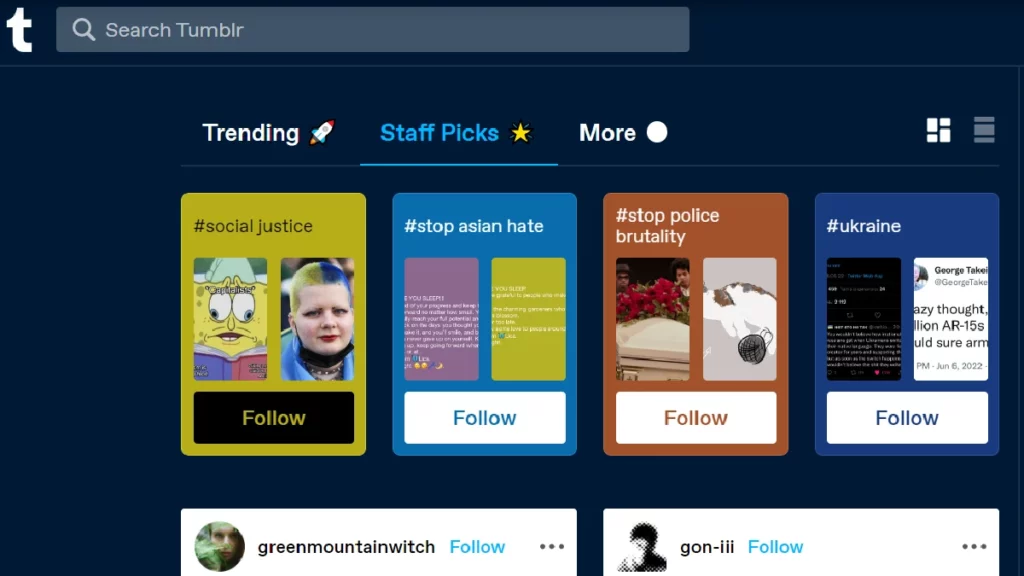 History
Founded in 2007 by David Karp, Tumblr became one of the first microblogging social media platforms that quickly grew its initial userbase. In 2013, Tumblr was acquired by Yahoo! Inc. while Karp remained CEO. In 2017, Yahoo was acquired by Verizon Communications and Karp left Tumblr.
With such changes over the years and a focus on advertising, Tumblr was struggling and losing users. The final blow came in 2018 when a stricter content policy was imposed that restricted adult content (something that had been a major user attractor for years). In 2019, Tumblr was purchased by Automattic and has been owned by the company since.
Despite Tumblr's struggles over the years, it remains a fairly popular social media platform, especially among teenage and young adult users who tend to have progressive views. As of July 2019, the platform had over 472 million registered accounts with 376 million unique visitors worldwide.
How It Works
After registering, you have an account that can be used to create multiple blogs dedicated to different topics. You can share posts with text, images, videos, quotes, and links as well as reblog, like, and comment under other posts. You can add tags to the posts without having to place them in the body of the post itself.
One interesting feature is the HTML editor which lets you customize your blog's theme with HTML coding. Another peculiar feature is the queue which lets you schedule posts for several hours or even days ahead. Users can communicate with each other through texting as well as with the Ask feature which has an anonymity option.
How to Get It
Tumblr is available both for iOS and Android. It can also be used on desktop devices as a website as well as an extension for Chrome or Firefox to quickly share content from other websites on your Tumblr profile.
---
#2 Reddit
Reddit is a popular social media platform that is even older than Tumblr and has had an equally tumultuous history. It is still going strong with new communities springing up and growing every year.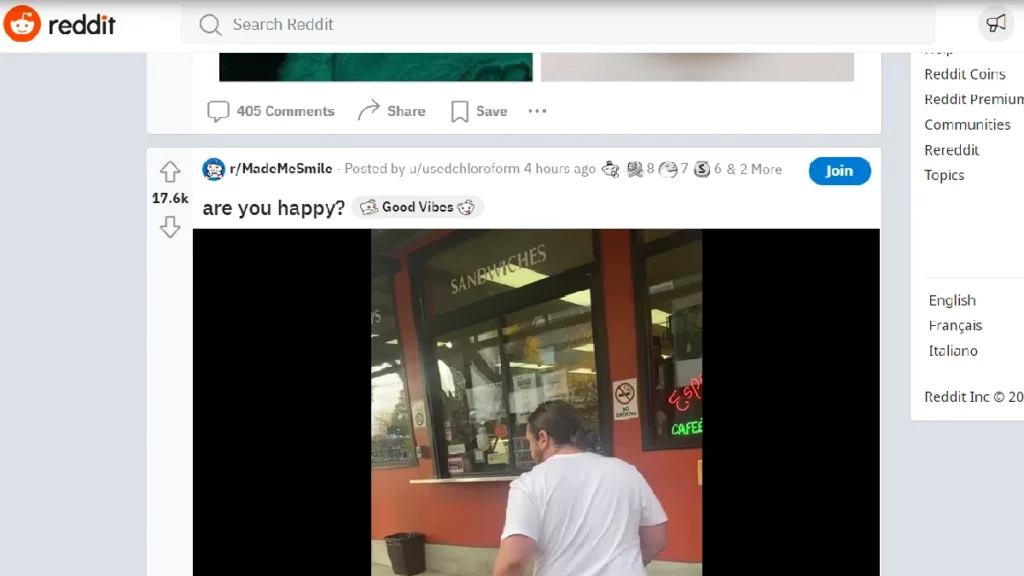 History
Founded in 2005 by Steve Huffman and Alexis Ohanian with Aaron Swartz, Reddit was acquired by Condé Nast Publications in 2006 and became its parent company's Advance Publications' independent subsidiary in 2011.
As of March 2022, Reddit is the 9th-most-visited website in the world with 430 million active users. Almost half of all users on the platform come from the US followed by users from the UK (around 8%) and Canada (around 6.5%).
How It Works
Reddit is considered to be a website that largely relies on user-generated content. Registered users can join multiple communities called subreddits that are dedicated to specific interests. In fact, some subreddits can be very specific. This has enabled the subreddits to range in size from just a few dozen users to millions of users.
Every subreddit is moderated by regular users and can have its own set of rules. However, every subreddit should comply with the general Reddit guidelines. Users can often customize their profiles depending on the subreddit by adding a flair that appears next to the username.
Users can share different types of posts in specific communities, including text, images, videos, links, polls, and others. Every post can be upvoted or downvoted by other users who can also comment under it and, in some cases, share the post to other subreddits (if those subreddits allow cross-posting).
How to Get It
Reddit is available for iOS and Android but can also be used on desktop devices. While many new users start off by using the current version of Reddit, many users that have been around for years still prefer the old version of the platform which can be accessed by going to old.reddit.com.
---
#3 Facebook
Facebook is by far one of the biggest social media platforms in the world right now as well as one of the oldest. Even though it has lost popularity with teenagers, it is still widely used by adults from all kinds of backgrounds.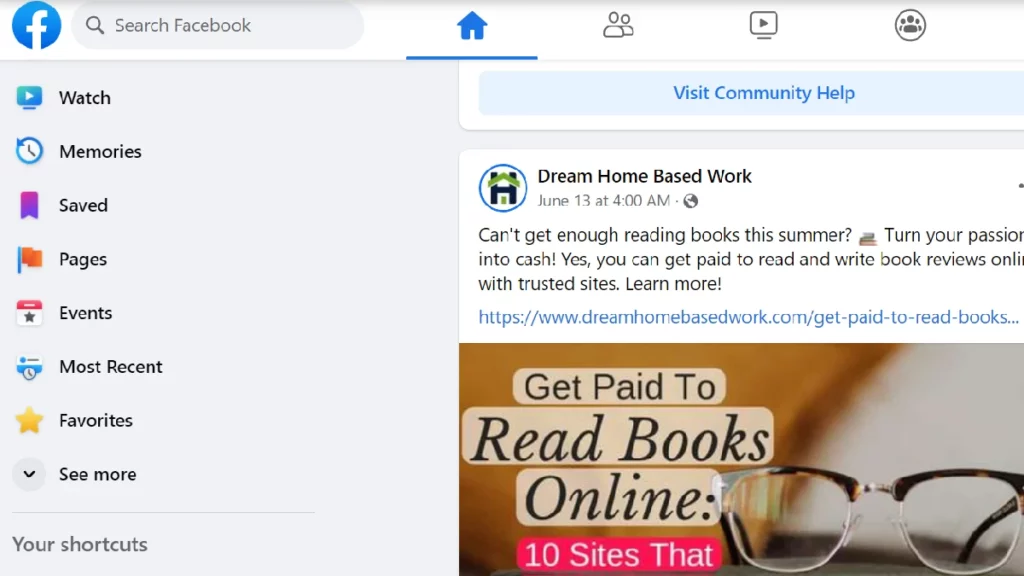 History
Founded in 2004 by Mark Zuckerberg and Eduardo Saverin, Facebook was initially limited to US university students but eventually grew to become a global platform that accepts users from all over the world (as long as you are over 13 years old).
Over the years, social media platform has undergone upgrades and changes, one of the most notable of these being the revised algorithm introduced in 2015. The new algorithm was meant to filter out fake news with the help of users who could flag or report content.
Though Facebook has gotten into numerous controversies over the years, it is still incredibly popular. As of 2022, Facebook has 2.910 billion users which makes it the biggest social media platform in the world. Moreover, Meta owns several other top social media platforms: WhatsApp (2 billion users) and Instagram (1.478 billion users) along with Messenger.
How It Works
Despite Facebook introducing various features over the years, many of them were removed after some time. Still, quite a few features have remained and are widely used to this day. After registration, users can set up their personal accounts with different information about themselves and start following other users or joining relevant groups and communities.
Users can share content in the form of text, images, videos, and links among others. You can also tag people, like and react to posts, comment under posts, etc. Facebook is also one of the social media platforms that offers business features and social commerce features for brands and entrepreneurs who want to sell or promote their products or services via the platform.
How to Get It
Facebook is available both for iOS and Android. There is also a Lite version as well as a separate Messenger app for texting. You can also use Facebook from a desktop computer, and if you access the website from your mobile browser, you will be viewing a mobile version of the site.
---
#4 Quora
Quora is one of the few major social media platforms which has a very distinctive premise. At its core, it is a question-and-answer website where users can exchange knowledge and weigh in on discussions.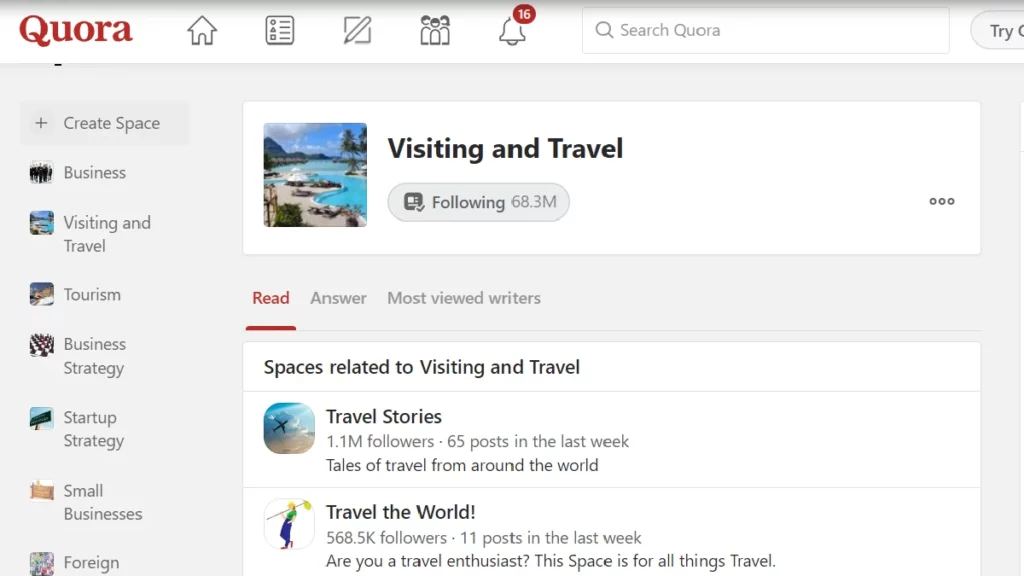 History
Founded in 2009 by Adam D'Angelo and Charlie Cheever, Quora was made available to the public in 2010. In 2016, the first ads appeared on Quora, and the same year, the website became available in Spanish before adding other languages over the years.
Today, Quora has over 300 million active users (most of them aged 18 to 24) making it one of the biggest social media platforms in the world. Moreover, the majority of Quora users are from India even though the platform is popular globally. Several thousand questions are posted every day.
How It Works
Registered users can post questions and answer questions posted by other users. In addition to that, users can also upvote and downvote answers to help determine which answer is the best to the provided question. Likewise, users can also share and comment under answers to engage in further discussion.
Answers to questions can include text, images, videos, and links. When you are viewing a specific question, you will also get suggestions for other similar or related questions. A user posting a question can also request an answer from a specific user (e.g. who is an expert in the field).
How to Get It
Quora is available for iOS and Android as well as for desktop use. It is free, but you can also get a paid subscription to Quora+ which lets you view answers hidden behind a paywall.
---
#5 Amino
Amino is similar to Reddit in the way that it lets users create and join communities based on interests, but it has a much younger user base making it a safe space for teenagers and young adults.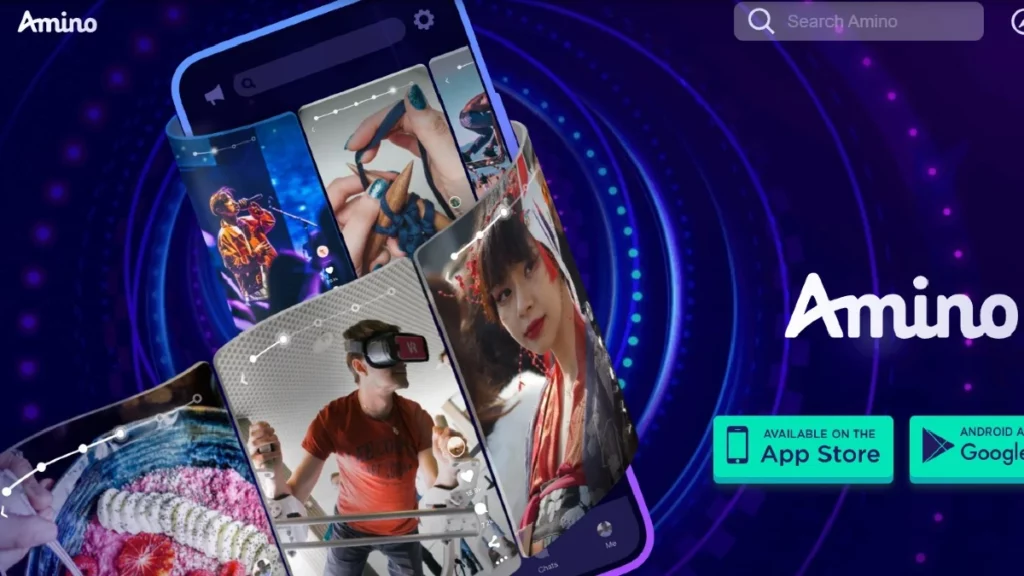 History
Released in 2012, Amino was developed by Narvii, Inc. and created by Yin Wang and Ben Anderson. In 2021, it was acquired by MediaLab, so the founders are no longer associated with the platform.
As Amino expanded, bigger communities could get their own apps, so new users could download a single app for the specific community they wanted to join or download the main app to join multiple communities. Moreover, there is also an additional app used by community creators/moderators to set up and manage the said community.
How It Works
Amino's interface can feel a little overwhelming, but once you get used to it, you will realize that you have numerous features right at your fingertips. You can make posts with text, images, links, polls, GIFs, and more. Comment under and like other posts. Join communities or create your own (much like Reddit or Mastodon which is discussed later on in the article).
Chat with other users one-on-one or in groups, including via voice call. There is also an option to watch videos together or listen to music this way. Guidelines can vary by community and are imposed by community moderators. However, there are also Amino moderators making sure that everything is safe for users of all ages.
How to Get It
Amino is available for both iOS and Android and can be accessed from a desktop web browser.
---
#6 Medium
Medium is a great option for those who like to write a lot and find Twitter's character limit to be too… limiting. If you are someone who wants to publish their own content, then Medium is for you. But if you don't have enough time for it, you can hire a professional writer from the writing services reviews site Trust My Paper who will create such content for you instead.
History
Launched in 2012, Medium was founded by Evan Williams who was previously a co-founder of Blogger and Twitter. In fact, Williams developed Medium as an alternative to Twitter where lengthier texts could be published.
In 2017, Medium introduced paywalled content that could be accessed by subscribers while also paying their authors as a way to reward them for their writing. Medium made two major acquisitions over the years: provider of content integration services Embedly (2016) and social-based e-book company Glose (2021).
How It Works
Essentially, registered users can publish their writing on Medium with their own author profiles. The content can include text, images, links, etc. Moreover, authors can enroll in a program to be paid for their efforts. Users can also share content, comment under posts, etc.
How to Get It
Medium is available for iOS and Android as well as for desktop use. The only available interface language is English, but users can actually publish content in different languages.
---
#7 Mastodon
Mastodon is a decentralized platform that lets you set up your own community called an "instance".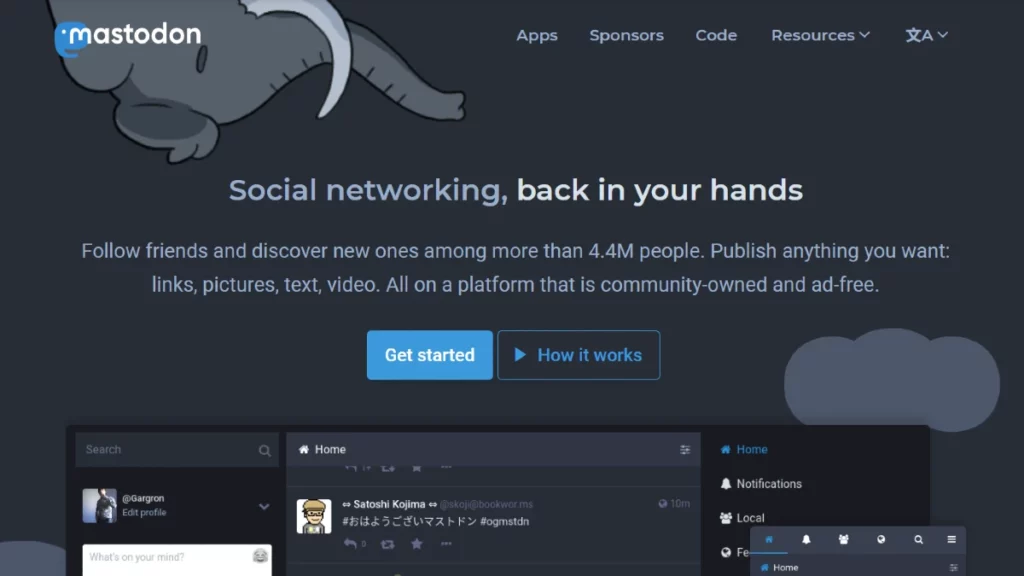 History
Initially released in 2016, Mastodon has been compared to Twitter and even praised in 2017 for the way it combats harassment with the help of community-based moderation. There have been many versions of the social media platform over the years and updates are frequent even to this day.
How It Works
Mastodon has a 500-character limit on posts which makes it quite similar to Twitter. However, it also offers features commonly used on other platforms. For instance, you can create your own communities and join thousands of other communities. Each "instance" can have its own guidelines and policies.
At first, Mastodon's functionality can feel overwhelming. But once you figure out how to use it, you will be armed with an arsenal of valuable features that will let you set up your own communities the way you like them to be.
How to Get It
Mastodon is available for iOS and Android. There are multiple supported apps, so there is plenty of room for customization.
---
#8 Plurk
Plurk is a social media platform that is extremely similar to Twitter. In fact, it might be a little too similar to it, but it's still a great option to check out.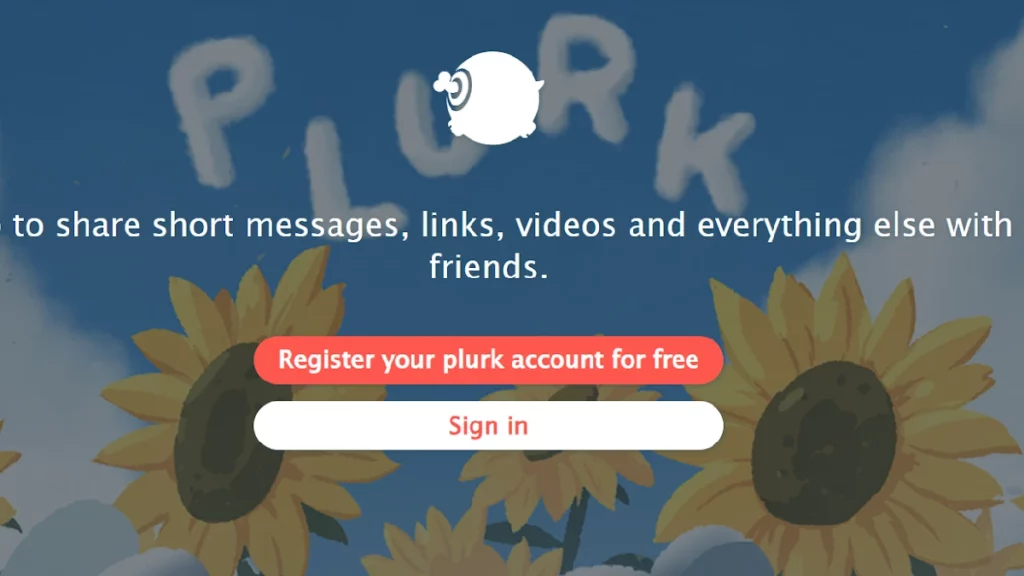 History
Launched in 2008, Plurk is a free social media platform and microblogging service which lets users post updates known as "plurks". In its earlier years, Plurk and Twitter were often compared to one another and considered rivals.
How It Works
Much like Twitter, Plurk has a 360-character limit and a big userbase. The interface of the app is quite appealing, but the support team doesn't always respond to requests. Right now, there is no way to filter content by language, but the app is frequently updated, so good changes are coming.
Plurk lets users post anonymously while the Time Machine feature lets users search for old posts easily. Users can modify their interface using CSS and HTML scripts. Plurk's interface is quite unusual in that it shows updates in horizontal form and lets you scroll through it.
How to Get It
Plurk is available for iOS and Android, but it can also be used on a desktop computer.
---
#9 Aether
Aether is probably the best platform for anyone who wants to be a part of a community with a strong sense of democracy.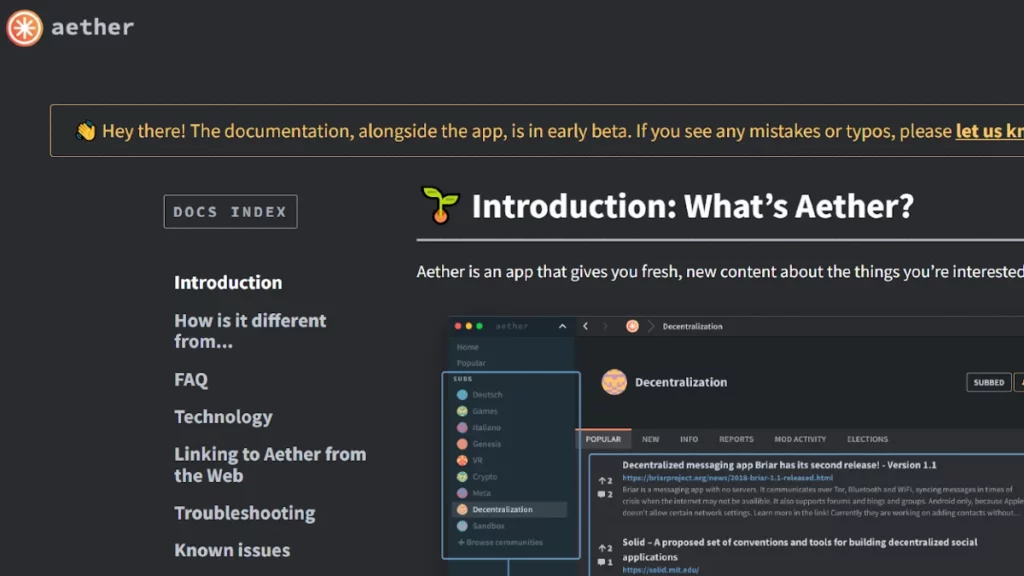 History
Since its creation, Aether has been hailed as a decentralized version of Reddit with self-moderation and privacy. Due to its open-source nature and a focus on transparency, it could be a truly revolutionary social media platform once it is fully developed.
How It Works
At its core, Aether is a democratically moderated social media platform. What this means is that you can find people with common interests in different communities, but the content there is moderated both by Aether and by the community itself.
Users can register and create multiple anonymous accounts to post in different communities. All the comments made by users don't last forever. In fact, posts disappear forever after 6 months. This means that you won't be canceled for an off-hand comment you made several years ago that someone found and used against you.
How to Get It
Aether can be downloaded and used only on a Windows/Mac/Linux computer at the moment because the app is in the early beta stage of development.
---
#10 Micro.blog
Micro.blog is a social media platform mostly geared towards professional bloggers, but it can be interesting for other content creators too.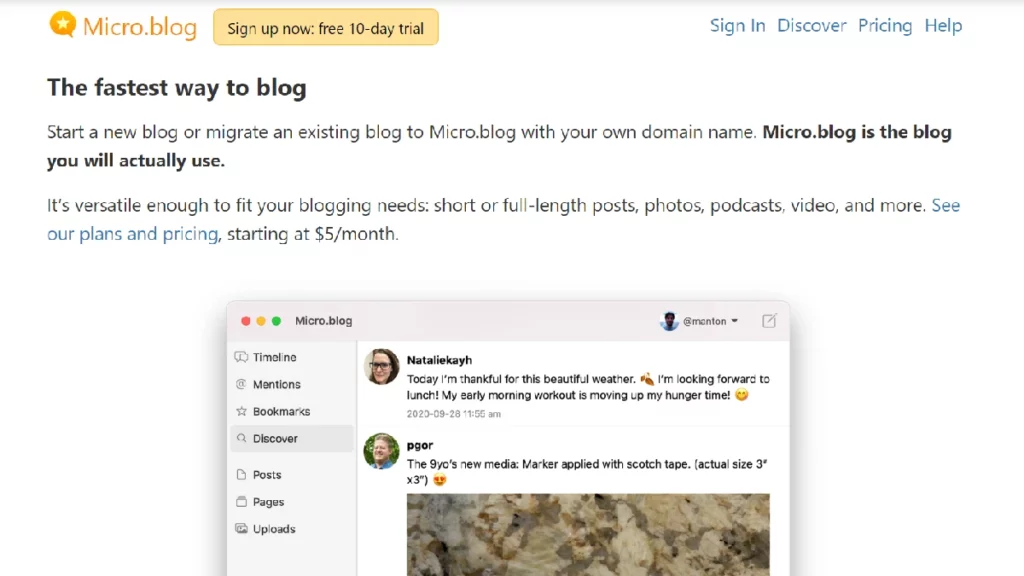 History
Launched in 2017, Micro.blog was financed by a Kickstarter campaign and created by Manton Reece. It was the first large multi-user social media platform to support the Webmention and Micropub standards of the World Wide Web Consortium.
How It Works
Micro.blog is perfect as an extension of your social media reach rather than a complete replacement for your current profiles. All the content on Micro.blog is shared through curated content suggestions, so there is no algorithm that could prevent you from finding your audience.
You can cross-post content to other social media platforms, including Twitter, Facebook, Tumblr, Medium, Mastodon, and others. Content on your WordPress blog can also be directly imported or exported. You can also import your Twitter posts.
How to Get It
Micro.blog is available both for iOS and Android (though there is no officially supported Android app) and can be used in a web browser. You will also have to pay to unlock certain features. There are no ads or sponsored content, so it's a great compromise.
---
#11 Minds
Minds is a social media platform that will most likely attract the attention of influencers and creates thanks to its features.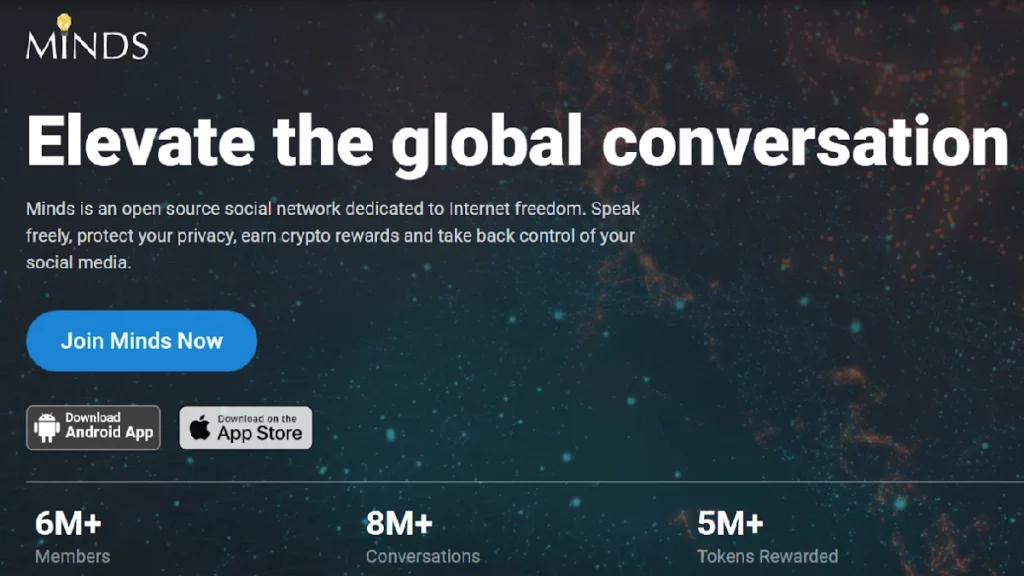 History
Launched in 2015, Minds is a blockchain-based social media platform that allows users to earn money and cryptocurrency. Over the years, Minds has attracted users from different countries who feared that they wouldn't have the right to free speech on other popular social media platforms. And while the Minds user base isn't very big, it is still growing.
How It Works
Minds has an open-source code that allows more transparency and promotes frequent updates. Instead of using an algorithm to determine what content users see, Minds uses a token system to decide what gets suggested to which users.
You can see how much exposure your posts get over time. The analytics you get are quite impressive and can help you increase exposure over time. You can direct people to outside links as well (e.g. your website). Other features include encrypted chats, groups, and blogs.
How to Get It
Minds is available for iOS and Android and can be used on desktop devices. However, the mobile app doesn't have all the features of the web browser version.
---
#12 Peeks Social
Peeks Social is one of those social media platforms that's probably going to grow a lot in the next few years because of its focus on video content.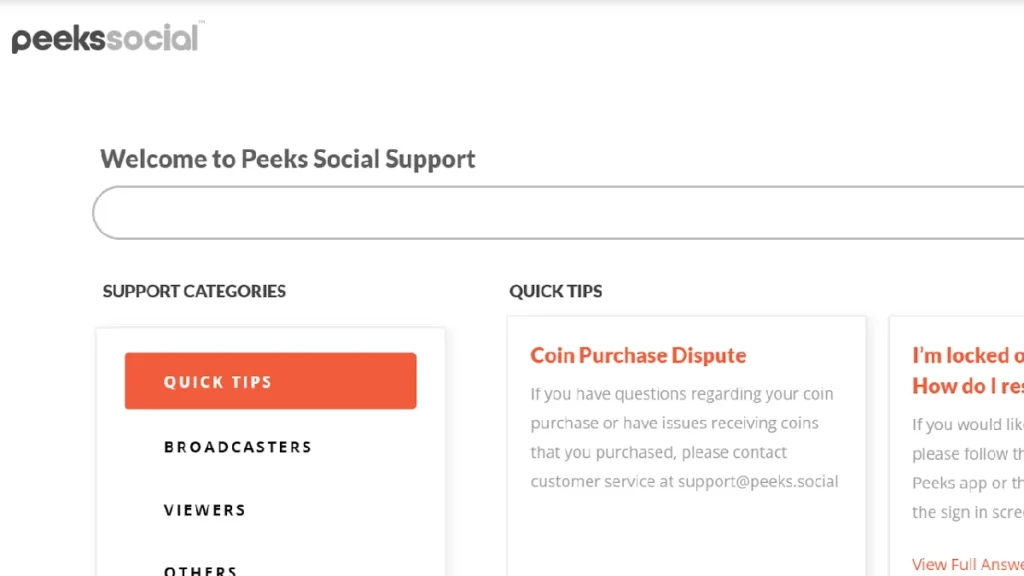 History
Founded way back in 2005, Peeks Social launched a subscription service in 2021. Essentially, the platform lets you broadcast a live stream and get paid for it through tips, sponsorships, paywalls, etc. Many users on Peeks Social are gamers, but there are other types of content creators as well.
How It Works
In a way, Peeks Social is quite similar to Twitch because it allows users to donate to their favorite creators. Collecting earnings is still somewhat difficult, but the app is getting regular updates so that could improve in the future.
There are no public chat options on Peeks Social, but it's still quite interactive because it allows users to like and comment on live streams. There is also an option to view 18+ live streams or start your own.
How to Get It
Peeks Social is available for both iOS and Android. You can download the regular app as well as a special app that will let you view 18+ content on Peeks Social. However, be aware that the regular app may sometimes suggest adult content as well.
---
Wrapping Up
At the end of the day, which platform you choose to use is entirely up to you. Some of these have bigger user bases while others are smaller in scale. Some platforms are very similar to Twitter while others can easily stand on their own. Whatever it is that you are looking for, check out the apps presented in this article and decide what you want to try.