Are you in search of buy now, pay later sites to buy products online and pay back later? It is difficult to find out whether or not the software you choose is the right one for you. If you have used Afterpay before, there are now a lot of competitors in the market.
Buy now pay later companies and websites are coming out every day, offering an alternative to credit cards and bank loans which are difficult to get, especially for low-income earners, sole-traders and those with a lack of credit history.
Buy now pay later websites and companies make money from retailers who offer the service to their clients, as well as an administration fee on late or non-payments.
The customers who pay on time, and repay the purchase price as agreed have no additional fees other than the original payment amount together with any processing fees charged.
What is Afterpay
The Afterpay Limited is an Australian financial technology company operating in Canada, the United Kingdom, Australia, the United States, and New Zealand. Afterpay was founded in 2015 by Nick Molnar and Anthony Eisen.
How Afterpay Works
Afterpay allows retailers to offer installment plans for online shoppers, allowing a purchase to be paid for in four installments, due every 2 weeks. Simply shop with one of your favorite stores found in the Shop Directory and choose Afterpay as your payment method at checkout.
Websites like Sezzle, Klarna, PayPal Credit, and Splitit are the most popular alternatives and competitors to Afterpay. So today we will be looking at the best sites like Afterpay that you might like to give a try.
1. Zip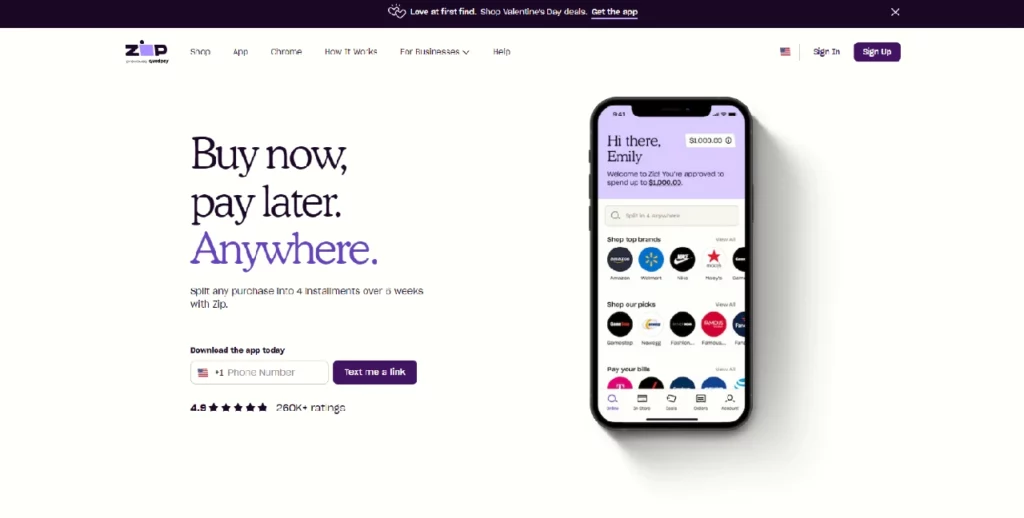 Zip is a website like Afterpay that has a service called zipPay that allows consumers to buy items immediately and pay later. Australian shoppers aged 18 and above can easily sign up for ZipPay with a bank account and if approved, receive a $350, $500 or $1,000 spending credit.
Any store collaborating with Zip accepts zipPay as a payment method. There are interest-free payments that are then arranged weekly, fortnightly or monthly depending on what the user wants to pay.
Stores that have zipPay as a payment method include well-known retailers such as Amazon, K-Mart, Big W, Target and Office Works. This service works both instore and online with an app available on Apple and Android devices.
Pros:
Flexible payment plans – set up weekly, fortnightly or monthly repayments to suit your schedule
3-month interest-free period for ZipMoney (minimum $1,000 account limit)
Interest-free repayments and no establishment fees for ZipPay (maximum $1,000 account limit)
Cons:
$6 Monthly Account Fee if you have a balance
$5 ZipPay / $15 ZipMoney Late Fee if you've made no repayments within 21 days of the due date
Conducts credit checks during application; will affect your credit score if you default on payments
1.5% payment processing fee if you use Zip to pay bills
2. Affirm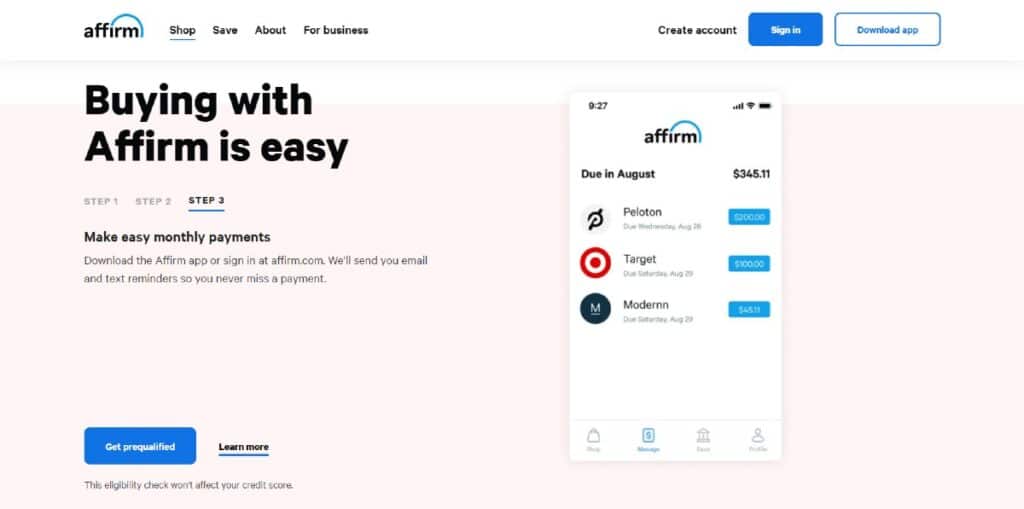 Affirm works a bit differently than the above-mentioned services. Websites like this tend to be mostly used for small to medium-sized purchases, affirm allows you to spread out repayments over a much longer period, such as 12 or even 18 months.
However, this flexibility does mean that you'll need to pay interest on those purchases. When you want to check out at a place like Walmart, for example, all you need to do is choose the Affirm option when checking out with your cart.
You'll then go through an approval process. If successful, you get the item, but the payments will split up over a number of months with interest. This is a great option if you need to buy something big for your home.
Pros:
No late fees.
Pay off more expensive purchases over time, often with a lower interest rate than a credit card.
Some Affirm loans appear on your credit report and can boost your score.
Cons:
Not all retailers accept the payment method.
You can't pay with a credit card.
If you return an item, you'll only be refunded the purchase price, not any interest you've paid.
Not all Affirm loans appear on your credit report, so they might not help your score.
While affirm can offer some very competitive interest rates, in many cases the rate you get might not be better than a credit card.
3. Sezzle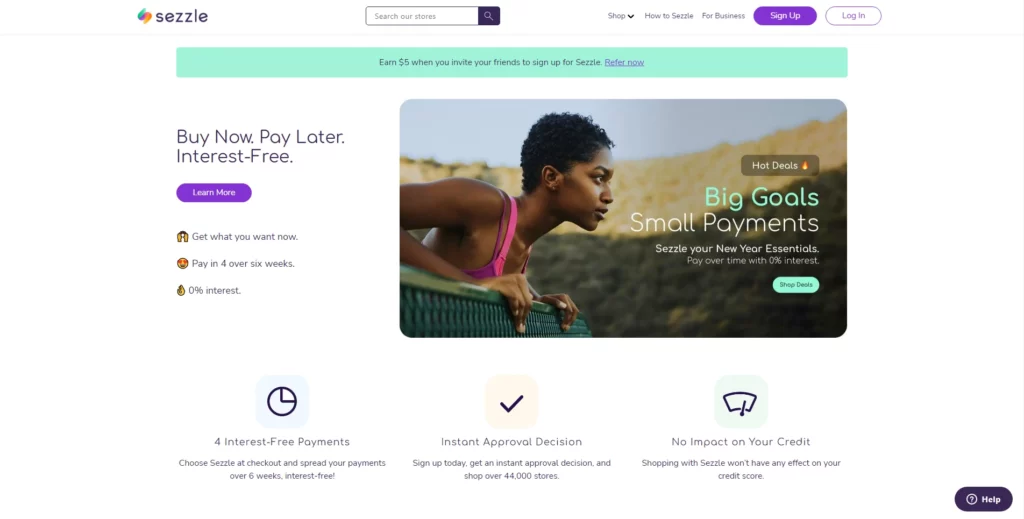 This is another buy now, pay later site like Afterpay. Sezzle is fairly new to Australia and has a small collection of businesses signed up, however for those buying online there is a large number of US and CA retailers on board.
Approval for choosing Sezzle as a payment method includes being at least of adult age with proof available such as a license. Additionally, 25% of the total cost needs to be available and paid upfront.
Pros:
Limit of up to $2500 for first-time users.
4 interest-free installments over a 6-week period.
Cons:
There is a late fee of $10 for missed repayments.
$5 fee for rescheduled payments.
4. OpenPay
Openpay service is offered on a small handful of online retailers. The service is very similar to Afterpay and ZipPay.
OpenPay has a purchase limit of $10,000, and also allows for a longer financing term of up to 12 months. From what we've found, payment options with OpenPay appear only upon checkout:
OpenPay only supports integration with WooCommerce and Magento. Since the startup is relatively new, we can expect integration with more e-Commerce platforms in the near future.
Pros:
Offers interest-free payments for customers.
Financing term of up to 12 months.
Cons:
Late fees apply
Nominal fee of $2-3 for long-term financing.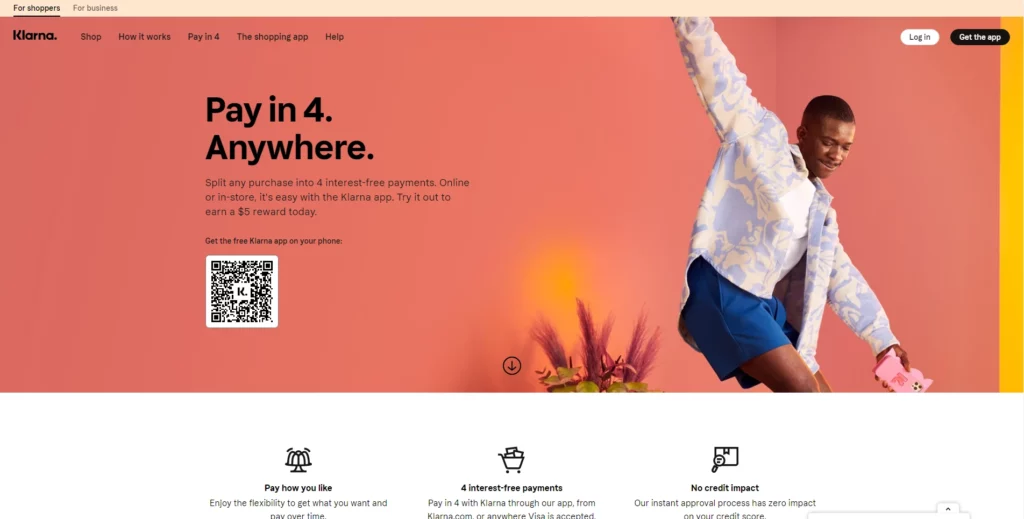 Klarna is a shopping application that facilitates users by allowing them to shop now and pay later. The app enables users to pay for the number of products in four installments with no interest. This feature enables the users to get what they want now and pay the price later.
Klarna is available at several well-known establishments such as Sephora, Asos, Topshop and Kogan. It allows consumers to shop online through the Klarna app, available on both iOS and Google Play.
However, if a user wants to use it as a payment method with another online retailer, it can be done by using a virtual card, also known as a one-time card where the consumer's card will pay 25% of the costs immediately.
Pros:
Fast funding.
No minimum credit score required.
No origination fees.
Cons:
Small loan amounts.
Costly if you can't repay in full quickly.
6. Splitit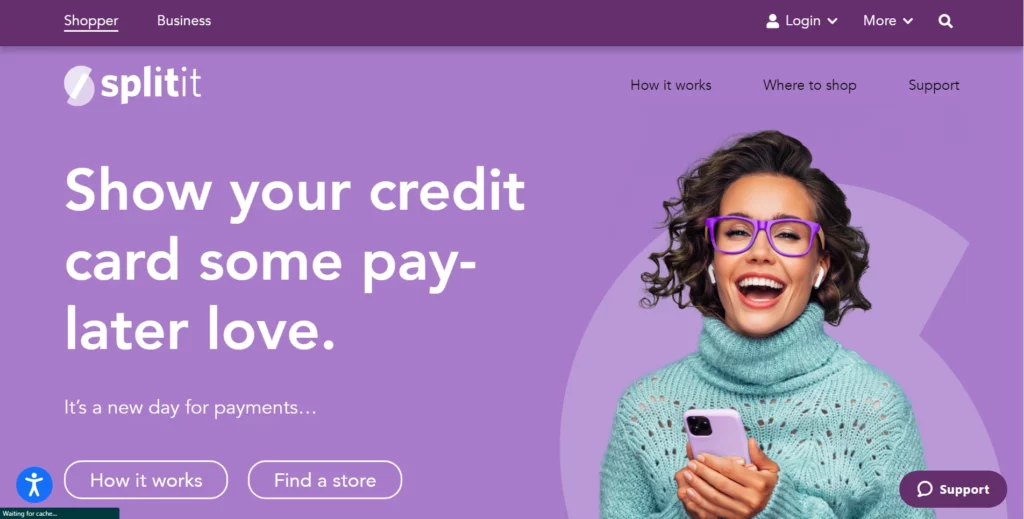 This is another buy now pay later service that is very easy for users to shop with supported retailers. You just have to choose the pay with splitit option while shopping on any of the retailer's websites that support it.
Splitit gives users the opportunity to choose the plan they want and how they would like to pay. This flexible payment arrangement is interest-free. On Splitit, it's possible to pay in installments over a fixed period and even split the total up to 24 installments.
The Splitit website is very user friendly and easy to use. It also features an easy to use check out process. The list of supported online retail stores is also listed on their website based on their categories. If you want to know more about Splitit, head over to their website and click on how it works.
Pros:
No fees even for late payments
No application process, no credit check
Doesn't charge interest for payments made on time
Cons:
Limited payment options available
Partners with a limited amount of retail traders
Only accepts Visa and Mastercard, with some retailers not accepting debit cards
7. EazyPay Finance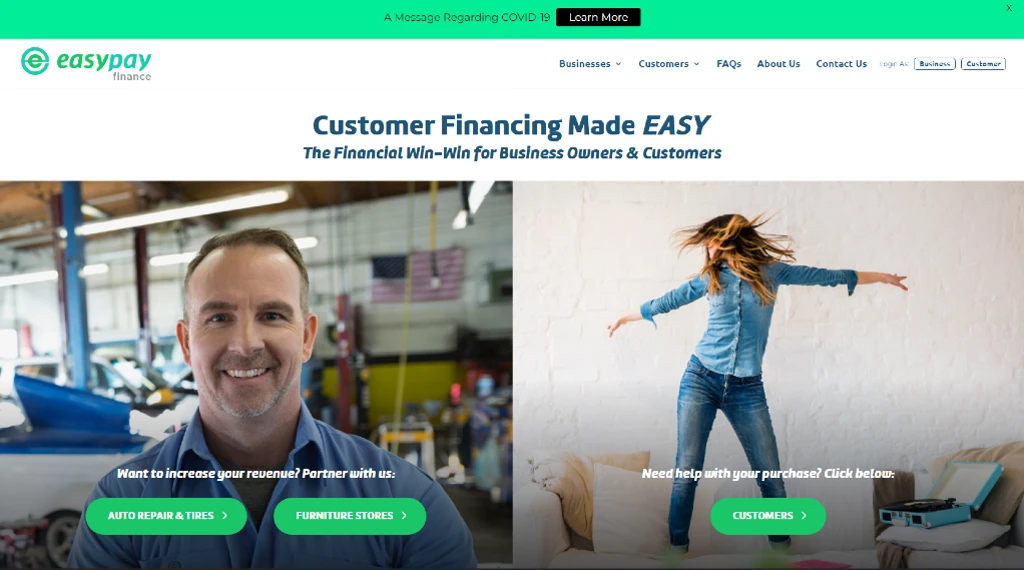 This buy now and pay later platform by QVC allows customers to pay for purchased items via installment plans, instead of paying for all of them at once. The payment will be processed and collected based on the payment option that was chosen by the customer during the application process.
Customers are required to provide their email address and bank account to help check their eligibility. In order to qualify, you must be earning the sum of $750 or above per month. Bank accounts must be active for up to 90 days.
For business owners, there are no monthly charges or minimum volume required in order to use EasyPay Finance's services. You will only be charged a 2.99% merchant fee for contracts that have been funded.
Pros:
Fast and easy application process.
Accepts prepaid bank account.
Customers can apply for as much as they want.
Cons:
Does not allow co-applicants.
8. FuturePay
This is one of the digital payment methods online that gives customers an easy and reliable way to shop more often. It is often referred to as MyTab. This platform allows shoppers to apply once, buy often and pay later in the future using revolving credit.
Each FuturePay transaction is completely transparent and there are no hidden fees or conditions. Buying products online and getting them shipped can only benefit you.
Payment of the remaining balance may be any amount between $25 and $100 per month until the purchase is complete. If you want to pay it in full, that is also possible. There is a small $1.50 fee charged for every $50 balance carried forward into a new month.
Pros:
Great customer support
Easy setup process with no credit limitations
Mobile device compatibility & payment transparency
Cons:
Lack of support for a number of OS
No live support available
The native application is slow, lots of bugs
9. Sunbit
This buy-now and pay-over-time platform is the preferred solution for service providers and retailers fulfilling the needs of thousands of local communities. Sunbit makes it easy for retailers and customers by offering an easy application process and a multitude of exclusive deals.
Sunbit technology allows shoppers to pay for their purchase over time, choosing from a 3, 6, or 12-month loan option instead of all at once. This platform is similar to AfterPay because buyers can split their purchases into multiple payments, extending buying power for people that cannot afford to pay the full sum at once.
Pros:
Access to exclusive deals and promotions.
Constantly adding new partnerships and changes to be more effective.
Constantly adding new partnerships and changes to be more effective.
Cons:
6 – 12-month payment plans have high interest
All payments are reported to the credit bureau.
Some functions are limited depending on your creditworthiness.
10. GoCardless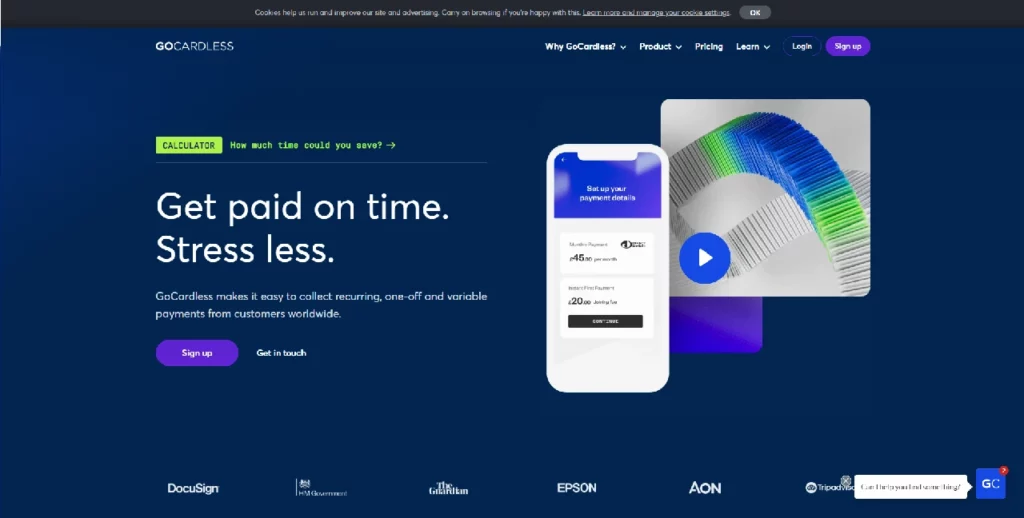 This buy-now and pay later platform has over 54,000 businesses that are partnering with them which makes them a big player in the industry. GoCardless is an online Direct Debit specialist that manages the entire collection process on your behalf.
Merchants can either collect and manage their payments using a simple online tool or can integrate with our REST API. This payment company makes collecting payments for merchants and customers easy.
GoCardless charges a simple domestic transaction fee of just 1% +20p (maximum £4), with no setup fees or hidden charges. All funds are paid out after three working days and there's no limit on the number of transactions you can make.
Pros:
Low pricing for everyone
Developer friendly, easy to implement
Instant setup, simple dashboard for managing payments
Cons:
Limited customer service, with delays
Time-consuming purchases, complex process for registering debit cards
The lack of a virtual terminal makes it difficult to make immediate payments.
More Sites Like AfterPay
ViaBill – https://viabill.com/us
Laybuy – www.laybuy.com
Partial.ly – https://partial.ly
PayPal Credit – www.paypal.com/us/webapps/mpp/paypal-credit-signin
ExtendCredit – www.extendcredit.com
J2store – www.j2store.org
Divido – www.divido.com
Conclusion
For Now, ZipPay and Afterpay are the most commonly used buy now, pay later services. While Afterpay charges a substantially higher fee for their services, they feature a wider range of integration options with e-Commerce platforms, and are now accepted by a wide variety of major retailers and webstores, such as Big W and Myer.
OpenPay is currently heavily focused on offering their payment plans at physical stores, but this could change soon as they hope to expand their portfolio of online merchants. Sezzle is an emerging player in buy now pay later services; while mainly used by US-based retailers, Australian retailers could benefit if they are looking to capture North American customers.