In recent times there has been great development in the crypto world and hence a great number of websites evolved in this era. Unless this is the first time you are hearing about crypto, you must have seen or heard about Coinbase or other cryptocurrency sites.
Ther are a lot of websites on the internet that provide cryptocurrency news, trading and so on. But this is so important to figure out about the reliable and trustworthy options out of all.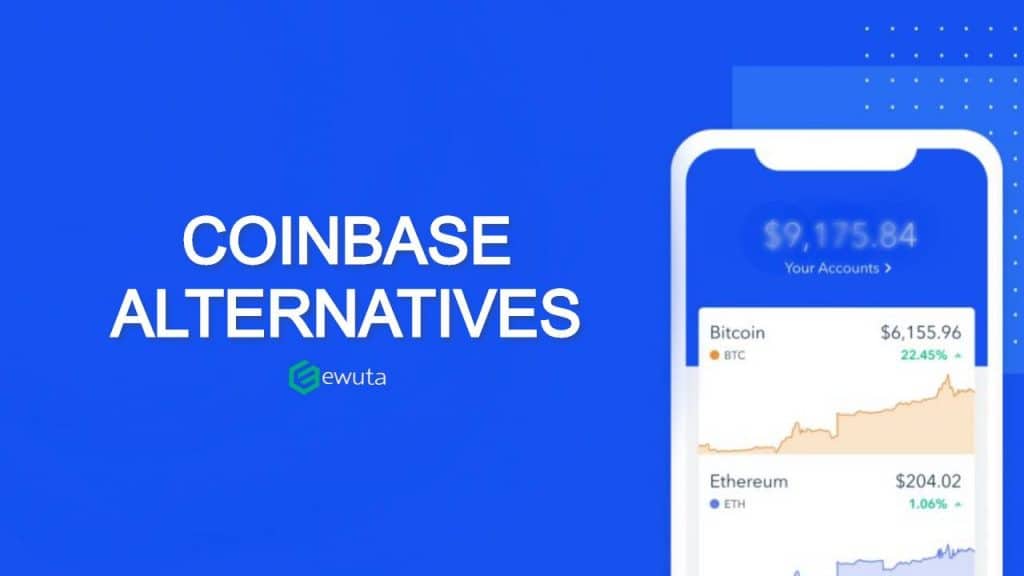 Top 10 Coinbase Alternatives for Crypto Trading
When it comes to buying Bitcoin, you can find various websites on the internet to do that. Coinbase is quite reliable and popular but you should also know about the other options which provide cheaper pricing for buying and selling Bitcoin and other types of cryptocurrencies. 
1. Binance
The Bitcoin market is definitely on a roll and you need a crypto website to fetch up everything. From buying and selling the crypto currency to getting a platform to know about the ever-changing prices, Binance does something more than that. It gets hold of various kinds of crypto so you can have a clearer perspective and information about them all.
You can also become a member for free but a fee of 0.1% applies on trading. There is also a withdrawal fee which varies for different digital currencies and interestingly, the deposit fee at Binance is absolutely free.
It lets you know about the exchange information and trading of hundreds of cryptocurrencies and makes them available for trading on their website. I am sure you are going to love their cross-platform support for sure.
2. Kraken
This crypto site has a lot of services and features to offer. Kraken allows you to buy, sell and trade in Bitcoin and other crypto currencies with some fees and charges incurred of their own.
It provides a different maker-taker fee for different types of currencies in comparison with Coinbase, which keeps on renewing after every month.
This website gives you a platform to establish excellent banking relationships along with your digital currency. It has really low fees and you can completely rely on them in terms of security and transactions.
You can find multiple other crypto types on Kraken apart from Bitcoin to give you collective information about them all in a comparative way.
3. Changelly
Changelly provides you with a platform to exchange cryptocurrencies at the best rate possible. It has come a long way and currently works as an excellent crypto buying and selling website.
Well, of course the site has their own taking and making charges along with withdrawal and exchange fees too but I think this is quite affordable. The withdrawal fee is just 0.5% on each transaction which is super affordable compared to various other platforms.
Their platform is quite safe for making such sensitive transactions and interestingly quite quick too. You can join for free and follow their process for switching from one crypto type to another while having hundreds of options by your side.
4. Cex
Cex is much more than just buying and selling bitcoins and of course deals in various other crypto currency types too like Ethereum, Dash and much more.
The dynamic fee schedule of maker-taker fee lasts for 30 days and gets renewed afterwards. Deposit and withdrawal fee also varies on the basis of the currency type. Apart from USD, it supports EUR, RUB and GBP.
It seems kind of complex to understand different policies of Cex, but as a crypto exchange platform, you are going to find it super smooth and simple. With a really strong security layer over your digital assets and multiple payment options, you are going to find Cex to be quite flexible.
5. Gemini
Gemini is a crypto platform which is completely trustworthy when it comes to crypto exchange and transactions. The liquidity of the flow on the platform goes very smoothly and of course with superb security too. Apart from instant buying and selling, it is a home to storing your digital currency too.
With multiple order types and transactions between multiple crypto types, Gemini has got you covered with everything regarding this ever-changing market of cryptocurrencies.
One thing that makes Gemini different from all is its dynamic maker-taker fee schedule which brings this fee to almost 0 in timely intervals. There are other charges too like trading fee, selling and buying charges, exchange etc.
Apart from direct exchange between digital currencies, you can also convert them into USD too. A big issue with the site is that it does not accept international transfer.
6. Bittrex
Bittrex works as a blockchain trading platform based in the USA. It is highly recommended for people who believe in lightning-fast exchange and do not want to rely on a time taking process to save some money. With the backup of digital wallets and high security features, Bittrex goes a step higher than other trading platforms for cryptocurrencies.
It also supports syncing with third party trading platforms so that you have to face less hassle while managing it all. However, as their services are top-notch, their fees are also higher than other platforms.
It charges 0.25% commission on trades while there are some other charges too. Although it is quite versatile in terms of digital currency exchange, it is reduced to only USD conversion and hence does not support international users.
7. Bitpanda
While most of the cryptocurrency trading platforms are based in the USA, Bitpanda makes a difference as it is a leading trading platform based in Europe. It provides complete services of buying and selling Bitcoin and other cryptocurrencies.
You can start trading after a verification process and this platform is so easy to get started with as it supports multiple modes of payments. You can now buy and sell digital currency in real time through their website.
The kind of options you will come across on this platform are Ripple, Bitcoin, IOTA, Komodo and many more. It accepts currency types of USD, CHF, GBP and EUR, which I think is versatile enough to support international customers too.
8. Coincorner
CoinCorner is a Britain based exchange platform for digital currencies who is known to provide a platform for bitcoin storage and transactions. They follow a very simple registration process and it is easy for you to buy bitcoin without the need of additional documents.
You can deposit Bitcoin through a debit card, while you need a credit card to buy them. It also supports other cryptocurrencies like Ethereum, Ripple, Litecoin etc.
However, it is not as diverse as the rest of the sites in terms of trading cryptocurrencies. The site also has a mobile app which simplifies the functionality of the site.
9. Coinmama
Coinmama is among the fastest and simplest places to buy Bitcoin and Ethereum. Of course, the options are limited on Coinmama but if you are in a mood for small-scale trading then the platform is just perfect for you. 
It supports various modes of payments where the spending limit is quite high, you won't have to wait for a week for the verification process, as the documents are verified in an hour after which your account is ready for transactions.
It does not even ask you for deposits as its process is super-fast, which is quite beneficial for small traders.
10. Bitstamp
Bitstamp claims to be one of the leading platforms for buying, selling, deposits and withdrawal of digital currency. It has volume-based pricing along with other fees like withdrawal, purchase fee, refunds etc.
It also supports international wire transactions too and hence this makes it a global face. Bitstamp supports all major credit cards for transactions and is highly reliable and secure. It provides trading options for Litecoin, Bitcoin, Ether and many more such types of digital currencies.
To start using their services, you are required to sign up. Once you are verified, then you can start trading on your own. It is completely free to register.