There's something about thrift stores that Americans just can't get enough of.
Maybe it's uncovering a rare Beatles vinyl in a towering stack of records. Or exiting with a cart full of vintage clothing for just $50.
Or perhaps it's the suspense of walking through the aisles, as no two thrift stores are the same.
Whether you want to spruce up your home with some fresh secondhand decor or fill the hangers in your closet, here are the top ten thrift stores in the US.
1. Goodwill
With over 3,300 locations across the United States, Goodwill is one of the nation's most recognized and abundant thrift shop chains.
The stores line their shelves with affordable secondhand donations to free up landfills while offering customers a splash of modern and vintage style.
Whether your interests are electronics, sports, or unconventional interior design, Goodwill is a thrifter's goldmine.
If you have the patience to dig through hangers and filled bins, you might just walk away with autographed memorabilia, an old-school gaming system, or even a chic vintage wedding dress.
2. Salvation Army
The Salvation Army is a religious organization that supports locals in need.
The charity collects donations from the community that it either gives to the needy or sells at its 8,000+ American thrift store locations.
While Goodwill is known for its books, electronics, and houseware, the Salvation Army is more a hub for those big-ticket items.
One Salvation Army trip can outfit an entire room in your home. If you're lucky, you might just discover a gently used mattress, sofa set, or end tables.
3. ThredUP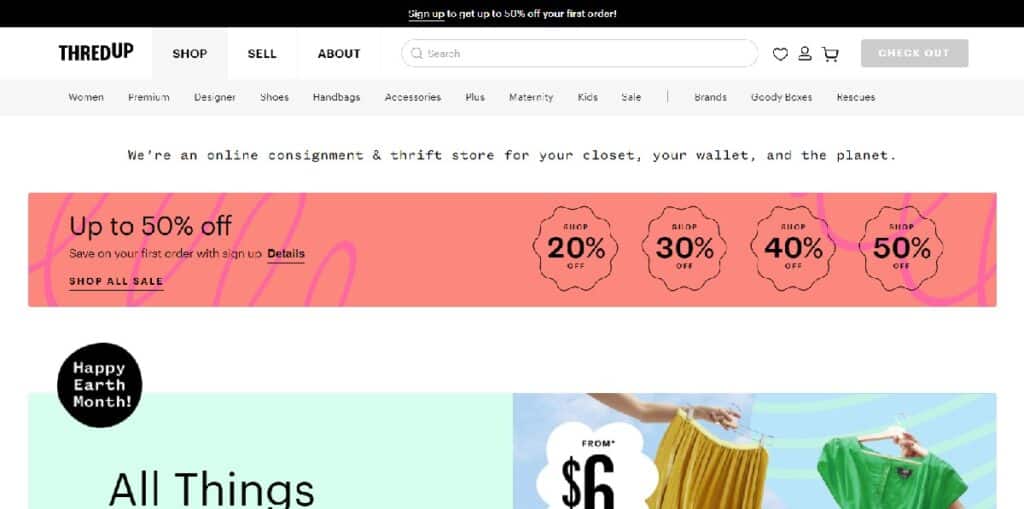 ThredUP might not have a physical store you can visit, but it's one of the nation's leading online consignment shops. Built upon an eco-friendly vision, ThredUP strives to keep wearable clothing from piling up in landfills.
The modern-era thrift store offers more than two million items from popular brands like Banana Republic, Kate Spade, and Victoria's Secret. You can also splurge on everything from designer handbags to fashionable kids' clothing.
Prepare to save up to 90% as you fill your closet from ThredUP.
4. Red, White & Blue Thrift Store
Red, White & Blue Thrift Store has 22 in-person locations spanning ten states, from California to New Jersey. These warehouse-like stores offer wide aisles, tens of thousands of new items per day, and weekly 50% off deals.
Like some of its more well-known competitors, Red, White & Blue offers a little bit of everything. Whether you're looking to fill a jewelry box, garage, kids' toy chest, or patio, these shops have plenty of options.
Stop by on Wednesdays to take advantage of the weekly Senior Citizens Day, cutting your thrift spending in half.
5. Habitat for Humanity ReStore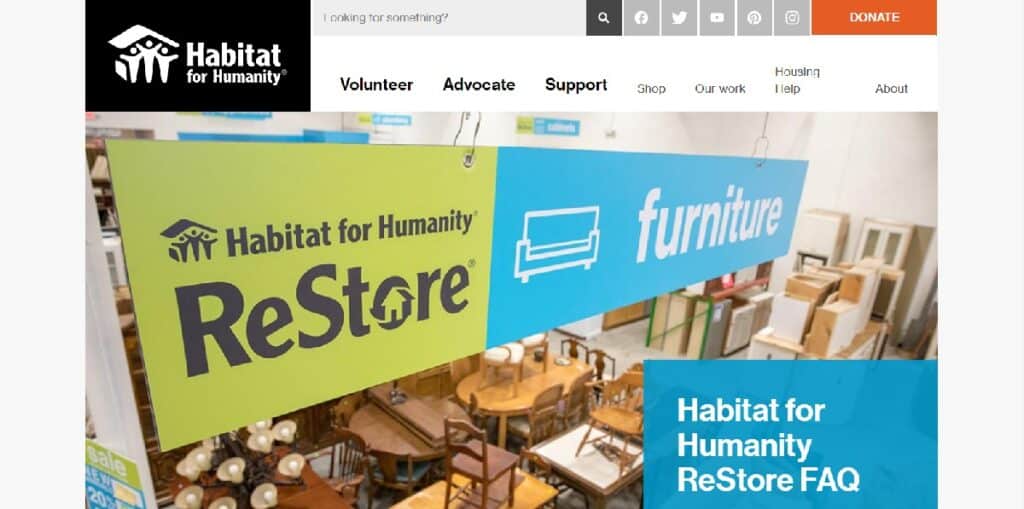 Habitat for Humanity is known globally for its disaster relief initiatives, rebuilding homes after hurricanes and tornadoes. The organization also has 900 "ReStores" where you can uncover gently used furniture and appliances.
If you're looking to outfit a bedroom or revamp an outdated living room, a Habitat for Humanity ReStore is the perfect place to start.
Inside, you'll find:
Affordable building materials
Doors and windows
Appliances, electronics (like TVs), and light fixtures
Furniture
Power tools
The money you spend at a ReStore goes directly to Habitat for Humanity missions to help those in need.
6. TheRealReal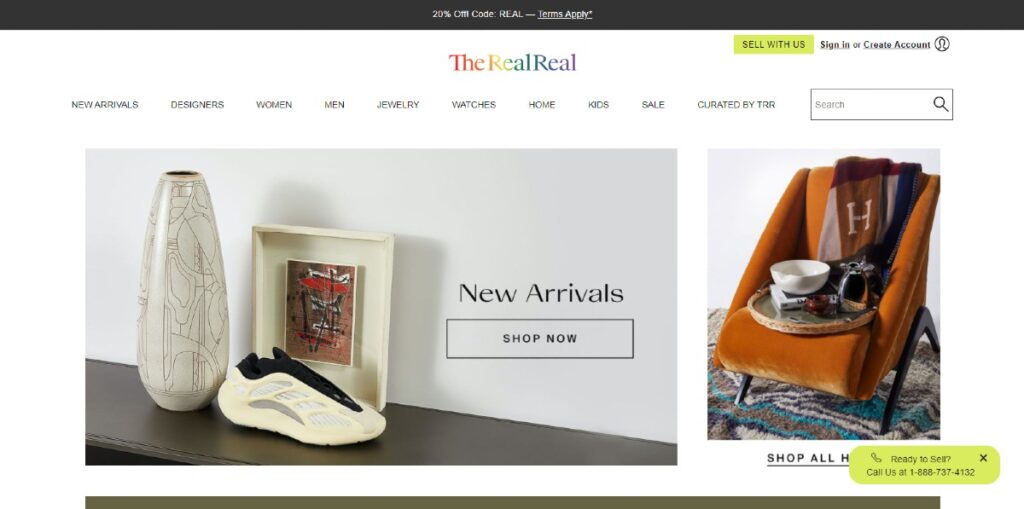 TheRealReal is one of the hottest online thrift shops for those passionate about luxury clothing. The retailer proudly authenticates every secondhand item to ensure your Dolce & Gabbana bag or Rolex watch isn't a knockoff.
If you hope to glitz up for a lavish wedding or dress the part after a well-deserved promotion, TheRealReal is the #1 place to buy designer anything on a budget.
Note: You may need to create an account or sign in with your Google or Facebook account to access the full site and its inventory.
7. Maui Friends of the Library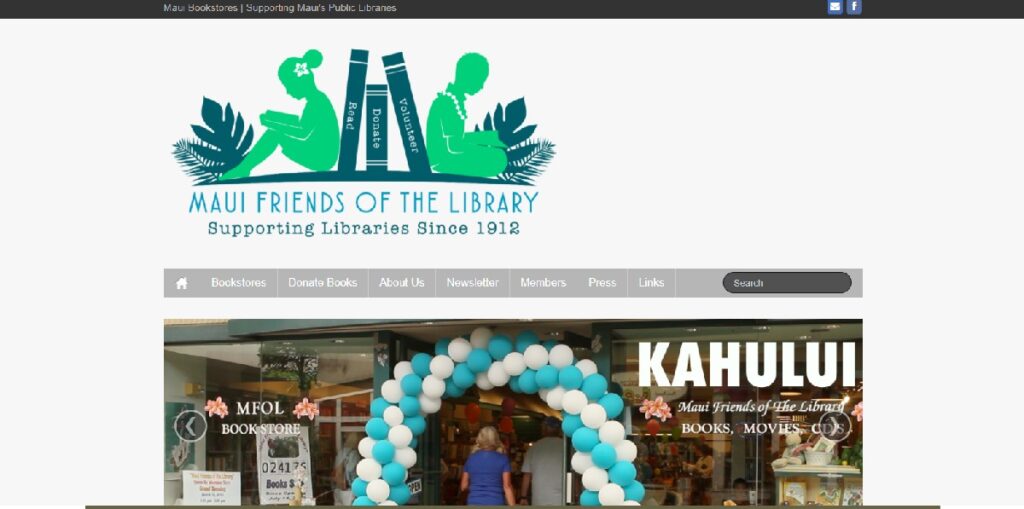 The best local thrift store for bookworms is in sunny Kahului, Hawaii. While you're exploring the picturesque beaches of Hawaii, be sure to stop by Maui Friends of the Library to discover discount reads in every imaginable genre.
You can also uncover some hidden gems, like 300-piece jigsaw puzzles, old-school cookbooks from the 70s, hit DVD collections, and $1 bargain-hunter books.
If there's no room in your luggage to trek these new novels home with you, donate them back to the library before heading to the airport.
8. Oddballs Nifty Thrift
No trip to Fort Lauderdale, Florida is complete without a visit to the awe-inspiring Oddballs Nifty Thrift. This sprawling, eight-room store is a unique blend of a beer garden, tasty outdoor grill, and indoor thrift shop.
The shelves offer a stylistic mix you won't discover anywhere else.
Whether you want to expand your vinyl record collection, add some pizzazz to a room, or return home with wacky knick-knacks, you'll find whatever it is you're looking for at Oddballs.
9. Marine Specialties
Marine Specialties is one of the hottest thrift stores on the eastern seaboard, located along the coast in Provincetown, Massachusetts. This shop is an exciting treasure trove if "outlandish" is your style.
The store features downright bizarre items, from airline uniforms and suits of armor to colorful license plates and foreign military garb. You might also go home with a samurai sword, Marilyn Monroe collector's items, or a sweet pair of vintage Chucks.
10. NW Furniture Bank Vancouver
NW Furniture Bank Vancouver is one of the best thrift shops on the West Coast, situated in bustling Vancouver, Washington. While it doesn't sell used clothing or trinkets like the average shop, it does specialize in furniture.
You're guaranteed to change the style of the room without breaking the bank.
Feel free to check out their Offerup profile to see what's available before you visit. A leather recliner, metal IKEA chest, wooden crib, or entertainment center might be just what your home renovation needs.
---
Conclusion
In 2020, The U.S. Census Bureau revealed that there were more than 25,000 thrift shops in America.
The ten listed above are simply a taste of the best.
Yet, if you want to spend a weekend "thrifting" in your area, you can search for more local options via Yelp, Google Maps (just search "thrift stores near me" in the search bar), and TheThriftShopper.
Happy thrifting!
Author Bio
Adam Marshall is a freelance writer who specializes in all thing's apartment organization, real estate, and college advice. He currently works with Grove Stephenville to help them with their online marketing.