Antique stores offer more than just a unique shopping experience.
Collectors scour shelves for valuable pieces of local, national, or even international history.
Few places can offer the kind of experiences provided by antique stores, where you can buy and collect items from a bygone era.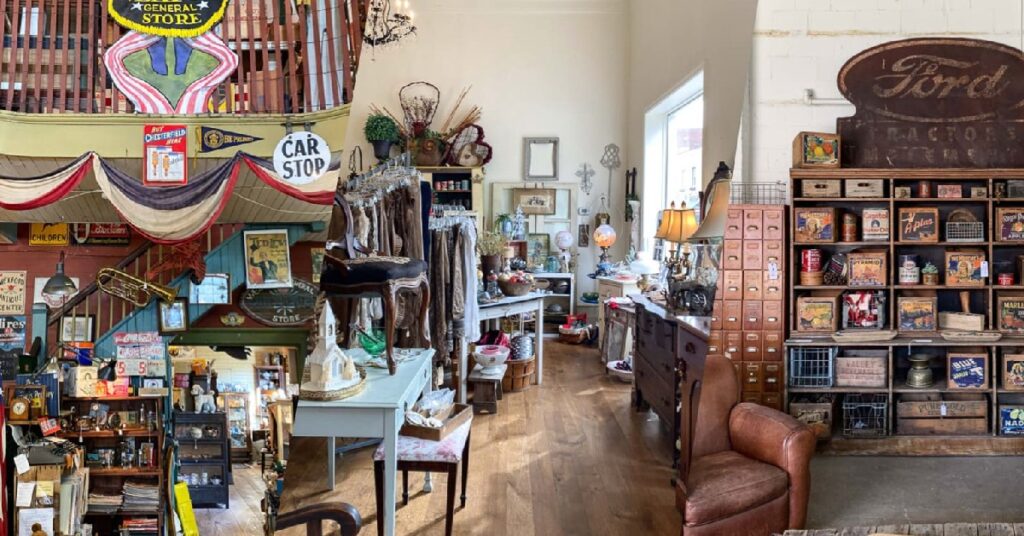 But which antique stores are the best? And how do you know where to find them?
In this post, we're going to talk about the top ten antique stores in the US.
If you're in the market to do some serious antique shopping or to add some nifty pieces to your existing collections, these are the stores to pay a visit to.
1. FoxGlove Antiques & Galleries
FoxGlove Antiques & Galleries is an antique store located in Atlanta, Georgia. 
They boast 15,000-square-feet of antique displays with over a dozen curated international dealers.
FixGlove imports Italian, Spanish, Swedish, English, Belgian, and French antiquities. They also carry one-of-a-kind accessories, original art pieces, antique lamps, and chandeliers.
2. Cedric DuPont Antiques
Cedric DuPont in West Palm Beach, Florida, carries unique antique pieces from across the world. 
They feature a collection with crucial 17th, 18th, and 19th century works from Italy, France, and the early United States.
In their massive 20,000-square-foot gallery, you can find:
Antique furniture
Sculptures
Fountains
Mirrors
Chandeliers
Art objects
Bronzes
Mantels
They also collect about 80 new arrivals every month, all hand-picked by Cedric himself.
3. Casa Gusto
Casa Gusto is another high-profile antique store in West Palm Beach, Florida. They deal primarily in international 17th, 18th, and 19th century furniture. 
They also carry:
Artwork
Vintage fabric cushions
Ceramics
Tables
Desks
Mirrors
Tiles
Bookcases
Cabinets
Gusto painted chests, frames, and dressers
Though they're a relatively new company, their curated collection is quite breathtaking. They're definitely worth a look.
4. Wiscasset Antiques Mall
The Wiscasset Antiques Mall is in Wiscasset, Maine, and home to a 13,000-square-foot showroom. 
The mall features displays from almost 100 different dealers, offering a vast collection of high-quality antiques.
Here, you'll find things like:
Glass
Pottery
Paintings
Printers
Books
Ephemera
Custom furniture
Silver
Primitives
Collectibles
They also feature cases full of antique toys, jewelry, and more. And they offer specials and discounts regularly.
Open since 2002, this shop has been serving as a multi-floor antique shop for nearly two decades. It is an important stopping point for the local antique community in Maine.
5. Mad Hatter Antique Mall
The Mad Hatter Antique Mall is in Adamstown, Pennsylvania, and boasts a 15,000-square-foot antique shop. They offer booths and showcases that feature country and primitive antiques. 
They specialize in antiques sourced from over 100 different active dealers, like:
Ephemera
Dolls
Paintings
Vintage clothing
Vintage advertising signs
Furniture
Depression-era glassware
Mid-century kitchen items
If you reside in Pennsylvania or plan to drive through it, this is an absolute must-stop location if you love antiques.
6. Revival
In Chattanooga, Tennessee, Revival is a purveyor of antique home furnishings, lighting, and luxury gifts. 
Among other things, they carry:
A range of antique and vintage art pieces
Casegoods
Garden pieces
Lighting fixtures
Mirrors
Chairs/seats
Rugs
Tables
You can browse their current inventory online, complete with prices. You can even peruse their new arrivals in a special section of their website that deals with their incoming supply.
If you're looking for maximally classy, high-quality antiques and vintage pieces in Tennessee, Revival is the store you need to visit.
7. Laserow
The Laserow is a vetted show gallery in New York City, New York, founded by premier, high-end antique dealers Karin and Liza Laserow. 
Laserow carries Swedish antiques from 1500-1850. This includes Renaissance, Rococo, Baroque, Gustavian, and Empire pieces.
They help designers, private clients, and architects find the perfect antique decor for their projects.
They curate their antiques from high-end Swedish antique sources from the global market.
Laserow owners are members of several associations, including The Swedish Arts and Antiques Dealer Association SKAF and International Antiques and Art Dealer Association CINOA.
8. Maison Gerard
Located in New York, New York, Gerardus A. Widdershoven founded Maison Gerard in 1974.
The gallery has a reputation as one of New York's premier antique dealers for fine French Art Deco furniture, art objects, and lighting fixtures.
Maison Gerard helps build high-profile public and private collections. This includes the collections of the Chrysler Museum in Virginia and the Utsunomiya Museum in Japan.
If you're interested in fine art antiques, this is a gallery that you need to look into.
9. Elizabeth's Grand Antique Co.
Elizabeth's Grand Antique Co., located in Elizabeth, Illinois, is a more than 28,000-square-foot antique mall. It features a massive range of vintage and antique collectibles, home decor, handcrafted items, and more. 
It's considered the largest antique mall in northern Illinois. They even rent out consignment booths to vendors for an inspiring array of options for antique and vintage artifact lovers.
Midwest Living calls it "The absolute coolest flea market in the state of Illinois."
So if you happen to live in Illinois or plan on passing through, this is an absolute must-visit location.
10. Kim Faison Antiques
Kim Faison opened the doors to her shop over 25 years ago in Richmond, Virginia. She has traveled all over the United States and Europe, collecting high-profile antiques during her travels.
She specializes in selling:
Accessories
Chairs
Case pieces
Tables
Mirrors
You can explore her shop's entire collection by visiting her website. You can also stop in at her gallery by appointment or walk-in.
Follow her on Instagram to stay up to date on her latest antique exploration adventures.
---
Conclusion
There it is, ten of the best antique stores in existence.
Of course, always remember that your search for antiques doesn't have to be expensive.
Do your shopping, find what you like, buy what you can, and watch your collection (along with your love for things of yesteryear) grow over time.
Good luck, and happy antique hunting!
Author bio:
Karen Lein is the general manager of Copper Beech at San Marcos and Grove San Marcos. She is a Fresno State alumni and enjoys traveling and watching football. #GoDogs!