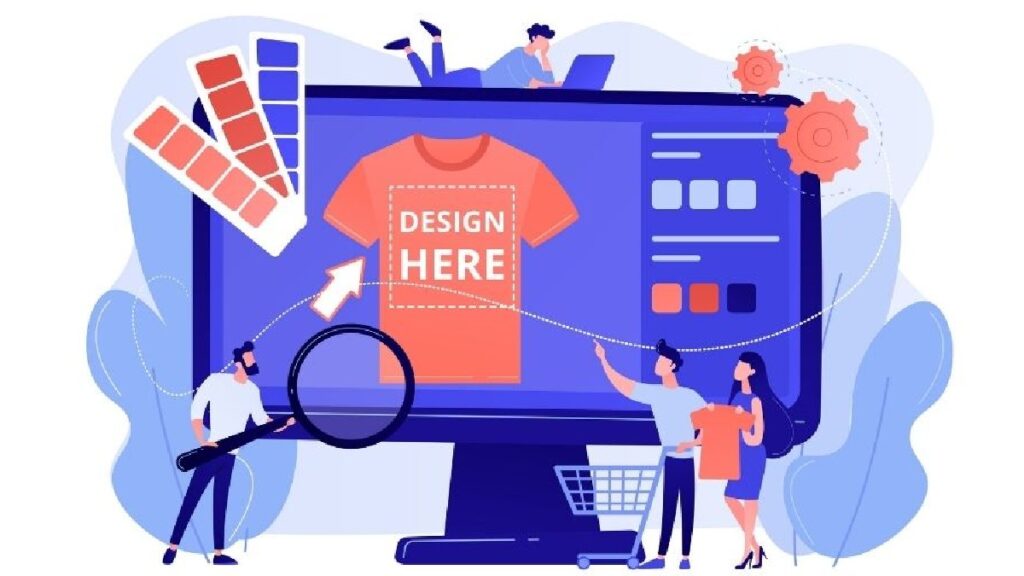 Business-to-business e-commerce has gained in popularity as traditional businesses move online. Companies can enter new markets through wholesale sales in order to reach customers that were previously inaccessible.
Top 4 print-on-demand services
While many print-on-demand services may appear similar at first glance, you should carefully consider the following factors to choose the best one:
The products you want to create.
Where are you going to send the products?
The retail prices you want to offer.
These are the most prominent print-on-demand wholesale services: 
Printful: This is one of the most popular print-on-demand services. Being a Shopify application, its integration with your online store is total. It stands out above all for its easy-to-use mockup generators and the various options available to add your own corporate identity to all packaging and shipping materials.
Lulu Xpress: is another Shopify application that you can find in our repository. It is a desktop publishing platform to print your own books and ebooks on demand. 
Gooten: this Shopify app offers you a wide range of products that are very easy to customize, including several exclusive items that you will only find in its catalog (such as calendars and dog beds). 
PodZa: another print-on-demand service that you can add to your shop. Specifically, warehouse and printing facility owners are the target audience
Orders are taken from affiliate stores through various trading platforms
Utilizing platforms such as Shopify, Etsy, etc. to build a successful POD service. 
Designing Products for Print-on-Demand When You're Not a Designer
Now that you know what print-on-demand is, you may have decided to set up an online store where you can sell your own personalized products.
What you need to know before starting your print-on-demand business
The problem is, you may not be a good designer. And it is clear that design plays a crucial role in this area in the successful creation of print-on-demand products.
The good thing is that you don't need to be a professional designer to create original designs that you can sell in your online store . There are many ways to commission or produce your own designs, as long as you understand a few key concepts that will help you work effectively with designers.
And if they are bigger, even better. Remember that reducing the size of a large image is very easy. But increasing the size of a small image will cause you a considerable loss of quality. If you don't have access to Photoshop, you can use apps like Pixlr (free), or one of these photo editing tools.
Delegate to professional designers
If you are not able to customize the products you want to sell yourself, it is easy to find professionals to help you, through outsourcing services .
You can find designers on Behance , 99 Designs , Fiverr, and other independent sites, who will create designs for your print-on-demand online store.
But it is essential that you provide them with clear instructions , so that they have as much context and clarity as possible when working with your design.
All this is achieved through a clear briefing with the guidelines that your designer must follow. Among the key elements of this type of document, it would be advisable to include at least the following information:
Share information about your audience : explain to designers interested in collaborating with you what your product is for and to whom it is aimed. If you have a website, show it to him.
Clearly state what you want : emphatically communicate what you are looking for and the guidelines to follow (both in the initial briefing and in subsequent reviews). And try to give concrete feedback in each phase of the work.
Offer inspiring examples : give them a reference that they can draw from for the design. Or mention a past job that you liked.
4 Tips for Starting a Print-on-demand Business
You will see that using a print on demand service is much easier than managing your own stock of products .
But even so, there are several important considerations to keep in mind. Fortunately, for most of the challenges you will face, there are creative solutions. Here are some of them.
1. Always ask for samples
Quality assurance is essential when you use print-on-demand services to sell online.
You cannot rule out that something is lost —or that it does not turn out as you expect— in the process of translating the design from the moment you see it on your computer screen until it is reflected in the printed product.
A good way to minimize this problem is to contact your print-on-demand provider's customer service for advice on how to fix any problems.
It is essential that you make sure that your physical product looks and feels the way you want . And the best way to do that is by becoming your own customer, so you can experience first-hand what it's like to receive your products.
2. Manage shipments strategically
Even if you are not personally taking care of shipping, you must have a strategic approach to properly manage and communicate the complexity of shipping times and costs in this type of business.
And it is also important that you are able to create clear expectations regarding the shipping process in the minds of your customers, to avoid dissatisfaction and conflicts.
Also, you must always count on the printing times to calculate the total shipping time. Whatever the shipping time, be sure to add 2-4 days for production, or more depending on the product.
Regarding shipping times, it is best to always be honest. Otherwise, you will end up with your support email inbox full of questions about shipments.
Therefore, explain to your customers how the submission process works on your Frequently Asked Questions page ; Or consider creating a specific shipping page, where you can offer much more detailed information.
3. Create mockups that show your products
While professional models sporting your products can help you achieve attractive images, mockups are also an effective alternative if you don't have enough resources . In fact, these mockups will be an important part of your different product pages.
Many print-on-demand services can help you create your own mockups, displaying your products directly on a person or with a flat lay style image .
But there are also other services – as well as loads of free mockup templates – that can bring your articles to life, too.
These mockups are the ones that will contribute the most to selling your products to customers, so it's worth the extra effort.
4. Focus on a good niche
Marketing is what ultimately determines the success of your print-on-demand business.
But if your target audience is not well defined, in the end your marketing efforts will not reach anyone . This is why focus is so important, regardless of the tactics you employ.
Design, test, sell and grow
Print-on-demand services offer a business opportunity for new entrepreneurs – or anyone who just wants to test an idea before investing in it – without spending a lot of money buying large product inventories.
And if your business idea works and you start generating a significant number of sales, you have the possibility to make changes in your business. Then it may be time to move from using a print-on-demand site to creating your own stock of custom-made items.
But the best part is that you can continue to use these services while you find new ways to grow your audience. The choice is yours.