The SSAT is a standard examination used by the admission committee to determine a student's abilities to participate in an independent school. The SSAT tests the basic verbal and mathematical skills of the students that are required for excellent performance in the independent schools. This is an invaluable instrument that offers an objective way for admission specialists to evaluate and compare candidates irrespective of their background or experience.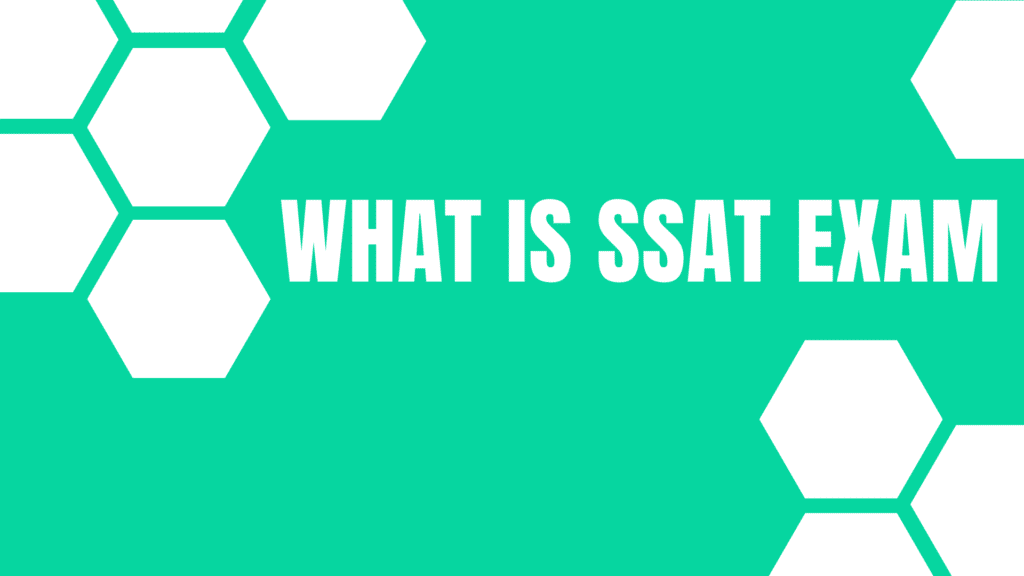 What is the SSAT Exam?
A standardized test is a test which is established, conducted, and scored consistently (or as standard). The SSAT is not a test of achievement, or a test generated to assess the level of expertise in a particular field. This also does not assess personal qualities such as inspiration, determination, or imagination, which also contribute to your school achievements.
Your score is only one part of your complete application to an independent school and, however, significant; it's not the only factor that is used in admission judgments.
Why is SSAT important?
It's important to note that your SSAT scores are compared to those of a particular student group. The SSAT norm category includes all the test takers (same grade/gender) who took the SSAT for the first time in the last three years in one of the United States and Canada's Standard Saturday or Sunday administration.
SSAT score documents feature percentage ranks while referring to this standard group's results. For instance, if you're an 8th-grade boy and your gender/ grade percentage score in the verbal section of March 2016 is 90 percent, which means your obtained score is higher than the scaled scores of 90 percent of all the other 8th grade students who have taken a Standard SSAT between 2012 and 2015 in the United States and Canada.
Depending on the various students taking the SSAT, an SSAT scaled score can have a distinct percentage rank from year to year, and the SSAT percentage ranks cannot be compared with those taking other forms of standardized exams, as each test is taken by a specific student group.
The standard category is exceptionally competitive; because your performance is compared to other students (the same degree/gender) who took the SSAT to apply for admission to some of the country's most selective independent schools.
Preparation Tips for SSAT Exam
Here are some of the preparation tips for SSAT Exam, which will be helpful to get a high score:
1. Take an official Practice exam
You must begin preparing with SSAT Tutor at least three months before your actual examination date. The first step is to take a practice exam and then evaluate your efficiency, your weaknesses and strengths, and the required level of preparation in order to achieve your goal.
2. Regular study
It is essential to have a daily study schedule to increase your score, as you require a rigorous effort to improve your score. If you find yourself far behind your goal – think about devoting more time like at least one hour or two a week for Elementary students, or up to three or four hours a week for higher grade students. If your scores are still lagging behind, you should also take one or two practice tests additionally in order to improve your scores.
3. Concentrate on your weakness
Focus on the concepts which were most challenging for you in your preparation, but don't forget to revise the ones you've practiced quite rigorously. According to the Official Guide, pay equal attention to the particular concepts of the quantitative section, which are supposed to come up in the examination.
Design a game for the verbal portion to effectively remember the synonyms and analogies. It will be nice if you can involve your friends and family too. The best thing you can do for the reading section is to participate consistently in reading long texts. Read from different genres, and push yourself to answer questions regarding the text you've read (your own or someone else's).
4. Practice tests
Taking a practice test every three weeks or more often if you are unhappy with your scores and require a more significant boost. Use these practice tests as a tool to familiarize yourself with the actual format of the exam. Evaluate your performance in these tests to see your progress and ask yourself after evaluation, which areas require more practice.
Conclusion
Planning to study for Exam is just about knowing the actual test format and practicing rigorously with a proper analysis of the practice test. It's crucial to take classes or join at least online tutoring services for a few mock exams before the real thing, even taking an official SSAT for practice can be a brilliant option. If you have paid attention to your school, you are already well versed in the majority of the syllabus of SSAT.