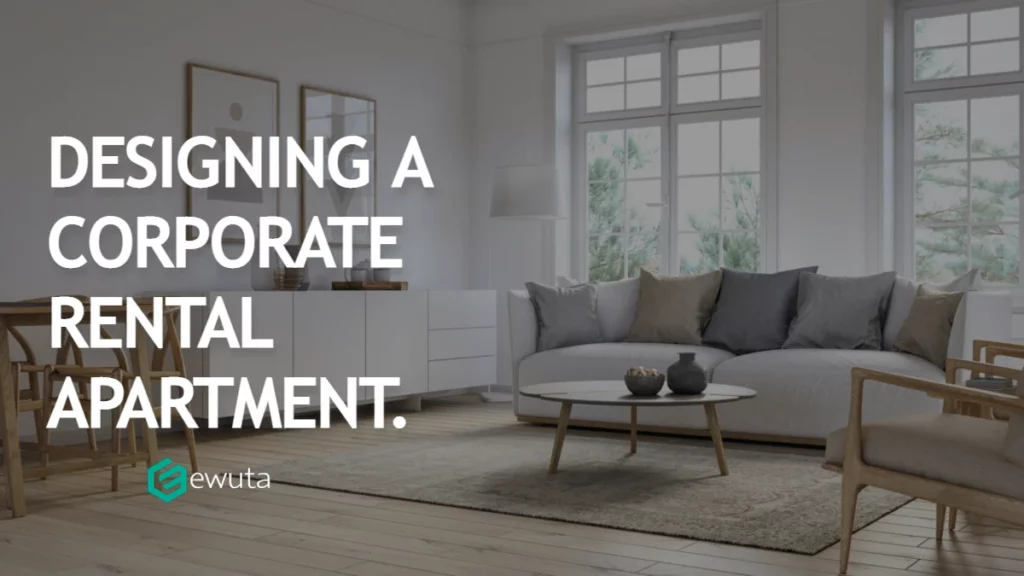 If you frequently have clients visiting from other states and countries, or if you often have employees moving between sites, keeping a corporate rental apartment can be much cheaper and more convenient than constantly renting hotel rooms. These apartments should be very versatile, offer a ton of storage, and allow multiple people to use the apartment comfortably.
You will want the décor to be just as luxurious as it is functional. Your visiting executives are expecting very high-quality lodgings with excellent amenities and customer service. Here are some of the best tips for designing your corporate apartment with these things in mind.
1. Start with the basics
Every apartment needs certain furniture to be functional. Although you don't need to go all out and you can keep things simple and uncluttered, you should still make sure that there is a minimum amount of furniture in each room.
In the bedroom
You should offer at least a queen-sized bed that can accommodate average sleepers, even men taller than 6 feet. One nightstand will come as part of the set, and an additional one is usually unnecessary. The set will also come with a dresser, sometimes with an optional dresser mirror. While this is the bare minimum, you should also include a slim accent chair or bedroom bench to provide a place to sit while preparing for the day or bed.
In the dining room
You should provide a dining table for your guests in case they want to have a place to sit while eating. A nicely finished hardwood dining table and matching luxury dining chairs also provide a professional backdrop for more informal meetings and discussions. Getting a table with extension leaves is also a good idea. You never know when a group might gather for an all-nighter.
You might also consider an accent cabinet or console table that can hold a secondary television or monitor for presentations. The dining room is the natural place to hold such presentations and meetings. If you need a low-key presentation or display, use the television in the living room.
In the living room
At a bare minimum, the living room should have a media center with a television that is connected for streaming, a couch, and at least one accent chair. Other options for seating in the living room include storage ottomans, stools, and benches.
You'll also need a coffee table, accent table, or another surface close at hand, but these are not included in a living room furniture set. Make sure you choose an appropriately sized entertainment center or media chest to house a television connected for streaming.
Alternatively, you might consider using the living room as an opportunity to design additional sleeping quarters in case of need. A pull-out sofa can give your guests a comfortable bed, but they are hard to maintain and keep clean, which is a must when multiple people are using the same space.
A sectional sofa with a chaise on one side is one way you can add some sleeping areas. One person can stretch out on the main part of the couch while another could sleep or relax on the chaise. Sectionals also give you more seating space on a regular basis. Furthermore, if you get a sectional couch for sale you will probably spend less than you would on all of the other furniture mentioned above combined.
2. Always go with the multi-purpose option
Since you never know who might need to use your corporate rental apartment or at what time of year, you want to make sure you can accommodate any need easily. One of the best ways to do that is with multi-purpose furniture. Ottomans are a great example. They can be used as a footrest or act as a stand-alone seat. Ottomans with internal storage open up even more possibilities.
You can also get benches that have interior storage, and these look great up against a big window with gauzy curtains. It could be the perfect place to unwind after a day of meetings. Some sectional couches even come with hidden storage beneath different parts of the modular design.
Make sure you accommodate tech for our connected world
There are some things that hold true no matter what – there are never enough outlets, and the average professional has at least 3 portable devices that will need to be charged daily. This can pose a problem, especially in an apartment that is unknown to you.
Look for nightstands and media centers that offer charging stations. These stations plug into the wall outlet and allow for multiple USB chargers to be plugged in at once. More expensive charging stations will have a pad that allows you to charge your smartphone by touch rather than by plugging it in, further making it convenient.