Indian Govt has made it mandatory for all its employees to link Aadhaar to EPF Account, EPFO ​​has introduced a provision to update KYC details through Online Portal to make the work of its users easier.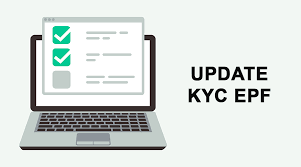 In which we can complete our KYC details by going to its online portal of EPFO ​​in simple ways. That too very easily, if you also want to complete your KYC, then read this post completely.
Next, now you have explained step by step about how to do KYC of EPF Account, which you can easily do this by following it, so let's know about it.
Steps to Complete the KYC of your PF Account
STEP 1: To do KYC of your EPF account, you must first go to its official website. After that, you have to log in by entering your UAN number and password here.
STEP 2: After login, you have to go to the option of Manage, where you have to click on the option of KYC. After that, you will have a Form Open
In which you can tick any type of documents you have available, or in a tick box in front of the one you want to update and fill the document information related to it and click on the button on Submit.
STEP 3: After clicking on submit, your form will appear in Pending, it will go in the KYC section and your details will be verified by EPFO.
This may take some time, and as soon as it is complete then verified will appear in front of your document.
By doing this, all your documents with your account are very easily linked to it, you can easily link all the necessary documents from Aadhaar.
Update Mobile Number and Email in EPF Account
Not only your KYC information but your contact information can also be updated (changed) through EPF portal. Learn how to update your contact information online:
Login to PF Account with the help of your password
Click on the Manage section and click on the contact details.
Your mobile number and email ID remain registered in your EPF account as this information is taken from you while opening the account.
To update the information, tick the 'Change Mobile Number' or 'Change email Id' and click on 'Get Authorization Pin'
Your mobile number and email-id will be updated as soon as you enter the authorization PIN on your mobile number.
It may take some time to update this information in EPF account
Benefits of KYC of EPF Account
First of all, it becomes easy for you to claim and to rebalance from the EPF account because you can Claim only if you have your KYC with your UAN.
Also, you can easily transfer your PF Account.
Apart from these, if the user withdraws his PF before his 5-year tenure and if he has updated the PAN in his account, then he is charged TDS of 10% on that amount.
If the user has not updated the PAN in his account, then the charge of his TDS is read by reading 34.608%.
So if you have not done KYC yet, you can follow these steps, I hope EPF Account Ka KYC Kaise Kare? You must have understood.