Today, software tools to boost SEO are many, but SEMrush has a plethora of features to offer. The software came into existence in 2008 to fulfill much of the digital marketing demands. Digital marketing tools change as new needs emerge, and consequently, we come across some of the best services.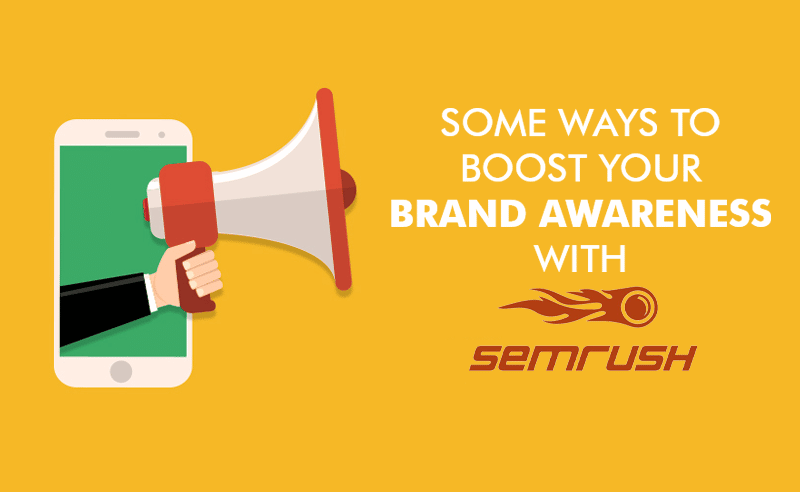 Since the past few years, SEMrush is gaining significant traction among all the agencies. New startups have already adopted this tool to boost their  SEO score. It's a unique tool composed of top SEO services. Many startups have grown big with SEMrush. In this article, I will tell you how to boost your brand awareness by using SEMrush. So, let's get started. 
7 Ways To Boost Your Brand Awareness With SEMrush
1. SEMrush Helps Find Every Type of Keyword
SEMrush lets you find short-tailed keywords as well as long-tailed keywords. Long-tailed keywords focus on particular trends within your keywords. You enter your title on the search bar, and SEMrush gives a lengthy list of all the related keywords. You can also categorize them according to volume, competition, and search volume. Keywords extracted can further be utilized for your PPC campaigns.
2. You Can Optimize Your Existing Blogs
From time to time, you must update your existing blog posts with fresh content. SEMrush can improve your content strategy drastically because it keeps you updated with every SEO suggestion. The tool has a separate dashboard, where you can edit your content for the blog post, social media posts, and web content. Most importantly, your web content must be worthy enough to boost your SEO rankings.
3. You Can Audit Your Site
You must optimize your website as per the latest updates on Google. Also, you require to perform changes that boost your technical SEO. Technical SEO does not focus on your keywords. It works on your on-page SEO. SEMrush lists all the warnings, notifications, and other technically different issues. In case you don't update your website, Google will not rank it.
4. You Can Monitor Your Brand Outreach
Despite SEMrush being the tool primarily for SEO purposes, you can use it for finding keywords for PPC marketing campaigns. When your website becomes a popular one, you gain mentions and reviews on all the popular social media platforms. These two define how well your brand communicates with the people. As a result, your company becomes the best choice among all the people.
5. It Offers New Link Building Opportunities
No matter how much you are involved in guest posting and social media posts, there is always a need for exploring new opportunities. Every year, websites observe ups and downs in their domain authority. You also require platforms with high DA to rank your site. SEMrush lets you find which platform is currently having the maximum DA amid other platforms.
6. You Know What Competitors Are Doing
It's not always good to follow your strategies every time. Your competitors might be doing better than you. Therefore, you require a tool to analyze your competitor. SEM allows you to do so. With SEMrush, you enter your competitor's site. You can find out the performance of your top ten competitors with this tool. That's a piece of great news for all the digital marketers.
7. You Can Analyze The Web Traffic
The sole purpose of digital marketing is to get the best possible web traffic to your platform. If people can't find you on the internet, what's the use of doing digital marketing. While creating tools, developers take this feature seriously. Web traffic determines your chance to get success in digital marketing. SEMrush lets you analyze your web traffic every day, week, month, and a year. Thus, it is a complete package for your SEO analysis.
How To Boost Your SEO Score With SEMrush
SEMrush gives you advantages over your competitors if you know how to use it correctly. The very first necessity is to find you out your best keywords. Just enter your title, and SEMrush will let you understand your targeted keywords. After that, you can dedicate your time to prepare content. Here also, SEMrush optimizes all your content with keyword density, number of keywords, meta titles, and meta descriptions. Other than this, SEMrush tweaks your website for the best results. Website optimization comes handy with the on-page SEO part of the tool. In total, SEMrush is a perfect tool by all means.
Conclusion
In this article, you have known how to boost your brand awareness with SEMrush. SEO services are designed to rank your website. Some tools are free, while others are paid ones. SEMrush comes with different paid plans. Being a digital marketer, you must opt for paid plans only because the free version will not get you anywhere. You will get plenty of SEO service providers in India. They can help get at the top of Google in a short time. Finally, you are the one to decide what would be best for your company at present and in the future.