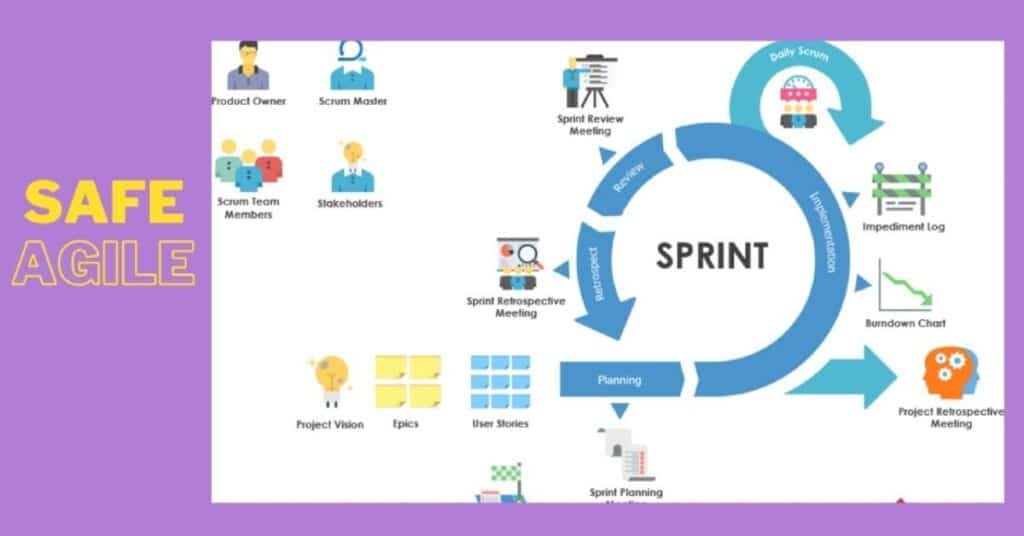 Taking active steps to advance your career is crucial in today's day and age. The world is continuously evolving, and as we enter into the new phase of global digitization, its vital that you gain a competitive edge to stay ahead. You will always have competition but knowing how to increase your skills is extremely beneficial. Gaining knowledge and training that will put you at an advantage over others is never a waste.
Leading SAFe® course is one such course that will significantly benefit your professional life. But there might be a few questions regarding what it is, why it's essential, and how to get it. Well, we are here to answer those questions and help you understand Leading SAFe® better. 
What is Leading SAFe®?
SAFe or Scaled Agile Framework® is a complete methodology to help implement Agile and its practices at an enterprise scale. With the help of the Leading Safe course, one learns not only to master business agility but also masters thriving in this contemporary digital world. The three SAFe® pillars are Team, Program, and Portfolio. 
It provides team flexibility, promotes collaboration, alignment, and helps one manage risks. SAFe® helps businesses deliver products of high value more efficiently, regularly. The Leading SAFe®is ideal for leaders or aspiring leaders in an Agile enterprise.
Why get a Leading SAFe® certification?
Leading SAFe® training has several benefits:
Global recognition- You will get a certification that is globally recognized and holds high value. If your dream job is international, your SAFe® certification will boost your Chances.
Market Value-Your value in the market will increase ten-fold. SAFe® is a popular enterprise organization framework, and employers are looking for professionals with such training. It will also boost your salary and your chances of getting the job you want. 
Skills- You will achieve skill enhancement with Leading SAFe® training. Your decision-making skills are made better, with Scaled Agile Framework training helping you grow professionally. Using SAFe®, you can provide continuous delivery of valuable solutions to customers and drive customer satisfaction. You will handle large and complex problems as SAFe® is used to manage those easier and faster. 
Personal Gain – Leading Safe training lets one enjoy many benefits, from getting better recognition at work and getting promoted, better salary to the opening of opportunities all around the world. But apart from the general career benefits, it personally builds an individual to help cope better in their work environment. 
One gets open to a large golden reservoir of content, which includes changes and trends in the respective industry, and gets connected to an exclusive chain of contacts, the agile community. With the help of these fellow consultants or managers, one learns to grow and work with expertise in business agility. 
Leading Safe helps you become a better employee, a better co-worker, and a better manager. And its application is not only beneficial but very much needed in this contemporary age.
What Can One Learn From a Leading Safe Course?
Anyone from an executive, director, manager, solution architects, etc. can take this course. A Leading Safe education assists in:
Managers and stakeholders learn to thrive and lead in this digital age.
To equip themselves for upcoming changes and map an execution plan.
Understanding and identifying the flow of value and Agile Release Trains, Development Value streams, and Operational Value Streams.
Identify and support newer ARTs and value streams, by increasing the organizational compass.
Adopt Lean-Agile practices to their portfolio level with approaches such as Lean Portfolio management, agile contracts, participatory budgeting, and more.
How to get a Leading SAFe® certification?
You will have to attend a two-day Leading SAFe® training course where you will be taught to lead a Lean-Agile enterprise through Scaled Agile Framework and its values and principles. Choose a course that is suitable and flexible to your work schedule, greatly interactive and has a well-founded Leading Safe curriculum.
Upon course completion, you will have to attend the Leading SAFe® certification exam and score 77% to pass. On passing the exam, you will receive the Leading SAFe® certificate along with a one year Scaled Agile membership. 
The first retake can be done immediately after giving the exam. However, the second and third, and consecutive retakes have a 10-day, 30-day, and further waiting period accordingly. It's a 90-minute examination, where one is required to attend 45 multiple choice questions, out of which you need to get 35 correct.
Although everyone is open to taking Leading Safe training. It is, however, advisable that to take a Leading Safe training, one should at least have these qualifications:
Experienced in Scrum Methodology.
More than 5 years of experience in business analysis, software development, or project management.
As you can see, the Leading SAFe® course is hugely beneficial and easy to take up. So, take the course and capitalize on the growing job prospects worldwide. Understand the Lean-agile outlook, build a strong agile portfolio, enhance your workforce and learn to execute agile release trains, and establish an overall Lean-Agile framework in your enterprise.