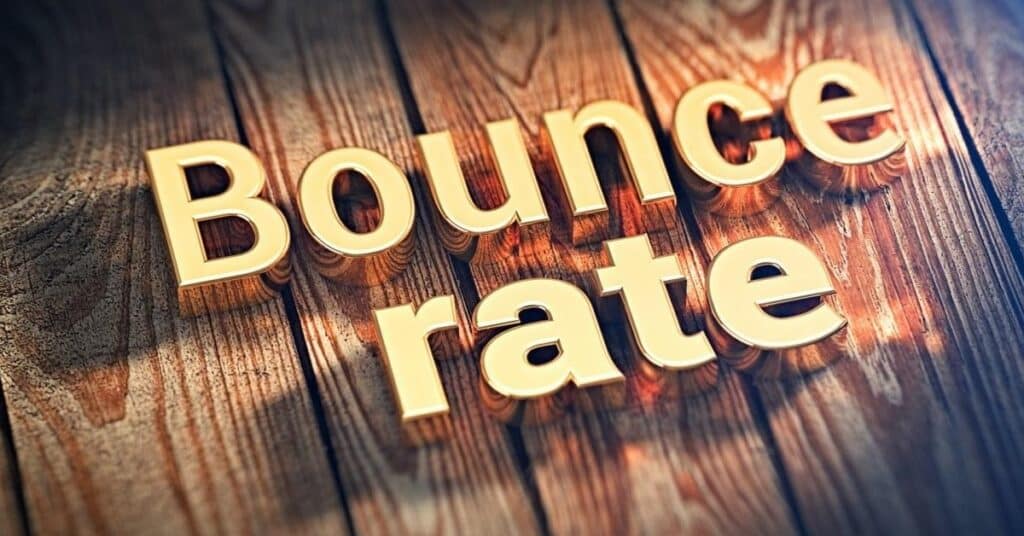 Are you tired of having site visitors click the back button without giving your site a second glance? Do you want to figure out why site users are giving up on your website early on? If so, then you need to understand your bounce rate better.
For those of you unfamiliar with the term, a bounce rate refers to the percentage of site visitors that repel from your site after only viewing one page.
See below for an in-depth guide answering your question of "what is bounce rate?", why it's so important, and what you can do to increase your bounce rate moving forward.
What Is Bounce Rate?
So what is a bounce rate, anyway? What does it have to do with the success of your website? How does this analytical measurement give any insight to your website at large?
In short, it shows you whether or not you're hooking your site visitors. It shows you what percentage of people navigate to anywhere else on the internet besides your website after seeing one measly page.
Here's a scenario for you: you've searched for an answer or product on Google and click on one of the sites that it lists. After only one page, you decide the site holds no other value to you, and you click the back button. You've just increased that site's bounce rate.
Why does that matter? First, it shows that—for whatever reason— your site isn't engaging enough. It's not drawing the customers in or intriguing them enough to click on another page on your website.
Second, a high bounce rate will cause Google to stop directing people to you. The higher your BR is, the further down you fall on Google's results pages.
To right the ship, you need to lower your bounce rate and make the site more attractive for Google's algorithm.
What's Considered a Good Bounce Rate?
This is a bit of a loaded question. However, let's preface this by saying that the bounce rate is a percentage-focused measurement. Therefore, even if you have one thousand visitors and convert on 50 of them, your bounce rate is still 95%, which is bad.
That said, the definition of a "good" or "great" bounce rate depends on the website owner. Many experts would say that you should aim for a 40-percent bounce rate, meaning that 60-percent of your site visitors end up clicking on another page.
Is that always realistic? No. Especially not if you're currently battling a bounce rate in the high nineties or eighties.
There is no one-night cure for a high bounce rate. There are probably many things contributing to site visitors navigating away from your pages, so it will take time to fix those issues.
This could be such things as:
Your site's mobile unfriendliness
Slow page loading times
Irrelevant, unhelpful, or fluffy content
Addressing the wrong target market
Site layout that's difficult to navigate
Too many advertisements on your page (makes it look sketchy)
The list goes on and on. Start by taking baby steps with your bounce rate. Fix one problem, then watch the bounce rate improve. Fix the next issue, watch it decrease a little more.
How Can You Fix Your Bounce Rate?
Now there's the real question. You realize your site's bounce rate lacks something to be desired. But what can you do about it? See below for a few ways you can improve your bounce rate.
1. Purchase Customer Experience Data
Analytics is a website owner's best friend. It helps you understand the patterns and behaviors of your site users. In this case, it can help shine some light on why your site visitors are escaping your site so quickly.
Invest in customer experience data and your eyes will be opened to several glaring problems.
It shows you what is occurring on your website and helps you pinpoint what's causing them to navigate away from your site. At what point are they leaving?
2. Prioritize Your Content
Perhaps you've noticed that your bounce rates are exceptionally high on your blog article pages or product pages. If so, this is a telltale sign that your content needs to be edited.
What does it say specifically about your content? It says that your site visitors find your content to either be boring, unhelpful, or irrelevant.
Think about it this way: site visitors have a certain pain point that they want your content and products to solve for them. If your content doesn't solve it (or takes too long to get to the point), they'll click off your site entirely.
3. Improve Site Search and Navigation
Simplicity is a beautiful thing. Your site visitors have come to expect it in this day in age. They want to find the answers they need in a very short window of time.
For that reason, you need to focus on two things: site navigation and site search capabilities.
The navigation ensures that your website is easy to understand. The easier it is to comprehend, the more likely visitors are to click on a few more pages (thus lowering your bounce rate).
The site search bar is a must-have. It's a tool that all visitors understand, and can help them get directly to the content they need in a quicker turnaround.
RELATED: On-Page SEO Checklist: The Ultimate Guide to Increase Rankings
Boost Your Bounce Rate With These Helpful Tips
Now that you have an answer to "what is bounce rate?", it's clear there's only one thing that will improve your average bounce rate: action.
Start by investing in customer experience data. This will help you understand what aspects of your site needs to be addressed first and foremost.
Be sure to browse our website for more articles on bounce rates, as well as many other helpful topics.