PrimeXBT is an award-winning multi-currency trading platform that allows you to trade over 50 different assets from a single account, including Cryptos such as Bitcoin, Ethereum, Litecoin, Ripple, and EOS Commodities such as Metal, Oil and Gas, Forex, and Indices.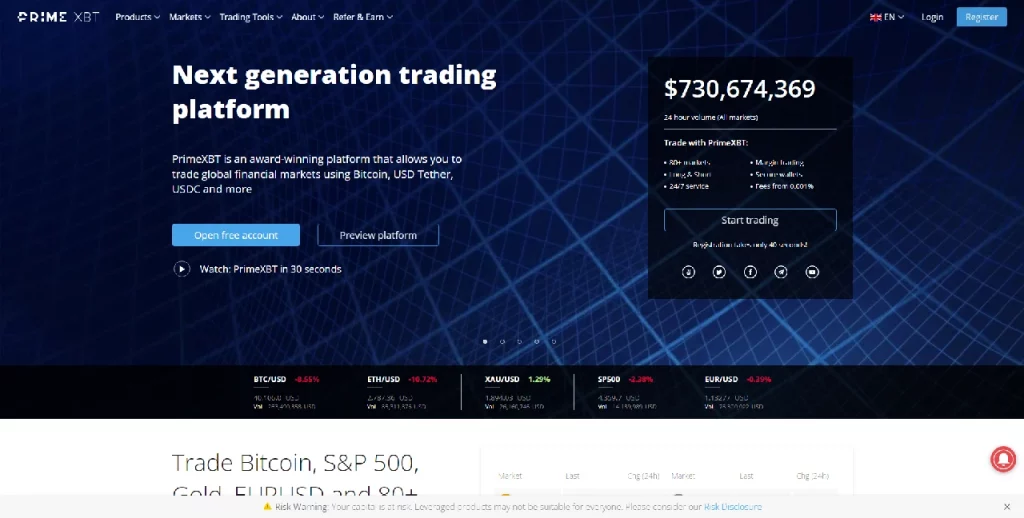 PrimeXBT collects feed from 12 industry-leading exchanges and feeds sources to deliver the best level of liquidity and fast order execution. While protecting privacy, security, liquidity, and providing a secure and efficient trading environment for everyone, the company provides access to reliable real-time market data and a comprehensive range of trade analysis tools.
What Traders Get at PrimeXBT
PrimeXBT encourages traders to customize the platform with a selection of widgets to make something of their own. You also get to trade global financial markets using Bitcoin, USD Tether, USDC and more with access to the best indices meaning you can get in the market. For the most skilled traders who desire the best crypto market experience, PrimeXBT will also allow for multiple screens essential for the trade.
PrimeXBT is also the exclusive home to the Covesting ecosystem, which includes a peer-to-peer copy trading module connecting followers with successful strategy managers to profit together synergistically, COV token integration, and Covesting Yield Accounts. Covesting copy trading has a five-star rating scale and a global scoreboard that provides success and risk information to followers so they can make educated decisions as to which strategies to invest in.
Also, it's good to note that Prime XBT has followed a client-oriented approach which allows them to place clients' interests at the center of all their operations. With this, the Prime XBT team aims to be among the best online trading platforms in the cryptocurrency industry and retain our reputation as the most reliable and trusted partner.
The vision for Prime XBT is to remain committed to creating a dynamic and most innovative platform that equips all users with the necessary tools for their trading activities. In such a rapidly-changing and ever-expanding industry, they are also continuously refining their services to cater to the needs of traders worldwide.
Key PrimeXBT Trading Features
1. Regular trading
This implies that whenever you try to place a trade, a "New order form appears. Before sending your orders, you will specify additional parameters for your transaction. When sending, canceling, or closing an order or position, you will also receive a confirmation prompt.
2. One-click trading
With a single click, you may control orders and positions. Without any confirmation prompts, orders and positions will be sent, canceled, or closed instantly.
New orders do not come with protection orders, but they can be added manually once the order has been placed.
Default order type is set to "Market";
The amount selection near the trade (Red/Green) buttons determines the quantity of a new order.
3. Double-click trading:
Allows you to control orders and positions via double-clicks. When double-clicking, orders and positions will be Sent, Canceled, or Closed immediately and without confirmation prompts
Default order type is set to "Market";
Unless manually added after an order has been issued, no protection orders are linked to new orders.
New order quantity is defined by the quantity selector near the trade (Red/Green) buttons.
The entire PrimeXBT interface and user-friendliness have been improved to handle the new currencies. The main advantage for traders is that stablecoins USDT and USDC are good margin account base currencies because of their low volatility. The risk of Bitcoin and Ethereum volatility affecting account capital can be eliminated with USDC and USDT stablecoin margin accounts.
In addition, a new main area provides a comprehensive view of all account data, balances, Covesting, and other features with the specific Margin account area, offering provisions to make deposits and withdrawals.
Margin accounts, as well as Covesting methods and referrals, are now distinct for each currency. This means that any strategies must be implemented in the same account currency. Any recommendations will be paid out in the same account currency as the referred user's margin trading account.
Lastly, the PrimeXBT issued a new report feature added to the update containing detailed account transaction information on trading and any transfers done across any accounts or wallets.