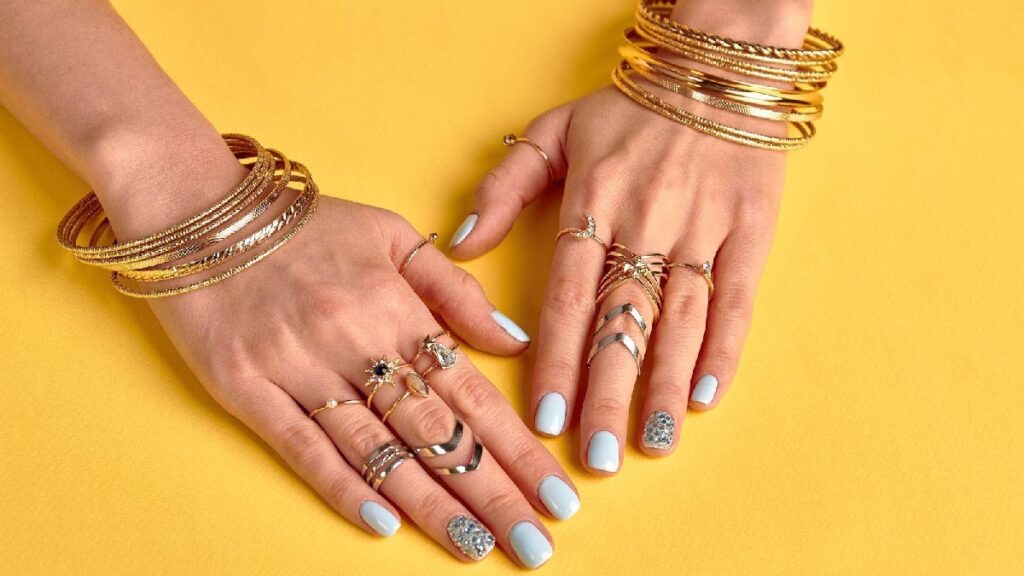 Source: margostock/Shutterstock.com
In the past, wearing different colors of gold jewelry together was considered a fashion faux pas. Just a few years ago, sporting a yellow gold chain with a white gold chain would draw stares of horror from the style police. If you owned gold jewelry of different hues, you had to wear them separately to look fashionable. 
Fashion trends are changing in the jewelry world. It is now considered the height of fashion to combine gold pieces to create a rainbow of golden hues.
Get inspired to combine your white and yellow gold chains for men and create a fashion-forward look with this helpful guide on mixing and matching white and yellow gold jewelry.  
What's the Difference Between White Gold and Yellow Gold?
When learning to mix and match, it is helpful to understand the difference between white and yellow gold. Many people think that white and yellow gold are different base substances, but this is not the case. Both white and yellow gold is made from the same elemental metal, which is pure 24 karat gold.
1. Yellow gold
Yellow gold is created by alloying pure gold with other metals such as copper, nickel, silver, and platinum. Generally, 14K gold contains about 58% gold, while 18K gold boasts a 75% gold content. 
The metal alloys in yellow gold are typically copper and silver, which are added in varying amounts until the desired yellow hue is achieved. Jewelry creators then mold and form the gold alloy in beautifully designed pieces.
2. White gold
White gold is a mixture of pure gold and metal alloys like nickel, platinum, copper, palladium, and manganese. The percentage of gold content remains the same per karat, but with white gold, the alloy mixture rates are different, creating a white hue. Typically, white gold contains 25% nickel and zinc; however, the metal alloy combination varies. 
Knowing that each type of gold is created from the same base can help you piece the two together for a savvy look that's on-trend.
Source: Lakeview Images/Shutterstock.com
How to Wear White and Yellow Gold Pieces Together
Wearing white and yellow gold jewelry together is exciting. There are many ways to combine them to create the right look. You can approach pairing yellow and white gold by using the pieces' similarities or opposing qualities. You can also combine them with a unifying piece, add other hues like rose gold, or match themes to your ensemble.
1. Pair by similarities in style
One way to approach mixing and matching white and yellow gold jewelry is to pair the pieces by their style similarities. For instance, rocking two large Miami Cuban link chains made of different hues will give texture and richness to your style. Alternatively, you could wear a yellow and white gold pair of earrings with similar detailing.
If your pieces contain gemstones, you can pair a yellow gold necklace with a white gold bracelet with the same set of diamonds, pearls, or colored stones.
2. Work with opposites
Pairing your yellow and white gold jewelry based on opposite features also works for a stylish appearance. Throw on a highly-detailed rope chain made of white gold with a yellow gold Figaro chain for a truly unique look. The varying features of each metal type combined with the chain detailing bring out the beauty of the different pieces. 
You can also add visual interest by pairing opposite types of jewelry in various white and yellow gold hues. A white gold pair of earrings with a yellow gold chain creates a contrast that makes your pieces stand out.
Source: rangizzz/Shutterstock.com
3. Use a unifying piece
When mixing and matching white gold and yellow gold, you can use a unifying piece to bring them together. Silver, copper, or platinum jewelry works well for this purpose because yellow and white gold contains these metals.
Try on various shades of other metal jewelry to see how each brings out the colors in your white and yellow gold pieces. You should be able to create a stunning look that's cohesive because of this extra piece.
You can also opt for a unifying piece like a diamond pendant. If the opening is big enough, you can put both a yellow and white gold chain through the top of the pendant to tie everything together. The result is a bold centerpiece that brings attention to your entire look.
4. Bring in other hues
To mix and match your yellow and white gold jewelry, you can also bring in other hues of gold. There are variances in color within yellow and white gold jewelry, so mix and match the pieces in your collection to see which items work best together.
You can also bring hues like rose gold into the mix. Rose gold is created the same way as yellow and white gold, using a higher percentage of copper to give it a blushing glow. When you combine all three gold hues, you jazz up your ensemble and create points of intrigue with all your accessories.
5. Match to your ensemble
A solid approach to matching your yellow and white gold jewelry together is to focus on how each piece looks with your ensemble. This is a unique way to fashion your pieces because it allows you to wear whatever style or hue looks best with your outfit. You can try color combinations that you may not normally wear and discover a new look.
For instance, white gold looks great with cooler colors like gray, steel blue, and black, while yellow gold jewelry pops with warm, bold colors. If you throw on a mustard yellow or cherry red shirt with yellow and white gold accessories, you may discover that they all work together to make the pieces shine.
Embrace the New Mix and Match Trend
If you own yellow, white, or even rose gold jewelry, don't be afraid to mix and match. Embrace the new trend and pair your pieces together. Work with opposites, match them with your outfit, or wear pieces with similar styles that complement each other.
Whatever you choose, listen to your unique fashion sense to create a mix and match look that allows you to express yourself.