Having you ever noticed a screen displaying social media posts in an event? In this blog, we will discuss the best Instagram Walls for 2022. 
Most of the time people confuse Social Media Wall and Instagram Wall. Well, the social wall is a broad term while Instagram is specifically for feeds from this platform. The social media walls can create magic in a boring event. Creating them is just so easy as you need a social media account and a social wall building platform like Taggbox. Gen Z and millennials swear by social media platforms, especially Instagram which has become a hub of creative content. People like to take pictures and post them with hashtags on Instagram. But is this content only restricted to Instagram only? No, of course not. Instagram feeds can be clustered together to make an Instagram Wall.
Now you must be thinking 'What is an Instagram Wall'?
Displayed on a digital screen which is also called Digital Signage, Instagram Wall is composed of real-time content aggregated from Instagram and these are aggregated via hashtags, handle, etc. which can be displayed on screens at events, venues, concerts, and more. Over 90% of consumers say that their buying decision is influenced by Instagram Walls with UGC. This automatically leads to higher conversions and sales.
Are you ready to create your very own beautiful and fully customized Instagram Wall for any of your events?
But before we dive into the best Instagram Walls, let us first begin with "How Instagram Wall is connected to audience engagement"?
Why Are Instagram Walls Valuable For Events?
1. Build social proof with UGC
One of the current favorite content marketing trends for brands, User-generated content (UGC) is considered to be the most authentic, trustworthy, and engaging content among audiences. Instagram Wall is a compilation of user-generated content, and when displayed on Digital Signages on events, this wall builds social proof of your online presence. You can entice the audience by displaying an Instagram Wall showcasing customers' experiences, reviews, product pictures and videos, and more. Let your users be your advocates by encouraging them to engage in the event hosted by you.
2. Audience Engagement
Create unique hashtags for your event, and then engage your audience by asking them to post content using the same hashtags. You can also influence the audience by giving their content a chance to feature on the Instagram Walls. Other than this, you can also boost audience engagement with the help of #hashtahcampaign. These kinds of campaigns allow users to share their opinion, ideas, feedback, questions, and more. In short, Instagram walls act as a platform to enhance the quality of sessions and audience engagement.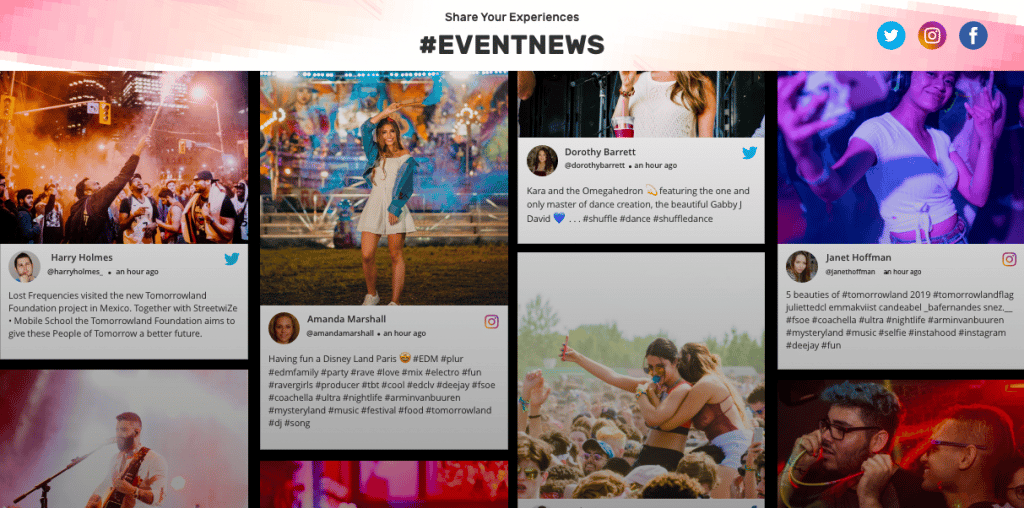 3. Sponsors Revenue
Highlight your sponsors through the Instagram wall and let them generate revenue. Grab the attention of your audiences and please your sponsors by offering discounts, endorsement of their brand, etc. Keep the sponsor's logo the focal point of the digital signages so that they can gain more new followers.
4. Entertainment Factor
Entertainment and leisure should be on top of your priority list while planning an event. And with Instagram walls, you can drive entertainment at your event, for example, keep your audience entertained by displaying images, videos, and even texts. You can also set up a booth to organize giveaways, gamification, and more. Add the element of entertainment to bring delight to both offline and online audiences.
Check Out These 4 Best Instagram Walls for 2022
Mentioned below are some of the trendsetting tools that will help you create the most beautiful Instagram walls for your event.
#1 Taggbox
Considered to be the best choice for displaying an Instagram wall for events, Taggbox is truly setting a high benchmark for its competitors. This tool lets you customize your Instagram wall by giving the option of applying various themes, layouts, font color, banner, background, etc. Also, you can moderate your social wall to maintain high-quality content, and also you can filter out unnecessary comments from the feeds. Other than this, brands can also manage UGC rights, promote your products, easy set-up, and display the wall, get customer support, get instant real-time updates, etc. with the help of Taggbox. You can also track the insightful analytics of your Instagram wall which is compatible with screens of all sizes. This user-friendly tool fetches valuable content, especially user-generated content from a plethora of social media platforms via hashtags, handles, usernames, URLs, and location.
#2 Sprinklr
Helping brands to organize events of all sizes, "Sprinklr" has experience of delivering clients, and honestly, there's no such event that this tool can't accommodate. Social walls like Instagram Wall created by this tool are very adaptable and affordable. Take help from Sprinklr to create a robust social wall that comes with features like Moderation, Analytics, Aggregation, and more.
#3 Walls.io
Want to promote your event on social media? Or Want to make your event most talked about? If yes, then have come to the right place. Walls.io lets you create an appealing Instagram wall with the help of tools like Moderation, Customization, and more. While you can aggregate content from more than 15+ social media platforms, which means you are not bound to just one kind of content.

#4 Tagboard
Are you really interested in doing something groundbreaking? Bring the audience into action by telling them stories of real experiences. Tagboard is one such platform that helps brands to transform real-time content from various social media sites into highly-engaging displayable content in all sorts of events. You can customize the Instagram wall using a variety of themes.
Lastly,
Instagram Walls are a great way to showcase your Instagram user-generated content on big screens, jumbotrons, projectors, or digital signages. These walls not only do the promotion and branding of your event but will also let you bring enough amount of revenue home. Therefore, leverage the power of the aforementioned Instagram wall tools in your upcoming events to encourage audience engagement and maximize the chances of organizing a successful event.