As the digital marketing and advertising landscape keeps changing, so should marketers expand their knowledge. According to data shared on Responsify, only 58% of marketing experts admit to being successful in accomplishing their marketing objectives. If you're like many business owners, your goal is to develop digital marketing strategies that improve business visibility.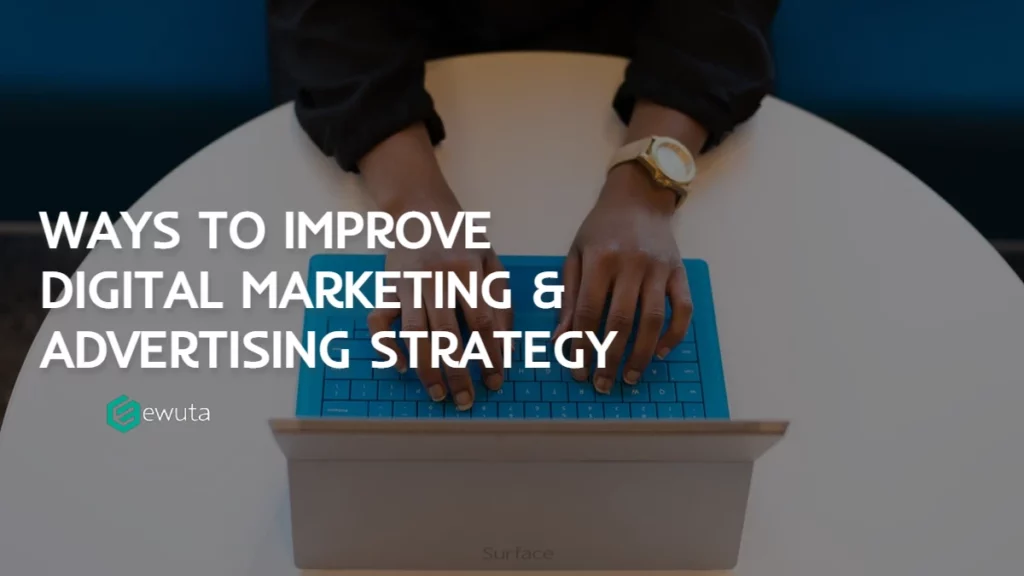 Thanks to advancements in business technologies and models, you can achieve this objective easily through multiple channels. Note that a successful marketing plan will not only help you secure more leads, but also generate high revenues and improve customer engagement. Keep reading to learn a few ways you can improve your digital marketing and advertising strategy.
Implement a Diversified Content Marketing Approach
Today's customers will refuse to share their information if you don't have written content on your website because they want proof you're an expert in what you do. Therefore, make it a habit to publish content that educates your target consumers about your services and products. By helping your website visitors find solutions to their problems through detailed blog posts, you'll earn their trust and become an authority in your industry.
However, blogging alone isn't as effective as it was in the last decade. To market your brand successfully, consider implementing a diversified content marketing strategy. This step entails combining blog posts with podcasts, videos, images, and infographics. You can also share eBooks, host webinars or live events on social media.
So, if you haven't set up a content marketing strategy, start researching topic ideas for your blog posts and videos. To identify ideal topics for your content, practice social listening, engage with your target customers on social media, and review your website analytics. 
Don't Ignore SEO
Implementing search engine optimization best practices is one of the best tactics to make your website visible and generate organic traffic. With that said, perform keyword research to identify the phrases your target consumers and competitors use. Once you've identified keywords your prospects use when searching for products and services linked to your brand, create original content using those search terms.
Also, make sure you earn links from other authoritative websites, optimize your website for mobile, use optimized images, and improve your website page load speed. When you leverage SEO, your chances of appearing on top of search results and earning the most clicks increase significantly.
Consider Voice Search Optimization
Voice search is trending thanks to innovations in voice recognition and gadgets, such as smart speakers. Moreover, many individuals are using their voices to search for information online instead of typing keywords on search engines. With this in mind, consider optimizing your website for voice search.
The first thing you should do is pick long-tail keywords that allow people to navigate your site using their voice. Remember, your keywords should be more practical than the ones that most people use when typing queries on Google or other search engines. For example, let's say you're a pet store owner. Instead of targeting keywords like "best dog food in 2022," consider a practical keyword like "where can I buy dog food?"
Next, develop content in a conversational tone so your website pops up when someone uses their voice search. Ideally, make your writing sound like what your site visitors might say and localize your SEO. That way, your website will appear on top of search engine result pages for your target keywords.
Invest in Paid Advertising
Using organic traffic to generate leads is an excellent online marketing strategy, but it has a downside. You can't always be 100% sure that all the leads you generate are high quality. Not to mention Google algorithms change quickly, meaning you might end up ranking lower than your competitors. That's what paid advertising aims to resolve because it adds value to your business and gives you unlimited control over your website traffic.
It's important to understand there are various types of paid advertisements, but many businesses invest in pay-per-click ads. Pay-per-click or PPC offers many benefits, including a high return on investment and increased conversion rates. Since pay-per-click targets search terms used by consumers with an intent to purchase products or services, you can be sure of making a sale when prospective clients click on your adverts.
PPC is also cost effective because you only pay for ads people click on. While you can create pay-per-click advertising campaigns yourself using Google Ads, consider hiring a PPC company to get the best results. Professional marketers will develop and manage campaigns that meet your company's specific advertising needs. In most cases marketing experts use data and insights to design effective ad campaigns for your business.
Prioritize Personalization
Personalization is another vital aspect of improving your digital marketing and ad strategy. In the digital era, many customers want to engage with a brand that sends personalized content and product offers. In simple terms, you're likely losing a considerable amount of traffic and potential customers if you aren't developing unique product offerings and content for your target audience.
Creating a personalized marketing strategy will increase your chances of boosting customer engagement. But to be successful, you must create customer personas. This trick will help you understand what your target audience likes and dislikes, their pain points, interests, and shopping behavior. Then, craft content that aligns with the individual needs of your prospects
Digital marketing and advertising have become an essential part of running a successful business. However, to generate leads, sales, and customer engagement, you must use the right digital marketing strategies. This includes diversifying your content marketing, incorporating SEO techniques, leveraging paid advertising, optimizing for voice search, and personalizing your marketing plans.