Besides wreaking havoc, the COVID-19 pandemic has acted as a catalyst for growth, especially in the business department. Initially, it was difficult for businesses to shut down their operations and move to a different mode of conduct. However, with time, more and more companies have started to embrace the power of remote technology and carry on with their operations. As a result, we live in a hybrid and digital era of work.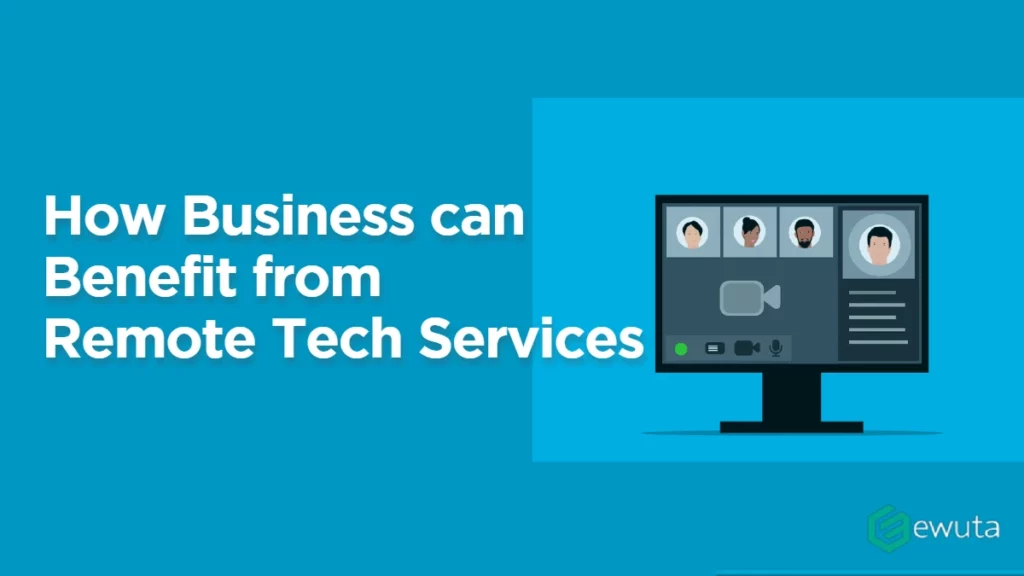 Sure, there will always be a need for an on-site engagement. Still, remote tech services' ease and flexibility can never be underestimated. Today, we have a series of remote tech tools and options that have the potential to help us solve problems and encourage seamless operations. With time, these technologies will only increase, and any business that refuses to keep up will fall into the cracks. That said, all companies should take advantage of remote tech services and bring their brand into the spotlight.
Furthermore, if the above-said information isn't enough, here's what remote services can do for your business:
1. Regular upkeep
Right off the bat, it's crucial to remember that remote IT services are helpful for general maintenance and preventative care for all of your systems and devices, not only when a problem arises. This can involve setting up applications, performing updates, updating antivirus software, backing up data, maintaining a network, and more. It's a big bonus for a business to utilize IT support services and keep everything in their operation running effortlessly.
2. Quick access to professionals
Businesses can access the expertise of a whole team of IT specialists with remote access support. Having a technician on staff is fantastic, but what happens when the repair process presents a challenge for the technician? Suppose a technician cannot remedy a client issue. In that case, the support ticket will go up the support team's hierarchy until an expert addresses it.
Additionally, as specified in the supplier agreement, these support technicians may be required to meet higher service level criteria, which can give business owners additional security and quality assurance.
3. Costs
An on-site visit involves a lot of extra expenses, including tools, trucks, labor hours, and more. Your organization will incur more charges due to your IT team's increased expenses. While offering the same quality service and access as on-site support, remote IT support can help you save money.
4. Continual growth
Perhaps you don't yet have numerous offices spread out across the nation. Your IT team is prepared to grow alongside you when your company is ready. There won't be any growing pains in locating a new IT crew to constantly link every computer to every server. Your remote IT crew is already knowledgeable and can swiftly, efficiently, and economically assist your expansion anywhere in the world.
In the interest of sustainability, it is also important to note that remote help does not require a technician to drive a truck, car, or van to your office. This means less greenhouse gas emissions and a reduced carbon footprint for your firm.
5. Boost business productivity.
Do your coworkers' primary tasks get sidetracked by IT problems? Thankfully, remote tech support allows you to enhance efficiency by having a certified network technician handle your IT problems. This enables your employees to concentrate on their primary responsibilities. This can significantly lower production over time for your business.
6. Faster response and resolution times 24/7/365
IT issues are reacted to and fixed more quickly with remote monitoring and ready resources. One of the main advantages of a remote tech support plan is that organizations can select the number of support resources available during regular office hours and after-hours help. Moreover, remote tech services are more responsible than on-site services due to:
A wide range of outreach tools, including email, live chat, and phone
Remote connection and takeovers for a speedy resolution in place of on-site visits
Access to an entire team of available agents rather than relying on one support person
7. Safe remote work
One drawback of remote work is that home networks and equipment may not be as secure as equipment installed in an office environment. However, you can utilize remote IT help to ensure patches and upgrades are installed, antivirus is set up correctly, and staff members have a resource to turn to if they encounter shady emails or other potential risks.
Invest in vulnerability assessment services to increase security and mitigate risk. This allows you to analyze your network, connected devices, websites, firewall setup, and other potentially weak areas that online thieves can try to exploit to access data and attack systems.
8. Get professional advice for technology upgrades.
Having an IT partner who comprehends your company and IT environment goes beyond providing support; you'll get advice on when to update or replace your IT assets. If you choose a partner with those capabilities, the client benefits of remote IT assistance can also include strategic planning advice such as examining disaster recovery plans, road mapping, evaluating IT safety measures, and more.
9. Detailed monitoring
When you aren't explicitly monitoring internal IT problems, it can be challenging to gather internal data. A specialist IT support provider with the proper equipment can assist with that. These service providers will maintain thorough records of your business's service requirements, including the number of tickets issued per hour, first contact resolution rates, the typical technical issues, the workers with the most support requests, etc.
This data may be helpful for internal evaluations of staff performance and IT effectiveness. Utilize this information when it is available and the data gathering tools offered by your service provider.
10. Satisfied needs
Most hardware issues can be resolved remotely, but not all of them. According to research, a remote team can resolve 70% to 90% of hardware problems and 99% of software glitches. Although it may be challenging to comprehend, society has significantly advanced in technology. Even though the IT specialist may not be directly in front of you, they are resolving the issue. They will present a thorough report to prove it.
Conclusion
It would be fair to say that remote technology is the new norm. The strategies and methods that worked a decade ago will not work today. Therefore, businesses must do what they can to stay on the technological scene and escalate growth. For that very purpose, remote tech services come in handy as businesses can gain a unique edge.
Moreover, remote IT services guarantee safe and seamless operation while removing all potential obstacles and helping businesses achieve their overall goals.