Sports have an incredible power to unite people, transcending boundaries and fostering camaraderie among enthusiasts of all kinds. Hosting a sports party at your home provides the perfect opportunity to channel this passion into an unforgettable event.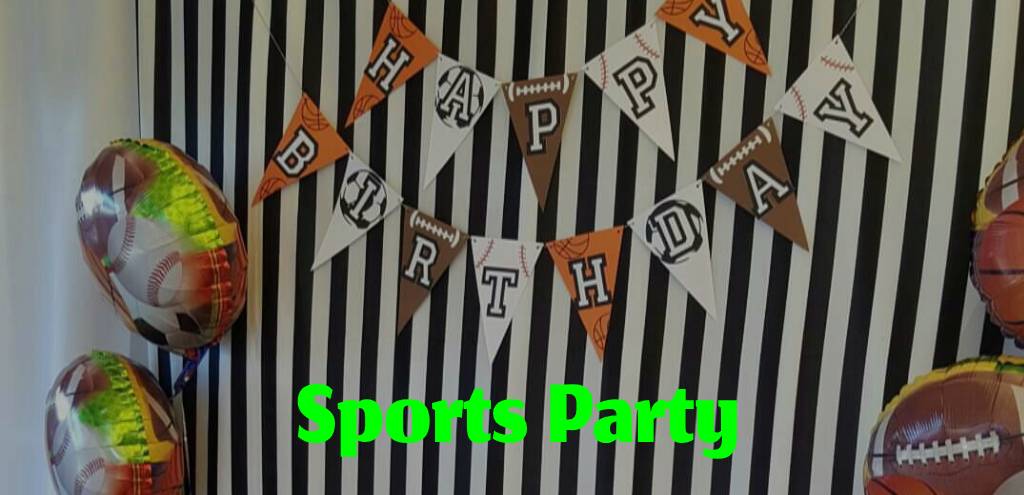 Whether you're a die-hard sports fanatic or simply seeking a fun way to bring friends and family together, a well-planned sports party can be a memorable experience. Here are some creative ideas to help you organize the perfect sports-themed gathering, right in the comfort of your own home.
1. Culinary Touchdown: 
No sports party is complete without a lineup of delicious, game-ready snacks and beverages. Craft a menu that features classic game-day favorites like slides, wings, nachos, and finger foods that are easy to grab and munch on while watching the action.
Don't forget to cater to various dietary preferences, including vegetarian and gluten-free options. Create a themed drink station with passion fruit wine, cocktails, and mocktails named after famous athletes or teams to add an extra layer of excitement.
2. Select a Theme and Decor: 
Every great party begins with a captivating theme that sets the tone for the event. Choose your favorite sport or a major sporting event as the basis for your party. Whether it's football, basketball, soccer, or even the Olympics, tailor your decorations, tableware, and even dress code to match the chosen theme.
This creates an immersive atmosphere that instantly gets everyone in the sports spirit.
3. Invitations that Score: 
Kick off your party preparations with eye-catching invitations that reflect the theme. Design digital invitations or get crafty with DIY paper invitations shaped like jerseys, balls, or tickets.
Remember to include essential details like date, time, dress code, and any special instructions to ensure your guests are well-informed and excited to attend.
4. Set Up Viewing Zones: 
The main attraction of any sports party is, of course, the games themselves. Create comfortable viewing zones with ample seating and excellent sightlines for the television.
If you have multiple screens, set up different zones for various games or events that might be happening simultaneously. Ensure that each area is equipped with a clear and sizable screen to guarantee an optimal viewing and listening experience for all.
See also: How to Throw a Spooky Halloween Themed Party
5. Interactive Games and Activities: 
While the primary focus may be on watching the game, incorporating interactive games and activities keeps the energy high during breaks and halftime. Set up a mini basketball hoop, a table tennis table, or a foosball table for friendly competitions.
Consider organizing trivia contests, sports-themed charades, or even a mini obstacle course in your backyard to engage guests of all ages.
6. Team Spirit Dress Code: 
Encourage your guests to wear attire that supports their favorite teams or represents the chosen sports theme. From jerseys and caps to face paint and foam fingers, the dress code adds an element of team spirit and camaraderie to the event. You could even consider awarding prizes to the best-dressed fan or the most creative outfit that incorporates the theme.
7. Halftime Show Extravaganza: 
During halftime or breaks, keep the entertainment going strong with a halftime show extravaganza. This could be a live music performance, a dance-off, a comedy skit, or any other entertaining interlude that aligns with your theme.
This not only keeps the energy levels up but also provides a refreshing change of pace for your guests.
8. Score Big with Decorations: 
Transform your space into a sports haven with themed decorations that go beyond banners and pennants. Incorporate creative elements such as centerpieces made from mini sports equipment, custom tablecloths featuring field or court designs, and even life-sized cutouts of famous athletes. These details add depth and personality to your party space.
9. Predict the Winners: 
Elevate the competitive spirit by organizing a friendly prediction pool. Have your guests predict the outcome of the game, the final score, or even the MVP of the match.
Create prediction cards or use a mobile app to track predictions, and award prizes to those who come closest to the actual results.
10. Capture the Moments: 
Ensure that the memories of this incredible event last by setting up a photo booth corner with props related to the chosen sport. This gives your guests the chance to strike poses, snap selfies, and create lasting memories that they can take home with them.
Conclusion:
Hosting a perfect sports party at home requires meticulous planning, attention to detail, and a passion for creating a memorable experience. By embracing a captivating theme, creating comfortable viewing zones, offering interactive games, curating a mouthwatering menu, and infusing every aspect of the event with the spirit of sportsmanship, you can elevate your gathering from a simple get-together to an unforgettable celebration of athleticism and camaraderie.
So, gather your friends, deck out your space, and get ready to throw a sports party that will have everyone talking for years to come.