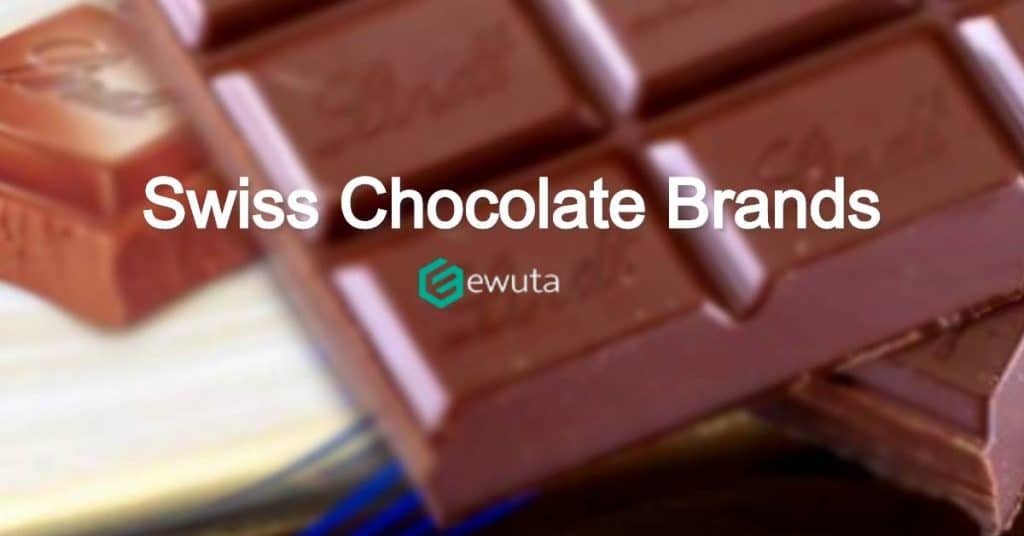 Switzerland has the highest per capita rate of chocolate consumption worldwide, so it's no surprise that there are so many good Switzerland chocolate companies. Many famous Swiss chocolate brands have been around for centuries, making them the leading producers of their trade.
If you consider yourself as a chocolate lover and if you are looking for the best chocolate brands in Switzerland. Read up on the biggest names in chocolate below!
Best Swiss Chocolate Brands
---
#8 Gottlieber
This is a popular Swiss chocolate brand that has been featured in many international lists. It was founded in 1928 by Elisabeth Wegeli and has stood strong since then. They have several products like rolls, chocolate bars, Easter bunnies, truffles, tartufi, and other chocolate products.
Gottlieber has a reputation of never using artificial ingredients or preservatives. They have seasonal and festive gift baskets, specially customized items for events like Mother's Day, stay at home- home office box, flower sets, and much more. These are perfect to gift to your loved ones as well as indulge yourselves.
---
#7. Läderach
Laderach is one of the best Swiss chocolate brands on the list of Swiss chocolate brands manufactures a variety of Swiss chocolate flavors such as mixed fruit, raspberry, popcorn, frischschoggi, and rocher.
This is the best chocolate brand in Switzerland that has an annual revenue of more than $100 million with around 800 employees working for this one of top chocolate brands in Switzerland.
---
#6. Milka
Milka is another famous Swiss chocolate brand. Mondelez International is the owner. In 1901, "Milka" chocolate was packaged in the famous lilac-colored packaging first time.
Milka is in a number of packages and flavors, some of which are Alpine Milk, Choco-Swing, White Chocolate, Choco and Biscuit, Strawberry Yogurt, Cow Spots or Happy Cow etc.
---
#5. Frey
This is a chocolate brand that is associated with the supermarket Migros. Frey was founded by brothers Robert and Max Frey in Aarau, in 1887 (67 years after Cailler!). The small company gradually expanded until it was purchased by Migros in 1950, and it went international in 1997. In 2012, Frey celebrated its 125th anniversary.
The Frey Chocolate factory accepts visits, where you can learn about the history of the cocoa bean and chocolate, as well as about the company's general production. There is also a chocolate taste-test section, where all different Frey variations can be tasted. There is also a shop to buy your favourites, and a photo booth to get a digital chocolate memory!
---
#4. Nestle
Nestlé has been a household name for over a century and serves customers in more than 189 countries, from their 447 factories around the world. This brand has ventured into food items beyond chocolate as well, like baby food, bottled water, medical food, pet food, snacks, cereal, coffee, etc., but it is best known for its variety of Swiss chocolates.
The Swiss chocolate division of this company produces several kinds of chocolate bars, in flavors like milk chocolate, fruit and nuts, almond and hazelnut, dark chocolate, choco chunks, milk crunch, and lots more. Their KitKat wafers are popular among children and adults all over the world.
---
#3. Cailler
Cailler holds the title as Switzerland's oldest chocolate company, as it was founded by François-Louis Cailler in 1819. François was born in Vevey, a town close to Lausanne (southern Switzerland), which had seven chocolate factories in the early 1800s. After owning a small shop, François purchased a factory in 1820 to produce chocolate on a large scale.
Cailler's Chocolate Factory accepts visits, where you are guided through the history, get a sneak-peak at the factory, and taste-test a variety of chocolates (best not to eat beforehand and to bring a water bottle!). There is a shop to purchase a variety of their chocolates with sweet deals.
---
#2. Toblerone
Another favorite brand is Toblerone. One of the most famous chocolate brands in Switzerland, with a widely acclaimed international reputation on the list of Swiss chocolate brands.
Founded in 1908 at Bern, Switzerland by Theodor Tobler and Emil Baumann as a unique Swiss chocolate in a triangular shape including almonds, honey, and nougats. It is owned by the Mondelez International Group which has an annual revenue of around $25 billion and employing more than 107,000 people worldwide.
---
#1. Lindt
The journey of Lindt started in 1845. This is one of the most well-known Swiss chocolate brands in Switzerland. They have around 370 chocolate shops all over the globe. With great quality and wide availability help Lindt to maintain its position as one of the finest chocolate producers in the world.
Lindt offers its visitors tastings and workshops at their Chocolateria in Kilchberg for 70-80 CHF. You can also visit their Swiss Chocolate Adventure at the Swiss Museum of Transport in Lucerne. It costs 16 CHF to attend. Lindt also runs several factory outlets and cafés across all the major tourist places in Switzerland. Use their interactive map to locate the nearby stores.
---
Summing Up
We hope you've enjoyed this look through quality Swiss chocolates as much as we've enjoyed bringing it to you. Whether your tastes are simple or refined, you're sure to find some of the best Swiss chocolate on our list. If you have other recommendations of best Swiss chocolate brands, leave them in a comment down below!
---