If you are looking for websites like offerup, here are several Offerup alternatives you can consider. Check out the details of these sites. You might find them a better way to sell your stuff online.
OfferUp is an internet mobile-first C2C market with a focus on peer-to-peer trades. It was set as a rival to Craigslist, differentiating itself using mobile-friendly programs and consumer profiles with ratings.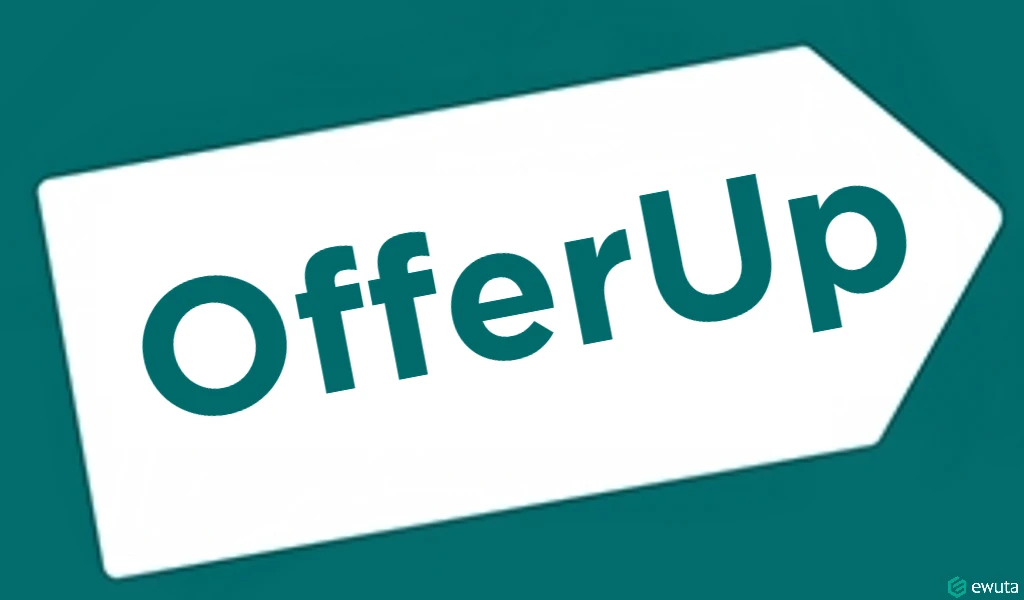 Though Offerup is one of the most significant and superbly known classified sites out there, it is not the only site of its kind there are a lot of offerup competitors. Many users began looking for different sites similar to offerup which can replace it.
1. Letgo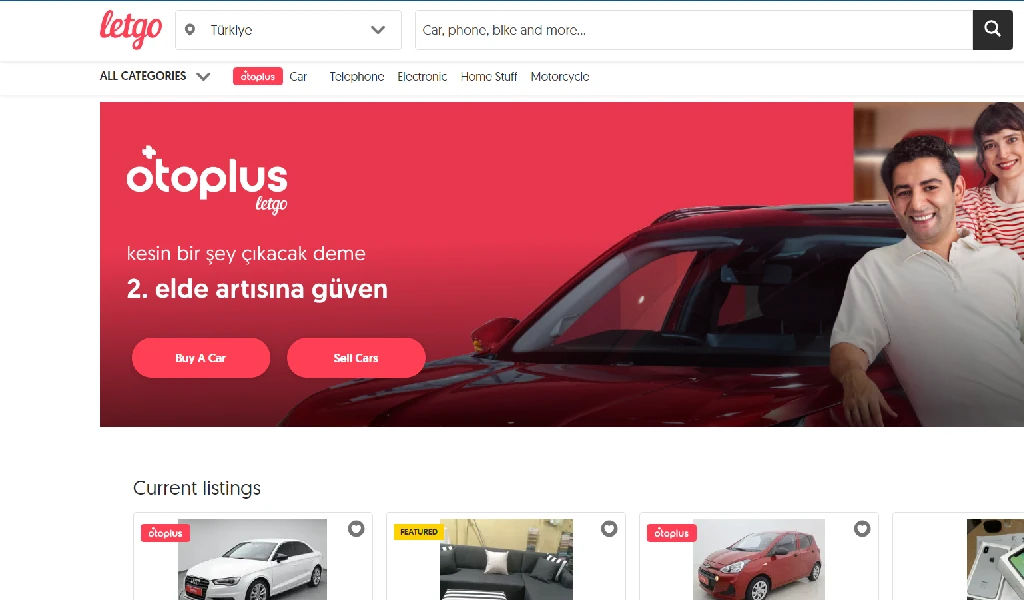 Letgo does a little better job than Facebook at grouping product listings. You can search for specific keywords or general categories like Fashion and Accessories. This makes Letgo easier to search for items in some ways.
Also, the Letgo site is a bit more attractive. As soon as you get to the site's home page, you'll see photos of recent items listed for sale. You can also easily view additional items for sale from the same seller when you click on a product listing.
Letgo can be a little safer than Offerup. You have to verify your Google or Facebook account to create a Letgo profile. While Offerup has a very simple and clean platform, Letgo allows sellers to get a bit more detailed. For example, you can also post videos with Letgo in addition to pictures.
Finally, Letgo is also convenient. You communicate through their app when interacting with a potential buyer or seller. As a result, you don't need to list your phone number or e-mail address. This feature helps some buyers and sellers feel more comfortable about conducting a transaction with a stranger.
2. Swappa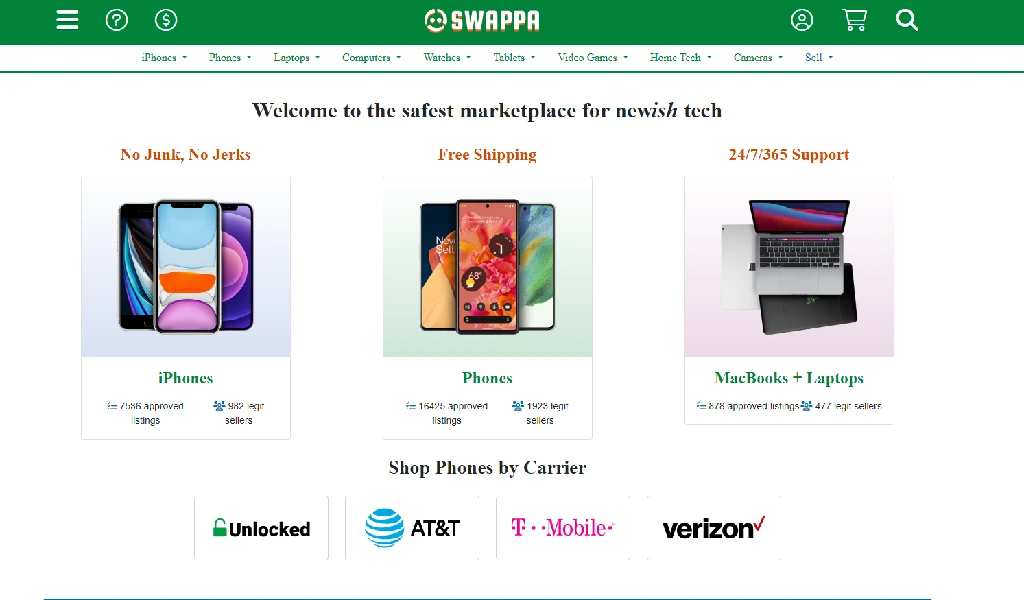 Swappa helps you buy and sell a wide variety of electronic items, such as: cell phones, cameras, watches, video games, tablets.
They even help you buy and sell smart home equipment such as voice assistants, streaming devices and thermostats. As a seller, you won't pay any fees to sell on Swappa.
Buyers pay a small fee when buying on Swappa, as Swappa helps assist with the sale to ensure all goes smoothly. The fee is refundable (typically) if the buyer isn't happy once they've received the product.
3. Recycler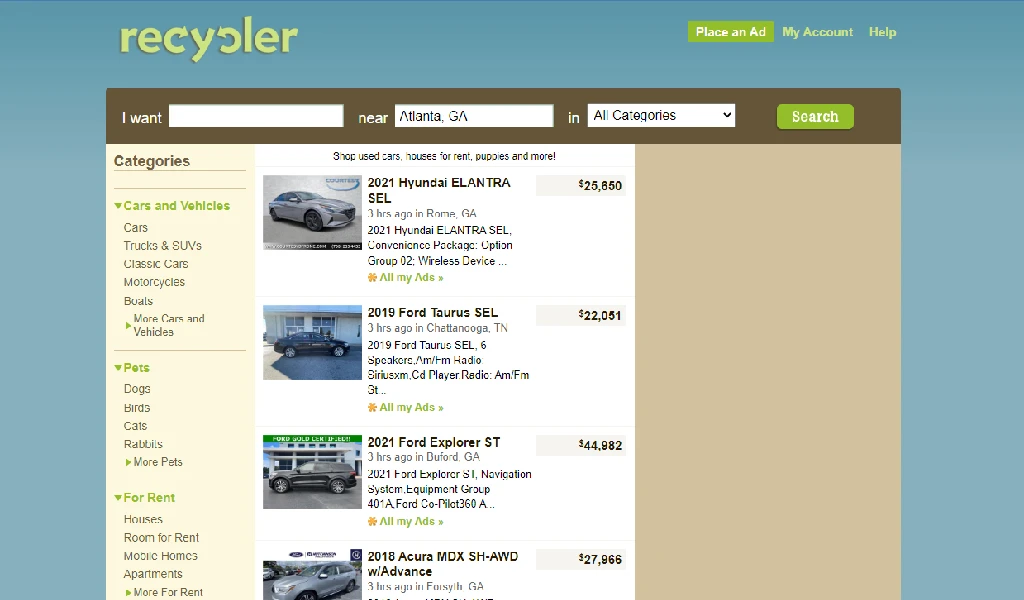 If you live in a large U.S. city, Recycler is another good option. Recycler started as a local classified newspaper in Southern California. It became a national marketplace in 2010 and now boasts 18 million monthly users.
You can use Recycler to buy or sell pets, find houses to rent, and even sell used cars.
When you sell on Recycler, you can quickly post your listings to Facebook and Twitter. To boost your exposure on Recycler, it's also possible to use paid ads to target specific buyers or markets.
4. Oodle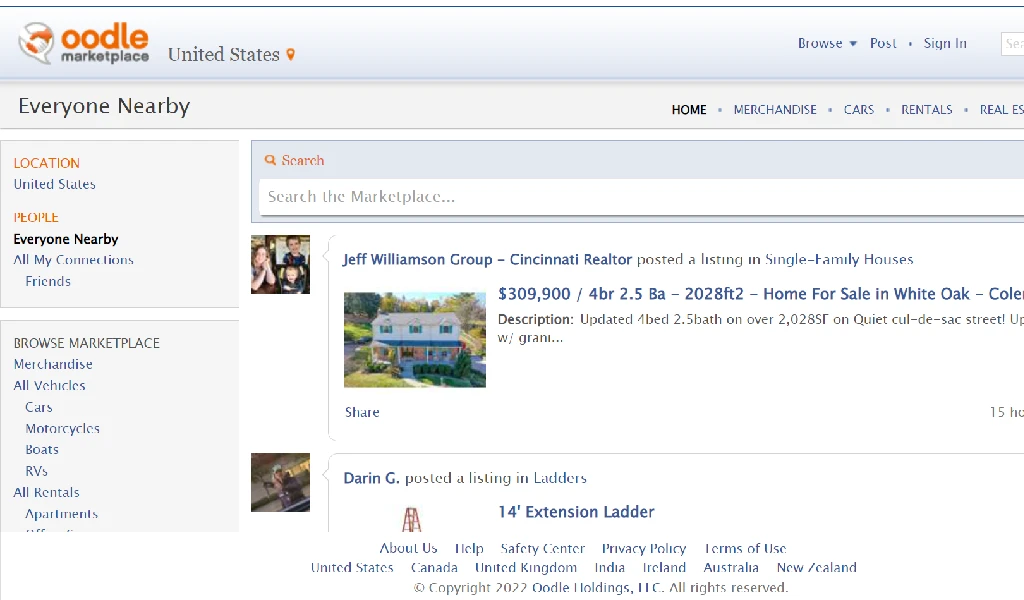 Oodle has a slightly different take on helping you buy or sell locally, you only see listings that sellers physically posted on that marketplace. With Oodle, some listings are posted directly to Oodle, but they also combine other alternatives to expand their listings.
As an example, you might see vehicles listed from Cars.com in addition to vehicles sold by actual Oodle members. It can be a good way to buy or sell antiques as they will also list products from eBay for local pickup.
Oodle also allows sellers to advertise listings via Facebook as well. Oodle has a wide array of categories including pets, personals and services.
SEE ALSO: Best 15 Craigslist Alternatives
5. Bookoo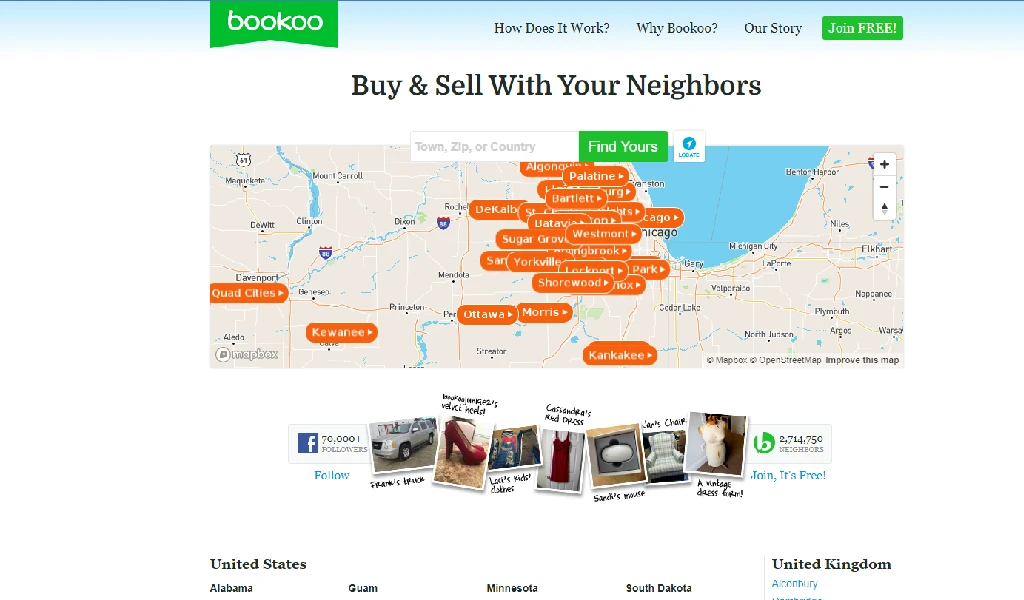 Bookoo is geared as a family-friendly that list items to sell one at a time or advertise a yard sale. There are Bookoo locations located all across the country. Many locations are in towns with military bases.
This makes it easier for military members to buy or sell belongings with their most recent move. To help become more personal, Bookoo has sellers create a profile that includes a short bio and picture.
The profile also lists the types of items you have listed in the past.
While this site is a little smaller than the others at 2,355,912 current members, it has an easy to use platform for buying or selling. It has live chat support, and a social media feel that is also family-friendly.
6. Geebo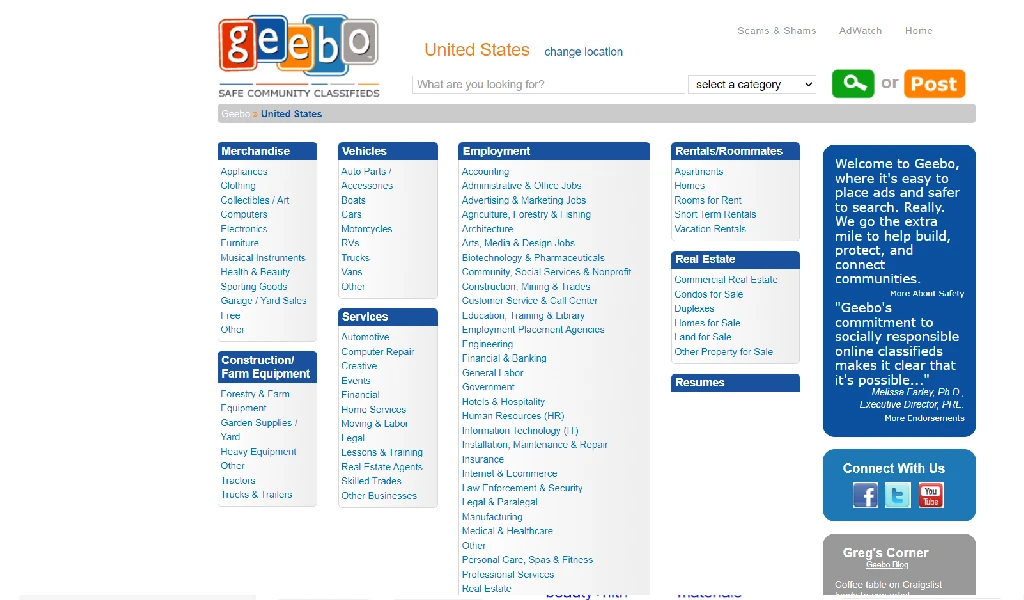 Founded in 1999, Geebo allows you to buy or sell merchandise, heavy equipment, vehicles, real estate, and services in 160 communities. You might want to give Geebo a try if you live in a major city like L.A. or Chicago. Geebo could also be a good choice if you live in a mid-major city such as Virginia Beach, Tulsa or Cincinnati.
As a way to make buying and selling safer than other online classified sites, Geebo offers "SafeTrade" transactions. A "SafeTrade" occurs when buyers and sellers agree to meet at a local police department.
If you are hesitant to try Offerup because you don't feel safe meeting in just any public parking lot, Geebo can be a good Offerup alternative.
7. PennySaver USA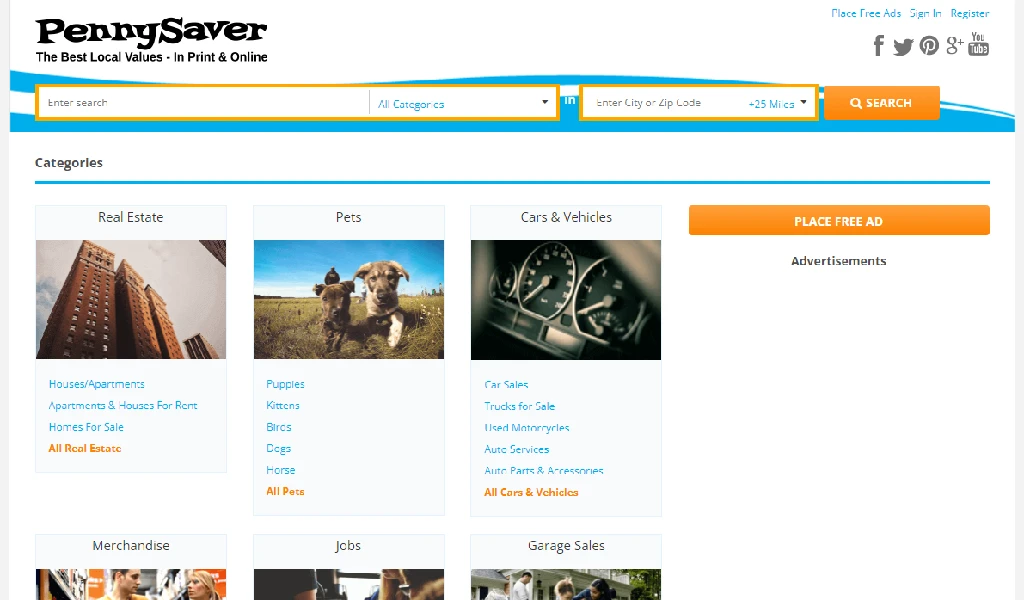 Maybe, back in the day, you picked up a free PennySaver newspaper from the newspaper stands at the street corner or grocery store. Now, they have moved online, and you can find local deals by entering your zip code. They still publish a printed edition as well.
You can publish paid ads on PennySaver as well. It is very much like the classified section you would find in your local newspaper.
8. Hoobly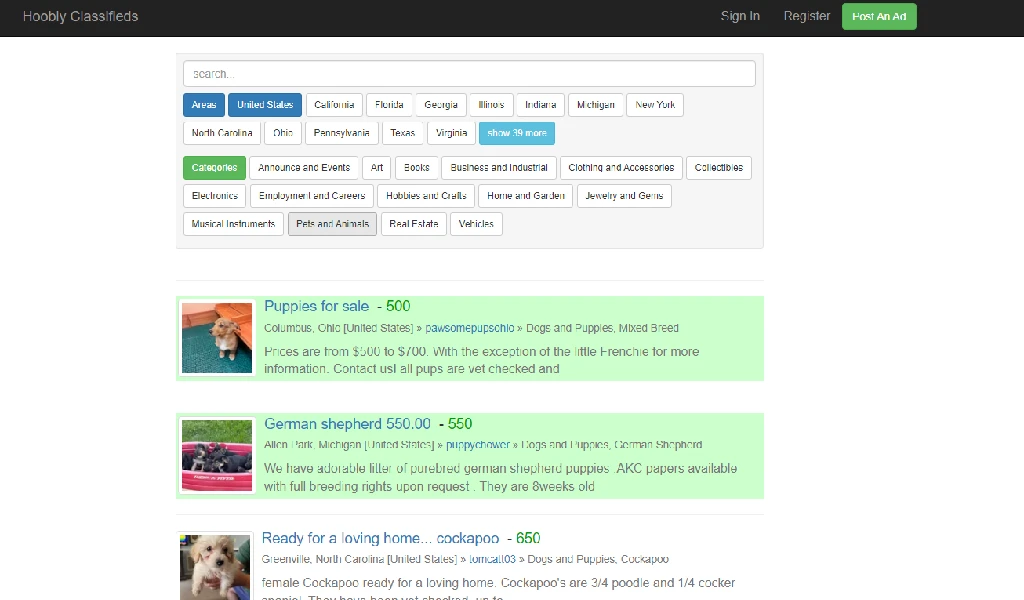 In comparison to the other buy and sell platforms listed in this article, Hoobly probably has the almost identical look and feel of Offerup. You can search for just about anything on this site. In addition, there are product listings in Canada and Europe.
You might have the most success with Hoobly by selling or buying pet animals as there are arguably more listings for this category than any of the other merchandise categories listed. It is free to post or shop on Hoobly.
9. Carousell Singapore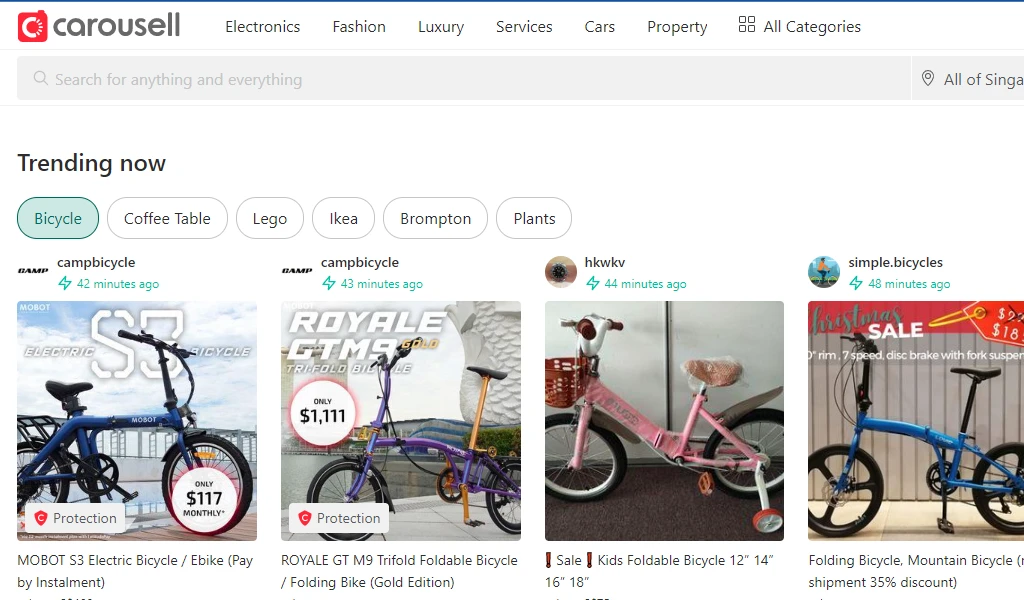 Carousell is a Singaporean smartphone and web-based consumer to consumer and business to consumer marketplace for buying and selling new and secondhand goods. Headquartered in Singapore, it also operates in Malaysia, Indonesia, the Philippines, Cambodia, Taiwan, Hong Kong, Macau, Australia, New Zealand and Canada.
It is a classifieds marketplace that makes selling as easy as taking a photo, buying as simple as chatting. Carousell is available both on Andriod and IOS.
10. Poshmark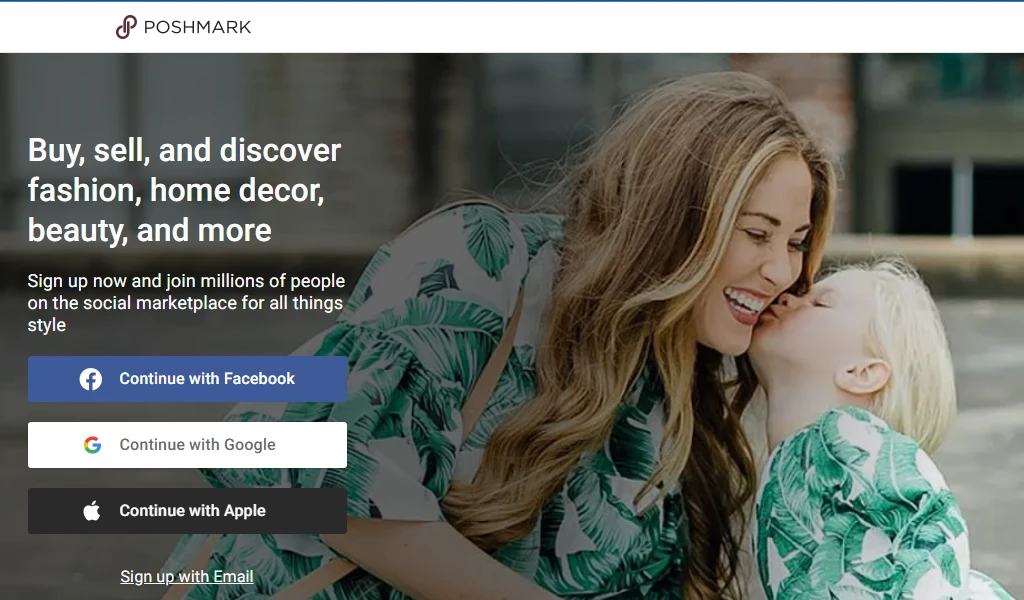 Poshmark is a social commerce marketplace where users can buy and sell new and secondhand fashion, home goods, and electronics. The platform has over 80 million users, with over 200M available listings. It is also a leading social marketplace for new and secondhand style for women, men, kids, pets, home, and more.
With Poshmark you can Snap a photo of the item you want to sell with your iPhone or Android device, fill in a description, set the price, and you're done.