Believe it or not! In this age of cutthroat competition, every other business aspirant has unique ways to hold the attention of the audience. Whether one is running a small firm or an organization, the race towards grabbing the potential customer is interminable. Though everyone around the corner wants to win over the clients or viewers but get stuck to these questions: "How can I make my audience differentiate between the pros and cons of several products? How can I help them in choosing the right product?" And many more how's like these. 
Most often entrepreneurs find it difficult to compare the quality of several products and end up explaining the whole 'product generation' thing to the spectators. As a result, they fail miserably because people nowadays are not interested in listening to long paragraphs and any details. Instead, what excites them most is visualizing things. Exactly! Conveying information visually is much better than narrating the entire version.
Differentiating between the products and other topics has never been so easy, especially while giving a presentation. For this, comparison slides help you throughout and make your tough task effortless within a few minutes. Comparison slides are a must if you have to showcase the features of different products or compare the product difference. But, wait, any idea how to design them? Without any pinch of doubt, yes.
In this blog post, we will undergo the 10 Tips for Creating Beautiful Comparison Slides in PowerPoint that blew your mind away. These tips will help you in making the best presentation of your life. In addition to it, creating comparison PowerPoint slides will also assist your customers to recognize the information that you want to convey to them. 
Let's start!
Tip #1: The Game of "Colors"
While creating a comparison PowerPoint, you need to keep an eye on your color-coding skills. If you fill the same colors in your presentation, then how will you differentiate between the things? So, the first and foremost thing is to choose specific colors that help your audience to notice the information you want to deliver. Also, keep the colors vibrant that soothes the eye of your target viewers.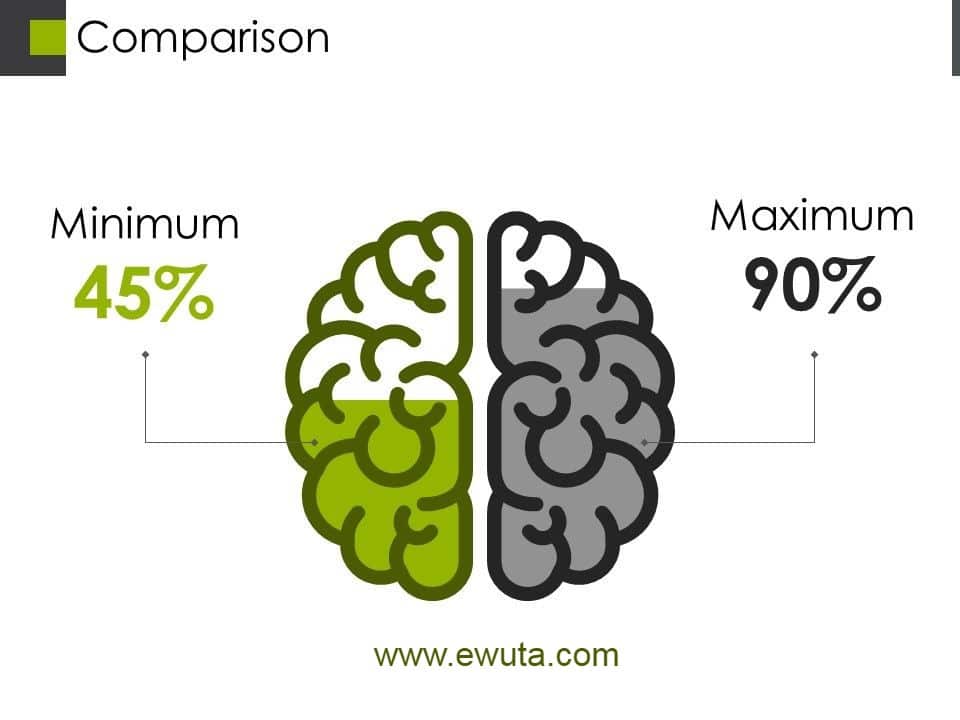 Tip #2: "Check Marks" and "Cross" Are the Show Stealer
Be it information regarding the product pricing or any other features of the product, using this tip you will always stand out. The checkmarks and cross help your audiences in identifying the feature of a particular item. Checkmarks usually indicate the qualities present in the product and cross symbolizes what all is absent in the product. Utilize this tip in your comparison PowerPoint slides and make people scan the differences perfectly. 
Tip #3: "Icons" and "Graphics" Are a Must
When you put two products next to each other and show their specifications, just use high-grade icons and graphics. Undoubtedly! You have to sell your products but let your customers decide what they want to pick. While designing a comparison PowerPoint, place different icons portraying the specific features and price. By doing so, your audience will get the message you want to deliver.
Tip #4: "Thumb" Rule
To grab the attention of more customers, use this amazing "thumb rule" tip. You can easily display the products in comparison PowerPoint slides and talk to your audience about which product is most likely to buy. But this time doesn't extend or exaggerate the information. Just put thumbs up for good products and thumbs down for not-so worthy products. This visualized information will definitely amaze your audience. The thumb rule is the most beneficial tip you will ever encounter.
Tip #5: Platter on the "Table"
This is the most convenient tip to make things compare. In your comparison PowerPoint, all you have to do is make a visually-attractive table and divide each section with a line. In every column, write about the details you want to show to the audience. Thus, it will make it easy for your viewers to get hold of things and notice the comparison between them. If you put the information correctly, this tip will never let you fail in front of the audience.
Tip #6: Hit the Target by "Arrows"
It has never been so easy to deliver a presentation to the stakeholders. Most often, people do not get an idea of being different in the eyes of clients. Showcasing the business progression in different marketing channels is quite a hectic job to do for a presenter. But, you can perfectly use this tip while delivering your comparing PowerPoint slides to the clients. Put the arrows in inward, outward, or whichever direction you want and write down the percentage of each marketing channel your business is growing in. This will help your clients to easily understand the position your business is generating in different channels.
Tip #7: "Pie-Chart" Arrangement
This is the most useful tip. You can compare the growth of your business with the help of a pie chart. In your comparison PowerPoint, you can put a pie-chart displaying the percentage of highs and lows of your business performance. You can also cover every aspect of your business activity and portray the proportion of data represented by each business category.
Tip #8: The Classic "Venn-Diagrams"
To ensure the comparison between any kind of information, this is the most go-to tip ever. While presenting your comparison PowerPoint slides to the spectators, you can easily take the help of Venn-diagrams that overlap with each other illustrating the details of each product or information. You can easily showcase the difference between the things and make the audience realize which product is better. This option is used in the creation of online car games.
Tip #9: Just "Slide" Away
In your comparison PowerPoint slides, you can use the sliding rating scale that differentiates between the opinions, views, preferences, and feedback of your audiences. It is the most accurate tip to compare the different viewer's expectations on your product.
Tip #10: Do Some "Graph"-itti
This tip is worth remembering. Design your comparison PowerPoint slides and with the help of engaging graphs compare your specific results. Utilizing graphs in your presentation will solve your problem and also it will not make your information look complex. This tip will assist you in identifying where you lack behind from your competitors.
These above-mentioned Top 10 tips will assist you in creating stunning comparison PPT slides of all time. Just use these much-needed tips and make it easy for the audience to scan the information.