Animated video marketing can help businesses make a significant impact in reaching various market segments. With video marketing, telling a brand story becomes very easy and effective. With the right tool, business owners can make and share compelling brand messages that connect enough with the target market to make them take the desired action.
There are numerous ways that animated makers can help your brand advertising and chief among them is that it makes advertising in a unique way possible. With the right online video editor, you do not have to spend a fortune on a digital marketing agency to create video advertising content for you.
You only have to craft the idea and with the right video maker, such as Doratoon, you can create a highly impactful and engaging video. In this post, we will look at how animated makers can help your advertising projects.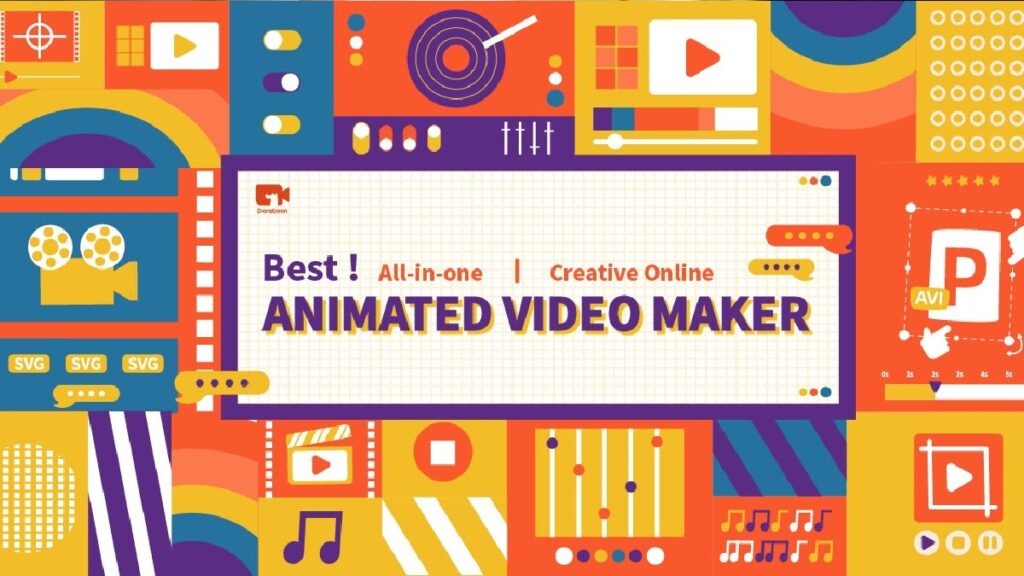 Why Use an Animated Maker for Advertising
The first thing you must understand is that your target audience watches more videos than read texts. According to statistics, about 92% of business-to-business prospects watch online videos about their prospective business partners.
Statistics have also shown that over four billion videos are watched daily on YouTube. It has also been proven that about one-third of consumers purchase products after seeing a video ad about the products. Now, that is huge.
Insights from statistics show that investing in video ads is very critical if you want to grow your customer base. In the next section, we will look at how animated makers, used for making online videos can help your advertising.
Doratoon – the Best Animation Creator for Advertising
Doratoon is an easy-to-use animation video creation tool that is available for free. It is an excellent video maker tool with numerous attractive and creative features and elements. If you are looking for an easier method to create animated videos, Doratoon is the best tool to consider.
It has thousands of customization templates and backgrounds. It features royalty-free music for commercial use and an online video editor. You do not need any special skill to use the tool as everything you need is just a few clicks away.
Apart from the thousands of templates and backgrounds available, you can also explore numerous animated characters and AI dubbing, which supports AI synthesis and AI drawing.
Benefits of Animated Makers for Video Advertising
So, why should you invest in using an animated maker to create videos for your product or brand advertising? The first major reason is that they are very effective and impactful, and the fact that they are also affordable makes them a great choice as well.
In some cases, you can even create your video advertising for free with the best-animated maker. You can make an amazing animation for free with any animation template online.Here are some ways that animated makers can help advertise and increase your return on investment.
1. Boost Conversions and Sales
It is proven that using animated videos on a website's landing page can boost the conversion rate by about 80%. This is not a big surprise considering that people love to watch videos. Videos can significantly enhance the sales of your products directly and indirectly.
When you create animated video options that are highly creative and engaging, your target will watch and there is a high chance that they will act on your advert.
Consumers often picture themselves with the products they want to buy and when you have an animated explanatory video on how to use your product, you increase the chances of your customers buying the product.
2. Boost Your Brand Awareness
Sharing of mind is first before sharing a pocket. If you can increase your share of mind among your target audience, the battle is half won. Unfortunately, many brands and products are contending for the share of mind of your target audience with you.
That is why you need the right tools and marketing tactics to capture your target. With animated makers, you can make animated videos free and upload them to your landing page to attract prospects. These animated makers make it easy to create video content without any issue.
All you have to do is develop an engaging and creative marketing idea and you can pull it off with a free cartoon maker like Doratoon. It comes with pre-built features and animation effects designed to help you create effortless and professional video marketing content.
With a video animation online, you can significantly improve your brand awareness and ultimately, your return on investment (ROI).
3. Generate Leads
Generating leads requires the right SEO strategy. The good news is that when you develop explainer videos that detail the information about your product, you can maximize your SEO efforts. Search Engines, such as Google, love web pages with multimedia content like videos and images.
When you optimize these multimedia content with relevant tags and descriptions, they get indexed and crawled by search spiders. Also, videos enhance the average time visitors spend on your site and help reduce the bounce rate.
This is very critical to your rankings on search engines. With videos, you can drive targeted leads and traffic from Facebook and YouTube to your site funnel.
4. Engage Your Prospective Customers
Videos are easy to consume and understand. Since you are always competing for your customers' attention with other brands, you need to engage and hold their attention to the point where they get to know your brand.
Having a website full of text is boring for visitors to read and get the information they need. However, if you create engaging videos that clearly explain your product and brand as well as how to use your products, your customers are likely to connect and take action.
5. Capture your Mobile Audience
More people access the web through mobile than desktops. Thankfully, you can create animated video options and upload them to your website. Additionally, Facebook has improved its video options, which makes it easy for people to upload and share different videos through their pages.
With this, it becomes easy to reach your prospective customers using mobile devices. If you make a highly engaging video, it can go viral and you generate unimaginable leads for your brand.
Conclusion
Videos have become a standard strategy in the world of digital marketing. It has also become very easy to distribute these videos through various channels such as social media and video sites. Businesses that want to improve traffic to their sites and generate leads must invest in video marketing.
The good news is that you do not have to pay any digital marketing agency to create a video for your advertising. You can use a well-animated maker like Doratoon to create your video. You can find the details of how to make animated videos for free from the official website of Doratoon online video editor.