If you have an app under development and looking for some effective and truly workable places online to promote it for free. You can get some ideas with a few details on this post about that. Obviously, there are many free places available where you can promote your app. But after checking, below we have listed the 10 best websites to promote your app for free.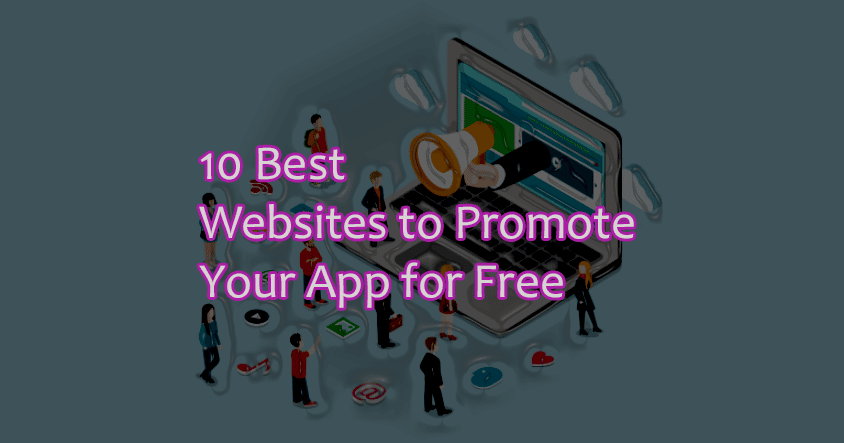 So, when you have free options to promote your app massively, why not try those? let's start …
1. Product Hunt
Our first pick is Product Hunt — a well-known promoter website where you can promote new tools and apps for free. You'll get a featured page to fill with all the information you need about your app or service. Then you can interact directly with interested customers, answering questions, and communicating with them. By the time, the product goes on a list, and people can find that later on based on categories and tags.
2. BetaList
BetaList is similar to Product Hunt features both apps and startups. You can enjoy all their features for free, although there is an offer of paid ads, with which you can get a lot more attention to your app or product on the front page for only $129. The only thing missing is that they don't guarantee sign-ups yet they provide startups with an average 50 – 500 subscribers and a lot of initial traffic as well. If you want a good early boost for your app, BetaList is a good place to start with.
3. The Startup Pitch
Now it comes to the Startup Pitch which is a unique place to promote your app for free. Because it's all about content, originally started to help new startups. So people can share news about their new product, launch, etc. easily, even without having to have their product or site up and running to link to. You can take advantage of this too posting pitches about your new upcoming app. They have a lot of active users who are always ready to explore what is coming.
4. Hacker News
Hacker News is a popular website in the tech world, an incredibly supportive community. The users are very active and they like to try all new tech things on the world-wide web. If you're looking for early adopters, this place is quite appropriate, especially when you're looking for plenty of feedback. Once your app gets voted frequently from its users, it's a great chance to get your app on the front page up to the top spots. Undoubtedly an outstanding place to share your startups.
5. Launching Next
Launching Next — mainly a database of startups with an attached blog that is beautifully designed. They have a big loyal fanbase and they send a daily newsletter with what they directly connect with people right in their inbox. Taking advantage of this, you can also have your app startups featured in that newsletter, and the benefits of email marketing as well. Also, they have a fixed area for trending startups on their site. If your app picked on that place, it'll be a great boost to drive a lot of downloads to your app.
6. Startup Ranking
Startup Ranking is another website from where you can gain consistent traffic to your new app. For a mobile app, it'll allow you to create a website landing page based on what the rank will be calculated. The true benefit of this system is that once your app gets a good ranking, you'll get free traffic to the app. You can submit your startup, company, or mobile app for free. Usually, it takes 60 days for a submission to be accepted, however, you can speed up the submission process and be accepted within 24 hours through a one-time payment.
7. Killer Startups
By the definition, Killer Startups is the place to introduce your startup to the world. They have over 5000 customers per day and 125,000 unique monthly visitors on their website. You can get this opportunity to promote your app without any charge. But submitting your app doesn't guarantee placement on the website yet it's quick to complete the submission form, within a few minutes. If your app is really unique with amazing features and benefits, you must try this.
8. R/Startups
Of course, you know about Reddit I think. It's a difficult platform to utilize but it can also be extremely supportive if you can pitch your app startup in the correct subreddit. r/Startups is one of them, the users are wonderfully positive and willing to give genuine constructive feedback about your app. As well as, they also happy to share your app when they found something interesting and beneficial in it. A must-have place for all entrepreneurs to share their startups.
9. Rate My Startup
Rate My Startup – another popular online platform to get lots of organic downloads and feedbacks to your app. Their system is unique because after your app is featured, the members vote based on how much they like your app. If somehow they like your app, the app could be permanently featured in the "Top App" section of the homepage which is a big incentive! Free submissions can take a while to be processed by the moderator team but you can pay them to speed the process up substantially.
10. MobileAppDaily
Our last pick is MobileAppDaily — a global platform for startup companies, especially ideal for them who want to show off their new mobile app. Because their users are interested specifically in the mobile app industry. So this place is a gold mine to drive organic and genuine users to your app. But they do have a review process before your app can be featured. Also, they are interested in promoting only high-quality and real value-adding apps. This is why you should make sure that your pitch is well enough.