Have you ever attended a bachelorette party where you know no one except for the bride to be? Trust me, I've been there and at first, it felt quite awkward. Therefore, what I personally think about a bachelorette party is that it is a great way for you to meet and get along with new people and obviously make new friends.
As you all know, bachelorette parties always end up being a blast so make use of this time and make it a night to remember. If you're a close friend of the bride to be and are in charge of all the planning bit, you will obviously need to think about some fun bachelorette party ideas to spice up your party along with some drinks (can involve both alcoholic and non-alcoholic drinks). 
Fun guessing games, scavenger hunts and photo booths etc. make for great party ideas. So, to help you out, I'll be sharing 6 of my favorite bachelorette party games that the bride-to-be and her girl gang can enjoy to the fullest.
Photo Booths for The Girls and Family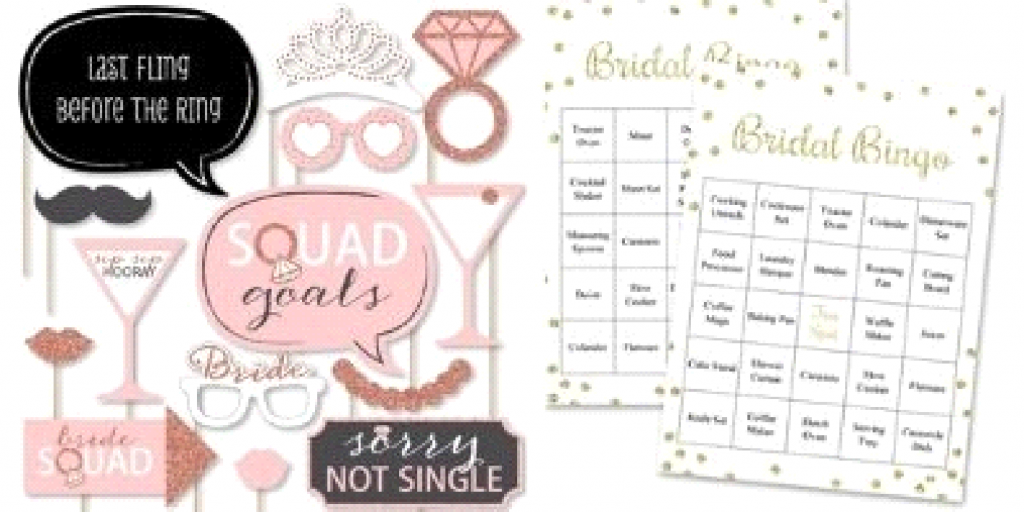 Image Source: Pinterest
Although this is more of an all-girls having fun together kind of night, you can also involve some of the family members to click funny pictures at the DIY photo booth that you created. Apart from that if you need you can also include a few family games – like wedding bingo.
The Groom Quiz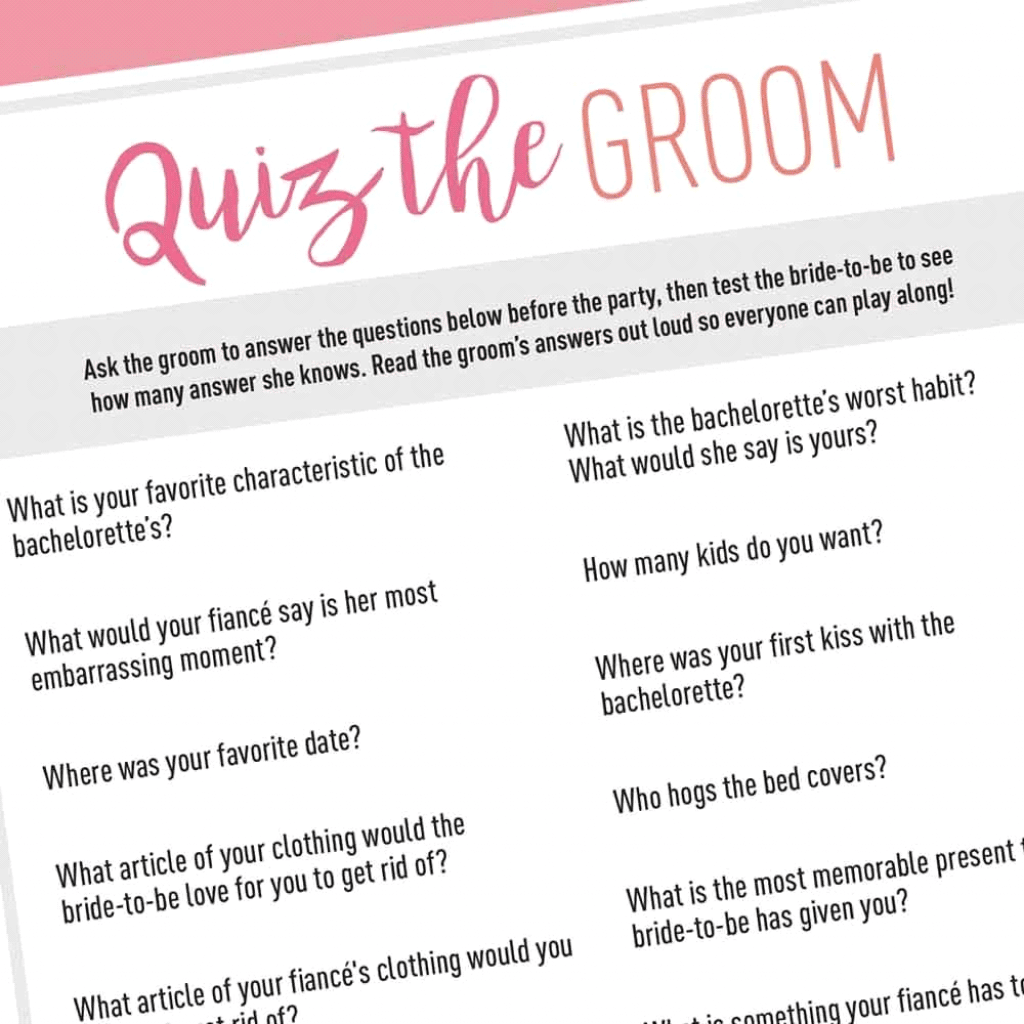 Image source: Pinterest
How well does the bride-to-be know about her to-be-husband? Well, well well, with this quiz you'll definitely have the answer to your question. So, before the party, send a list of questions to the groom and have him write down his answers. Then, at the party, read the questions out loud and have the bride-to-be guess the answer – as per her knowledge. This game is perfect for a bachelorette and is a great way for your friends to get to know the groom and bride a little better.
DIY Pin the Kiss Game
Image Source: Pinterest
Do you remember the age-old pin the tail on the cat/dog game? So, this game is pretty much the same just that you're replacing the animal picture with the bride-to-be's celebrity crust and the DIY tail stickers with cute smooch stickers. Doesn't this sound super fun?
In order to play this game, you will need the follow the following steps
Step 1: Find out whose bride-to-be's celebrity crush, take a jumbo-sized print out of his picture and paste it over a wall with the help of a cello tape of whatever you have around.
Step 2: Buy some cute smooch stickers online or from a nearby stationery shop and done! You're all set to add a fun twist to this classic childhood game.
Note: Do not forget to blindfold the person who'd be pinning the stickers.
Girls Night Jenga
Image Source: Dixie & Dot
Adding a twist to the classic Jenga game is a must for your bachelorette party. Unlike regular Jenga, each block in this tower will include a fun challenge like for example prank call your crush or dance on a table. The player has to complete this challenge before adding their block to the top of the tower.
Ring Hunt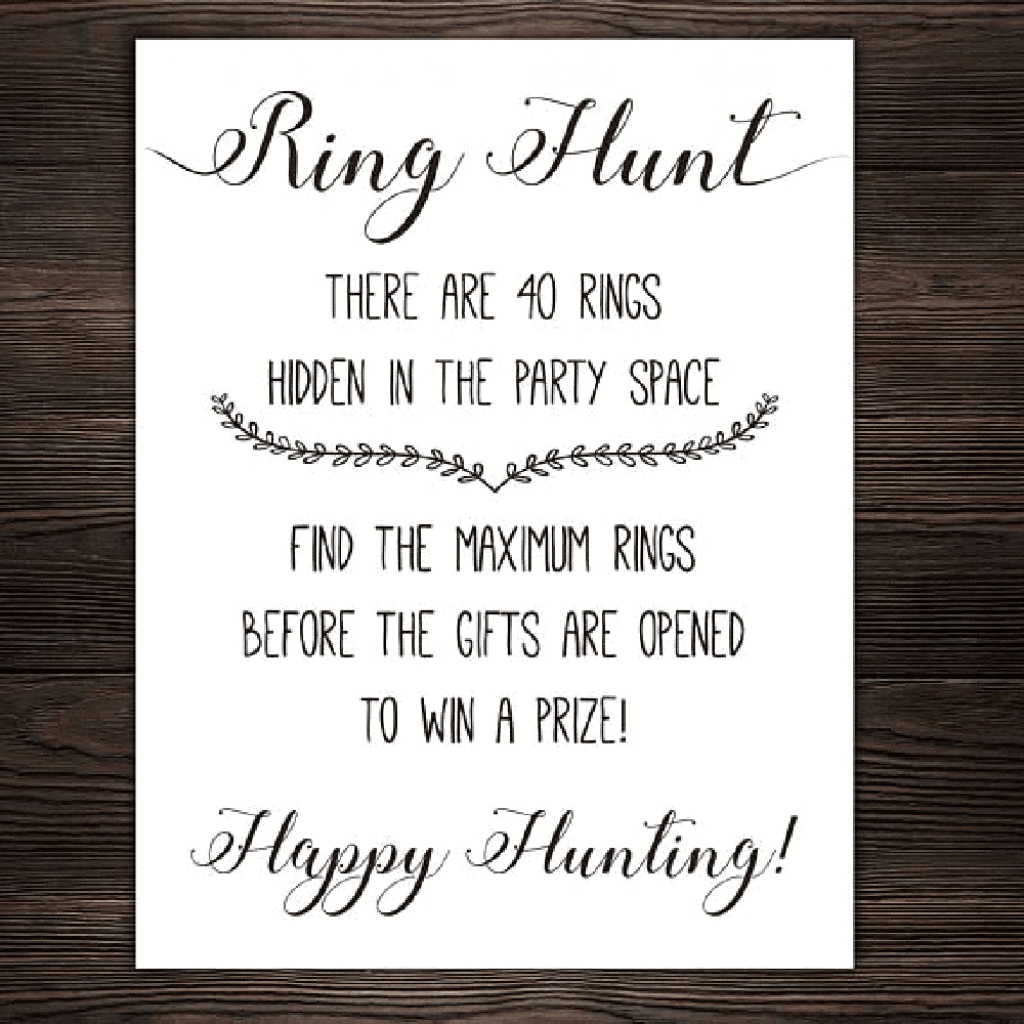 Image Source: Pinterest
Before guests arrive, hide toy rings (easily available online) throughout the house/hotel room (wherever you've planned to host this party) and challenge your girl gang to find them by a certain time. Since this is a timed game, it's going to be super fun. The guest who finds the most rings wins a prize! 
Drink If
Image Source: Pinterest
Drink If is the perfect game for any bachelorette party and is a great ice breaker too. Have the bride-to-be read out each question out loud and get ready to sip if you've ever done what the bride asks, for example drink if you're still single or drink if you're the next one getting married etc.
Scavenger Hunt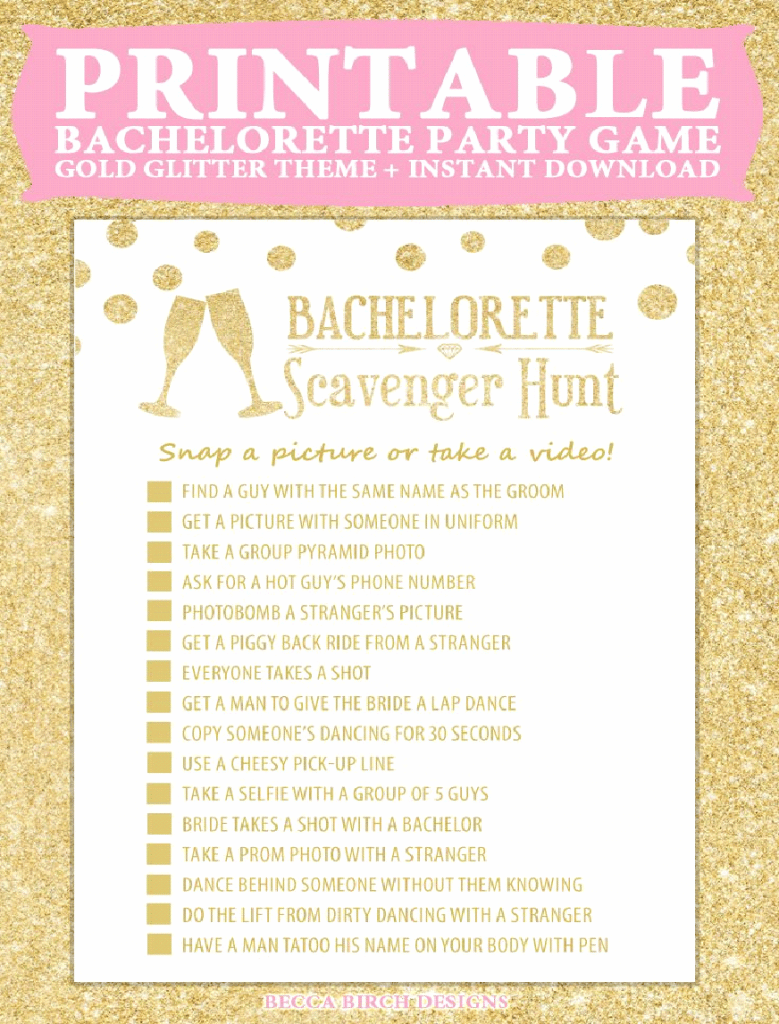 Scavenger hunts are a great way to spice up any bachelorette party. Before you begin this game, you will give a checklist to each of your guests and have them race each other to find objects or take photos of certain items, situations, or people. You have them play this game both, individually or as a team.
This is one such game that lets you be both naughty and nice at the same time. Considering most girls attending your bachelor party are going to be above 18+ you can try a nice variety of bachelorette scavenger hunts that range from the wild to the tame.
I hope that you enjoyed reading these fun bachelorette party ideas just as much I enjoyed sharing them with you. Trust me, you're going to have a blast as these games are so unique that they will keep you entertained all night long. Since bachelorettes happen only once, you have all the freedom to add your own twist to it and make it spicier. Have fun girls!