Ever wondered why Japanese vehicles are always ranked highly in the global automotive industry?
It's simple…Quality. Whether it's Honda, Toyota, Nissan, Mazda, or another iconic Japanese car brand, they have all managed to win the hearts of drivers and passengers worldwide.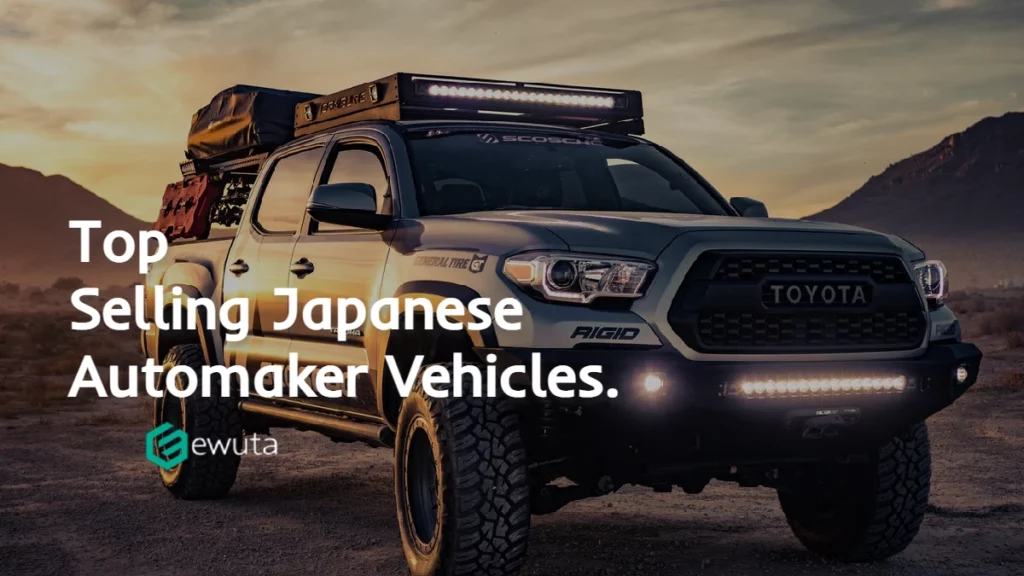 Here are the top 10 highest-selling Japanese car brands!
1. Toyota
When it comes to designs, affordability, efficiency, and sustainability – Toyota truly has something for everyone.
It comes as no surprise that Toyota is considered the best-selling car brand not only in Japan but also around the world.
For two years in a row (2019 and 2020), the Toyota Corolla came first place as the world's best selling car!
2. Honda
To sum up Honda in only 2 words: stylish, and innovative.
This well-known Japanese brand's annual revenue was $127.74 billion in 2021!
Did you know that the founder of Honda handed over 40% of the company and assets to Toyota after it was bombed during World War II?
3. Isuzu
Isuzu is best known for its versatile SUVs, diesel engines, tough pickups and reliable trucks enabling this Japanese car brand to become one of the most popular car brands worldwide.
The Isuzu D-Max, Bighorn, ELF, Como, Forward, Journey, and Giga are currently the top 10 most popular models by this highly-successful company.
4. Subaru
What makes Subaru different?
These Japanese cars have the best handling and reliability for the most impressive price.
Plus they've made always-on, symmetrical all-wheel drive standard across most of their current range, including the Crosstrek Impreza, and Ascent.
5. Nissan
Nissan has been around for decades (more than 80 years), leaving a huge footprint in the world's automotive industry.
In 2018, this popular Japanese Automobile company became the globe's biggest electric vehicle manufacturer, selling an astonishing 320 000 fully-electric vehicles around the world.
Nissan cars have long been loved for their lower maintenance costs, reliability, and longevity.
6. Mitsubishi
Mitsubishi still remains to be one of Japan's best selling car brands, once dominating the SUV and truck market.
Their best selling car models today include the Mitsubishi Outlander, Shogun, Triton, Mirage, and Eclipse Cross.
Although they are one of the lesser-known Japanese car brands, they never fail to bring out cars that are uniquely designed, innovative, and exciting to drive!
7. Mazda
Did you know that the world-renowned Mazda company is more than a century old?
Through the years, this company has won several awards for their rotary engine technology, producing best-selling premium, sporty and efficient vehicles.
Mazdas's top-selling models are the CX-5, Demio, Axela Sport, Verisa and Bongo.
8. Lexus
Being the luxury division of the famous automaker Toyota, Lexus is Japan's largest-selling brand of premium cars.
These luxury cars are famous for ergonomic design, superior comfort, fuel efficiency, and extremely high quality.
It's not surprising that Lexus is marketed and sold in over 90 countries and territories globally.
9. Acura
Acura is a luxury vehicle brand owned by Honda. Acuras first appeared in the U.S. and Canada in March 1986, marketing high-tech features, luxury, and performance in its vehicles. It was introduced to Hong Kong in 1991, Mexico in 2004, China in 2006, Russia in 2014 and Malaysia in 2015.
Acura's first production vehicle, the Integra, was introduced in 1986 as a counterpart to Honda's popular Civic. The Integra was one of the highest-rated front-wheel-drive cars of its time. Since then, Acura has released many other models including the RSX, TL, TSX, RL and ILX.
The Acura brand has become one of the most successful luxury car brands in America over recent years thanks to its high quality vehicles and outstanding customer service.
10. Suzuki
Suzuki is a Japanese automaker that produces cars, trucks, motorcycles and even quads. It was founded in 1909 by Michio Suzuki and started making motorcycles in 1931. The company has since grown to become one of the biggest automobile manufacturers in Japan.
Suzuki has sold over 100 million vehicles worldwide since it began producing cars in 1959. Some of their most popular models include the Swift, Jimny and Grand Vitara.
The Verdict
While European cars have always dominated the automotive market, their hold has been slipping. This shift in favor of Japanese automaker vehicles has opened up an opportunity for premium European car manufacturers to make a strong comeback in the automotive industry.