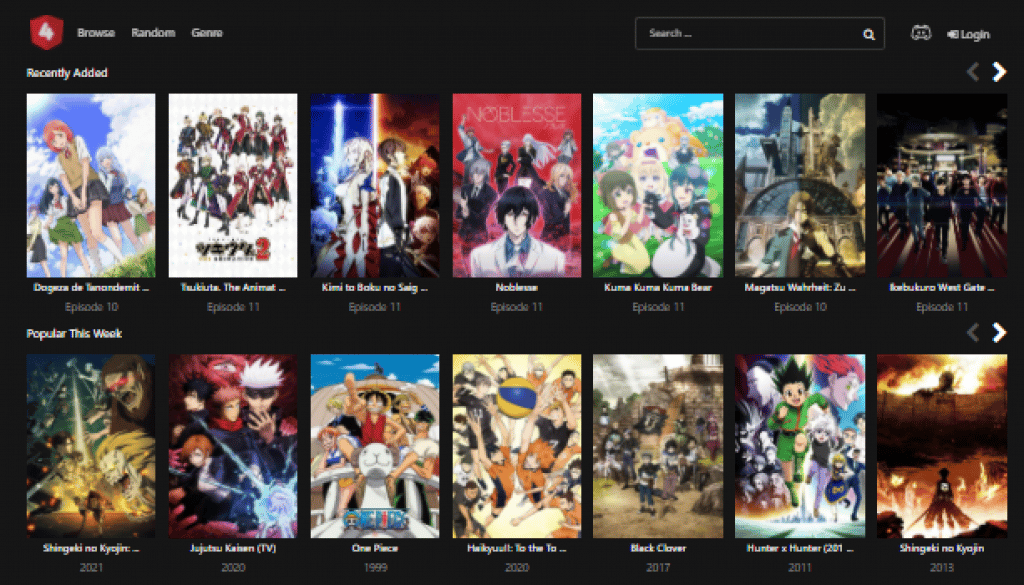 More than any other media, there's no more convenient way to watch anime than streaming. It's taken years for most anime titles to start receiving home distribution in the west, and even then there's plenty of exceptions.
Anime home video can also often be prohibitively expensive or rare. By finding good websites to stream anime, you can enjoy high definition content without inconvenience or financial worry.
The costs of running streaming websites are often compensated by ads, either on the website itself or playing before and during streams, or by subscription models that ask users to pay monthly for access to content that's usually HD and ad-free.
What is 4anime?
4anime is a new and fast rising anime streaming platform. 4anime is known for providing a strong coverage of trending content that allow users to be up to date with their favorite shows. It also features an extensive back catalog of both subtitled and English dubbed material.
Some TV shows are made available in full 1080p HD, although some are marked as SD only. Most offer a choice of streaming resolutions so that users can prioritize quality or speed/data usage depending on their internet access.
You can sort by a surprising amount of categorizations including genre, release date, and quality, or browse the currently trending titles, as well as use the website search function for show titles.
Is 4anime a legal anime streaming site?
Unfortunately, 4anime is not a properly legal streaming site. The shows that are featured on their website aren't licensed to be hosted through its interface, so no money is going back to the original content providers.
The site features a disclaimer regarding its content, focusing on the fact that anime files are stored off-site and provided by third parties, seeking to deflect legal issues from the site itself.
Nonetheless, it's not a legal site to run for the owner of the service. Distributing content without permission from the property owners, notably with ad revenue in the balance as a form of revenue, is considered a legal issue in many countries.
Usually the owners of such sites host their websites in country jurisdictions that don't care much about copyright issues.
The fact that the movies/films are not hosted on the website as such makes the service fall in a gray-legal area.
Is 4anime safe for users?
However, 4anime is safe to use and watch anime online for visitors. It's intended as an anime streaming website, not a scam. Your biggest problem while browsing will likely be some troublesome ads, but you won't have to worry about the site giving you a virus or causing any security problems on your computer.
Before you visit any anime streaming website to watch movies and tv shows, we always advise you to use a good antivirus because you never know what will happen.
Going to 4anime is a much safer option than choosing a site to stream from at random, which could instead potentially be dangerous or fraudulent.
Will visitors get in legal trouble if using 4anime
Although the specific website is probably an illegal service for its owners, viewers on the other hand don't have to worry much about legal trouble on the consumption end.
Unlike torrent piracy, there's no illegal files being downloaded to a user's computer. Files can sometimes be attached to trackers that will result in content owners contacting your internet service provider for action, but a streaming interface like this won't result in such problems.
In the United States, streaming a ripped copy of content isn't considered a prosecutable copyright violation. However, depending on where you live, you might still want to make doubly sure that there's no legal issue you could run into.
What are some legal anime streaming sites
Streaming anime isn't worth falling on the wrong side of the law. If you'd rather stream legally and enjoy 100% worldwide safety in every scenario, as well as support the studios and distributors behind the content financially, there's a number of options.
Crunchyroll is perhaps the most common legal anime streaming site. It offers both standard definition ad-based streaming and a paid monthly subscription that will net you HD, no ads, and episodes of current shows uploaded at the same time that they air in Japan.
Funimation, a common distributor of anime in the west, also has their own streaming service with access to their rich library of content and a similar pricing plan to Crunchyroll.
Some anime can be found on more general free services like Crackle and Tubi, and there's a surprising variety on paid services like Netflix, Prime Video, and Hulu.
Conclusion
One more thing is that 4anime is one of the good options for streaming anime that is safe and reliable for users. A shaky legal status shouldn't prove threatening to users, but there's always other choices for those who feel uncomfortable with the service.
Regardless, it's hard to beat an extensive free library in high quality, and it's best advised not to leap at other sites that promise the same without doing adequate research first.