If you are working with UI/UX, then you must always be keen to learn more. Isn't it? Being a UX designer or developer is not an easy task. There are a lot of new elements and content you must be aware of. This helps to implement the idea correctly in your project. Having good reading material always benefits and gives you an upper edge.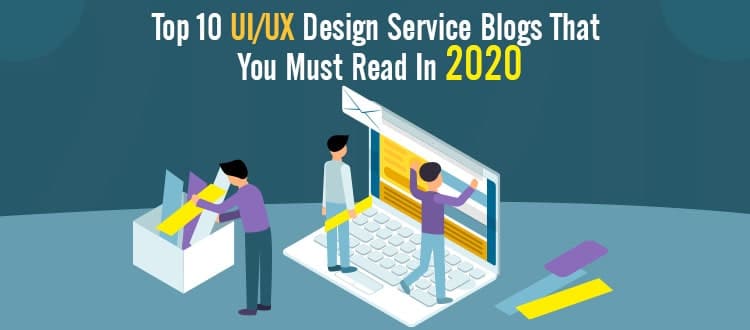 So, from where do you read more about UX/UI development? Well, there are a huge number of blogs that have come up in this sector. These blogs bring forward the latest news and resources regarding UX/UI development.
To make it easier for you we have compiled a list of the best UI/UX design services blogs of 2022. Some UX design companies and web design firms who deliver great results in terms of UI/UX design to their clients also follow these blogs.
1. Justinmind
Justinmind UX design blog is a great read for every UX developer. Their blogs are informative, informal, and absolutely fun to read. Their writers cover a wide range of UX design topics that are published regularly.
From short and quick stories, you can find extensive and well-researched articles as well. They offer a guide on how to use different UX tools, graphic designing tips, and information on other UI/UX design services. Subscribe to their newsletter for the latest daily updates.
2. Smashing Magazine
A pretty well-known and popular UX blog, Smashing Magazine publishes great posts on UX design. Their blogs are very informative and written by industry experts like Nick Babich and Vitaly Friedman.
Their blog posts cover a wide range of topics every month. The blog has a simple and fun UI which you can navigate very easily. A unique aspect of this blog is they write about the psychology or biology behind a design. This gives you a more detailed perspective of it.
3. Nielsen Norman Group
One of the founding fathers of UX design, the Nielsen Norman UX blog is a wonderful website. Most of their posts are based on extensive research. It also has educational posts regarding various topics and also covers aspects like user behavior and user testing.
Other topics covered include – mobile design, UI friendliness, etc. Their write-ups are easy to read and one can benefit from them. So, as a provider of UI/UX design services, you can learn and expand your knowledge of various aspects.
4. InVision Blog
InVision is now a popular company that focuses on online prototypes and workflow tools. Their blog covers various news and has the latest updates in the field of UX design and development. Some of them are also based on the general lifestyle.
Their posts are not published every day of the week, and that is why you must subscribe to their newsletter. It is one of the best blogs that help to sharpen your knowledge and skills regarding UX design.
5. VWO Blog
The VWO Blog is one of the top names in UI/UX design services. Their case studies and expert opinions regarding UX design and development are the best in the business.
A lot of their content gets featured on other websites because of the excellent value they provide to the readers. You will find topics on landing page designs, conversion rates, and guides on UX development.
6. UX Design Collective
This is not a unique publication, but a mix of their content and re-posts from other websites. Every blog available on the website is valuable to UI/UX design services. If you want to read about UI development and design, this is a one-stop solution for your needs.
Every week they feature articles written by top designers and developers in this field. Their writer uses simple yet versatile language, allowing you to understand every niche.
7. UX Matters
If you are focusing on research, design, and UI development, UX Matters is a must-read. Their posts cover topics that are useful for both amateurs and professionals in this field.
You will come across a lot of practical tips and research-oriented knowledge on UI design. Their blogs cover almost every news that is relevant to the industry. It allows you to post your questions on their forum and get answers from top UI/UX design services professionals.
8. CareerFoundry
It is an ideal blog for anyone interested in pursuing a career in UX design, CareerFoundry is a great platform. You will find great design ideas, concepts, principles, and techniques related to it. Their step-by-step UX design guide helps everyone to sharpen their skills to a whole new level.
Other than that, there is a lot of content related to UX news, tools, and other elements. Their blog has valuable content dealing with salary guides, interview tips, and various other information.
9. Awwwards
The Awwwards can be a useful resource website for every UX designer. You will find a wide range of content and case studies related to UI/UX design services. For creative and out-of-the-box ideas, this blog is a must-visit. Their writers talk about website navigation, microcopy, UX portfolio, and a lot more.
Most of their content comes with vibrant illustrations and graphic visuals that help you understand better. If you want to develop your skills and learn something new, Awwwards is your best deal.
10. Muzli
Packed with UX design case studies, Muzli is a perfect source of UI/UX design services inspiration. If you want to know how new ideas and designs get implemented, then you must visit Muzli. Their clear and reliable instructions on how to apply ideas to real-life projects are outstanding.
The case studies and articles they publish give valuable insight to challenges on a day-to-day basis. You will find weekly content and they also feature other writers from many websites. Thus, offering all the readers a diverse range of blogs to read.
So, these are the top 10 UI/UX design services blogs that you must follow in 2022. All of them are unique and offer valuable information regarding UX development. They cover topics and guide you brilliantly in various aspects that sharpen your skills and experience. Check them out and tell us which one is your favourite.