No sports or game lover will like to miss his or her favorite NBA or NHL games whenever it's time. If watching sports activities is among your hobbies, you must have been to Streameast before. This website comes in handy when you are away from home and you have nowhere to watch your favorite sports event that is about to begin.
You will not like to be told how the team you are supporting performed in their last match. That will be sorely boring if they lost the match; you might not even want to hear anything about it. In case you are just hearing the name Streameast for the first time, let me explain more.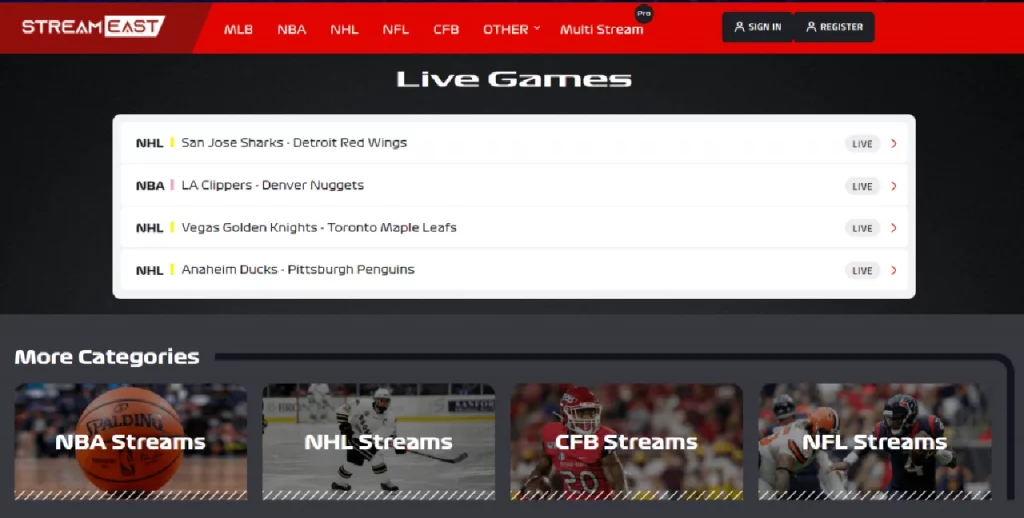 What is Streameast?
Streameast is a live sports website that offers sports contents to its users free of charge without any registration. The website gives access to NFL, NHL, NBA, MLB, MMA, UFC and football streaming. Streameast users can watch their favorite sports events at any time for free.
Is Streameast Safe?
Streameast is safe to use only if you are not downloading anything from the website. You will also be safe if you do not allow or give access to any prompt notification that you may see when trying to use the website. Do not click on any link or banner that you don't understand.
In order to be safe, do not download any file from the website. If you click on a link and you are taken to another page, kindly close the page and go back to the previous page. Another way to bypass redirection is to install a good VPN.
How is Streameast Legal?
Streameast cannot not be considered as a complete legal website. This is because the website is providing content for its users to watch for free without the consent of the real owners. The process of sharing premium content for free is referred to as piracy.
Although they are not making the contents available for download, this is what makes them stay in the middle of legal and non-legal. So, we advise you to stay completely away from any website that is sharing content illegally. Always use premium sports streaming services like YouTubeTv, ESPN and so on.
How Does Streameast Work?
Streameast website is hosted by cloudflare and it works very fine. When you visit the website with any of your preferred browsers, you will be presented with a list of live sports events. You will see the list of ongoing live sports events and the ones that are about to start. Then you can make your choice and start streaming.
People who run the Streameast website cannot be identified, they run the website anonymously. The Streameast website has been shut down several times because of some piracy issues. When their website is shut down, they will always open a new one with a different url and continue what they are doing. Which is not good.
The Streameast website makes money by displaying banner ads, link ads which will open a pop-up ad when you click on them. When you click on some links, you will be prompted with a notification ad that will be asking you to allow them to send you notifications.
The sole aim of this post is for information purposes. We strongly advise you to stay away from these types of websites. If you insist on visiting these types of websites, kindly do so with a strong VPN and an Antivirus.
10 Popular Streameast Alternatives for Watching Live Sports
Sometimes users may find it difficult to access streameast, it's not that the website is down but websites like this usually protect themselves from ddos attack. Another thing is that not all countries can access the website at any given time.
Your country's ip address may be restricted from using the website. You may encounter any of the above issues and that is why you are on this page looking for Streameast alternatives.
1. Footybite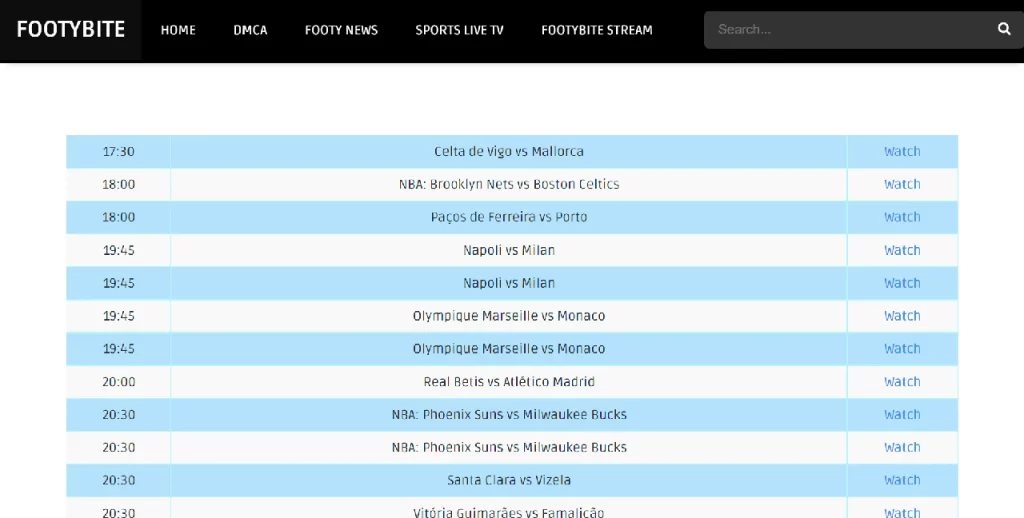 Once you visit this website, you will be presented with the list of ongoing live sports events to choose from. The website provides multiple streaming links to its user, in case one is not working properly.
This online streaming website does not host or upload any video or media files as stated on their DMCA page. Users can only watch or stream live sports events through the links that are provided on the website.
2. Cricfree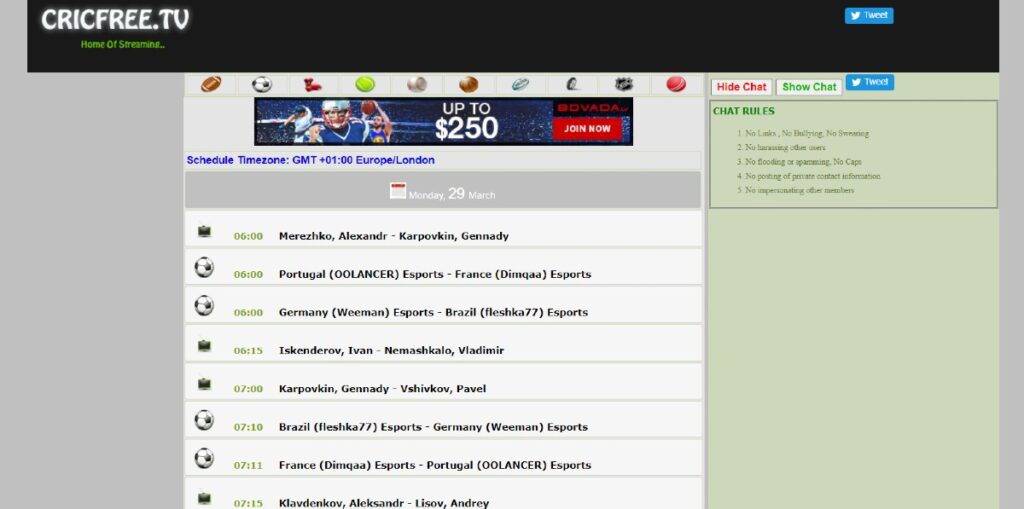 I know you might be thinking that this website is all about cricket. Just remember the name because this website is not only about cricket. Cricfree website provides links for its users to watch and stream sports events online for free.
When you visit this website, you will see the links to watch live sports. All you have to do is to click on the watch button. You will be taken to the streaming page, then click on the play icon and you will start watching the sports event.
3. Livetv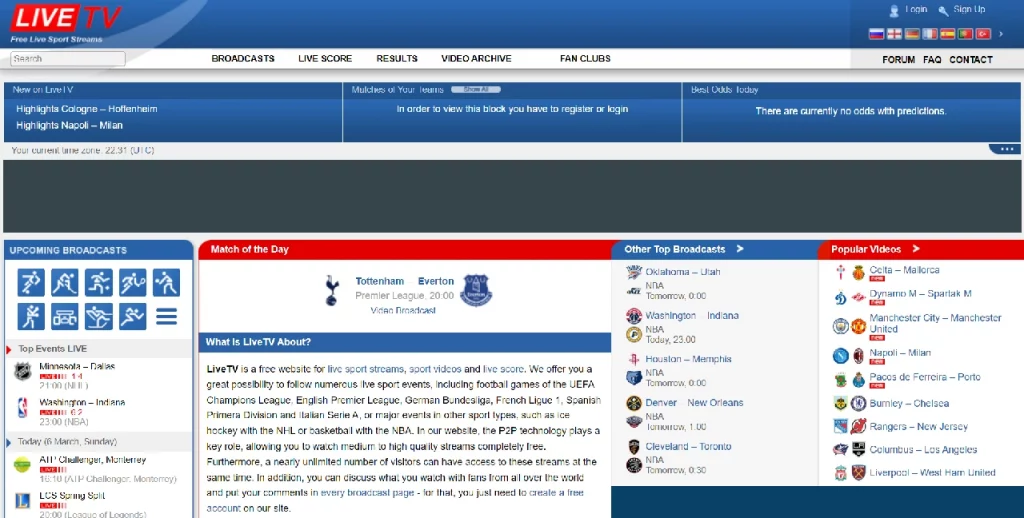 Livetv is the 3rd website on the list of sites like Streamesat. This online streaming website will allow you to follow and watch any sports event of your choice. When you visit the Livetv website, you will see the category of the live events they are offering.
You can also find the livescores of football matches that are currently going on. This is what makes this website a good alternative to Streameast. You will also find and watch videos of previous sports events that you missed but you cannot download them.
4. Sportlemon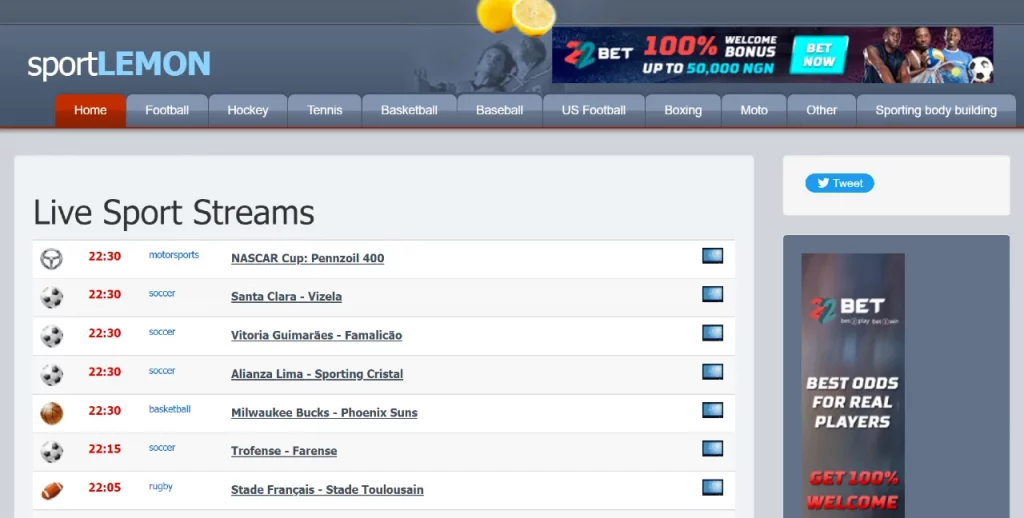 Sportlemon offers you a wide range of live streams across all sports. Users can enjoy the best of soccer, basketball, and many other sports events every day. You can stream any live sports event that you want on this website.
All you have to do is to click on the tv icon which is located on the right corner of every link. The only downside that this website has is when you click on the tv icon, you might be taken to a sports betting site like 1xbet. You don't have to be offended because this is how the website generates revenue.
5. Strikeout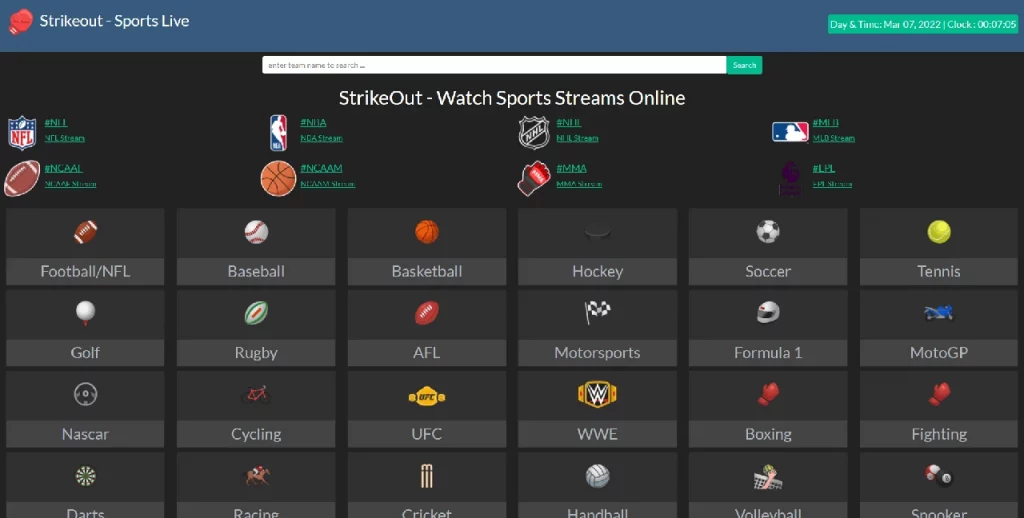 If you visit the strikeout website, you can choose from the category to watch live football, tennis, boxing, baseball, nba, mfl and so on. You can watch any sports event that you choose from the category for free.
Users are not required to register an account with the Strikeout website before they can be able stream the sports event of their choice. Another interesting thing about this website is that it has a search bar. Users can use this to find their live stream they want easily
6. Vipbox
Vipbox provides free live streaming to the biggest, live sporting events from around the world. This is another sports streaming website that is very similar to Strikeout in terms of website design. Users are not required to register an account before using the website.
When you visit this website, one of the first things you will see is the website's search bar. You will now see their categories when you look further. Users can find the match that they want to stream very fast by using the search bar.
7. MyP2P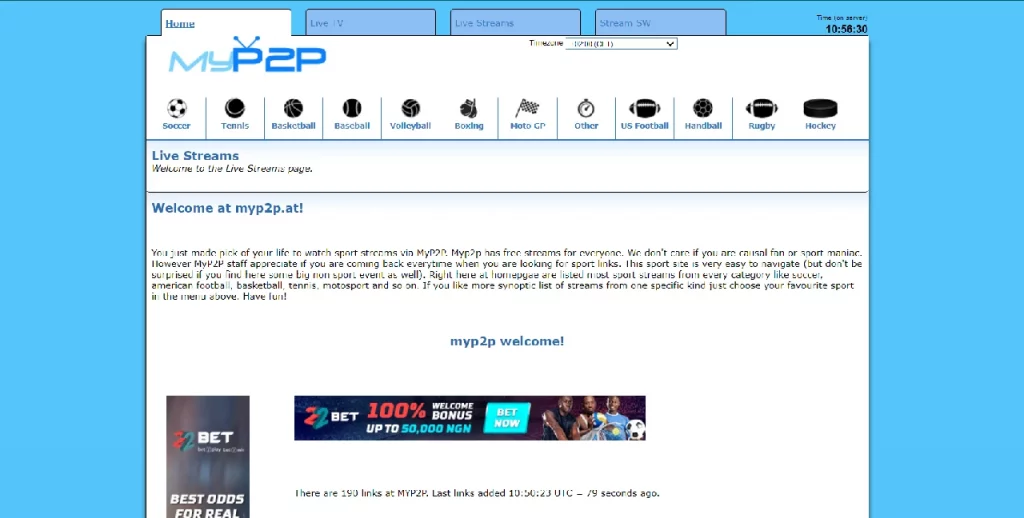 Myp2p is an online sports streaming website that makes it easy for everyone to stream live sports. Users can stream any live sports events that they find on the website free of charge. No subscription, no registration is required before using MyP2P.
The website is well structured, after the website logo the next thing you will see is the categories. Ranging from soccer, tennis, basketball, baseball, volleyball, boxing, moto GP, US football and lots more. Kindly scroll down and make your choice.
8. Redstream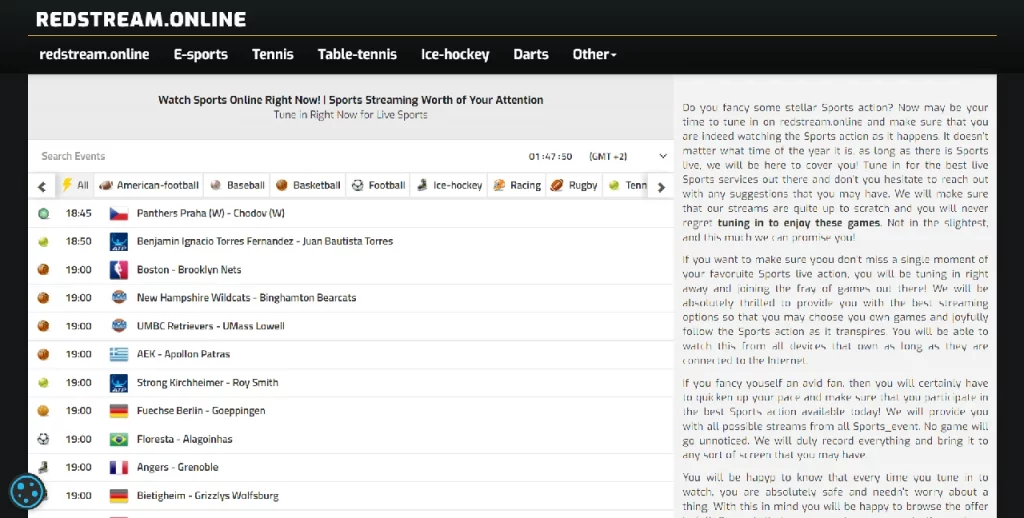 If you are a Manchester united fan, you must have been to this website before. "Redstream and Red devils" sounds alike to me, that's me joking. This website provides streaming services that are very similar to the ones provided on Streameast.
Users are also not required to register an account before they can be able to use this website. On Redstream"s website, you can find and choose any of the live sports events that you want to watch. Starting from American football, baseball, basketball, football, ice hockey and lots more.
9. MamaHd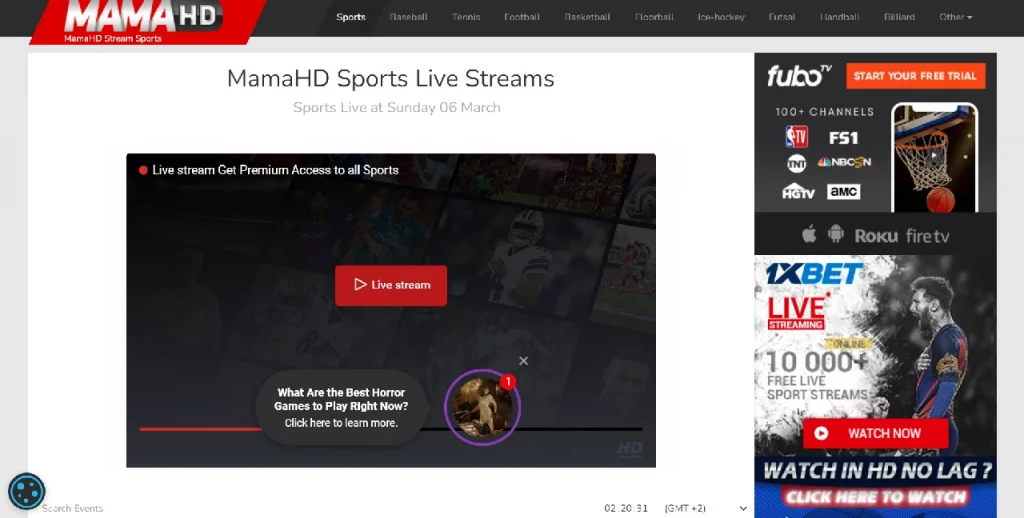 No list of sites like Streameast will be complete without mentioning MamaHd. This online sports streaming website is just like their mother. Just like the name Mama HD, the website only provides links to sports events that are going on.
The links are categorized to make it easy for users to find the particular sports activities they are in search of. Users do not need to register for an account or pay for subscription before they can use the website. The website can be used for free.
10. Batmanstream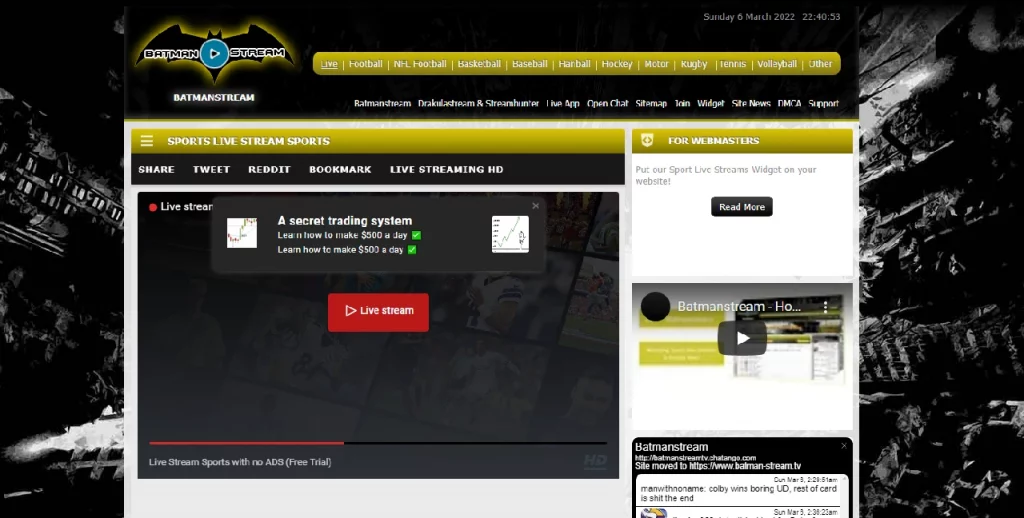 Hearing the name, you might think they are here to stream batman movies and series. This is an online sports streaming website that makes it easy for everyone to watch live matches for free. No registration or subscription is required.
The only downside of this website is that it contains a bunch of banner ads at the right corner of the website. Batmanstream does not host or upload any file, they only provide links to the live events to enable users to watch it.